There is a lot of talk about sparking joy and keeping only what makes you happy these days, especially since Marie Kondo's series on Netflix went viral. The kitchen is one of the areas in the home, that has the potential to suck some serious joy out of life, that is if it is poorly organized and overcrowded.
Today I would like to share a little project with you that I actually tackled quite a while ago, but just never got around to posting here on the blog. But, having lived with it for some time also means that I can assure you that it definitely works because it has stayed the same as the day it was completed. My most favorite part: it came in at right around $5! That's right, five bucks!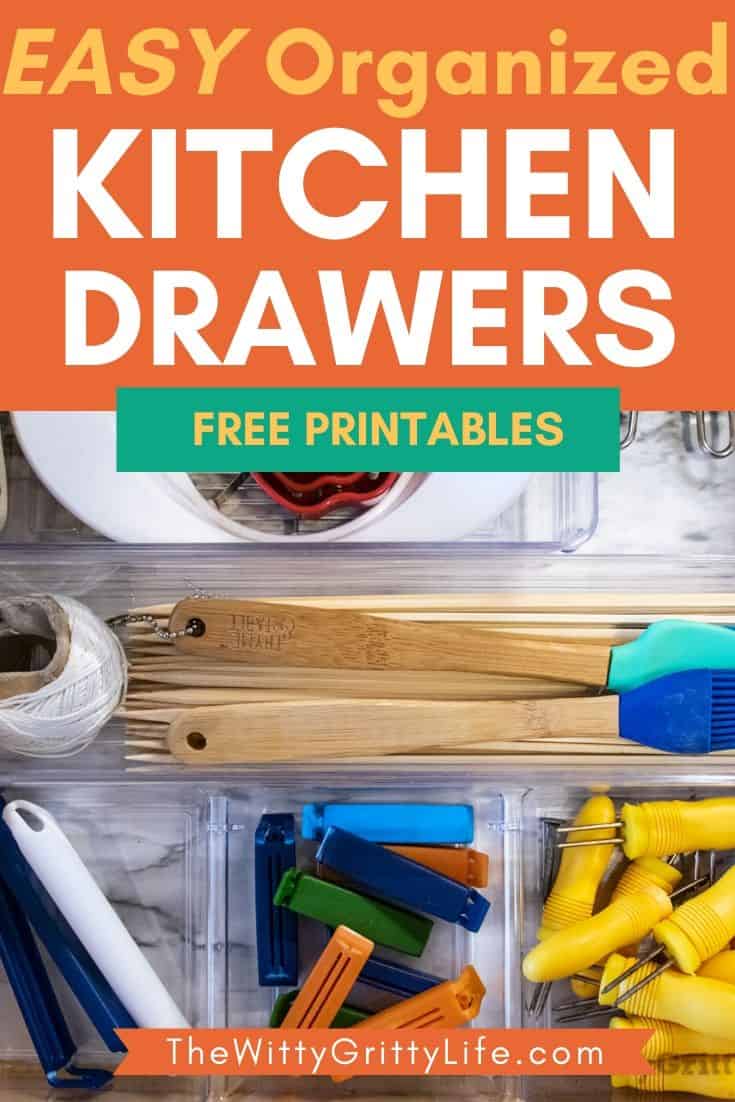 When our house was built nearly 50 years ago, the architect made sure to create roomy spaces for living and sleeping, but somehow managed to run out of room in the kitchen. Maybe back then, at the height of the space race and moon landings they anticipated, we would all soon be taking in nourishments in pill form. That is really the only explanation that makes sense when it comes to the tiny galley-style kitchen in our 3,000 square foot house.
Needless to say, storage space is at a premium with no room to waste on unnecessary clutter. Still, for much longer than I care to admit, there was that one drawer, that if opened, made you think the owner of the kitchen had lost her will to live.  You know, the kind that holds the stuff you need, but don't really know what to do with?
Something like this?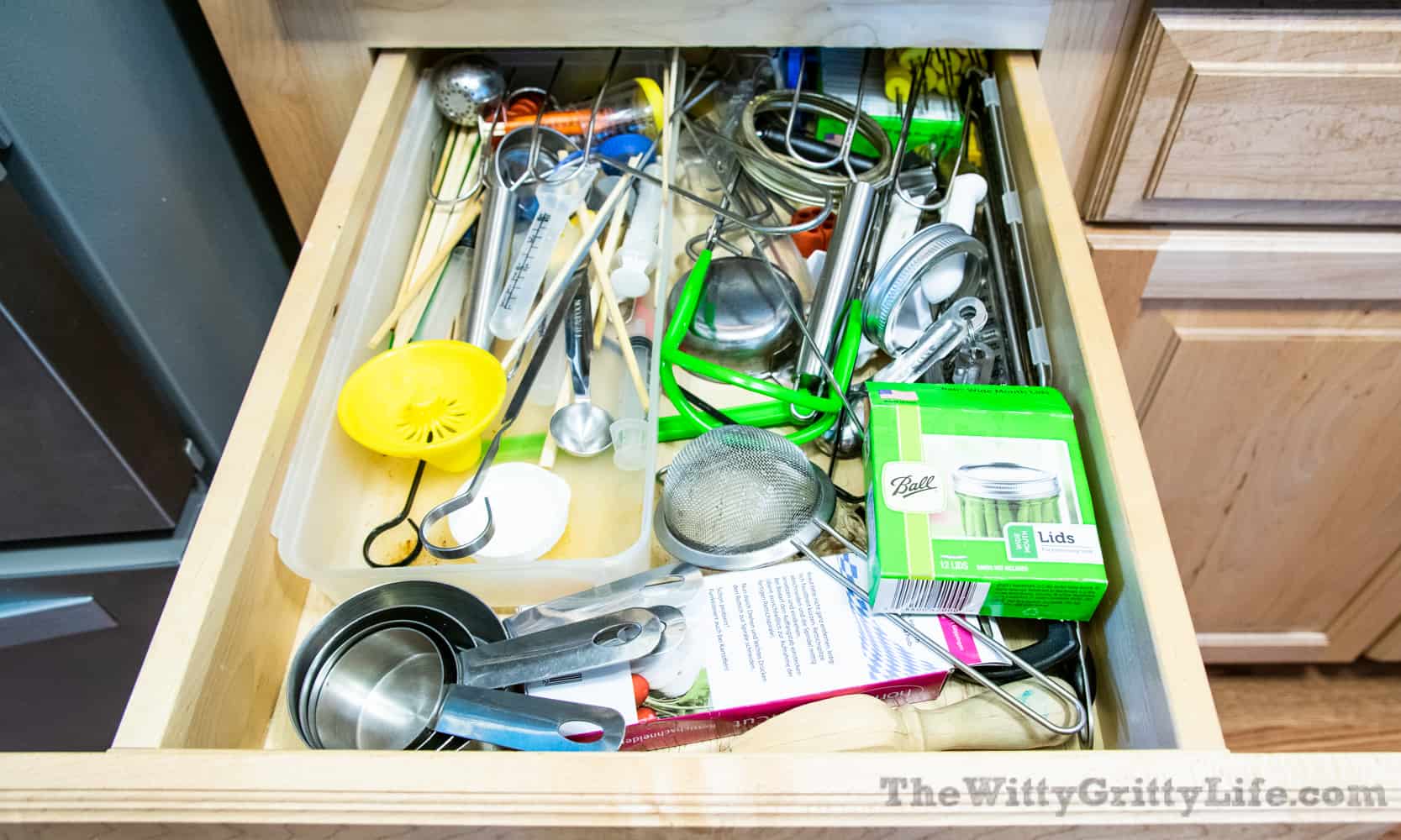 See the feeble attempt at organization with that little plastic bin? Not that it helped in any way… Well, after living with this mini-disaster for much longer than I care to admit, it was time to tackle it once and for all. But as I told you, this organizational horror story has a happy ending. And yours can too! Not that you have a drawer like this in your kitchen or anything.
This post contains affiliate links. You can read all the boring legal stuff here.
How to Organize Your Kitchen Drawers
Kitchen drawer organization can be a challenge because many of the items are usually irregularly sized. Drawers are also fairly deep and anything stored within them tends to shift slightly every time the drawer is opened and closed. And if you are dealing with a small kitchen where storage is at a premium, you need to take advantage of all of the real estate you have.
There are a number of different drawer organizers on the market and I have tried quite a few throughout the years. Some were pricey, others were often the wrong size and creating a setup with just the right configuration was always a challenge. No matter what, the items in the drawer still had a tendency to shift around.
I opted against fixed wooden dividers because I prefer the ability to easily change the configuration. Another drawback of fixed dividers is that the little spaces are difficult to clean. Besides, fixed wooden dividers were work.
The main criteria for creating this drawer storage system were:
make it easy to find items
keep only what is really needed
easy to clean
no building required or expensive drawer organizing systems
With all of the above in mind, I set out to come up with a system that would fit just right, accommodate everything and was easy to clean. And I wanted to share the steps with you, so when it comes to organizing your own drawer, you don't have to ponder over it for long. Life is too short for that!
Take Stock of What You Have
The very first step is to get a realistic idea of what is actually in the drawer. This is super important because it is what will guide you as you get everything organized later. Only keep what you absolutely need and use! Remove everything so you can determine what needs to stay, what is no longer needed and what is better stored elsewhere. You'll be surprised, how much you don't actually need, I promise!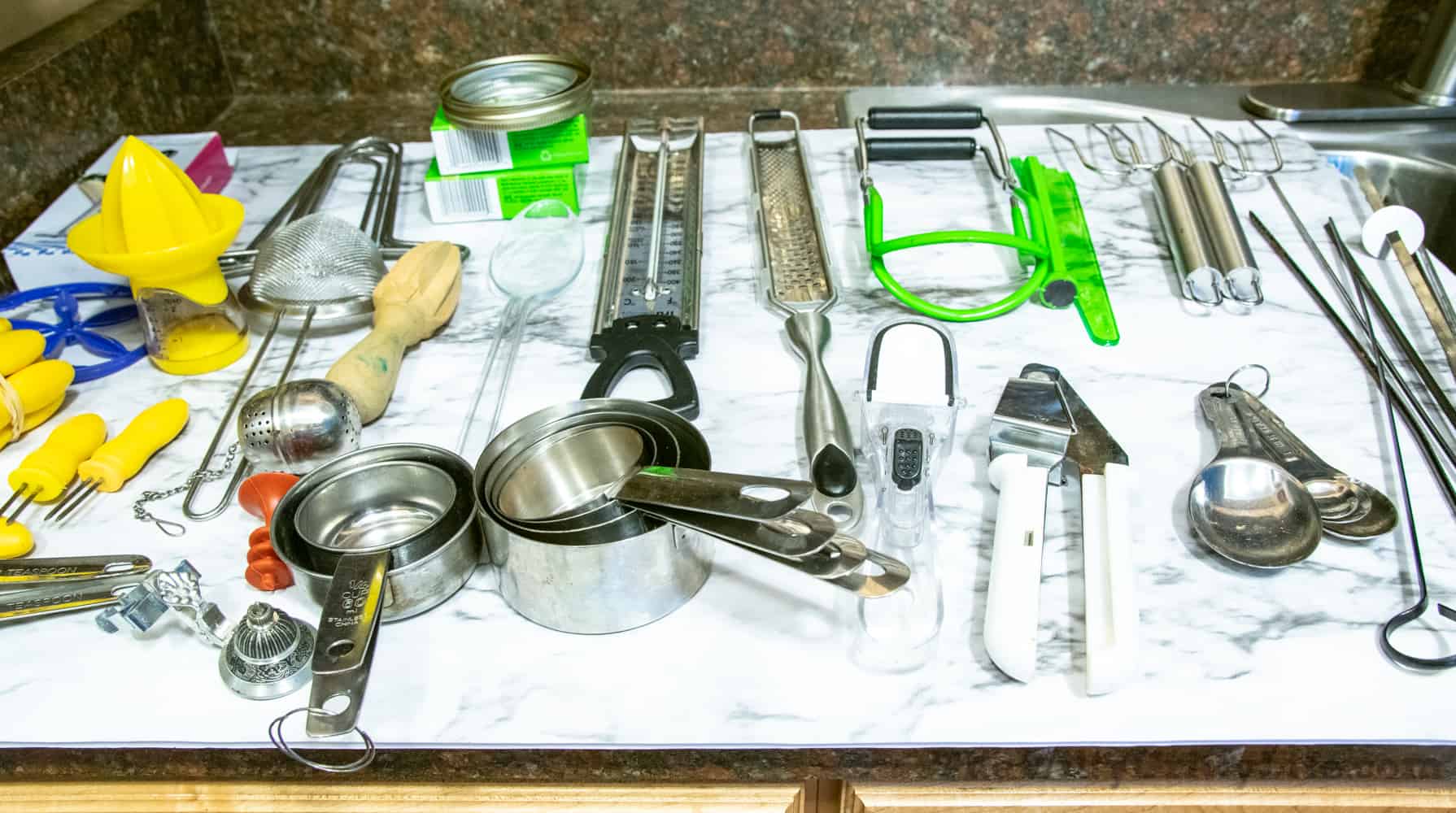 In my case, this step revealed several duplicate items, like measuring cups and spoons, lemon reamers and various odds and ends that were never used. I also decided on storing measuring cups and spoons a different way which opened up quite a bit of space. You can take a look at how I did that here. Many other items found other homes as well. Really dig deep and figure out how you use that particular area of your kitchen. Maybe it makes sense to swap out some other items that will make life easier for you if they are closer to where you use them most often.
But be ruthless with your purge, especially if you are dealing with a small space.
Line the Drawer
A drawer liner is important because the wood veneer bottoms of most kitchen drawers just don't stand up well to the abuse inflicted upon them by utensils. Lucky for you I have found a super-easy way to create removable and wipeable drawer liners!
Here is the sad before: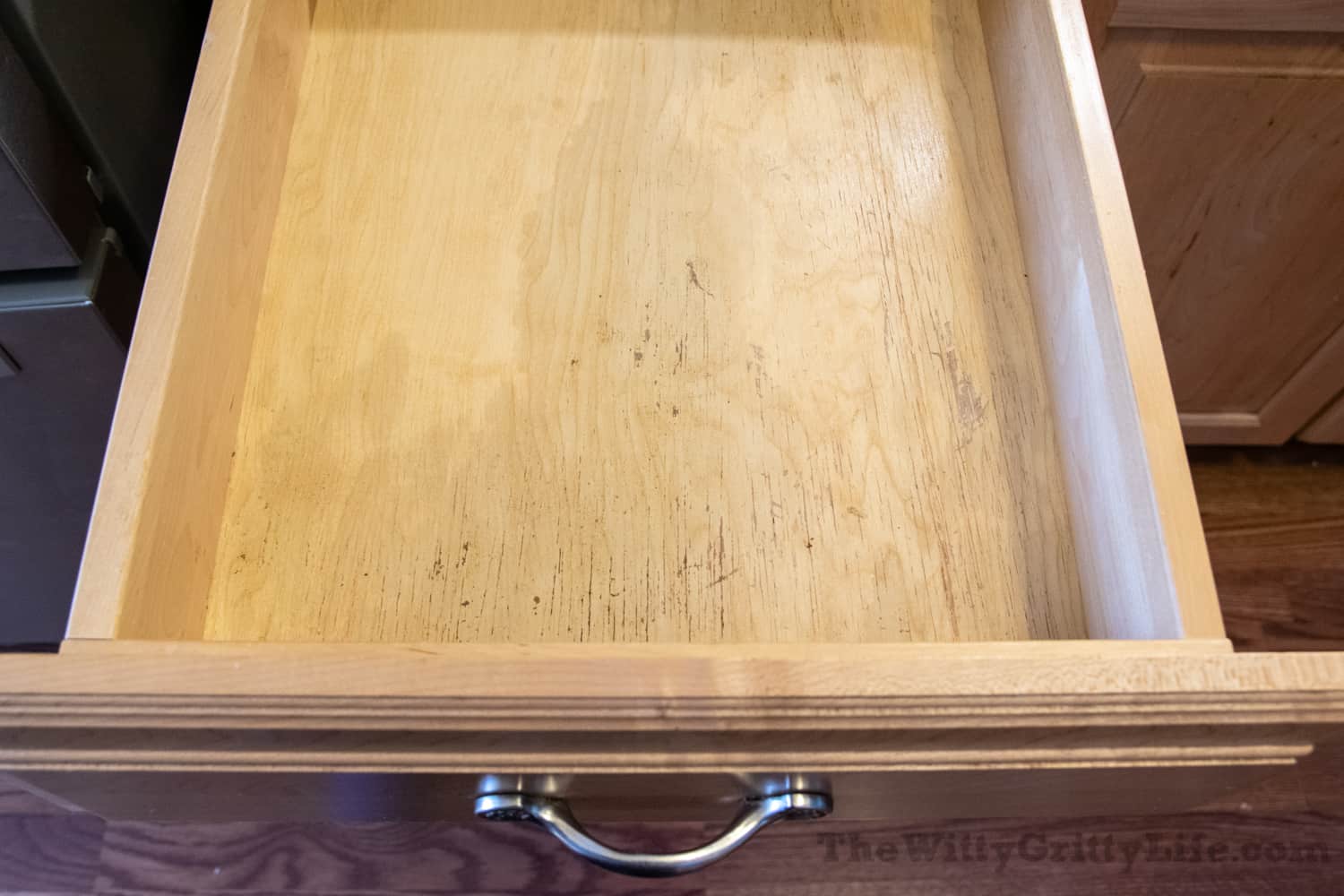 And here it is sporting its new "marble" liner: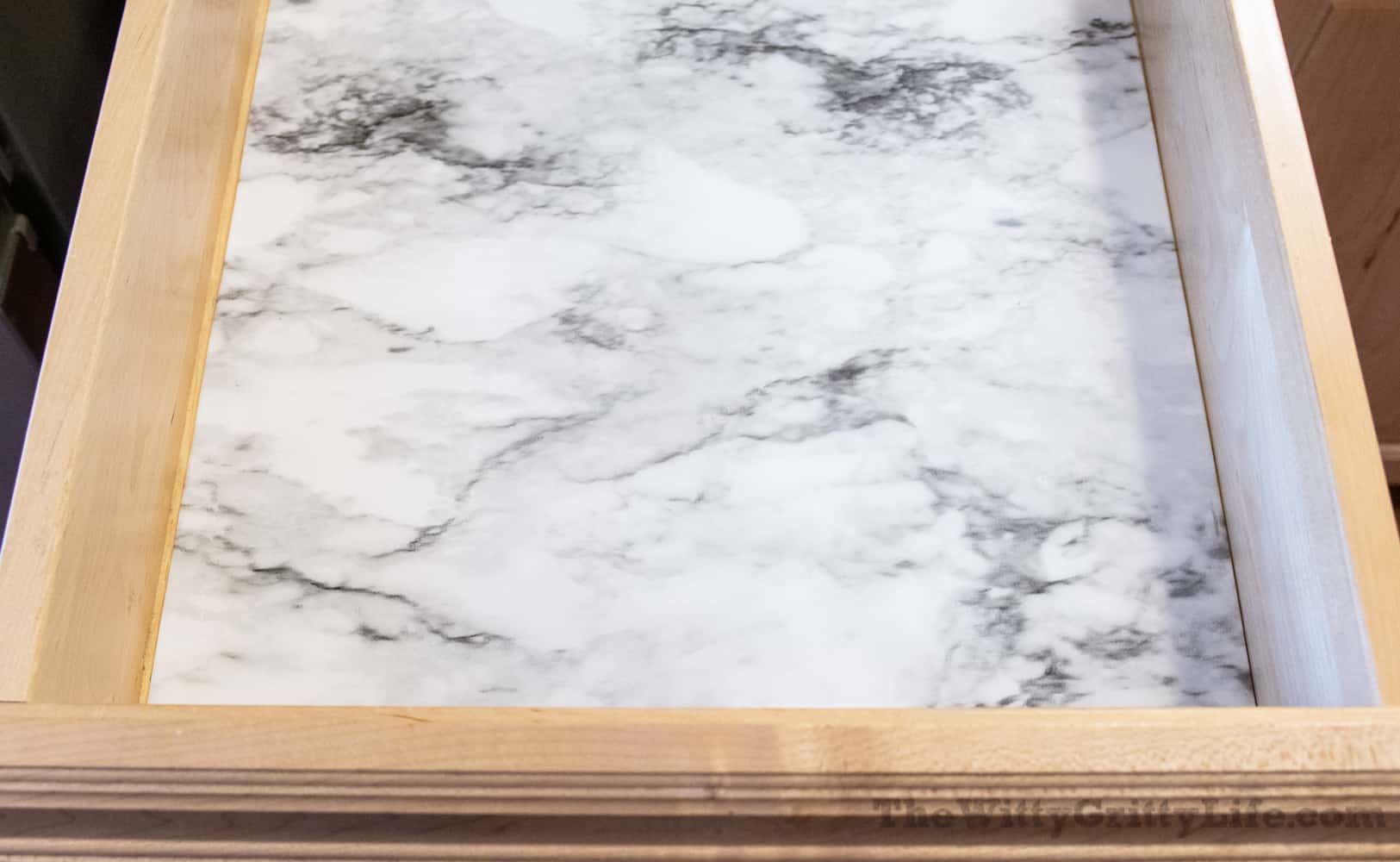 You can see here that the liner has just a little space on the side. You don't want it to be too snug or it will not lie completely flat. It is also easier to remove that way.
Set up Your System
A system of clear plastic bins made the most sense. They come in many different sizes, are easy to clean and after going through the extra step of creating a nice drawer liner, you'll see some of it peeking through!
When it comes to cheap and easy organization the dollar store is usually the best place to look for containers. I happened to find the ones that work best for this project in the cosmetic storage section. Not close to a dollar store? No problem, this set of clear plastic bins would work very well and is reasonably priced.
Be sure to take your measurements with you when you shop for clear plastic bins. You want them to fit as tightly as possible to prevent them from shifting around. Don't forget to take the height of the drawer into consideration when you purchase your bins.
After playing around with the best possible configuration, this is what I came up with for this relatively narrow drawer: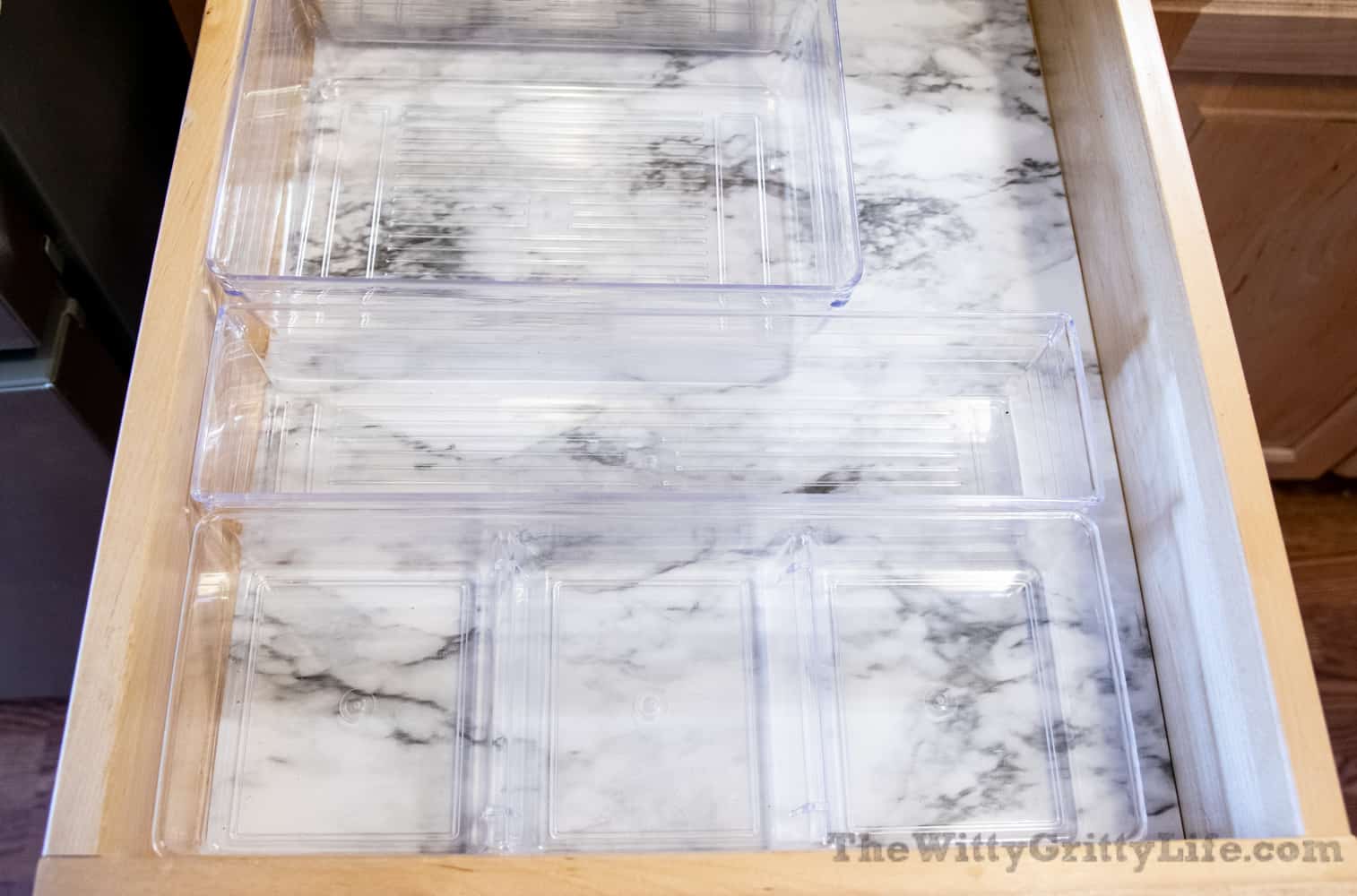 You can see there is some space on the right. In my case, this was intentional, because I knew I had a couple of items that were long and skinny and would fit just right. If you are left with additional space on the side, find items to fill it or put little stick-on non-slip bumper pads on the bottoms of your containers to prevent them from sliding. (They come in handy for all kinds of stuff around the house)
Admire the bins and their contents! Exciting isn't it? Well, not really, if you have a life, but still…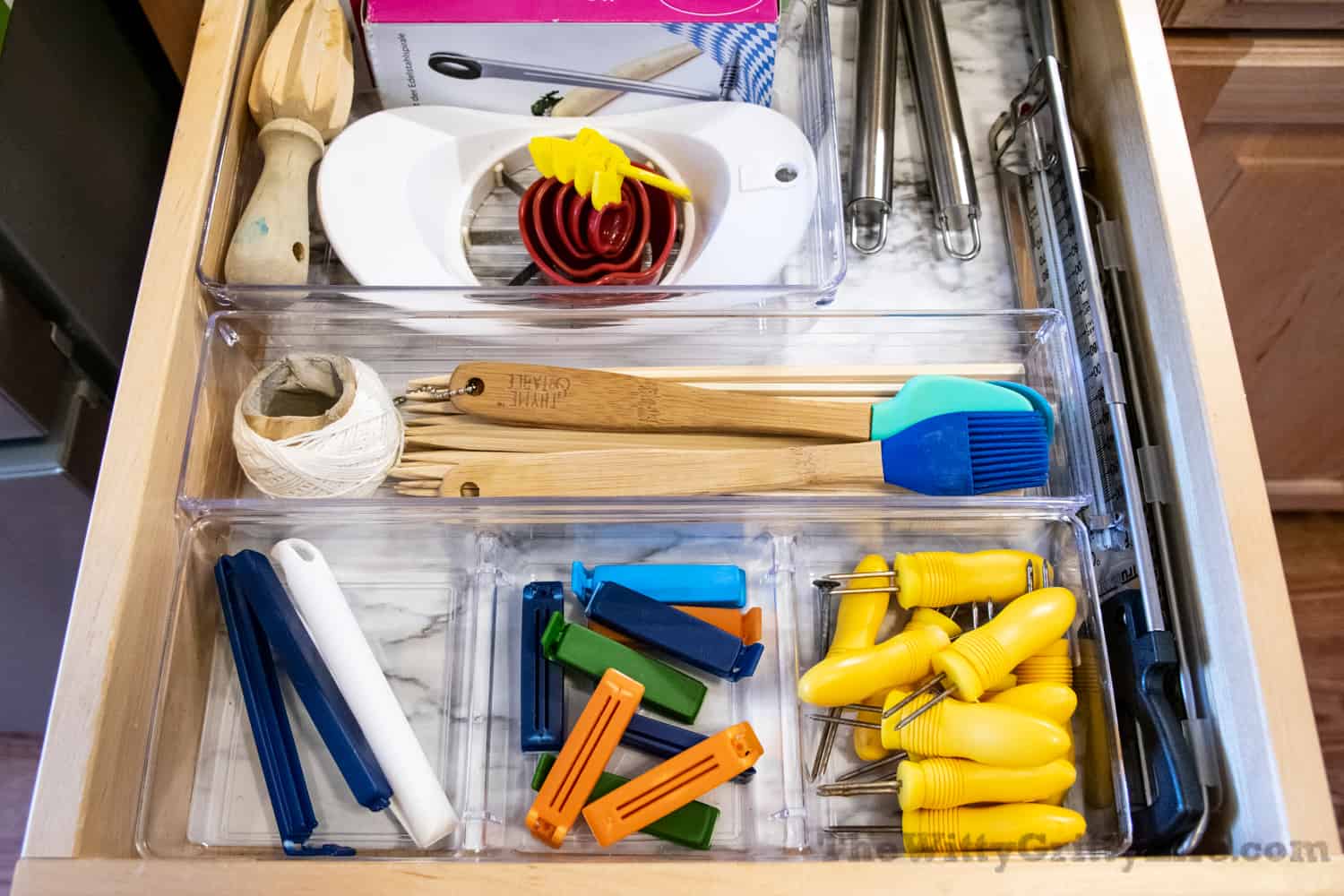 Moving items like bag clips, basting brushes and little spatulas up front made the most sense. We use them all the time. Having the drawer organized like this has made life a little easier because it's not easy to find things, it's easy to put them back as well!
A place for everything and everything in its place.
Now I can honestly say that this drawer has gone from making me shudder every time I opened it to making me smile. It is, I dare say, my favorite drawer in the kitchen. Why it took me so long, I don't know, because it was a quick and simple project. It really motivated me to get going on making all of the drawers look good!
Of course, this little method can be used throughout the house, from desk to bathroom drawers. And that is something I am working on right now as part of my push to reclaim those areas from clutter.
To get access to more tips, tutorials, recipes, and printable art be sure to sign up for my ever-growing FREE Resource Library!


Now, I realize that organizing kitchen drawers might not be the sexiest home project there is. Chances are you will be the only person to actually see it, but you deserve to have a well-organized space that works for you and makes you smile!
Is there a drawer or two in your house that could use a purge and a little TLC? I hope I have inspired you to do just that!
If you have a project you would like to share, be sure to join us over in TheWittyGrittyLife Facebook group!
I hope you're having a great day!