You finally find the item you have been looking for, only to discover the price tag puts it out of reach. Sound familiar? That is basically the story of my champagne-taste-with-a-beer-wallet life! Exactly that happened to me again recently with a marble lamp. And that is where a little ingenuity comes in awfully handy, my friends.
With my brain in full on DIY mode, I set out to come up with a plan to recreate the object of my desire, in this case a snazzy marble lamp that retails for a cool $882 A  PIECE! And that is the SALE price! Jaw dropping, wouldn't you say? Granted, that was the "art" version, but at our house there is no distinction between breaking something outrageously expensive or dirt cheap. There are some other, less pricey options, but they still hover around the $150-$200 mark per lamp. Since I had my mind set on two, even that price point was too rich for my blood. But I found a solution that is pretty simple, looks amazing and costs a fraction of the inspiration piece!
* some affiliate links are included for your convenience. You can read my full disclosure policy here.
Enter the amazingly realistic looking marble version of self adhesive paper. Yes, the exact same kind I used in this fun and easy gold and marble Ikea table makeover! What made this project so incredibly cheap, ahem, budget friendly was that I already had the paper as well as the gold spray paint on hand. Both are pretty easy to find and won't break the bank, I promise.
So let's get started, shall we?
A lamp consists of three distinct parts:
column/base
wiring
lampshade assembly
Here is what you will need to create your very own marble lamp knockoff:
2 x 1 pieces of wood: pine (make sure it's straight and doesn't have knots) or mdf works well
finishing nails, wood glue
wood filler or dry wall spackle
sanding block or sand paper
white paint or primer
marble adhesive paper – I found the kind I liked best at Walmart in the shelf liner isle
rod or lamp "nipple" to thread through column
hammer, screw driver, scissors, patience
rectangular white shade – from At Home store
Here is the shade I used to create my lamps: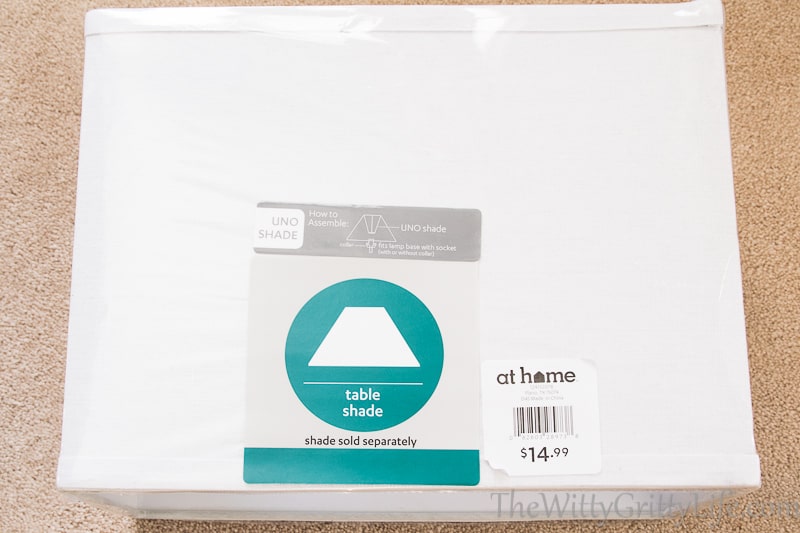 Update: Not to worry! If you don't have an AtHome store in your area, Target now carries a very similar and even more affordable shade as part of its Project62 line.
Wiring a lamp is one of those electrical projects that can be easily accomplished by a novice. Just read and follow the instructions and you are good as gold! I did it and I am terrified of anything electric!
The lamp kits I used required, but did not include, the "nipple" – basically a straight tube with screw windings which will allow you to properly and securely assemble your lamp in the final steps. I was lucky enough to have them on hand, salvaged from an old pair of lamps, but this is what you are looking for before cutting the wood pieces to their proper length. They are super important, because they are what holds the lamps together in the end.
Since I had a pretty good idea how I wanted my lamps to look, I set out to find the best way to create the columns that would be covered with the adhesive marble paper.
These are the pine boards cut to size from the scrap wood pile in the garage.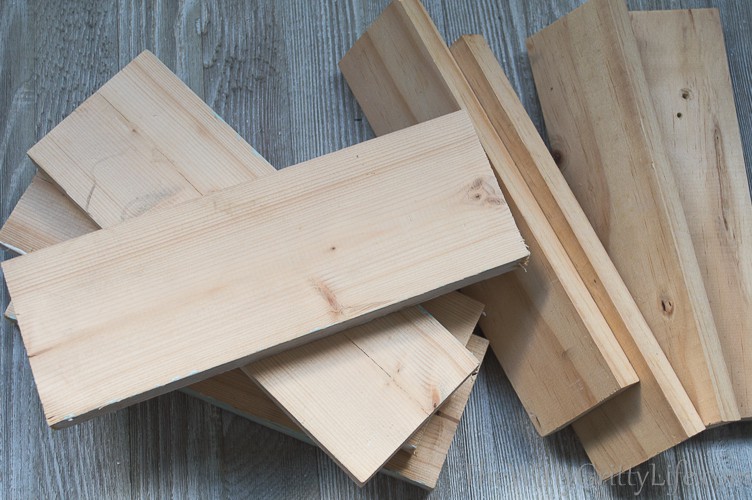 For my columns I cut the pieces to the following measurements:
4″ wide, 10″ long (total of 4 pieces for 2 lamps)
2″ wide, 10″ long (total of 4 pieces for 2 lamps)
4 pieces measuring 4″ x 3 1/2″ from the same wood. Those are the gold top and bottom pieces you see in the finished product.
After all of the pieces were cut, I glued and nailed them together to form a hollow column with the narrow pieces at a right angle to the wider ones. To make this easier I drilled pilot holes and pounded the finishing nails through like this: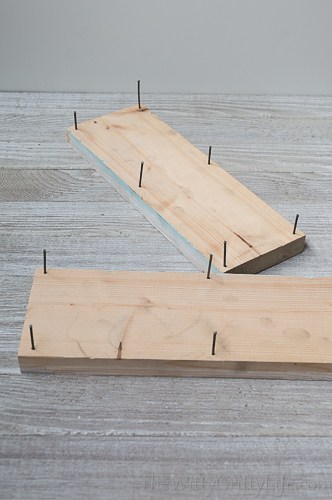 Doing this first will help you align the pieces much better for the finished columns.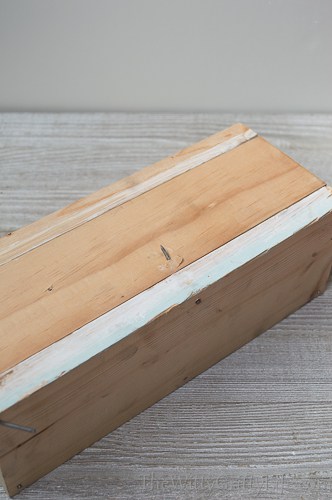 Be careful not to do what I did in the above picture! That's why drilling pilot holes will make your life much easier!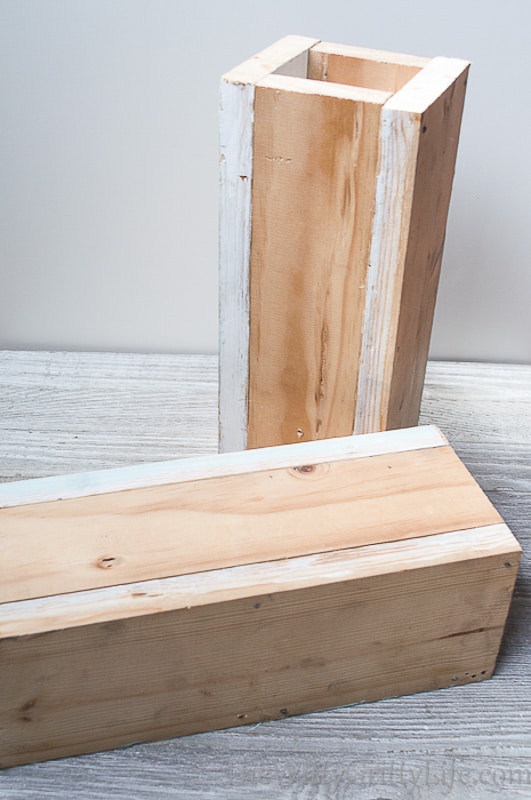 At this step it is very important to make sure that the edges are as smooth as possible to avoid any kind of groove as well as dings and nail holes. Anything uneven will show through in the final product! The top and bottom should be even as well. You'll save yourself a whole lot of sanding that way!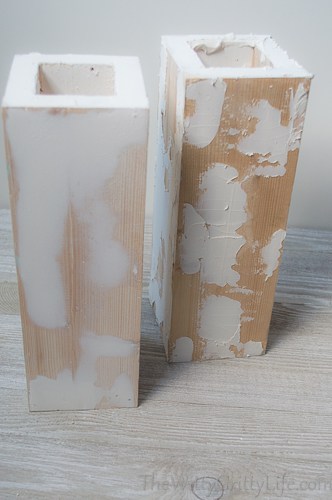 Once the columns are assembled, first sand, then fill in any gaps with either wood filler or spackle (my choice, because it sands and paints well). You can see that it looks quite messy at this stage.
While the filler or spackle dries on the columns, drill a hole of about 1/2″ diameter through the center of each of the top and bottom pieces. Just draw a diagonal line from opposing corners to find the center – x marks the spot:).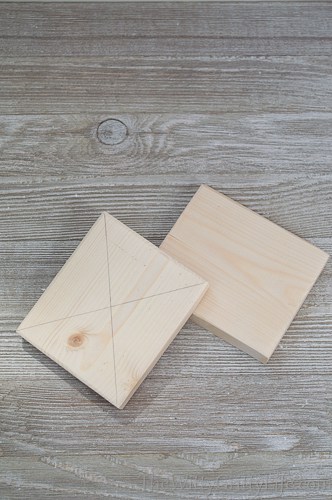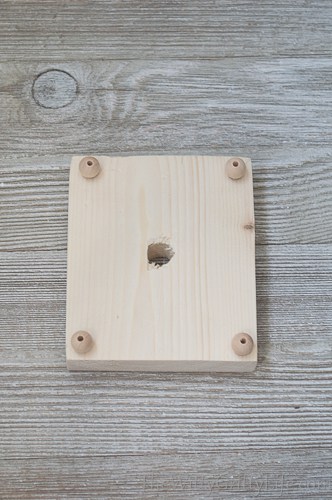 The drilled hole doesn't need to be pretty as it won't be visible in the finished project.
Sand each piece well. You may want to fill in the wood grain on the ends with the same filler or spackle for a smoother appearance once they are painted. I didn't do that, but will probably go back and re-do it, because it is kind of obvious. I also opted to hot glue little round wooden beads in each corner of the bottom pieces to allow for the lamp cord to come through.
When those pieces are ready, spray paint them – outside or in a well ventilated garage, of course! This is my favorite gold spray paint, leftover from the table project!
Once the columns are dry, sand them well to make sure they are completely smooth, add more spackling compound if needed. This is the most important part of the process to insure your marble columns look and feel realistic.
Now it's time to give the columns a coat of white primer paint to make sure there won't be any surprises shining through the marble paper later!
The next step is to cover the columns with marble adhesive paper. This is a fairly straight forward process. Be sure to cut the paper long enough, about 3 inches on the top and bottom to allow you to fold it over. Just work slowly by peeling a little of the backing at a time and smooth with an old credit card as you go to keep air bubbles at bay.
Here is what they look like painted and with the marble paper applied.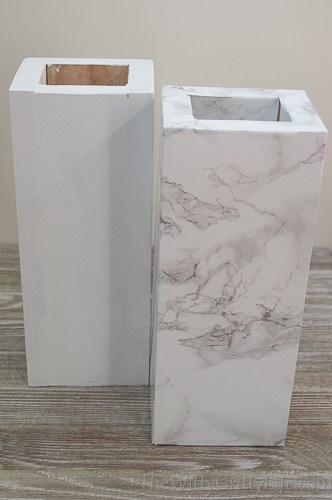 With the columns covered and the ends tucked in at the top and bottom, it's now time for the final assembly.
Here I opted for not attaching the gold top and bottom pieces by nailing or gluing them down. Everything is held firmly in place by screws once the lamps are all put together.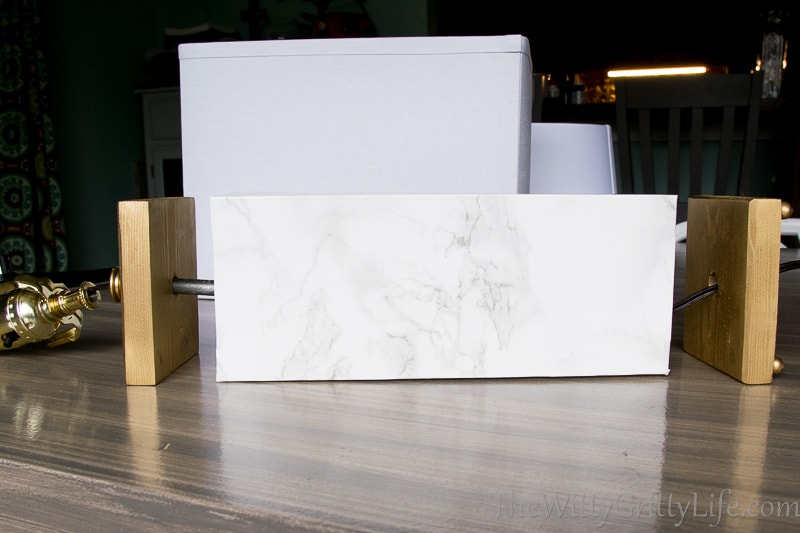 This is how it will look once all of the parts are threaded together. Here are some pictures to show you the top and bottom: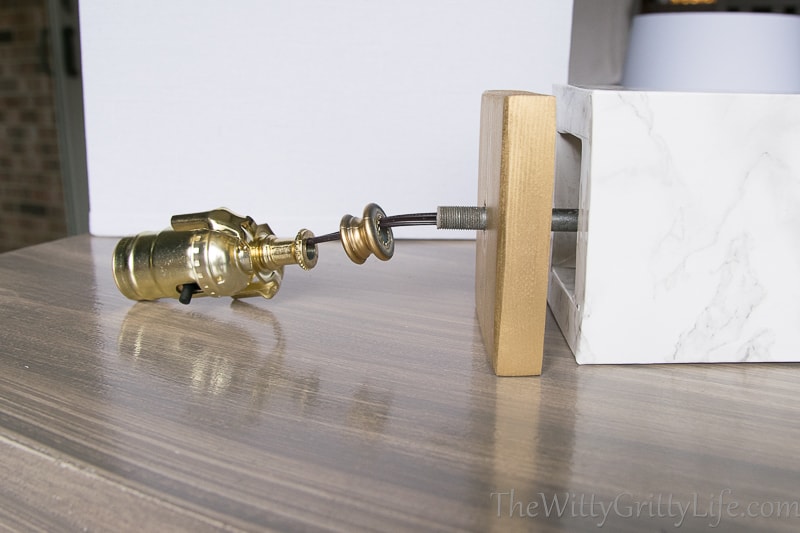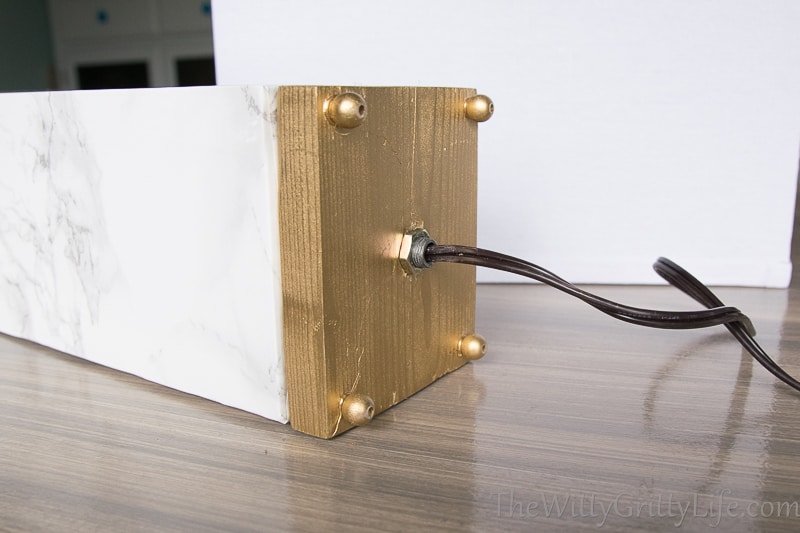 At the bottom you want to make sure that the threaded rod doesn't protrude too far or the lamp will not be able to stand properly like this.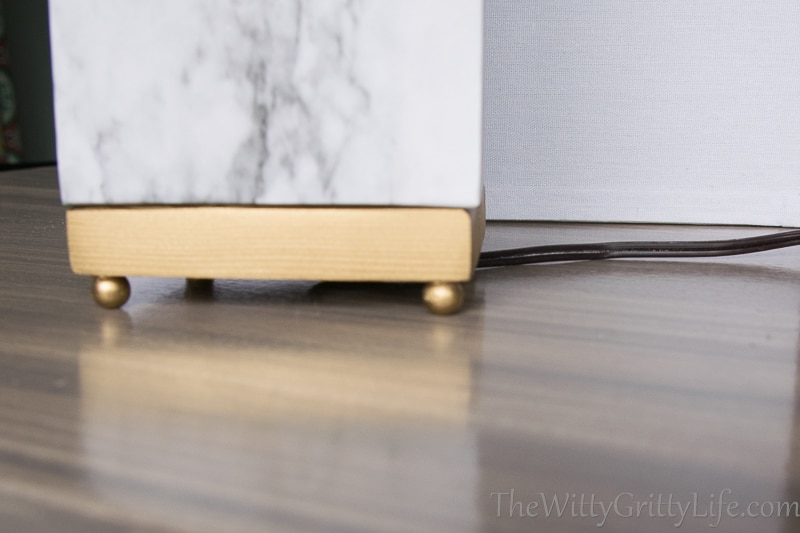 Once you have put all the pieces together, just add the shade and a bulb!
Are you ready to see the final result?
I think I've kept you waiting long enough! Here she is!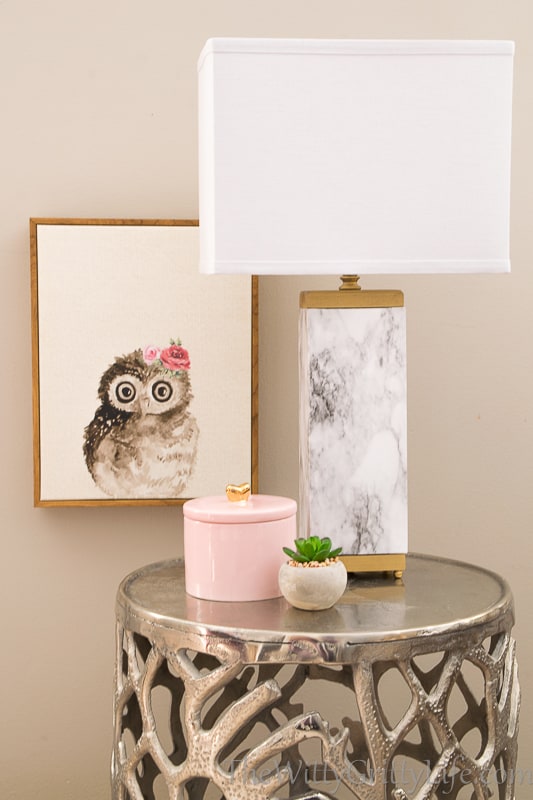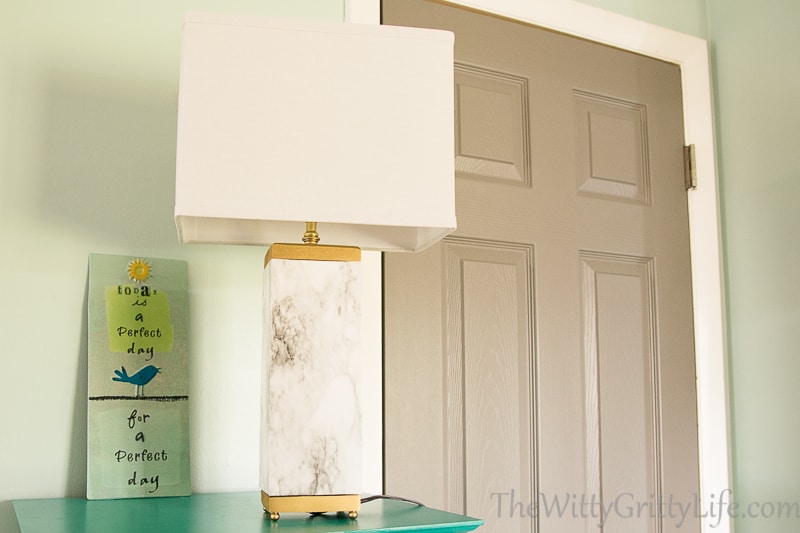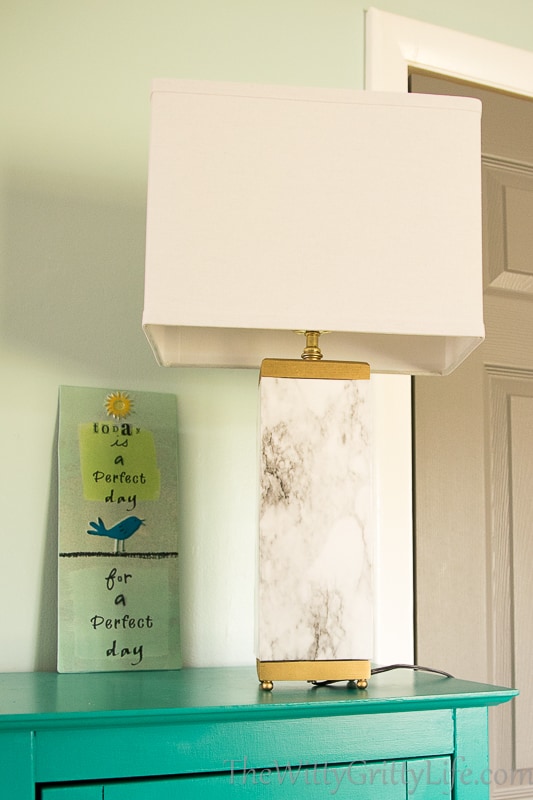 After adding it all up, each lamp came in around $40, including lamp wiring kit and fancy shade. Sure beats paying through the nose for those other pricey marble lamps.
I am completely happy with how this project turned out! As I mentioned before, I created a pair of these and they look amazing! Actually, this is the lamp you may have seen in my recent post about the laundry room makeover! Now you know how to create your very own marble lamp masterpiece!
Keep it simple!
Don't forget to pin it for later!