Do you have some furniture sitting around your house that could use a little updating? You know, a piece with "good bones" but a boring or perhaps worn off paint job? I am so excited about today's simple little project! This Ikea table has been sitting around my living room for years. But to be honest, I was never terribly excited about it. I bought it because it met three criteria at the time: size, height, price. Other than that: yawn. The black finish was just too lackluster and generic for my taste.
The glass top was another strike against it. At our house, some people apparently have eyeballs in their fingers. Why else would they constantly paw around on glass table tops? I had looked for a gold and marble accent table for some time until it dawned on me that the perfect little table was right under my nose. If you have spent any time at all on Pinterest, you know that Ikea hacks are all the rage. And with this simple Ikea table makeover, I am throwing my hat in that ring. Because you cannot have too many Ikea hacks. Okay, I promise I won't say IKEA anymore;)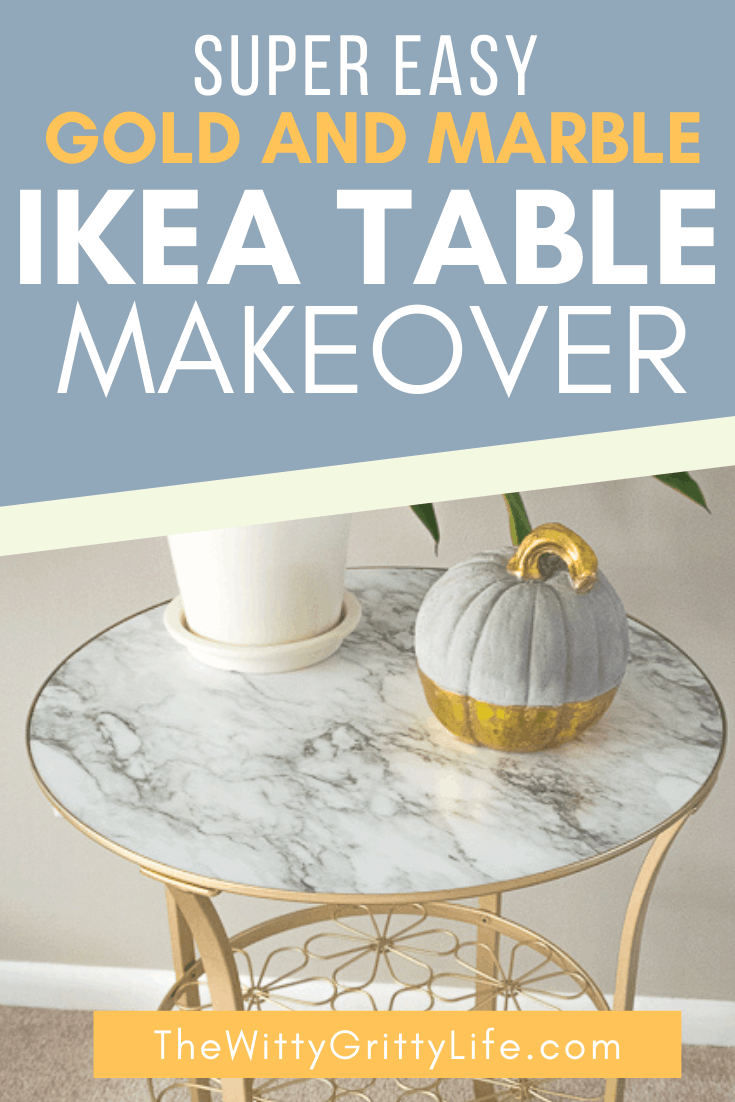 Here is a boring "before" picture. Don't you agree, this little table deserves better? It's just crying out for some class and glam. And that is exactly what it got!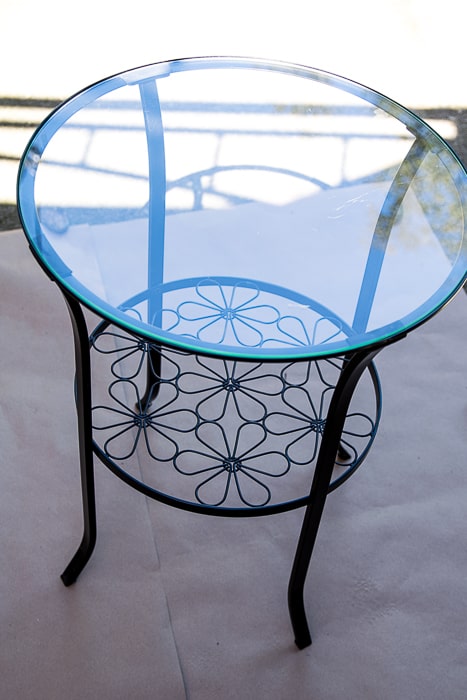 This post contains affiliate links. You can read my complete affiliate link policy here.
Have you seen this adhesive marble paper? Or touched it? This stuff feels incredibly real down to the honed finish! But they are not all the same. I used a different, much more expensive kind on another project and it was shiny and fake looking. This paper made me a believer and it is only around $7 for a 20 square foot roll (you can find it at Lowe's or Walmart with the shelf liners)! Seriously, if you love the marble look without the price, you have to check it out. Okay, I am done gushing. On to the table project.
This project is pretty straight forward. I usually save my spray painting projects for pleasant, dry, not too windy Spring or Fall days. Always use any kind of spray paint in a well-ventilated area! Of course, as one of my smart readers I don't have to tell you that the wind should blow at you from behind, should there be a breeze:) That is unless you are going for a gold spray tan look…
HERE IS THE LIST OF SUPPLIES YOU WILL NEED
Remove any rust with sandpaper prior to priming and painting. Then clean your table thoroughly before you get started on painting. This is the most important step to ensure a good looking and long-lasting outcome. My homemade glass cleaner recipe does an excellent job.
You can find the recipe for it as a handy printable along with my other favorite cleaning recipes in the FREE Resource Library.

1. Prime
This step is only necessary if you want your paint to stick;) So, yes, I highly recommend it. Pretty much every time I was in a big hurry and skipped priming, I came to regret it. Do yourself a favor…
Be sure to cover your spray painting surface well with either newspaper or sturdy craft paper before you begin. Remove the glass top and set aside.
When you prime and paint, it works best to start on the underside of the table. That way you can get a good feel for how well your paint covers and work on your technique before you get to the part that is more visible.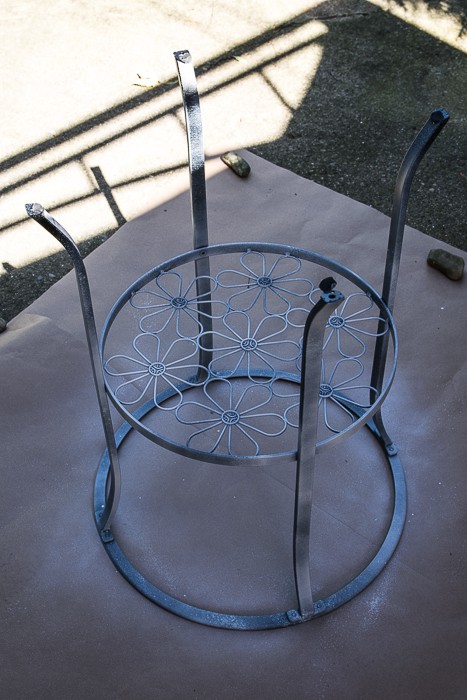 Prime both top and bottom. Don't worry if the coverage isn't perfect! (confession, the primer coverage on my table is less than it should be because I ran out of primer and was too lazy to run to the store to get more) Ideally, your table should have better primer coverage than is shown here.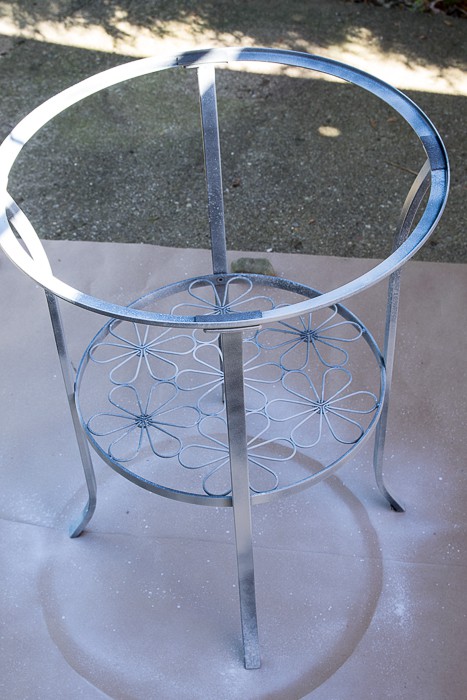 2. Cover
While you are waiting for the paint to dry, cover your glass top with marble adhesive. It's quick and easy.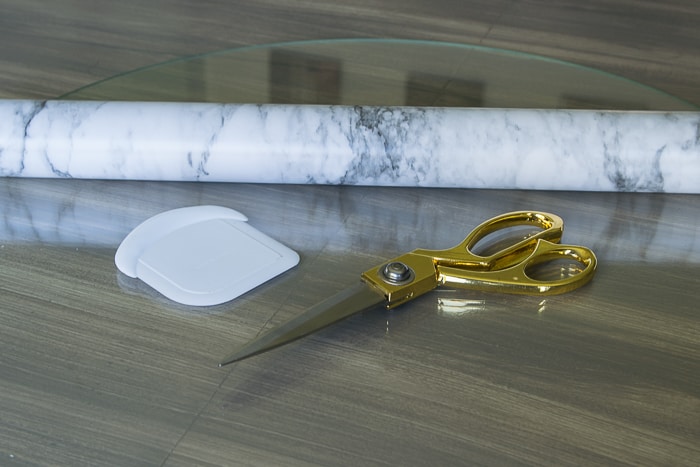 Begin by placing the glass round on the wrong side (the one with the grid) and begin cutting your circle with about 1″ (2.5 cm) extra all the way around.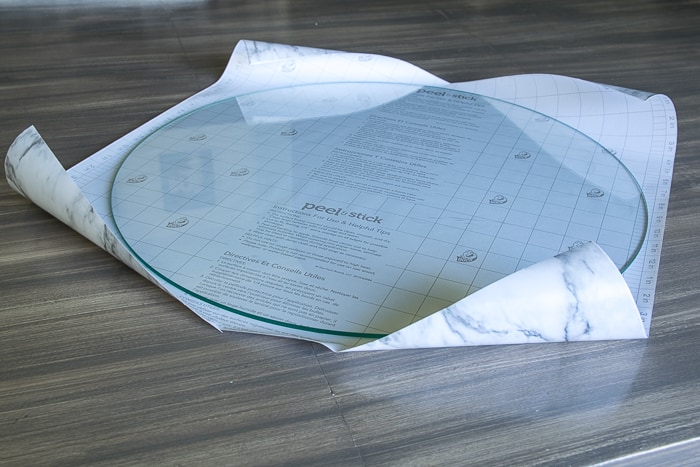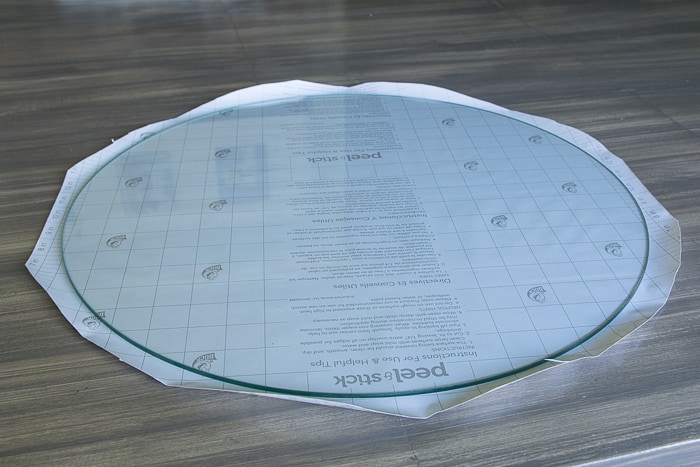 Next, peel back just a little of the paper and apply the adhesive side to the glass round. Smoothe out all bubbles as you go. A plastic dough scraper or an old credit card works well for this. Can you see why I gave up on my dreams of becoming a hand model?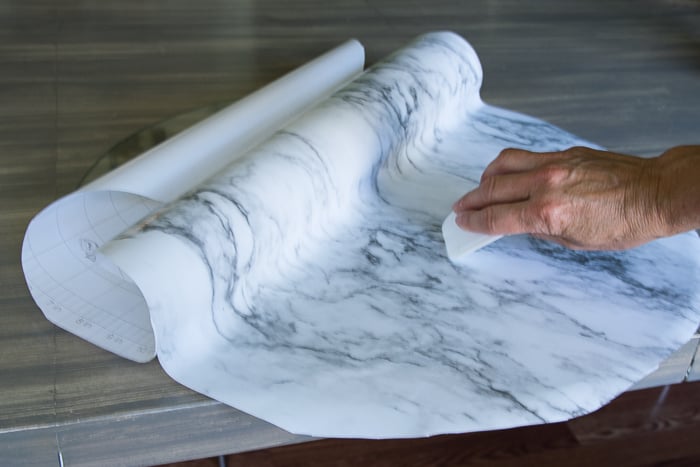 Continue until the entire top is covered smoothly and bubble-free.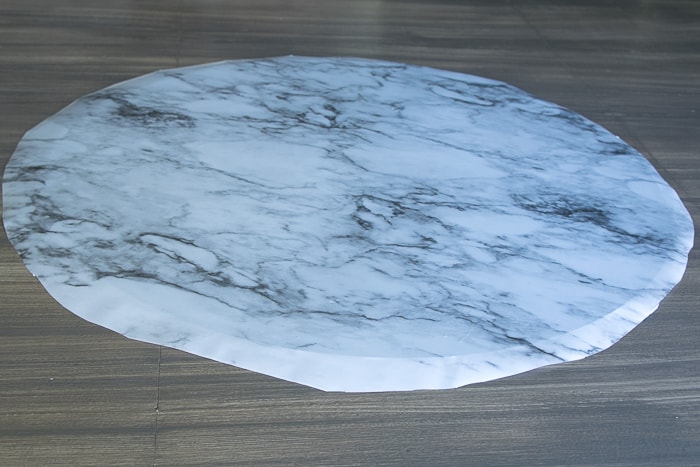 Cut tabs that are no more than 3/4 -1″ (2 cm) apart, right up to the edge (but not past it!). If the tabs are too wide, they will not conform to the edge smoothly. The three tabs on the left are too wide!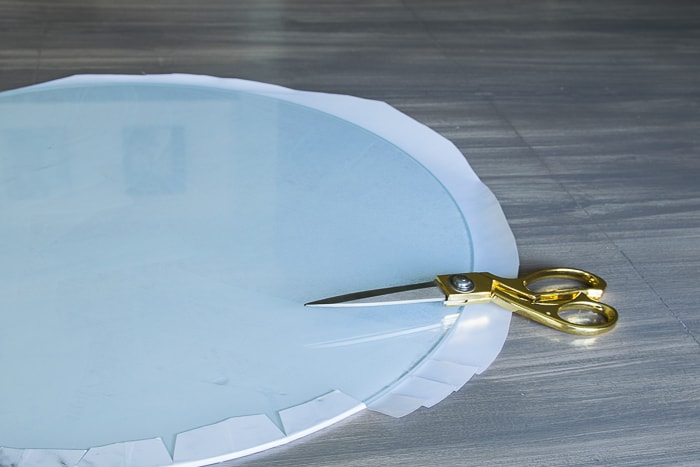 Begin folding over the tabs one after the other. Make sure they are nice and tight. You are going for the illusion of a smooth edge! It doesn't have to be even, because it will be covered up in the next step.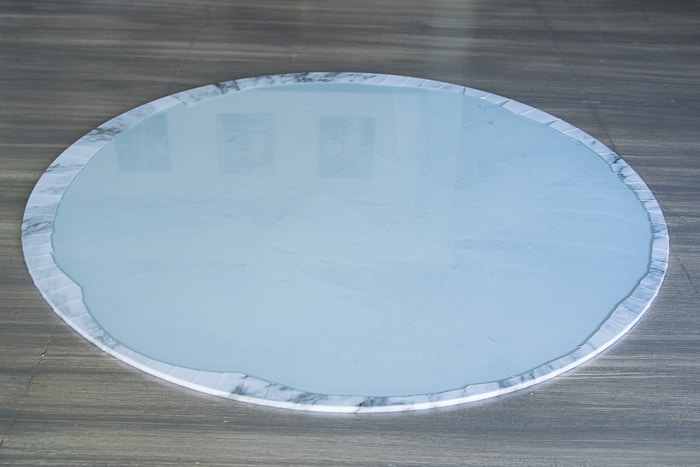 Once you have made your way all around, flip it over and marvel at your adhesive paper covering prowess:)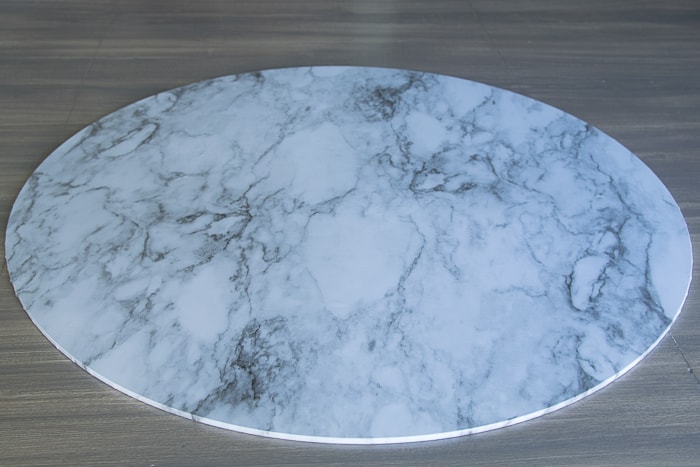 Then place the round on yet another sheet of adhesive marble paper. This time trace the exact outline of the round. Use a PENCIL. I grabbed a sharpie for this, like a doofus, and wound up with an ugly black line all around my "marble" top. It came off with hairspray, but still, don't be me.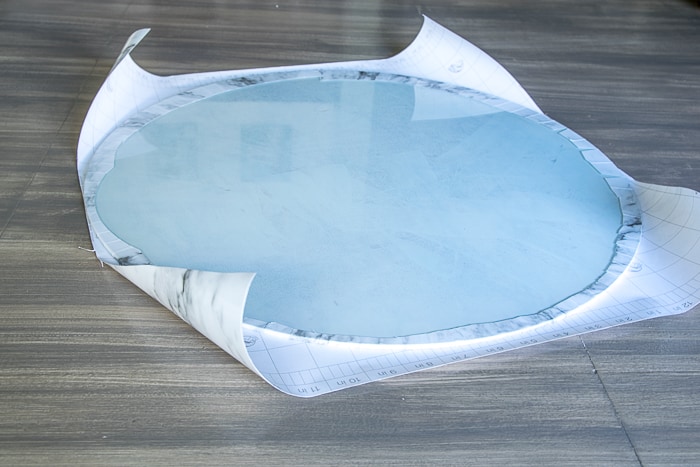 Cut out the second round of paper, then remove a little bit of the backing and begin adhering the adhesive the same way you did the first time, making sure the edges are aligned this time.
This will be the bottom of the round top. Technically you could skip this step, but I wanted the "marble" to look real and I am super happy I did this because it does.
Do a happy dance and pat yourself on the back, because you just made "marble" out of glass!!!
Update: This tabletop has held up very well in our living room and looks as new as it did the day it was covered, almost 2 years later.
Find more ideas for marble adhesive paper at the bottom of this post!
3. Paint
Now it's time to bring on the glam. Painting is pretty much a repeat of the priming process – with your gold spray paint. This is my favorite brand. I love it so much because it has a beautiful gold sheen without looking brassy. And there is basically no waiting time between coats. Being the impatient DIY-er that I am, that ranks pretty high with me. It also holds up very well.
Be sure to read your chosen spray paint's instructions well. Many brands require that you spray on the second within an hour or after 24 to 48 hours! Who has time for that?
Just like the first time, I began with my table standing "on its head". Spray lightly in several passes until you have achieved the desired paint coverage.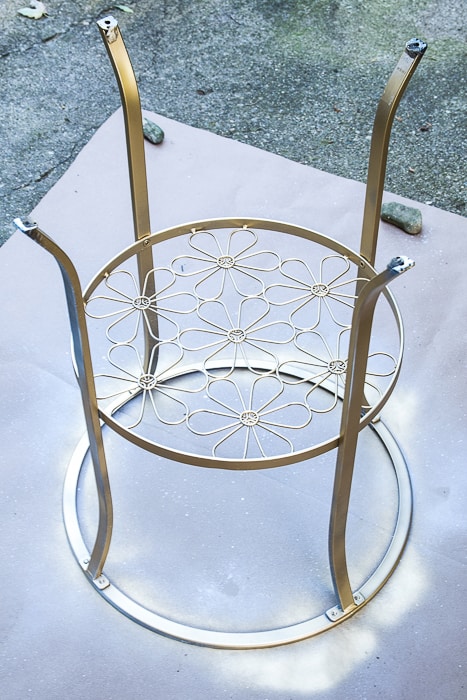 Then turn it over and repeat the process.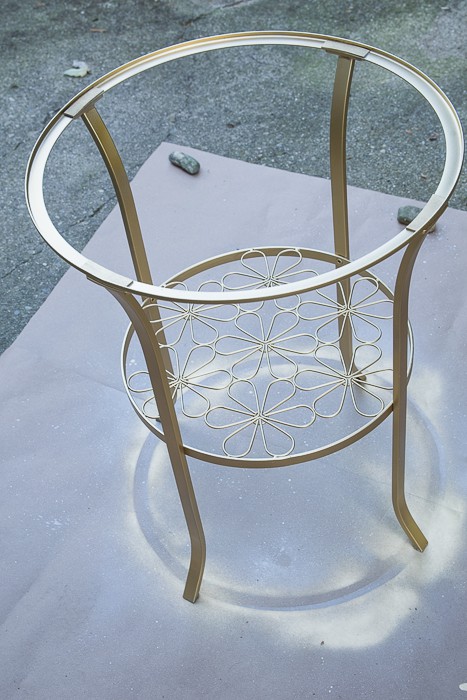 Pretty yes?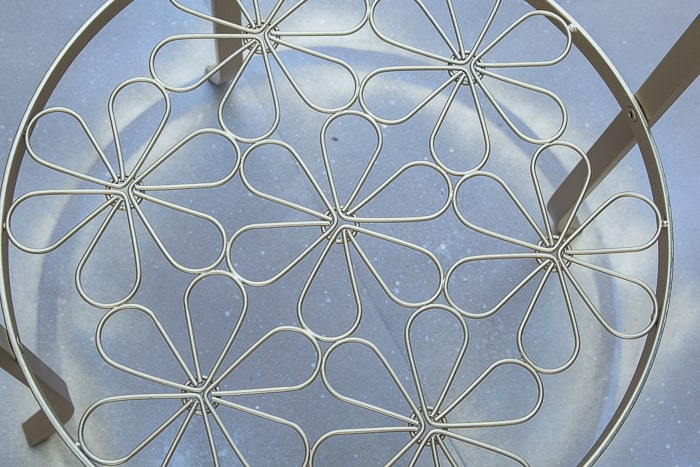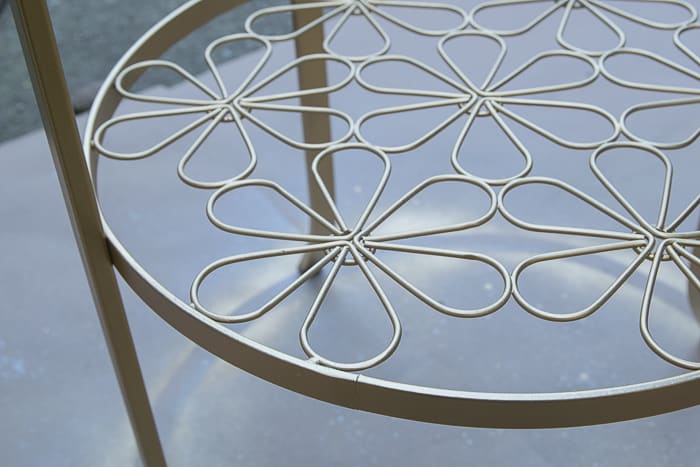 Once you have finished your last coat, let it dry for 30 minutes to an hour before moving it. Even paint that dries quickly still needs to cure in order to resist dings and scratches. Make sure your newly painted masterpiece stays out of harm's way.
Once the paint is completely dry, add your "marble" top. Tada!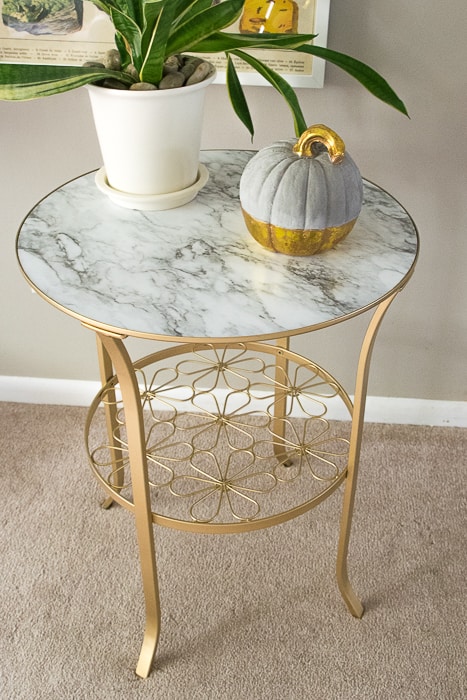 Isn't this is a pretty simple way to turn a so-so run of the mill Ikea table into something with a glam personality? Honestly, I couldn't be any happier with it!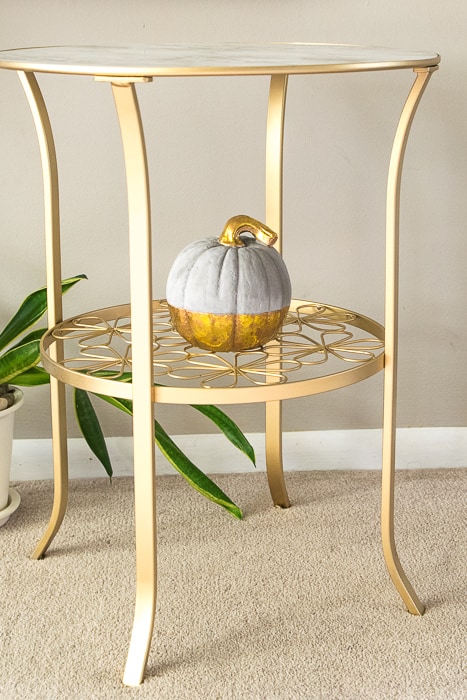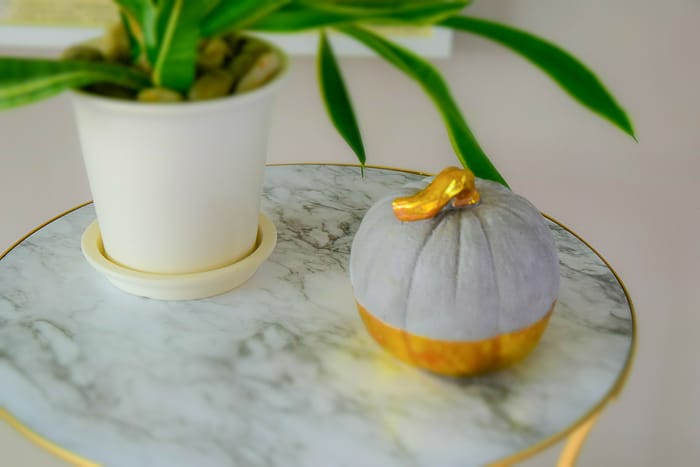 Have you tried your hand at making over furniture? I sure hope so! Do share the finished project, if you do! I can't wait to see! I already have several other ideas for gold and/or marble projects that I cannot wait to share with you!
Check out these posts to see what else you can do with gold spray paint and marble contact paper:
HOW TO LINE DRAWERS THE EASY WAY
MARBLE LAMP KNOCK OFF – HOW TO GET THE DESIGNER LOOK ON A DIME
Update: It's been nearly two years since this little table got its makeover and I am happy to report that both the paint and the marble adhesive paper are holding up very well and look like new!
Keep it simple!