It starts out innocently enough. You want to find a way to ditch chemicals in your home. Maybe a friend talked you into trying them. Whatever the reason may be, you got hooked on using essential oils, and the next thing you know there are essential oil bottles everywhere. It can happen quickly.
Even worse, you cannot find your favorite oil, because you can't remember where you put it last. Your bathroom counter is overrun with little bottles, making it a real chore to keep everything clean and organized. I feel ya my friend.
It's time to find a way to organize and store your essential oils once and for all.
Thankfully there are a ton of stylish storage solutions to choose from that will make it much easier for you to keep a handle on your stash of oils.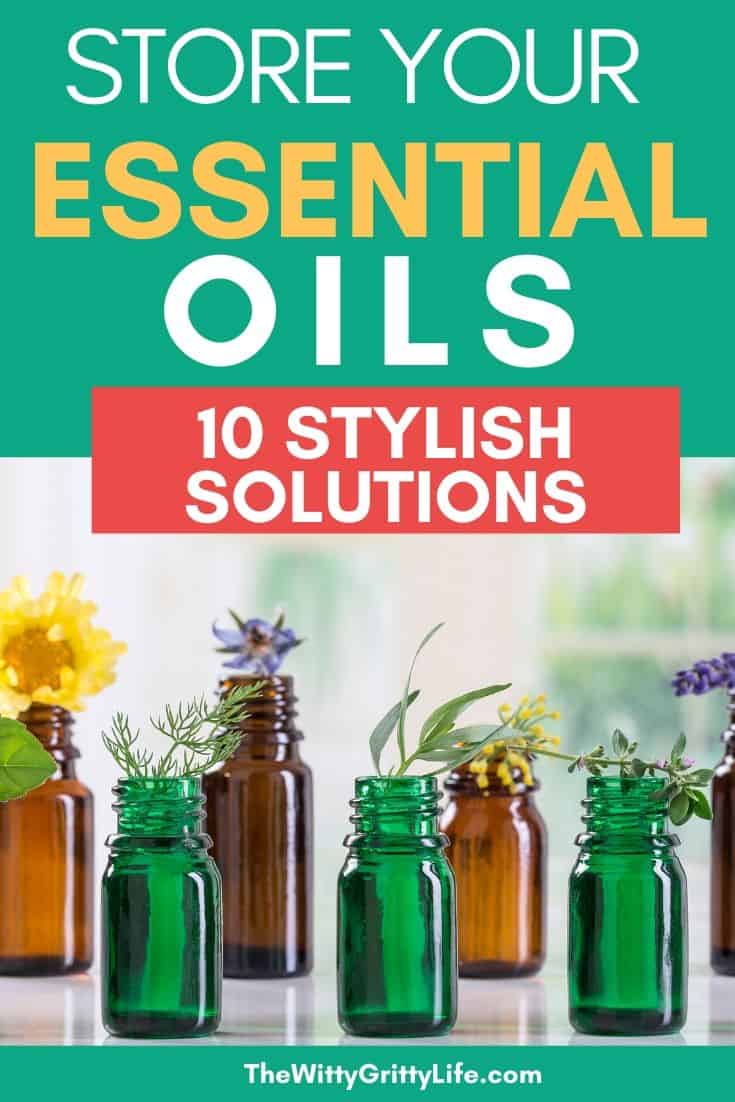 When I started using essential oils consistently a few years ago, I had no idea how much I would come to rely on them. I use them everywhere in the house, for cleaning, to create my own body care products, even for cooking.
Soon my bottles took over counter space in the kitchen and bathroom, on the nightstand, even a side table in the living room. After all, who wants to go hunting through the house looking for bottles. It only makes sense to keep them close, doesn't it?
But as practical as that may sound, essential oil bottles everywhere is probably not the look you're going for in your home. And it wasn't for me, either.
You can find all kinds of practical ways to use essential oils and lots of easy to make recipes in the FREE Resource Library. Sign up here and your exclusive password is on its way to your inbox!
In my seemingly never-ending quest to declutter, I decided to get this area under control. Time to organize and display essential oils in a way that works is practical and looks good!
And you know what? I found some pretty nice storage solutions that will work in just about any space, including when you're on the move.
When it comes to organizing essential oils, the options range from color coding to sorting by use or even arranging them in alphabetical order. The key to organizing and most importantly staying organized is finding a system that works best with how you use them. The best way to figure out your approach to organizing is to first find the right storage solution for your particular space.
Would you like to keep your oils in one central spot or do you prefer to store them where they will most likely be used? Do you want to display them out in the open or are you looking for ways to store them out of sight? The answers will vary.
The main focus of today's post is to find a variety of different ways to store and/or display essential oils in various areas of use, including travel. I wanted to make sure you will find exactly the storage solution you are looking for!
This post contains affiliate links. You can read the full affiliate policy here.
10 BEST WAYS TO ORGANIZE AND DISPLAY ESSENTIAL OILS
What options do you have when you don't want to take up surface area or precious counter space to keep your oils? You go vertical! Moving up is never a bad idea, especially in a small space. It's also an excellent choice if you prefer your counters clear of excess stuff.
Vertical racks can be simple or elaborate, there are solutions for every decorating style. While there are quite a few options for essential oils, racks designed to hold nail polish bottles also happen to work exceptionally well. They hold just the right size bottles, like this eye-catching display!
I made sure to research and post only racks and storage systems that are rated highly for essential oils so you can be sure that all of the options I am showcasing will actually work. Just click on the link below each image for sourcing information.
PUT THEM ON A RACK
This simple rack from MetalRacks on Etsy would work well on the wall or behind a cabinet door. This shop offers a wide variety of different essential oil storage and display options that are definitely worth checking out! I also love the simplicity of this display!
MetalRacks even offers small magnetic racks for the refrigerator!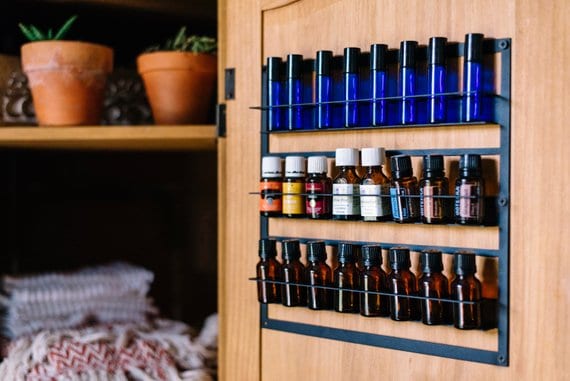 DISPLAY THEM ON A SHELF
If farmhouse is more your style, there are plenty of options as well, like this fun shelf from HisHersWoodworking also on Etsy. Do be sure to swing by their shop to check out the amazing range and variety of shelves. And they are all handmade right here in the US!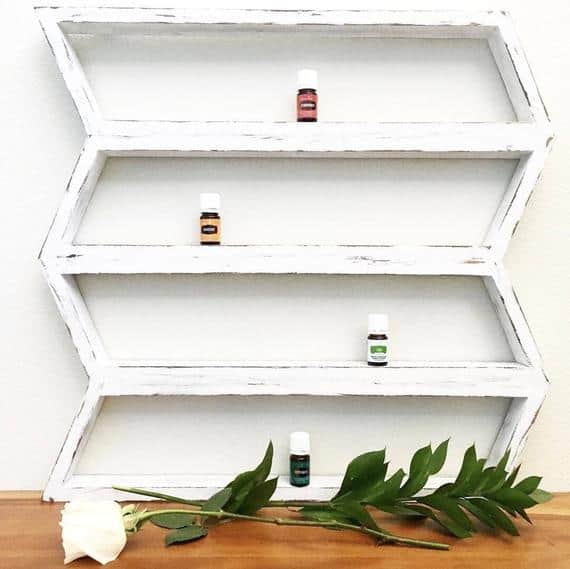 MAKE IT ARTSY
Have even more fun displaying your oils by choosing an eye-catching display like this tree of life storage rack. It measures nearly 2 feet across and is sure to make a statement.
I bet it would look even better all filled up with essential oil bottles!
While the color options are somewhat limited, you could easily personalize this display with spray paint in the color of your choice.
INCORPORATE ESSENTIAL OILS INTO YOUR HOME DECOR
While we are talking about shelves, check out this beauty! So bohemian and fun! You can find this and a few other cute options at the Etsy shop DayDreamCollectiveUS.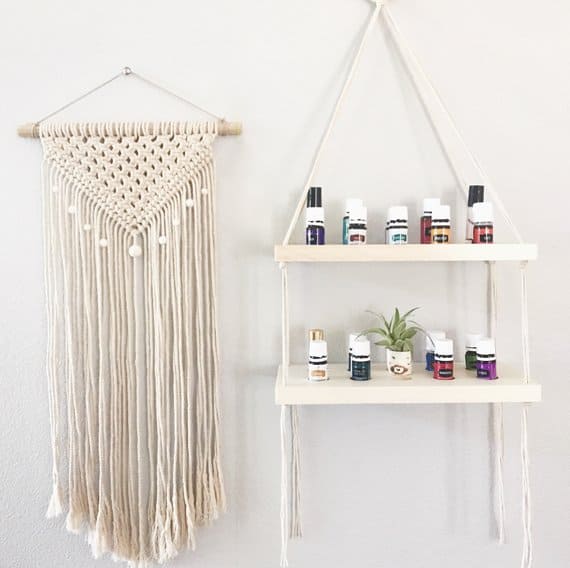 MAKE A UNIQUE STATEMENT
When it comes to storing and displaying your oils, vertical is by no means the only option. If you just want to keep your favorite oils close by, here is another fun way to incorporate them into your decor.
These little geometric pieces can be found at yet another Etsy shop, ElevatedWoodDesign. This is only one of their many unique and quality essential oil displays. You have to check out their shop for sure!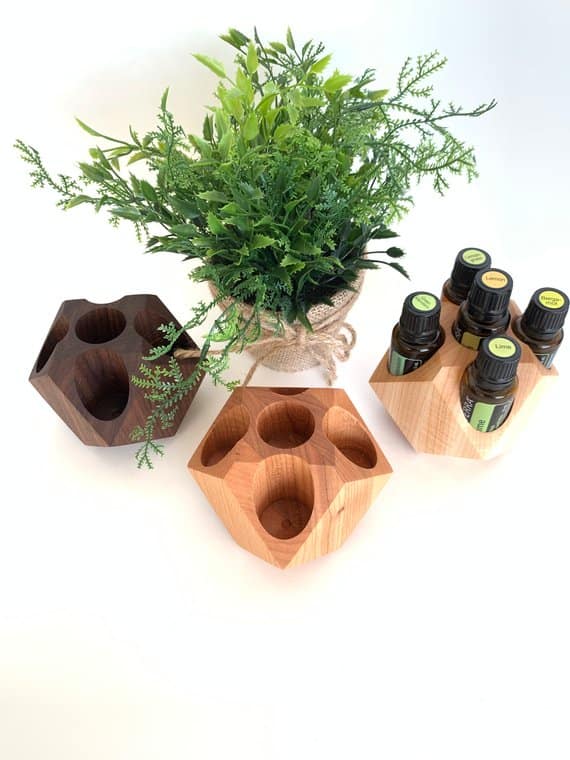 KEEP THEM OUT OF SIGHT IN STYLE
Want to store more bottles of oil, but keep them out of sight? This simple bamboo box will surely do the trick! Just close the lid and all you see is a handsome box.
Use it anywhere you want to keep your oils close, but out of sight, like a shelf in the living room.

Individual trays store 20 regular bottles as well as 10 roller bottles.
USE PRACTICAL BARGAIN ORGANIZERS
For a clean and sleek look that works well in a bathroom check out this nail polish tray that would work very well for holding many different bottles of essential oils and carrier oil as well!
Acrylic organizers like this come in many different sizes. You can generally find them in the makeup organizing section. This is also the most budget-friendly and easy to clean option!

STORE THEM FOR EASY USE

Why not keep your oils and your diffuser together? This handy stand from the Etsy shop OilyHounds does the trick.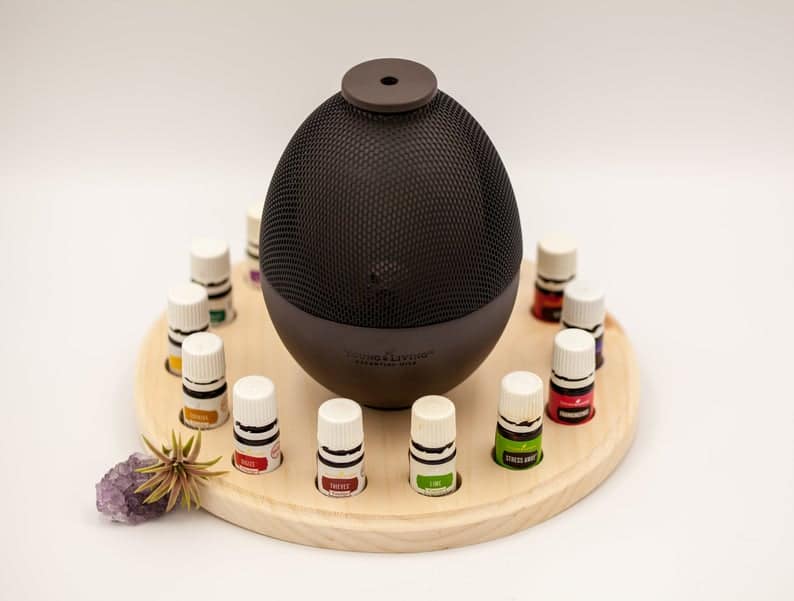 KEEP YOUR OILS HANDY FOR TRAVEL
Bring all you need next time you travel with this practical bag. It holds your oils and your diffuser. Pretty and practical is right up my alley! These lovely carrying cases come in several pretty patterns and are lined with water-resistant material.

MAKE THEM PORTABLE
For those times you just want to bring a few bottles with you, there are so many cute cases! In this category, I could not limit myself to just one, so here they are!
This first one looks just like a little purse, so cute! You would never know it holds several bottles of essential oils!

The second bag is for serious essential oil enthusiasts! If you need to carry a great number or oil bottles with you as you travel, this one has it all. It will hold 50 bottles, your diffuser, and more.
This is perfect to bring all of your oils to a friend's house without the hassle of multiple containers. Don't you just love the hanging caddy? That would come in super handy in an RV! Click on the image to see more.


If a compact case that works hard when it comes to storage, is more your style, this last option might just be for you. Depending on how many bottles you have, this might very well be the only case you need.
Just keep all of your oils together in one handy place and they are ready to go wherever you go. It is highly rated, holds thirty bottles and several convenient accessories.


You love your oils and you want to keep them close. Now you don't have to sacrifice style and organization! I hope this post inspired you to organize and display your essential oils in style! Do you have a favorite way to store your oils and keep them handy? Be sure to share them in the comments!
All of the displays and cases would make a lovely gift to yourself or any essential oil lover on your list!
Here are a few other essential oil related posts you might want to check out:
HOW TO MAKE YOUR OWN HAND SANITIZER WITHOUT ALCOHOL
HOW TO CREATE HOMEMADE SOAP LIKE A PRO
HOW TO MAKE ALL-NATURAL ROOM FRESHENER SPRAY
Each of the recipes listed in these posts can be found in the FREE Resource Library! You can quickly sign up above, below this post, or over on the side!
For more from The Witty Gritty Life, be sure to stop by Facebook, like my page, and join our group. You can find me on Instagram to see what I am up to on any given day.
Do you have a unique and stylish way to display or store your essential oils? Let me know in the comment section below!