WHY SEW YOUR OWN FACE MASKS?
Even though I wore face masks on a daily basis in my healthcare profession, I never really thought I might need one at home. Well, except for sanding down a DIY project or enameling in my jewelry shop. And like pretty much everyone else, when we were first advised to start wearing masks they were impossible to find anywhere.
So I decided to do what I always do and that is to DIY washable facemasks. The problem was that I couldn't really find a pattern that was easy to sew, comfortable to wear, and met the recommended guidelines. Those guidelines include two layers of fabric with a filter. I knew that I could definitely design my own pattern based on all of those criteria coupled with my experience in healthcare.
The trick was to make it all as fast and easy as possible. Because, who wants to spend all this time behind a sewing machine?
The pattern you see here is the result of much trial and error. In the end, I opted for a mask pattern that consists of one piece of fabric and requires only straight-line sewing. It can easily be adapted for use with straps if elastic ribbon is either not available or not desirable. And while contoured masks look great, they lack the adjustability and ease of sewing I was aiming for.
Check out my post on how to add a nose wire to this mask or any other cloth mask with a filter pocket.
Updated January 2021: Since this post was first published, face masks have become a part of daily life. I have had the privilege of making roughly 1,000 of them as of right now. Please know that I am always committed to providing you with the most updated information available. As a result, I will be revisiting this and other applicable posts often to reflect the latest knowledge. You can also find child-size patterns Easy Sew Washable Masks for Children. Also, be sure to check out my post on how to get the most comfortable fit for face masks.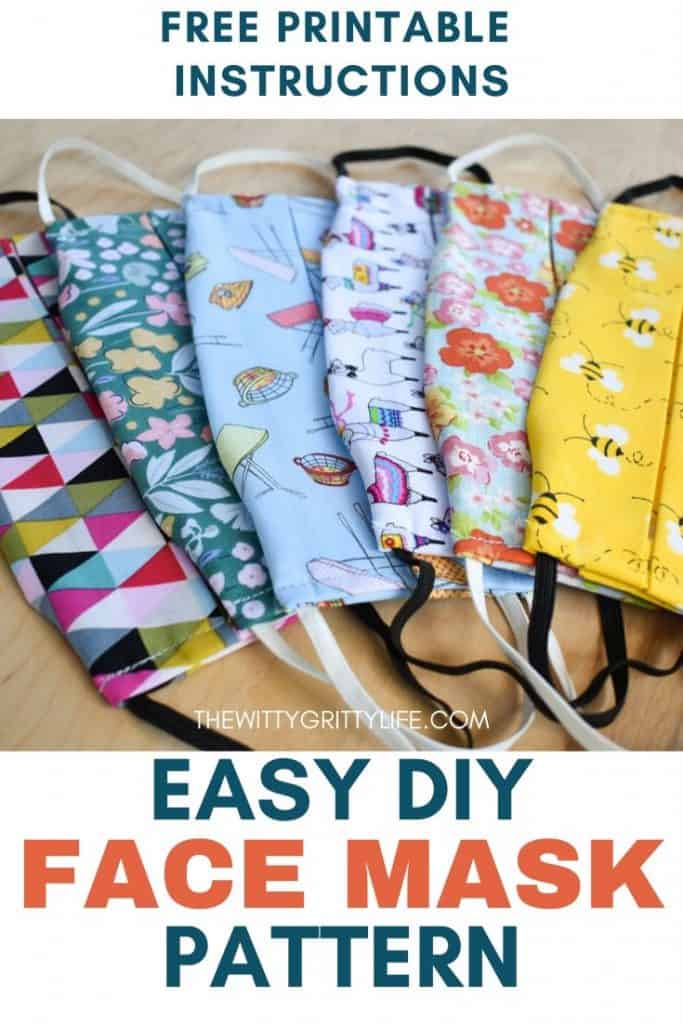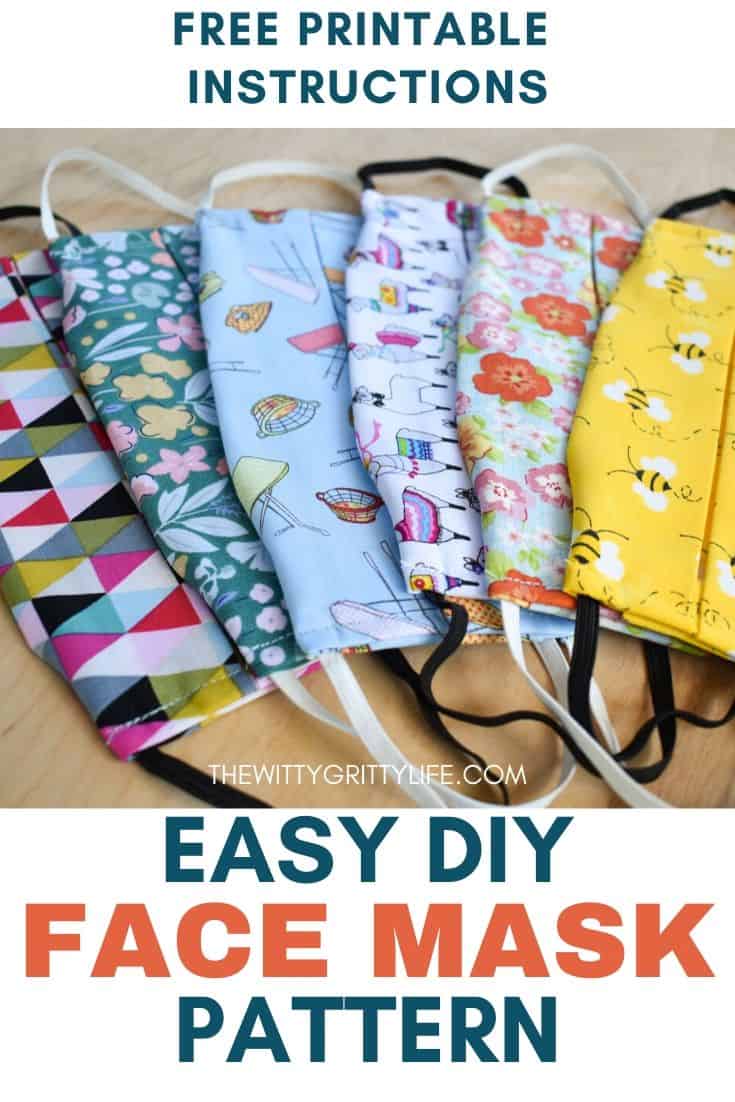 Before I proceed, I would like to stress that I am in no way claiming that a washable face mask will protect you like an N95 respirator mask. But since their use is essentially limited to medical personnel, a protective cloth face-covering like this triple layer washable mask is a good option for personal use. As a matter of fact, some hospitals were asking private citizens to sew face masks to prevent the depletion of N95 mask supplies.
EASY DIY WASHABLE FACE MASKS FOR BEGINNERS
As I mentioned, I worked in the healthcare profession for many years. And during those years I wore many different types of masks. A comfortable fit is as important as filtration. If your mask doesn't fit well, you will be less likely to wear it. Most medical masks are available in two variations: one with elastic loops, the other with ties. This mask pattern will work with either. The choice is entirely up to you.
basic MASK pattern design
While researching this DIY project, one thing stood out: a mask should have more than one layer, even if it is made from tightly woven fabric.
That is why I concentrated on creating a mask that has three layers, two fabric layers with a removable center (filter) layer. From what I was able to gather on information, the recommendation is that the center layer should consist of something that is not woven, like a dense type of batting, heavyweight t-shirt fabric, even folded paper towels. All will work just fine with my design as you will see.
And third, I concentrated on creating a pattern that is easy to sew with relative beginner skills. You shouldn't need to be a seamstress to accomplish sewing your own face masks. With my pattern, you need one rectangular piece of fabric and if you know how to sew a straight line, you are good to go.
Best materials for face masks
The next important consideration was the type of fabric. That choice turned out to be relatively easy. Cotton is breathable, comfortable to wear, can be washed in hot water, and is readily available. 300 thread count 100% cotton sheets are a great option.
They are readily available and very affordable. You may even have some on hand already. Or use one of the many fun patterns available at the fabric store and create your masks to match any outfit or taste!
If you prefer to purchase my ready-made masks instead, you can find a variety of colors and patterns in my Etsy shop. Shipping within the US is FREE and new patterns are added regularly.
You can find FREE printable instructions including a way to make these masks with ties instead of elastic and lots of other valuable info in the Resource Library. Just sign up here!
This post contains affiliate links. You can view the entire affiliate link policy here.
MATERIALS NEEDED TO SEW YOUR WASHABLE MASKS
cotton fabric (should be tightly woven) – prewash
1/4 inch braided elastic (may use 1/8 inch) cut to 7″ or 18 cm – 2 for each mask
*see other options for liner inserts below
Tips: For this purpose I found cotton quilting fabric to be ideal. You can buy it by the yard or in color-coordinated "fat stacks" with each piece of fabric measuring about 21×18 inches. This makes cutting fabric to size super easy. If you plan on making a number of masks, 300 thread count cotton sheets are an ideal choice. It is soft and breathable and can be found in many colors.
If you are using patterned fabric stick to a pattern that can be used in any direction. This makes cutting and sewing much easier and faster.
Braided 1/4 inch elastic is already in short supply. If you can't find any elastic right now, don't despair! You can make these masks with coordinated cotton ties. You can find instructions to do that in the complete PDF in the FREE Resource Library.
TOOLS FOR MAKING TRIPLE LAYER MASKS
sewing machine (use a needle suited for heavier fabric)
rotary cutter and self-healing mat
large quilting ruler
iron, ironing board
Tips: While a rotary cutter and self-healing mat are not absolute must-haves, I highly recommend both. It makes cutting fast and accurate especially when combined with a quilting ruler. And both are great tools to combat hand fatigue.
step by step Instructions for Sewing Face Masks
Cut the fabric so it measures 16″ x 10″ (approximately 40 cm x 25 cm)
Press flat, then fold in half horizontally. It should now be 8″ x 10″ (20 cm x 25 cm)
Press the fold and open back up
On either side of the pressed fold measure 2″ (5 cm)
From the 2″ (5 cm) mark, fold the fabric so it lines up with the pressed center line, repeat with the other side
Press folds in place and pin
Double Roll and press hems (1/4″ or 0.5 cm) on both ends in place, pin if needed (I have found that it is not really necessary if pressed well).
Stitch over centerfolds with a 1/4″ or 0.5 cm seam allowance on both sides to hold in place
Stitch hems
Press entire piece to set hems
Now roll in both sides about 1/2 inch 1.2 cm and press into place
Fold each end in towards the middle so they overlap slightly (check the front, the fold should be in the center
make sure the pressed seams stay aligned
with the opening facing up, place the end of elastic or fabric tie, align and roll so the tie is covered
stitch into place (back-stitch to secure) continue stitching until 1″ (2.5 cm) from the other side
insert the other end of your elastic or the second fabric tie, roll and secure like the first
repeat on the other side
A CLOSER LOOK AT THE STEP BY STEP INSTRUCTIONS
Begin by measuring and cutting your fabric. I used plain fabric here so you can see and follow each step clearly.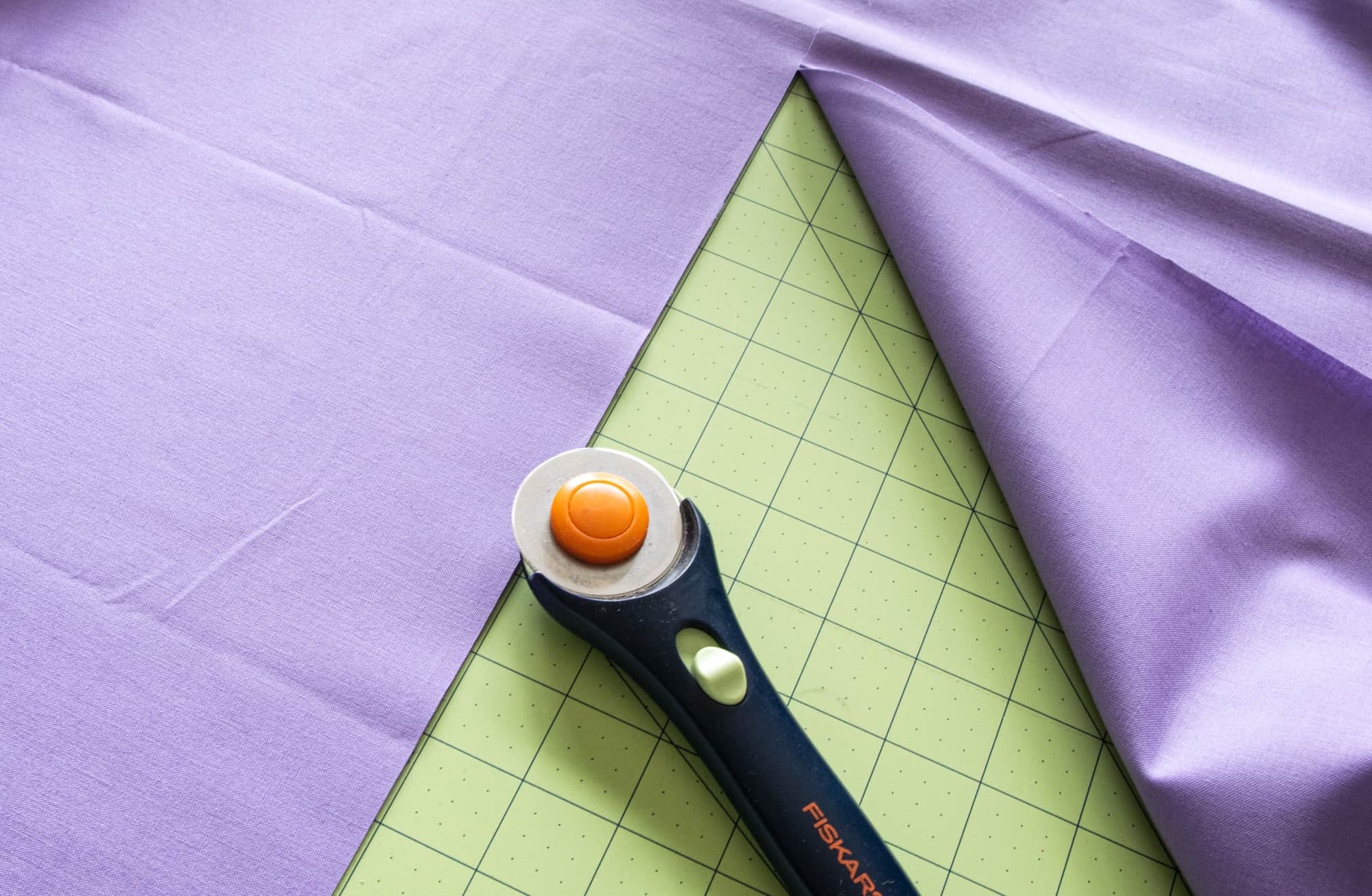 Fold the cut piece in half horizontally and press the centerfold as a reference mark.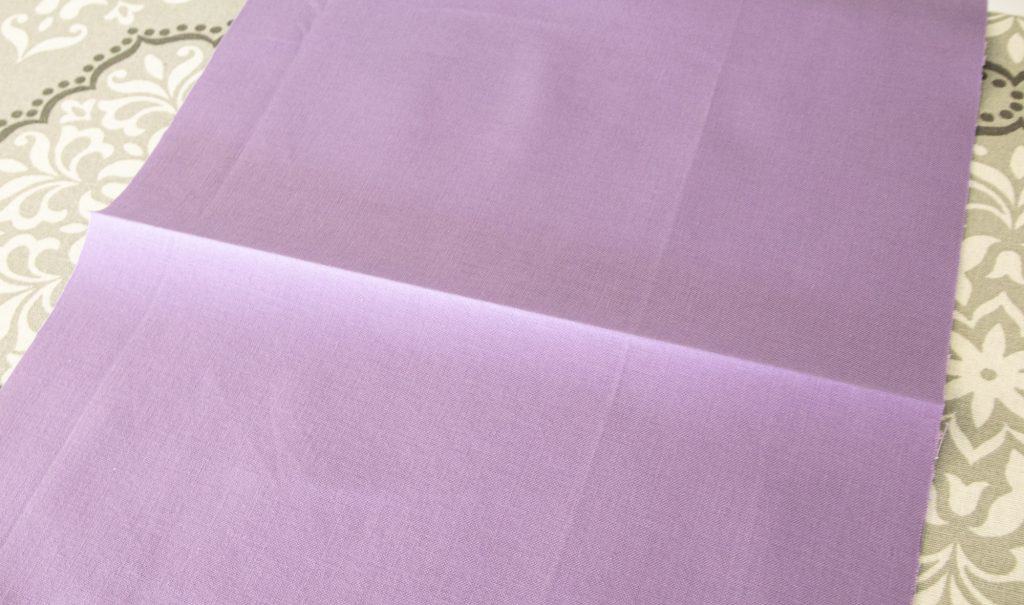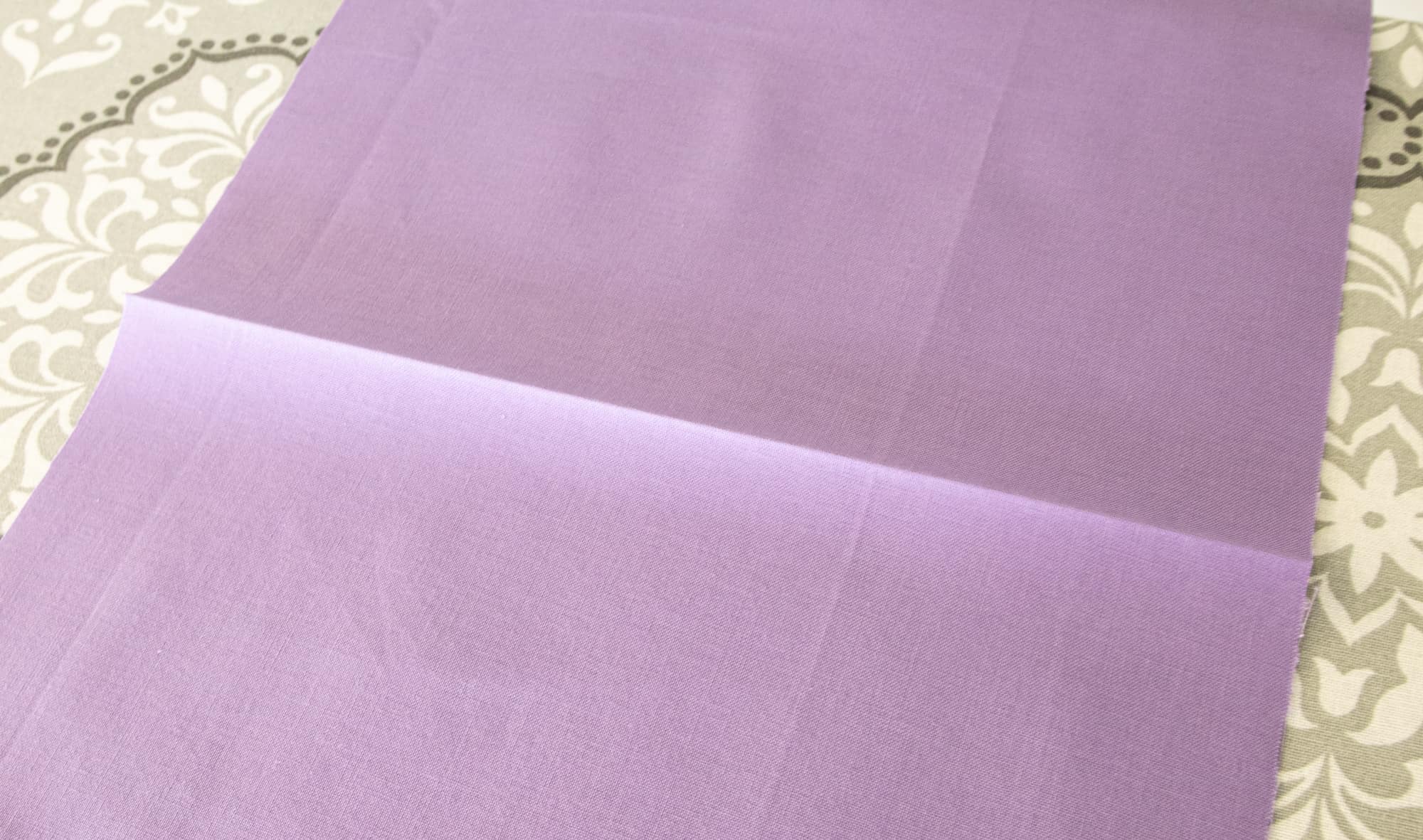 Create about a 1″ – 2.5 cm fold on each side of the centerfold, press and pin in place.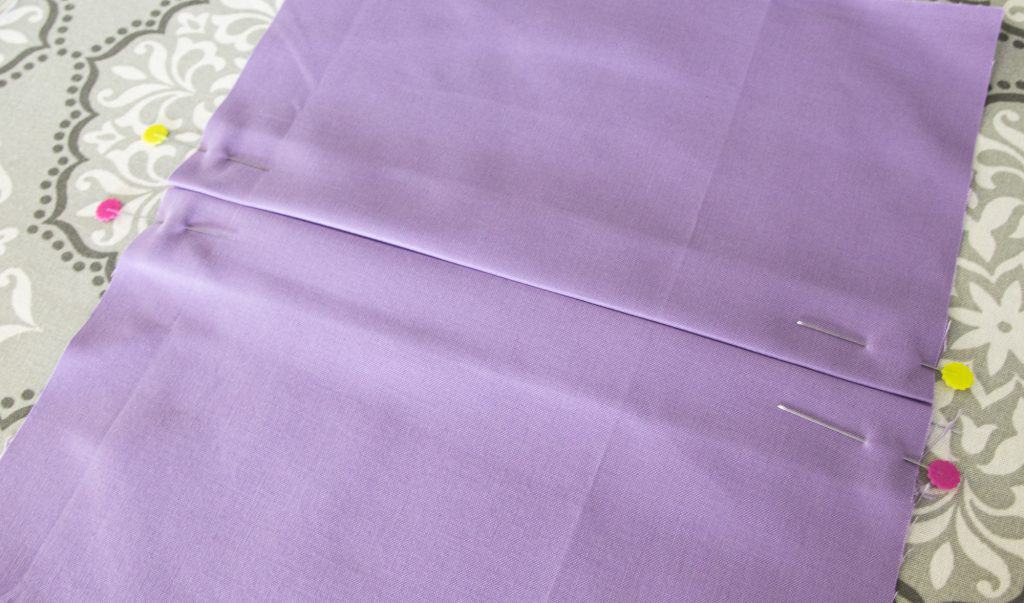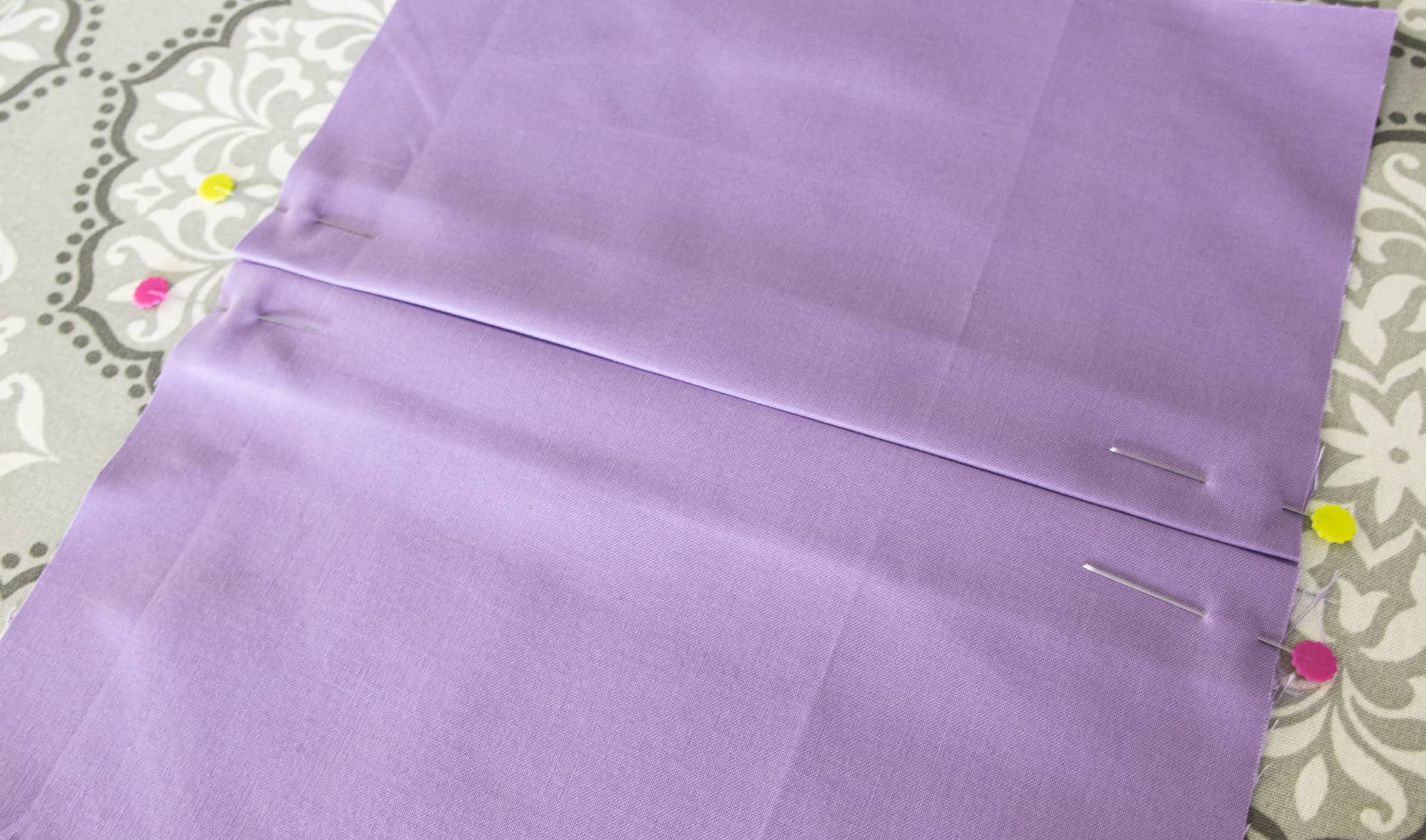 Here is what the pleat looks like from the back (wrong side of the fabric):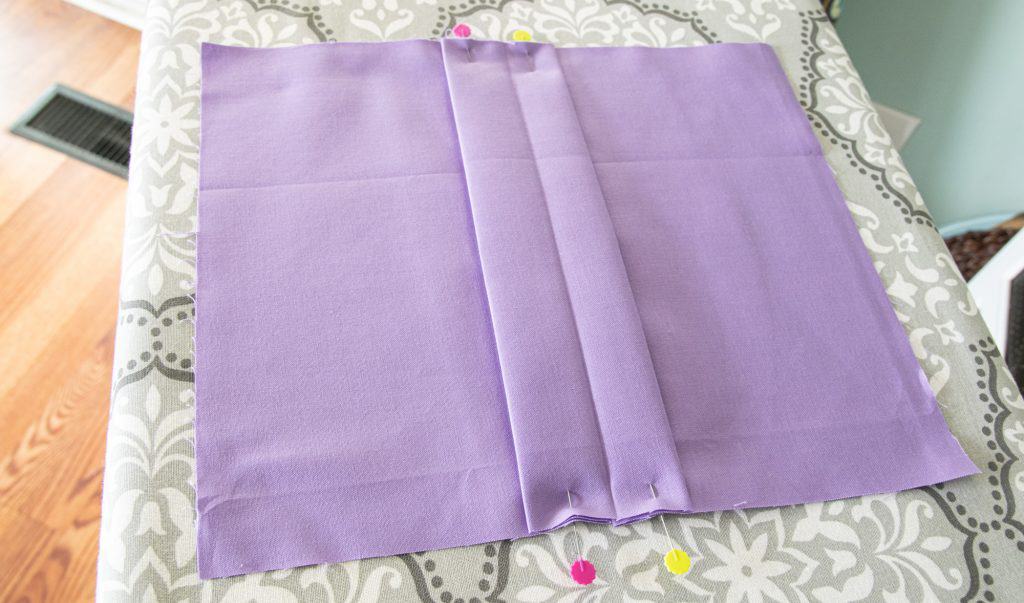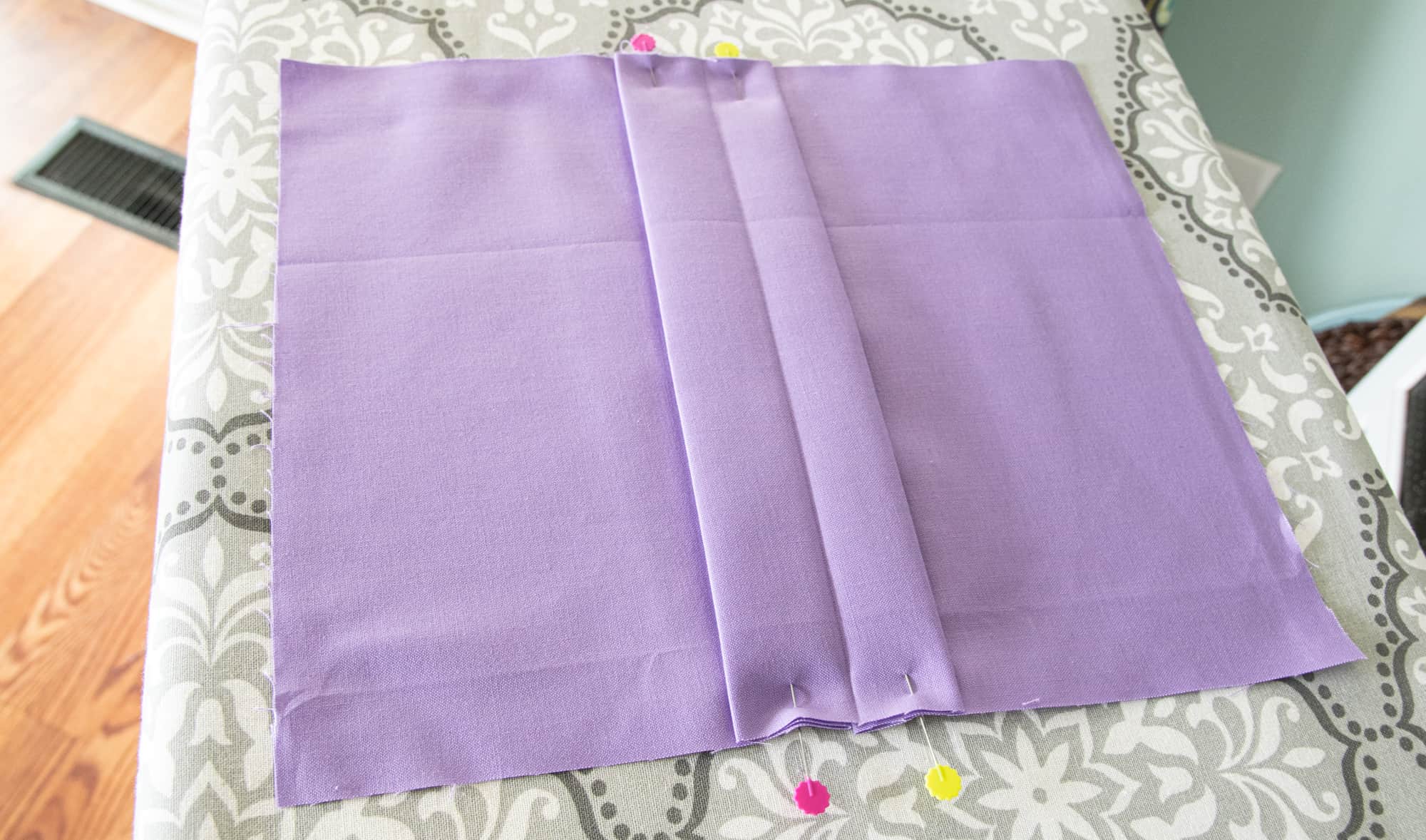 Next roll and press the seams at each end over 1/4″ 0.5 cm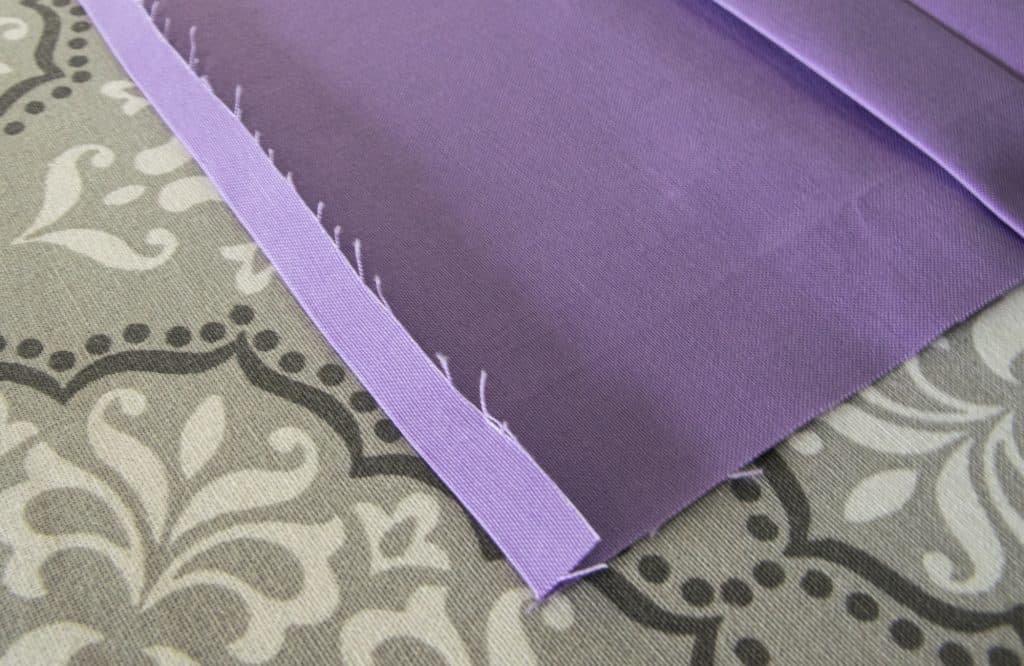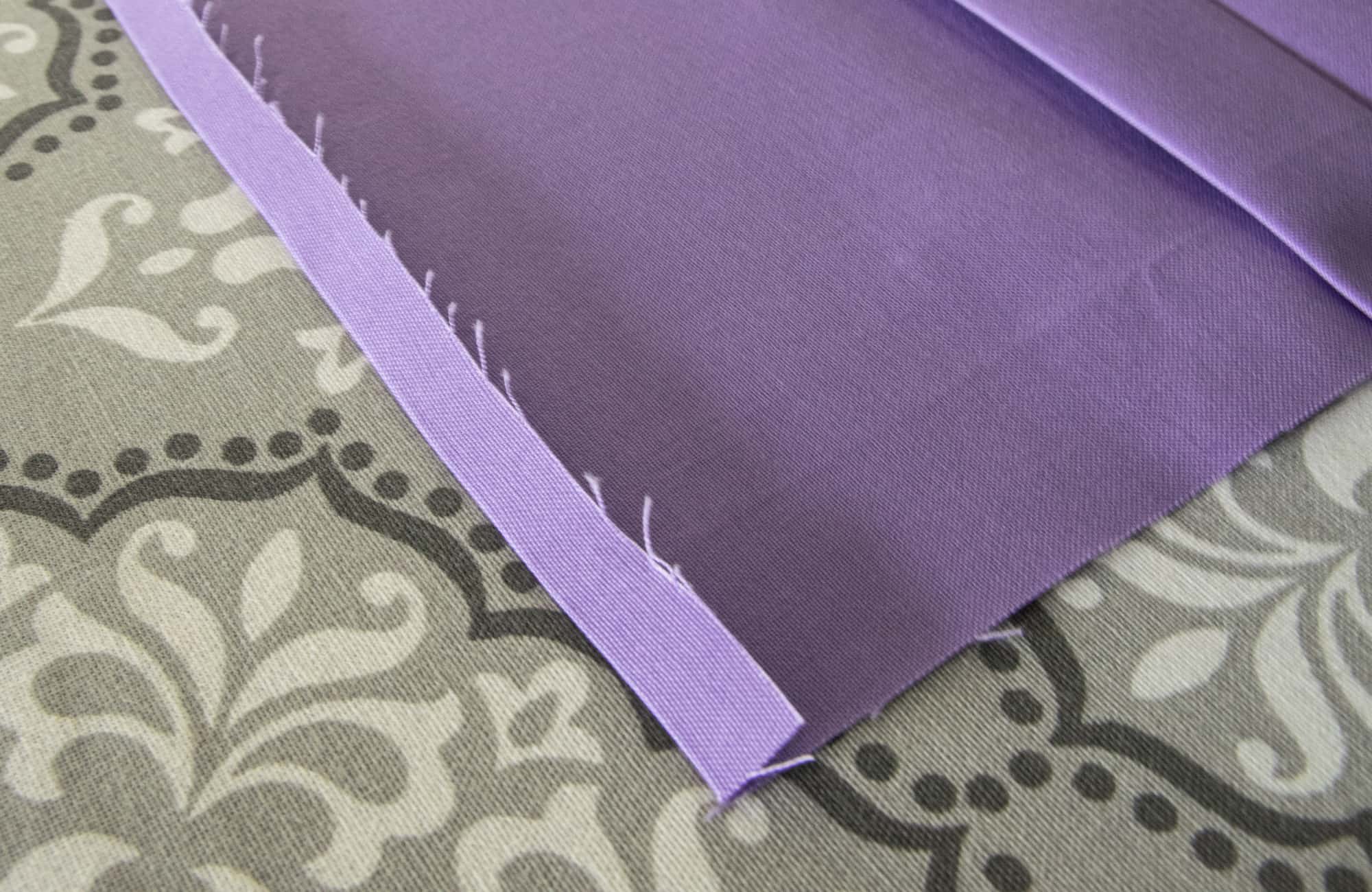 Stitch in place. If you press the seams down well, you shouldn't have to pin. The seam is about the same width as the pressor foot, which makes sewing down the center much easier.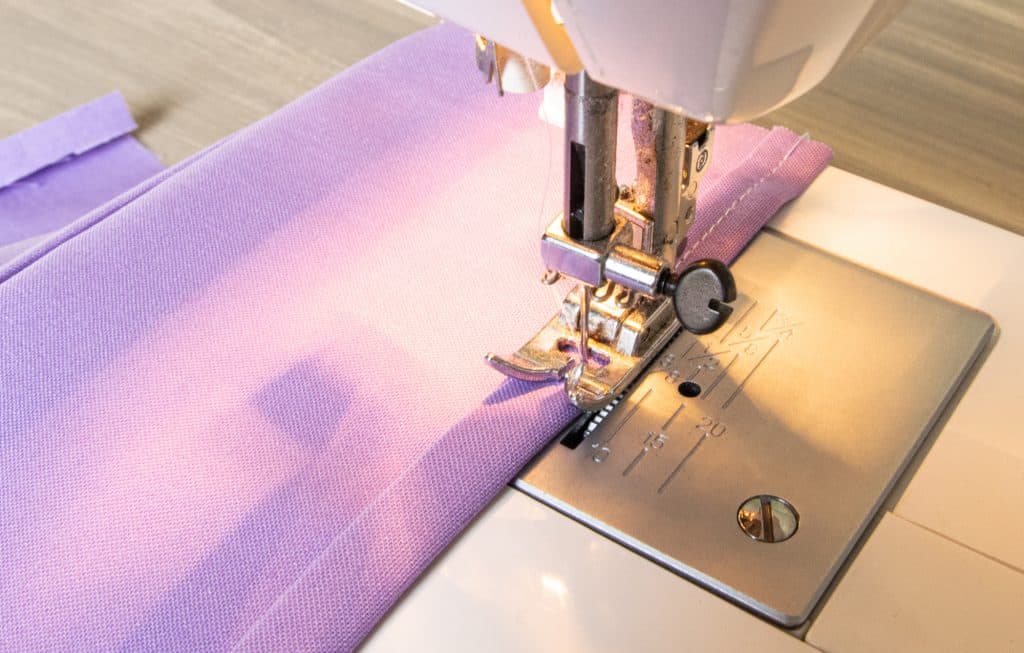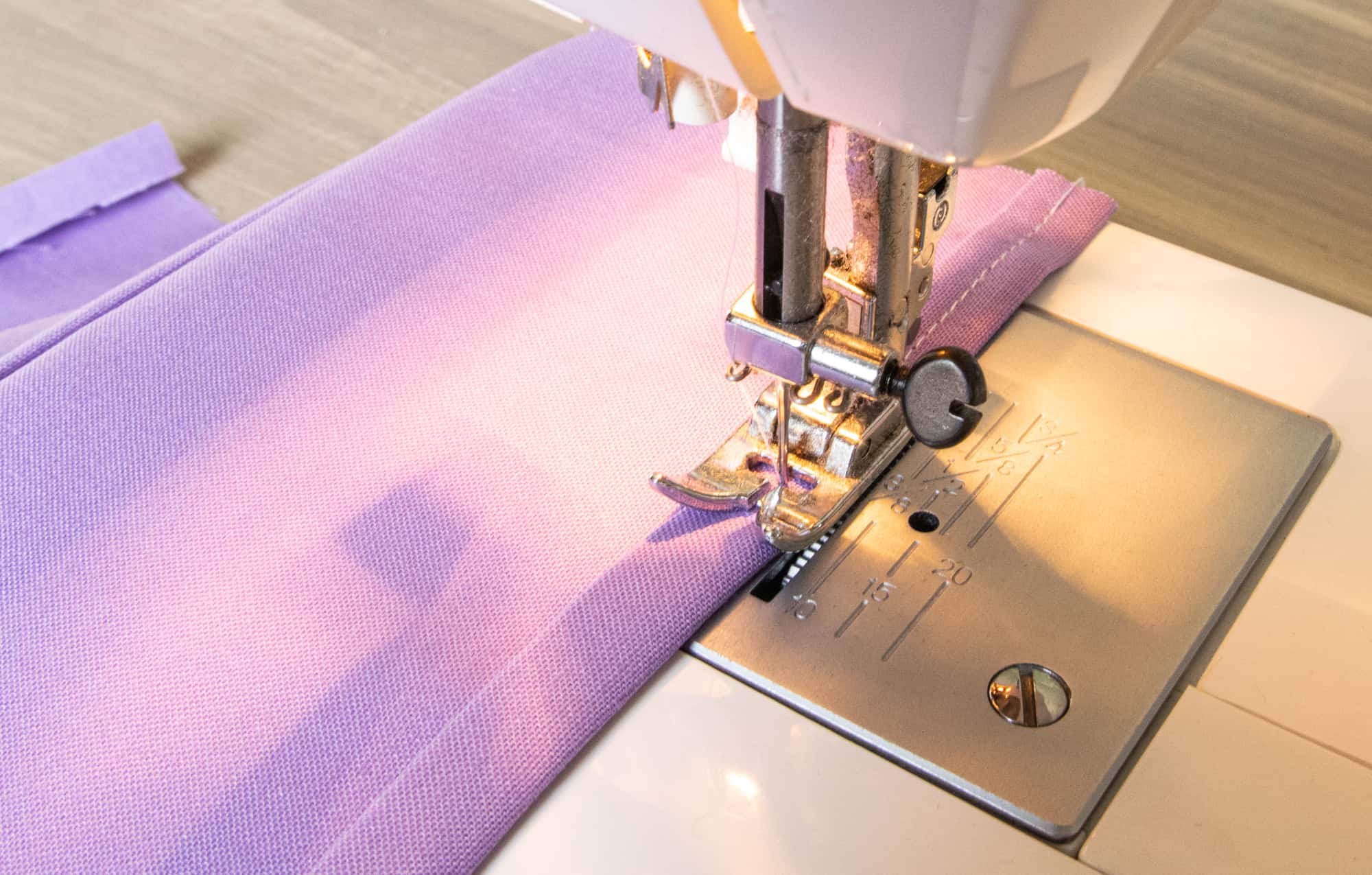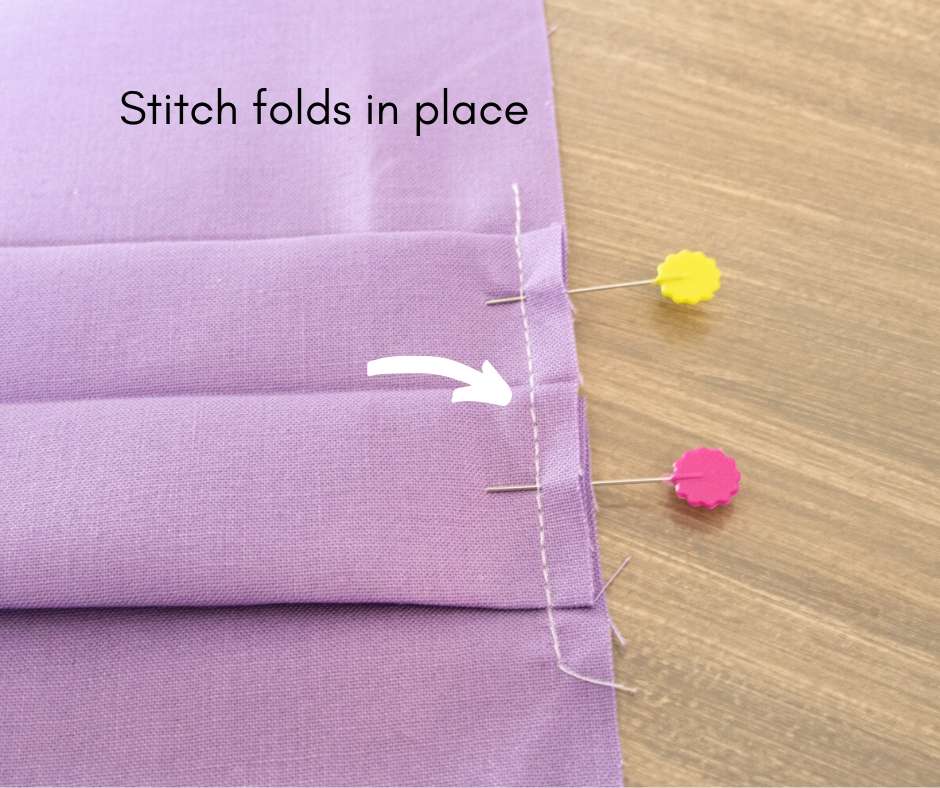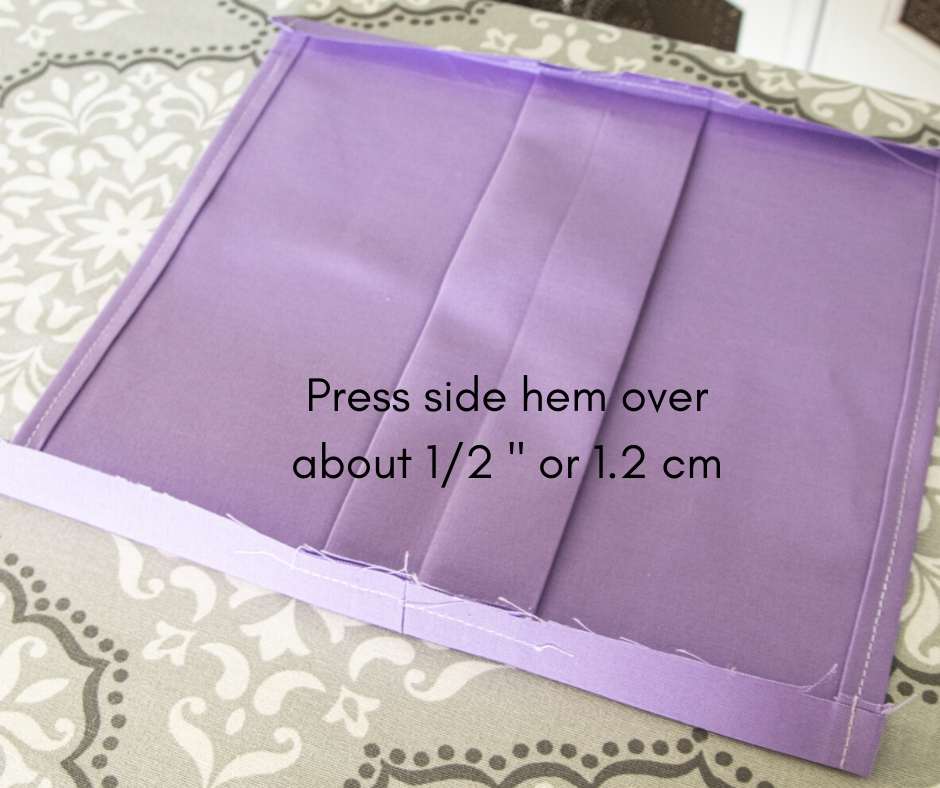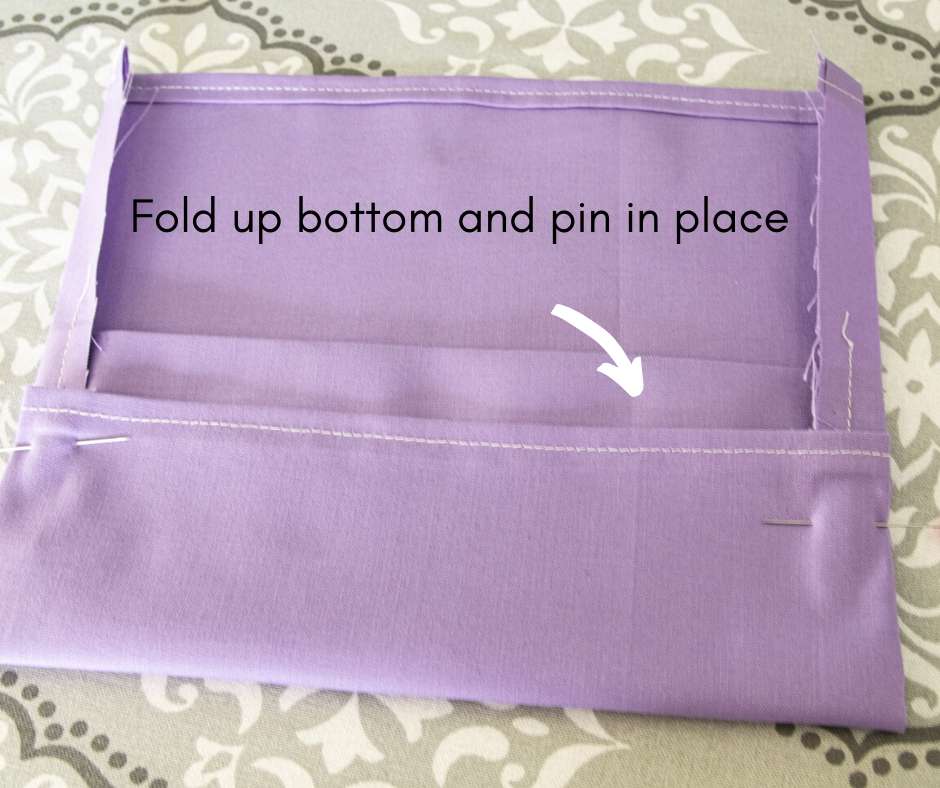 TIP: Before pinning, flip the mask over to make sure the centerfold is actally in the center! If you prefer not to pin, press the entire piece well before the final sewing step.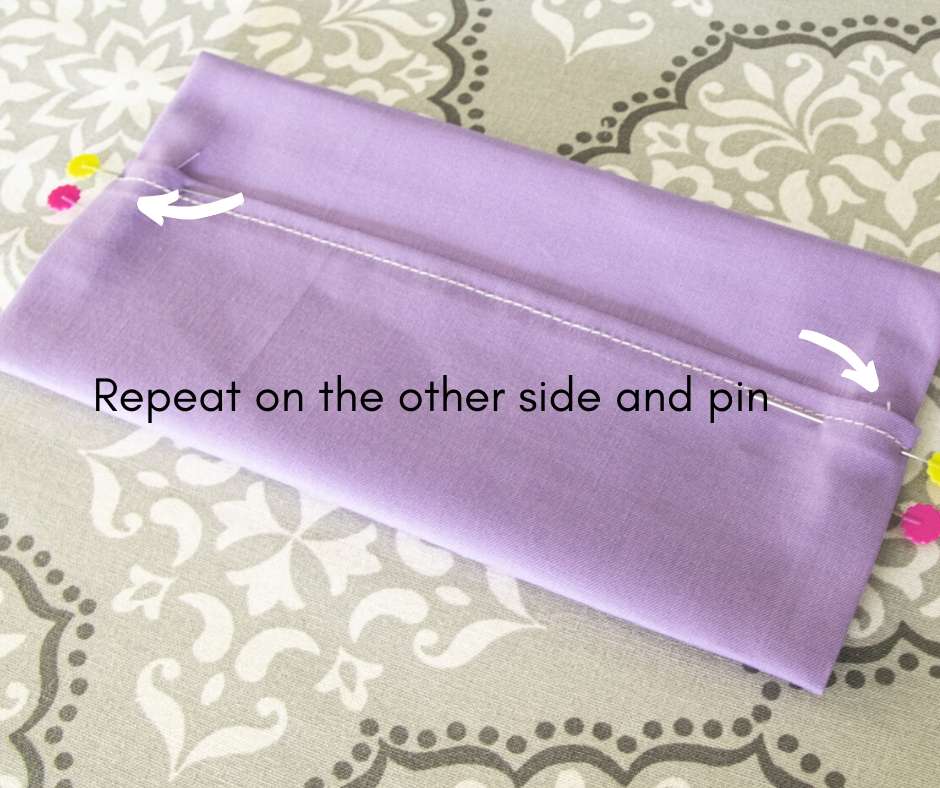 Inserting the elastic as shown and rolling it over gives the finished mask better fit.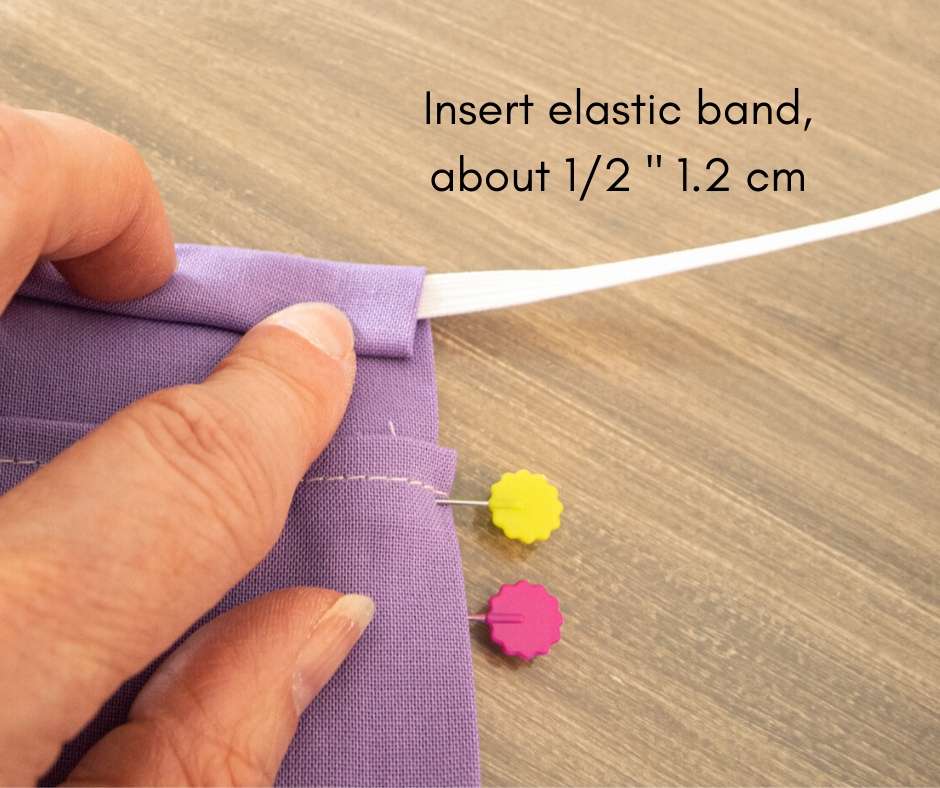 Stitch the elastic ribbon in place and anchor with backstitches. You want them to be very securely in place. Test by pulling on them.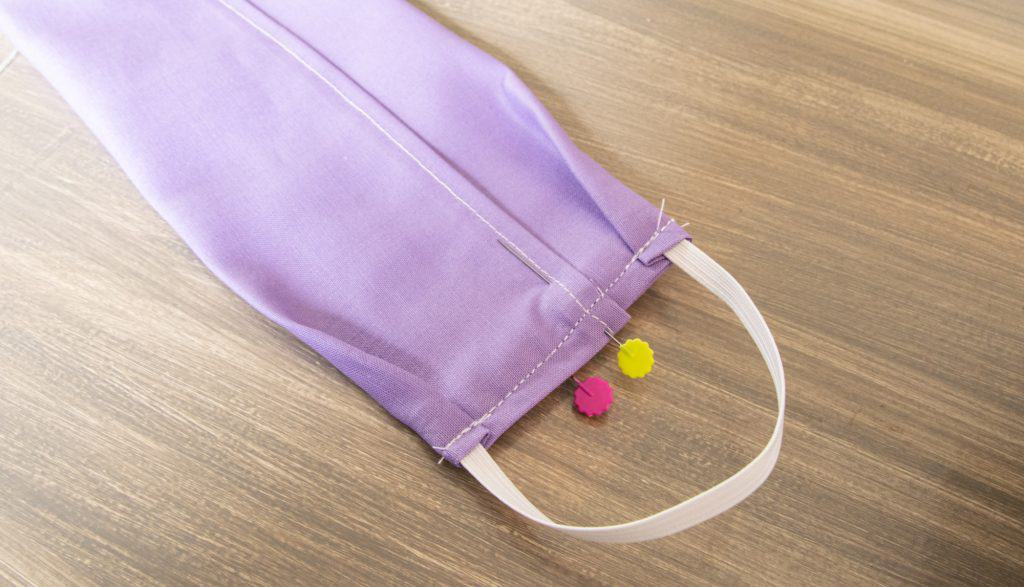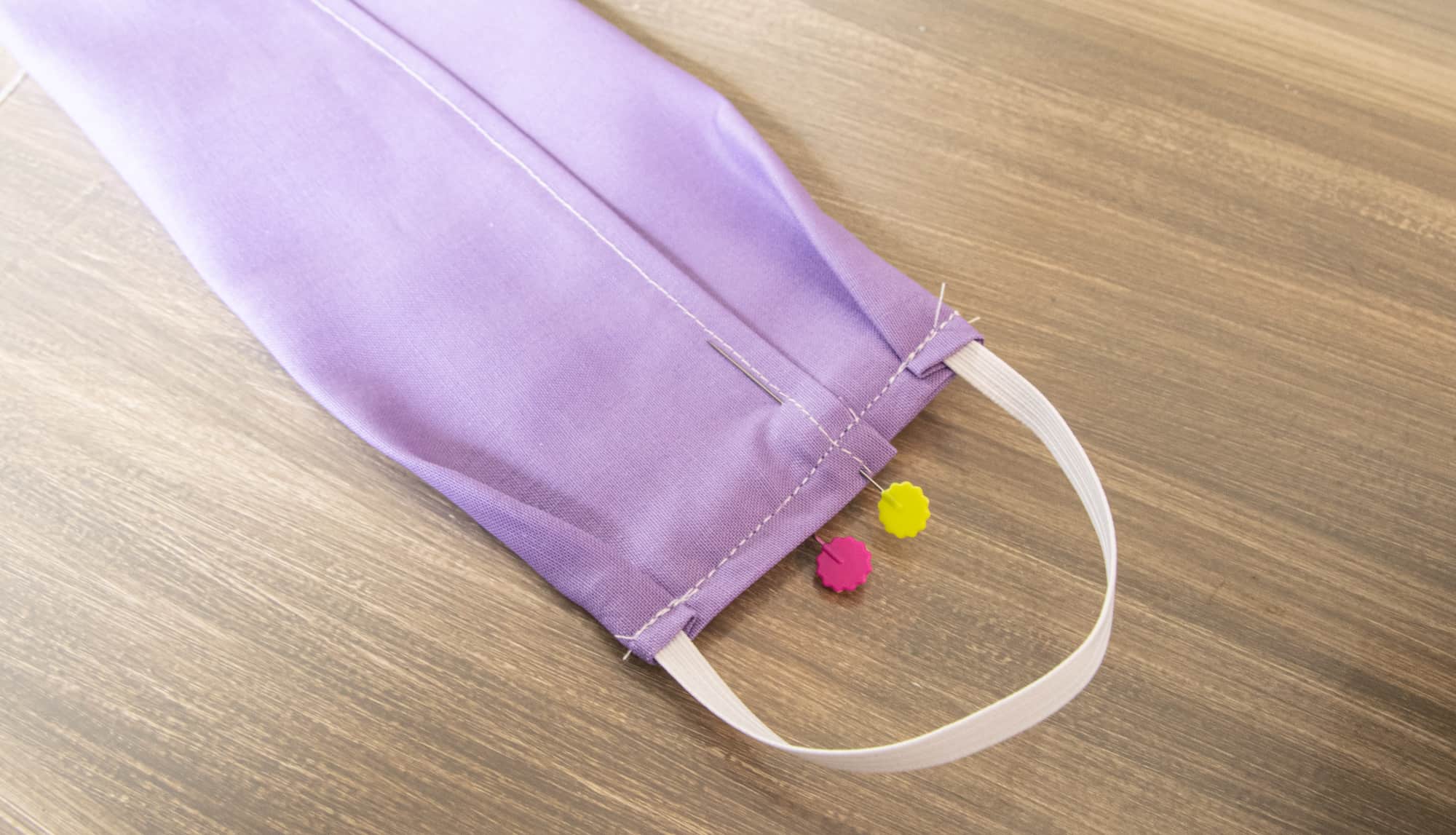 Repeat on the other side. Make sure the elastic ribbon is not twisted!
Pat yourself on the back, you just made a washable face mask!
The finished mask using the measurements above should be 9″ (22 cm) by 4 – 4 1/2″ (10 – 11.3 cm). You may need to adjust your measurements to fit your needs. To create smaller sizes be sure to check out my post on how to make child-size masks.
Since this post was originally published, various liner options have become available commercially. At this time I recommend PM 2.5 carbon filters. Each filter lasts through three days of constant wear, is breathable and lightweight.
Other options include: thin cotton batting or 100% cotton heavy t-shirt fabric cut to size, and non-stick sterile pads.
When you need to wash your face mask, remove the center insert and either discard (if you used non-stick sterile pads) or wash the quilt batting liners in a separate garment bag for delicates. That keeps them neatly together so you don't have to root through the washer and dryer to find them again.
Each member of your family should have 2-3 masks as they need to be washed regularly. This pattern works well for most adults. Again, if you need to make masks for your children you can find my children's mask instructions in this post. Full instructions and measurements can be found in the FREE Resource Library as well.
These masks are not only comfortable but also pretty! Choose a cute pattern and inject a little personality into what would otherwise be a fairly boring accessory.
For additional tips and tricks on how to make your face masks fit as comfortably as possible, be sure to to check out this post:
HOW TO GET THE MOST COMFORTABLE FIT FOR YOUR FACE MASKS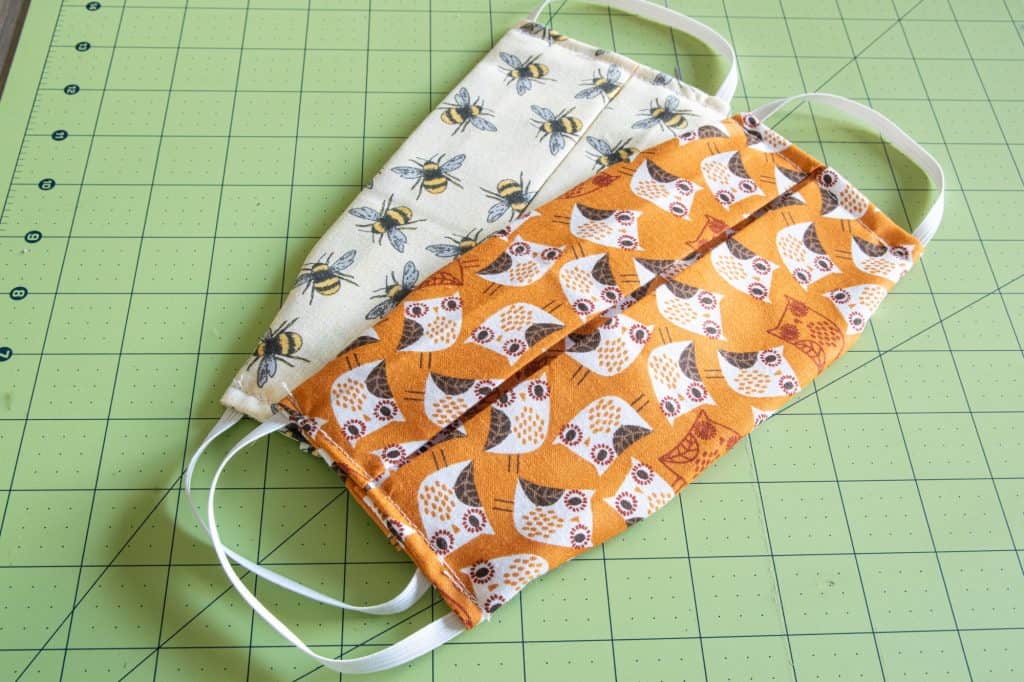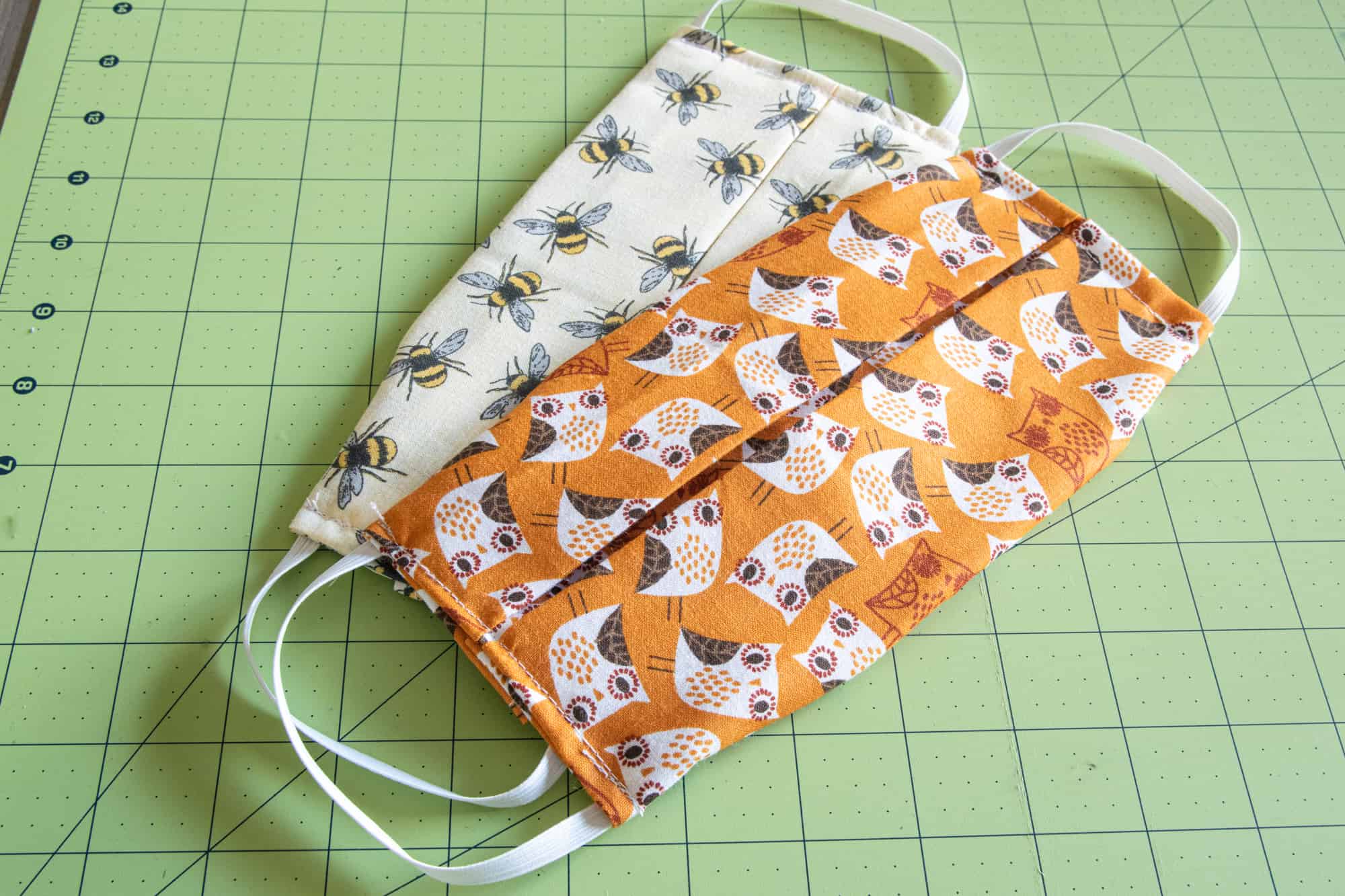 additional Face mask tips
You may notice that some types of elastic can be a little stiff and tight the first few times you wear your mask. It will relax with wear and after washing. If you don't have elastic on hand or if you prefer ties, ribbon is a good option for ties. Insert a 16″ (40 cm) long and 1/4″ (.75 cm) wide ribbon in each corner of the mask.
For a more snug fit around the nose and chin, you can add elastic to the inside of the mask along the center edges.
Wash your masks regularly and replace the liner with a clean one daily (see options above).
Press your masks with a steam iron to sanitize them between washings and after to keep them in good shape.
The past few months have been challenging to say the least. Knowing that there is an illness lurking in the background that could strike at any moment is unnerving. Wearing a mask in public at all times is something that we can all do to make a difference. We can protect others and ourselves. It is a simple choice. Please be safe and wear yours!
If you decide to give this a try, post a picture of the finished result over in our Facebook group! Not a member yet? It is easy to join and the best way to interact and ask questions.
For other useful tips to stay healthy and safe check out these posts:
HOW TO MAKE SURE YOUR FAMILY STAYS HEALTHY THIS WINTER
HOW TO TAKE CARE OF YOUR SICK FAMILY
HOW TO MAKE HAND SANITIZER SPRAY (60 % ALCOHOL BY VOLUME)