Unfortunately, illness has been on everyone's mind pretty much all year. And that was before we had to deal with the oncoming flu season. No matter how careful we may be, there is still a pretty good chance some kind of bug will catch up eventually. Right now is the best time to prepare to care for your sick family!
This year has been a doozy. I think we can all agree on that. Predicting when and where illness like the flu – or worse will strike is tricky at best, even for scientists.
Getting vaccinated at the right time is still the best bet for your family and you to escape the most severe consequences of the common flu.
Still, no vaccine will give you 100% immunity and the chance of getting infected remains. In my last post, I covered common sense ways to protect yourself and your family from contracting and spreading illness. Even with the best precautions, sickness happens.
Today I would like to follow that up by giving you some important tools to care for your family, should they fall ill. As with almost everything else, a little preparation and planning goes a long way to making life easier for everyone involved.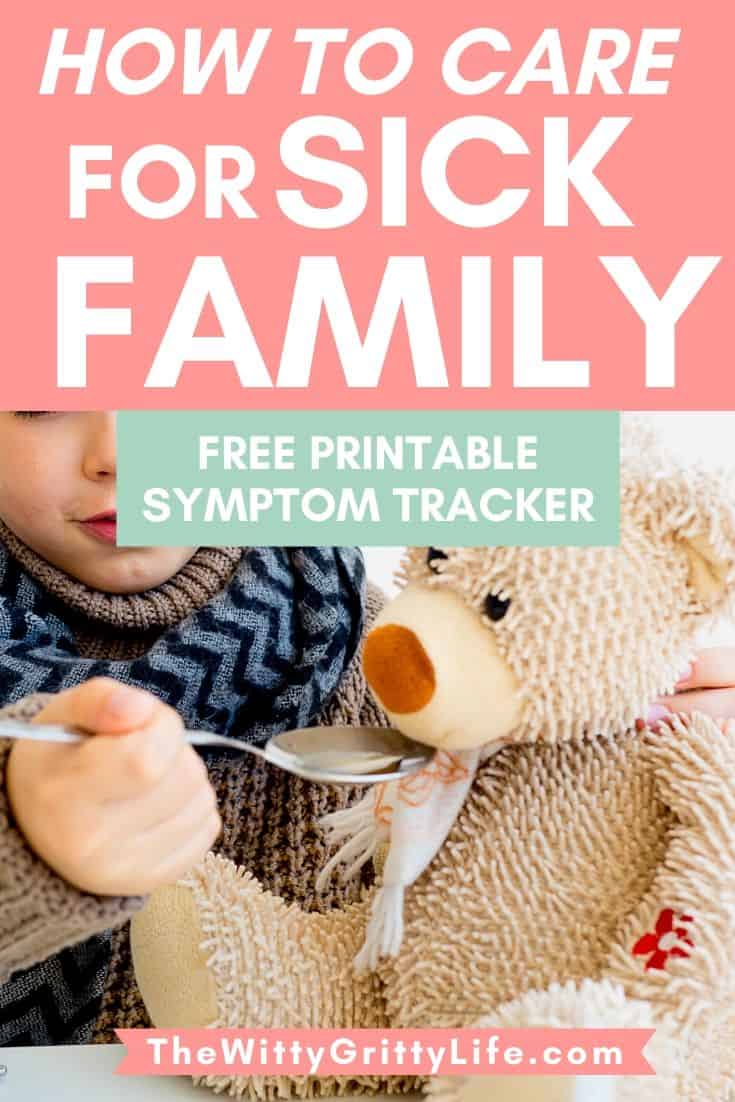 Disclaimer: I am not a doctor and none of the information presented in this post is meant as a substitute for medical advice from and treatment by a licensed professional. Always consult your physician!
You may know from previous experience that illness often strikes quickly and when you least expect it. There may be a little bit of denial involved. Maybe you escaped the flu last year and hope the same will happen again this time around. Of course, it's always okay to hope for the best, but I am here today to help you plan for the worst, just in case.
Before you can devise a strategy, you need to know what to actually plan for. Caring for sick family members is stressful. Having the right tools on hand is important for you to be able to know what to do and when to do it.
* This post contains affiliate links. If you make a purchase by clicking on an affiliate link, I may earn a small commission at absolutely no additional cost to you. You can view my complete affiliate link policy HERE.
BEFORE ANYONE GETS SICK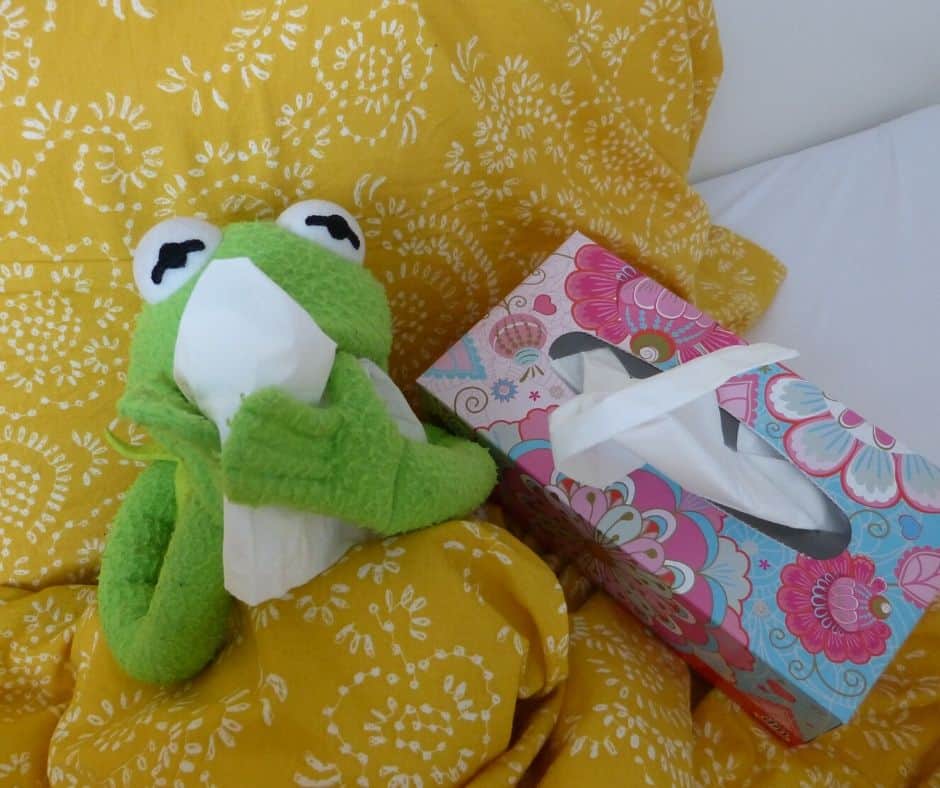 The absolute best time to start taking care of anyone, including yourself is long before the flu ever hits your household. In my last post, I spoke about illness prevention strategies. Today we'll cover how you can be as prepared as possible before illness strikes.
prep your household before illness strikes
This is probably the most important part. Make sure you have everything on hand long before illness strikes your loved ones or you!
Nobody wants to have to scramble for cough syrup or fever-reducing medication in the middle of the night! And were was that thermometer again? And why doesn't it work?
When sickness hits your household, things can go downhill quickly. Preparing beds with waterproof, spill-proof mattress protectors and pillow covers just in case, will save expensive mattresses and keep you from having to wash and dry pillows in the middle of the night.
Make sure you have extra blankets and a spare comforter for each family member. This is especially helpful should the stomach flu rear its ugly head! I speak from experience – many times over:(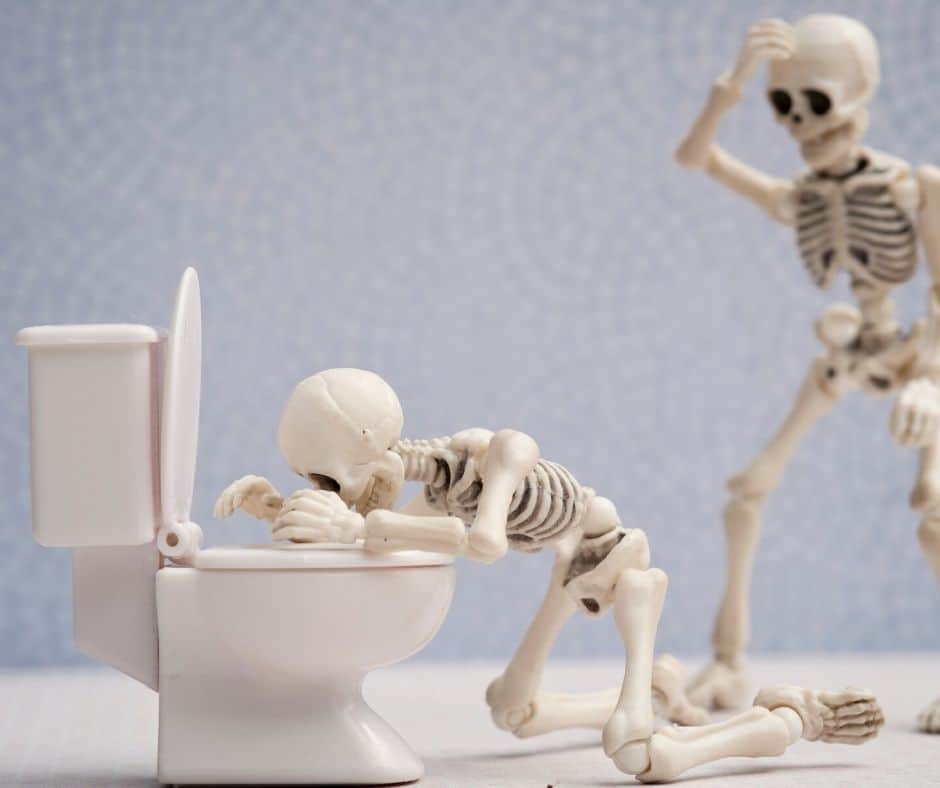 Here are items everyone should have on hand:
tissues in every bedroom
reliable thermometer
disposable face masks
tracking sheet (free printable in resource library)
extra set of sheets for each bed
applesauce, crackers, clear juice, broth packets, popsicles
fever reducer like Ibuprofen or Acetominophen, Cold and Flu preparation, cough medicine, throat lozenges, Immodium and or Pepto Bismol (consult your physician's office for recommendations and dosages
Keep all supplies in a central location where they can be easily accessed. You may want to consider storing an extra set of sheets under each bed within easy reach. Always make sure any supplies and medications are not expired.
Washable cotton face masks are easy to sew. You can find printable instructions for adults and children in my FREE Resource Library.  
WHEN TO DO WHAT
Chances are you are not a medical professional. Knowing which symptoms warrant a call to your doctor's office is not always easy. Is that fever too high? Should I worry about fluid intake? When is it time to head to urgent care or the hospital? Most of the time, run of the mill cold and flu symptoms can be managed at home.
If you are not sure what to do, always err on the side of caution and contact your doctor. To help you the CDC has compiled very useful information any household should keep on hand. Here is the link to the CDC Flu Guide to Caring for Someone Sick at Home. Print it out and store it in your family binder or close to your medical supplies. It will help you take the guesswork out of what you should do and when.
To make your life easier, I created a handy symptom tracking sheet to document important details your healthcare provider will want to know about when you call. Be sure to print one out for every family member who is sick. You can find it in my FREE Resource Library.
keep track of symptoms
Begin tracking symptoms and temperature as soon as illness strikes. Fill out a separate sheet for each family member. If the sickness progresses or suddenly gets worse, you will want to have that information on hand quickly when you call the doctor's office or in case you need to go to urgent care.
The more information you can provide, the easier it will be for your health care professionals to make an accurate diagnosis and determine a proper course of treatment.
get as much rest as you can
You can become overwhelmed easily, especially if you are dealing with more than one sick family member at the same time. Sleepless nights that often go along with caring only make things worse.
Being tired and run down increases your own chances of becoming ill.
protect yourself
Follow the recommendations for preventing the spread of illness as discussed in my post about making sure your family stays healthy.
Be sure to wear a mask to protect your face or have your sick family member wear a mask if they are able to tolerate it. This will limit the spread through airborne transmission, which is one of the most common ways of transmitting illness.
If you have no masks on hand, at bare minimum protect your face with a thick cloth and instruct your sick family member to cough into a washcloth or their blanket. That is obviously not a perfect solution, but definitely better than none.
Always wear gloves when handling anything soiled. Wash hands thoroughly with warm water and soap for at least 30 seconds after removing gloves. Optional: apply hand sanitizer after washing hands. You can find my recipes for both alcohol- free and alcohol-based hand sanitizers in my FREE Resource Library.
Provide plenty of clear liquids like diluted apple juice for your patient. Dehydration can become a major complication of any illness, but especially those that involve vomiting and diarrhea.
Signs and symptoms to watch for with dehydration may include, but are not limited to:
not having to pee or dark-colored urine
crying but no tears (especially for babies and children)
very dry skin
feeling faint or dizzy
sunken eyes
sleepiness, confusion
Contact your health care provider immediately if you notice any changes that may indicate dehydration. Intravenous fluids, which can only be administered in a clinic or hospital setting may be needed.
Refer to the above mentioned CDC guide for additional information.
With proper rest and care, most common illnesses will run their course within a few days. Don't try to send anyone off to school or work until they have been completely fever-free and have not vomited or had diarrhea for a minimum of 24 hours.
Try to get rest while your sick family member is resting. You need all the strength you can get. You may want to consider having groceries delivered by a delivery service like Instacart or through Amazon. Check availability in your area.
After Illness
Be sure to wash all bedding and anything else in hot water. Wipe down all surfaces with disinfectant. Replace toothbrushes. Restock any supplies and medications you may have depleted so you are ready when the next flu bug hits your household.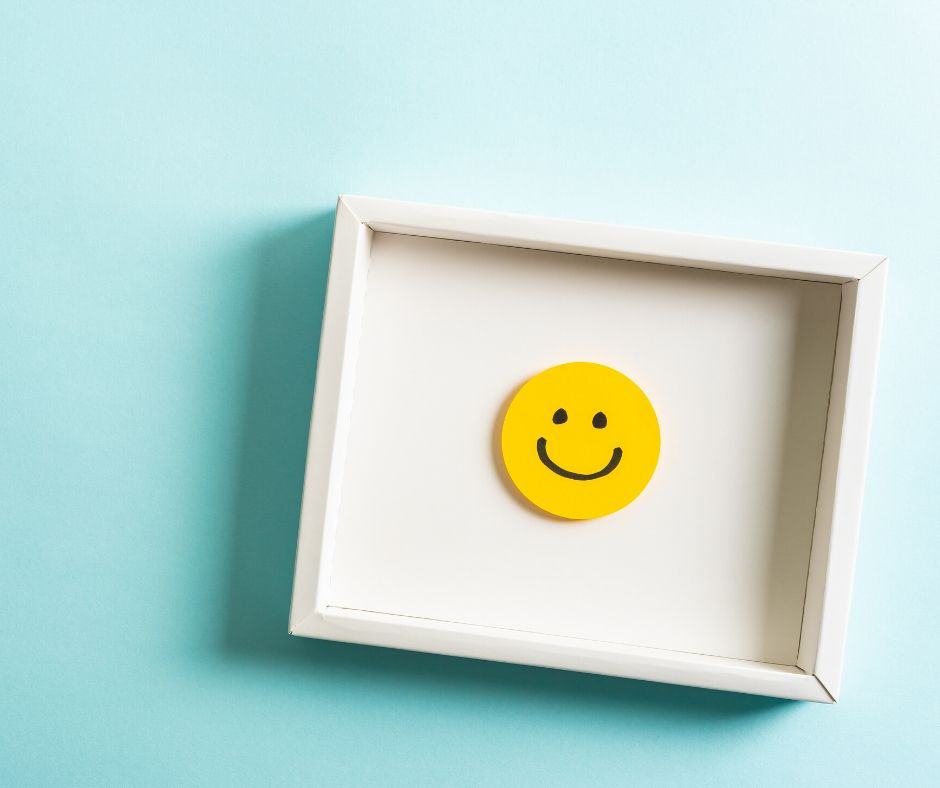 While I sincerely hope that you and your family will be spared from the flu and cold season, I hope the information provided in this post will come in handy.
Much of what I wrote about today is derived from not only research on the topic but professional and personal experience. If you have any helpful tips to add please feel free to add them in the comment section.
As always, we would love to have you join us on Facebook. "Like" the TWGL page here and join the TWGL group here.
To see what I am up to from day to day, follow me on Instagram. Don't forget to pin this post, so you have the information close at hand and won't have to remember where to find it!
Wishing you and your family good health always!