Whenever I am looking for answers to specific questions I tend to go straight to the experts. There is so much information floating around about various subjects, talking to the "boots on the ground" usually helps more than hours of research. Only those who are working in a specific field day in and day out will be able to give you a truly accurate assessment of what works and what doesn't.
Today I would like to introduce you to a professional cleaning expert who started her own janitorial service at a very young age and turned it into a successful half a million-dollar business.
Stacey blogs over at ajanitorsstory.com and has made it her mission to help others like herself to start successful cleaning businesses of their own. I couldn't wait to find out what tips and tricks she would share with us! Stacey was gracious enough to sit down and answer a few questions for me. Read on to learn more about her valuable perspective.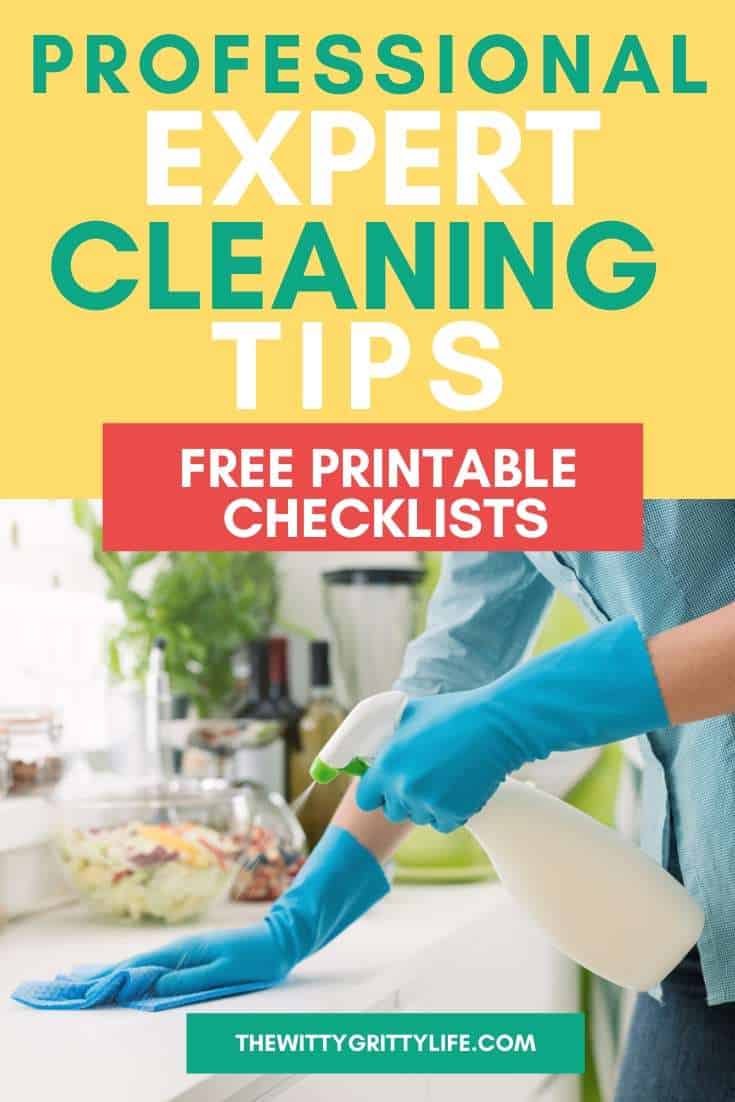 *This post contains affiliate links. You can read the complete affiliate link policy here.
Here is my written interview with her:
Stacey, tell us a little about yourself and how you became so passionate about cleaning.
I started cleaning because I was raised to have an entrepreneur's spirit, AND I wanted to succeed so badly in order to make it on my own and stay out of my Mom's house. LOL.
I am not sure what it was, but cleaning was so easy for me as a kid. Everything about it seemed so simple, easy, even calming. So it was very "natural" for me to make it into a business.
I incorporated my business when I was nineteen years old, in 1993! (My Mom did it for me). I started by side hustling, cleaning offices at night and on the weekends. By the time I was 24, I was making six figures, with most of my staff older than me.
I met the love of my life at 27, we partnered and had three boys. Fast forward through nineteen years of marriage – 27 years of business ownership and I am now retiring.
My goal now is to help aspiring entrepreneurs to start and grow their house and office cleaning business through my website at:
What would you say is something in the home most people clean the wrong way?
People clean their floors the wrong way. There are typically streaks or dust and hair left or they use the wrong cleaner or cleaning system.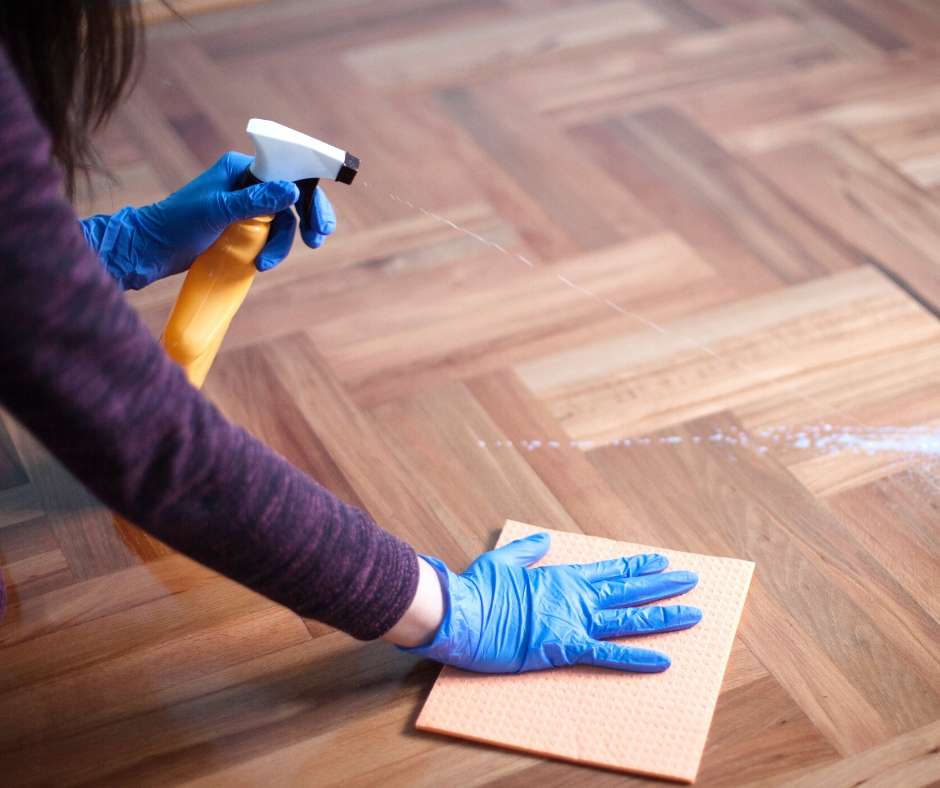 Which kind of cleaning product couldn't you live without?
A must-have is Dawn or Gain dish detergent and rubbing alcohol. The dish soap degreases and alcohol sanitizes. They are my DIY products. In fact, most pros will gravitate to this mixture because it's simple and economical. Most importantly, it does the job with no damage. 🙂
Stacey recommends filling a 16 oz spray bottle with about 10 oz of water, adding several drops of Dawn (you can substitute with your favorite natural dish detergent) and fill the remainder of the bottle with rubbing alcohol. You should be able to smell the isopropyl. Spray the surface and let sit for about 10 minutes for maximum effectiveness.
For printable DIY cleaners that really get the job done and my Speed Cleaning for the Bathroom checklist, be sure to check out the FREE Resource Library!
Share your 3 favorite time-saving tips!
Remove dirty bed linen and replace new linen at the same time. There is a trick to it.

Anything that needs to soak, do it at the beginning before you clean.

If you use microfiber cloths on the floors, sometimes you don't have to vacuum first. Always vacuum floors, never use a broom!
Bonus tip: Start the laundry first!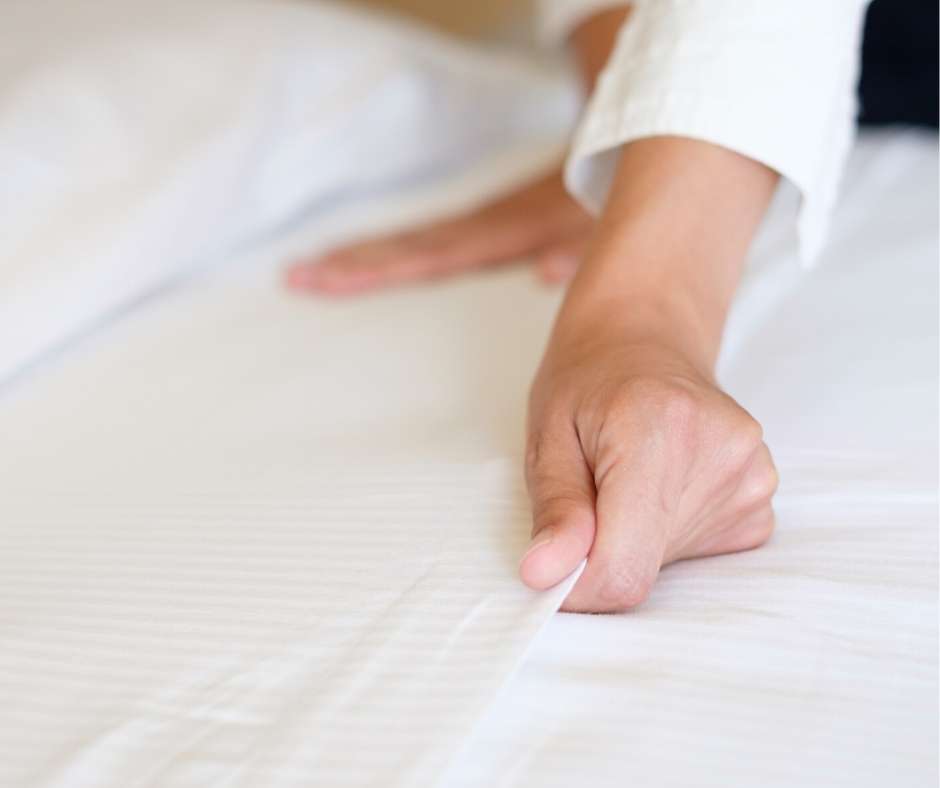 What is your favorite tip to keep the house in tip-top shape between cleanings?
Use a squeegee on shower walls and glass after each shower! Wipe grease from stovetops after each cooking session. And never, ever wear shoes from outside indoors!


Have you changed anything in your regular cleaning routine recently?
Next week will be our first for my staff and me to use extra precautions. We are wearing face masks and gloves no matter what. NO SNACKING WHILE CLEANING – not even a piece of candy! Also, no cell phones, my staff must wear earbuds if anything. Additionally, regardless of whether our customers pay extra for this or not, we are wiping all doorknobs and light switches, something that is not normally done in all situations. Also, WE WILL BE MORE AGGRESSIVE IN WASHING OUR HANDS WITH SOAP AND WATER and carrying a pocket sanitizing spray.
What advice would you give a potential customer who is considering hiring a cleaning service?
Get three estimates and go with the middle price. You can not determine the quality of a cleaning service by price alone. Prices for cleaning services can be all over the place.

Go with a company that has good referrals.

Give them grace. Let them know upfront what you want/need/expect. Be realistic, professional cleaning services are not miracle workers. They need to know what your priorities are – be sure to spell them out clearly.

Try really hard to make things work before you make the switch to another cleaning service.
Right now Stacey is also offering a discounted price for her 5-Day DEEP cleaning handbook to my readers. It's a great resource for cleaning side hustler and small cleaning business owners to upsell their cleaning services. They will learn how to offer help with performing Spring cleaning and deep detail cleaning to their current customers. But most importantly, they can help their customers have a healthy and safe home or commercial office space during this and any viral outbreak
You can snag your copy here:
https://ajanitorsstory.com/5dayguidespecial-offer/
Very informative, don't you think? I am so glad Stacey took some time out of her busy schedule to give us an insight into her business.
Now, if I could only get the man folk at my house to take their shoes off at the door! If you have any special cleaning tips and/or strategies, feel free to share them below in the comments or post them in our Facebook group!
You can find more of The Witty Gritty life here:
Facebook Page – Facebook Group
And for more cleaning tips and recipes be sure to check out these posts:
HOW TO SUPERCHARGE YOUR BATHROOM CLEANING ROUTINE
EASY NATURAL DIY CLEANERS YOU WILL WANT TO MAKE
HOW TO MAKE CITRUS CLEANER FOR PENNIES