When it comes to household chores, cleaning the bathroom is my absolute favorite one! I mean, who doesn't relish the thought of getting to scrub soap scum or clean toilets with a cool, fancy big brush and scrape toothpaste that looks like buttermints out of the sink? (Sorry if I just ruined those for you!) And living with guys makes this lovely job even more enjoyable, because, well, because they are guys – if you catch my drift.
You know that I am totally kidding. If they invented a button to push for the bathroom to clean itself, I would be the first one to have that thing installed at our house x 3. But until some genius comes up with that, bathrooms will have to be cleaned manually whether we like it or not.
When it comes to cleaning chores or any other not so desirable job around the home, nothing works better at getting it done with the least amount of effort and pain than a schedule and a system. And this is your lucky day because I am sharing my system with you. Because no one should be stuck scrubbing toilets and sinks any longer than absolutely necessary my friends!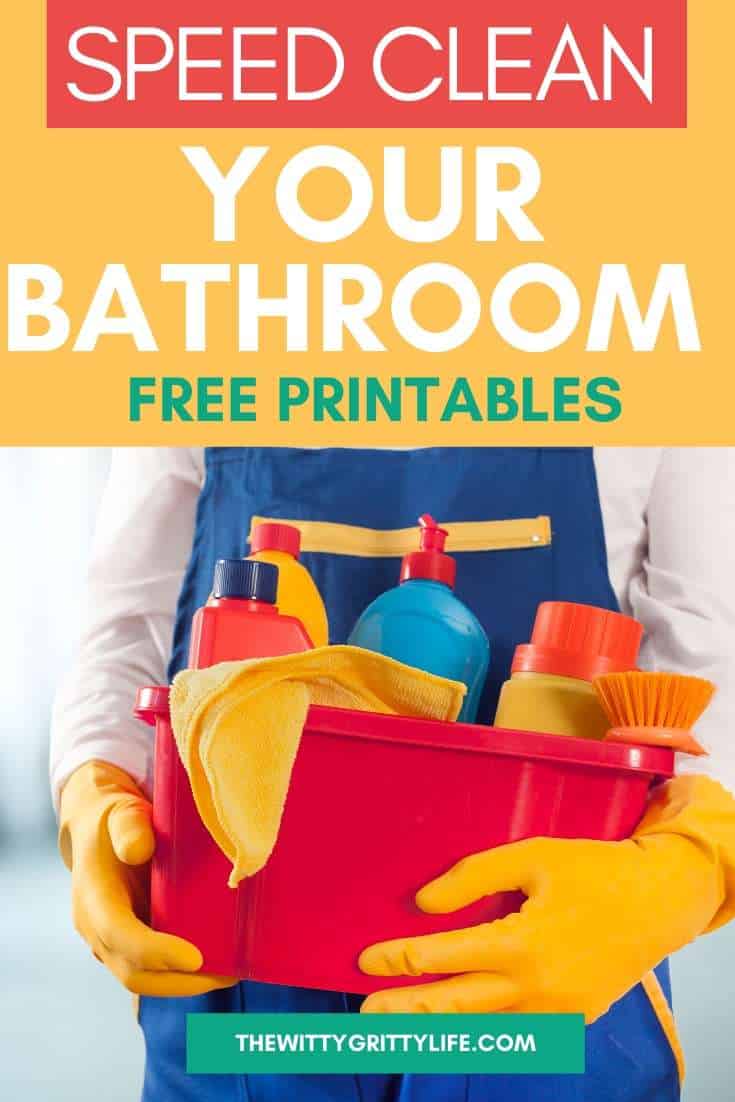 It's easy, efficient and fast – so fast, as a matter of fact, it generally takes me less than 10 minutes per bathroom. Even better, I designed a printable bathroom cleaning checklist you can keep in each bathroom as a reminder.
It also works if you are trying to teach other people in your home to clean. The checklist and all of the cleaning recipes for this post and many other goodies can be found in the FREE Resource Library. Just sign up here and the password is on its way to your inbox!
There are a few simple steps you can take to make cleaning your bathroom easier right away and with little time and effort, you will love cleaning your bathroom in no time. Ahem, I mean you won't loathe doing it quite as much.
Before you even get started implementing this system, do yourself a big favor. Remove everything that is not absolutely necessary from your bathroom counters. It will make cleaning so much easier and you are rewarded with a bathroom that looks uncluttered and organized.
Go through cabinets, drawers, the medicine cabinet and purge expired cosmetics, duplicates, and things that could be stored elsewhere. If you are looking for an inexpensive way to spruce up and organize drawers, check out my post on organizing kitchen drawers. It works just as well in the bathroom.
This post contains affiliate links for your convenience.  You can read the affiliate link policy here.
And with that let's get going!
LET'S SUPERCHARGE YOUR BATHROOM CLEANING ROUTINE!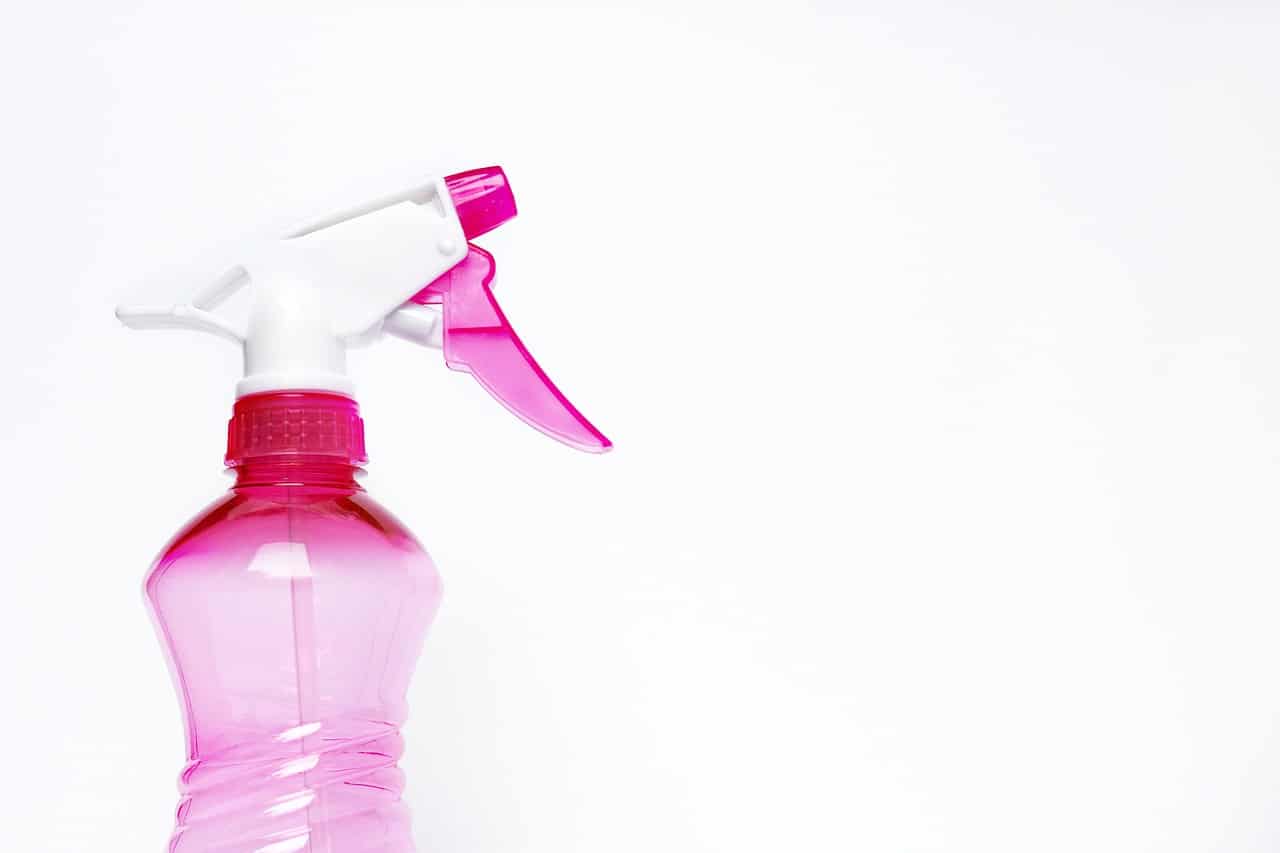 1. SET A CLEANING SCHEDULE
Designate a specific day of the week as your bathroom cleaning day. Setting a theme for each day keeps the guesswork out and makes keeping up with household chores a breeze. No more having to remember when you did what the last time. You will be surprised how effective setting a schedule is when it comes to cutting down on stress!
Designating specific days for specific tasks is a real game-changer. It allows you to schedule your days with much greater efficiency and will definitely make life less stressful overall. Miss a week? No need to be hard on yourself. It's easy to pick right back up where you left off.
2. KEEP ALL YOUR SUPPLIES HANDY IN A CLEANING CADDY
A well-stocked cleaning caddy is a lifesaver when it comes to all kinds of different household cleaning jobs. It's fantastic for the bathroom but works just as well anywhere in the house. When it comes to setting up a cleaning caddy, you want it to be just the right size to fit all of your supplies with ease, not too big, not too small.
Make sure it is tall enough to keep the bottles from falling out when lugging it around the house. You could use a small plastic bucket or something like this little, but sturdy plastic basket with compartments. Shop your house, you might already have the right container on hand.  Whether you choose a caddy with or without compartments is up to you.  Plastic is a snap to clean whereas metal baskets have a tendency to rust.
Both my all-purpose cleaner and sanitizer spray are homemade. Why run out and buy pricy cleaners that may contain questionable chemicals when making your own is so easy? And if you run out – just make more!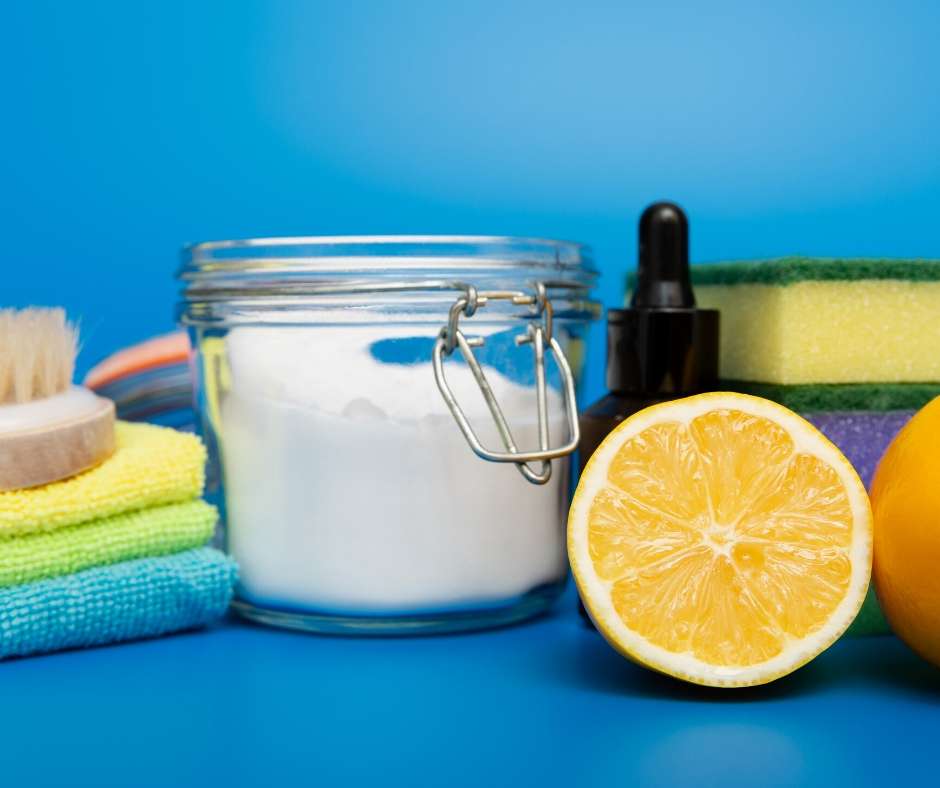 What's in my basket? Non-toxic cleaning is very important to me and that is reflected in the choices I made for my cleaning caddy. These cleaners are as easy on the budget as they are to the environment and your lungs! Find the recipes for my favorite homemade cleaners on a handy printable sheet in the FREE Resource Library.
Also:  broom and dustpan


3. USE A CLEANING SYSTEM
Well thought out steps are key to making this system a success. Always work from top to bottom and from cleanest to dirtiest. After tweaking this system for a long time this is what I found to work best:
Gather all towels and washcloths, toss them in the wash
Clear countertops
Spray mirror with glass cleaner
Spray sink, counter, toilet seat and lid as well as bathtub and/or shower with sanitizer spray. (Letting both the glass cleaner and sanitizer spray sit for a couple of minutes makes the job much easier.)
Use either 1 cap of

Thieves cleaner

 (a little bit goes a long way) and sprinkle baking  soda in the bowl to follow or use the toilet cleaner of your choice – let sit
Wipe mirror(s) with a designated microfiber lint-free glass cleaning cloth
Wipe vanity, sink, tub with a different microfiber cloth
Scrub toilet bowl, including top rim. Wipe rim and other porcelain parts with toilet paper, discard in toilet and flush. Wipe seat and lid with a designated microfiber cloth
Sweep, empty dustpan in the trash, empty trash can.
Steam clean or mop floor
Helpful tips:
Remove and toss all of your towels and washcloths in the wash before you get started. Hang them right back up in your freshly cleaned bathroom once they are done.
Wipe vertical surfaces, like mirrors and shower walls from top to bottom in an "S" motion, to keep from going over clean areas with a dirty cloth.
Write ingredients for homemade cleaner and disinfectant sprays on labels on the bottle, and you'll always have the recipe handy when you run out and need to make more.
Keep baking soda in a container that allows you to sprinkle it on. A Parmesan cheese dispenser like this one works well. Or you can make your own using a clean jar and poke holes in the lid. I use one of my trusty ball jelly jars.
Why microfiber?
Each component of my bathroom cleaning system was chosen because it is safe, easy to use and effective. I used to favor cotton cloths for cleaning, but have recently made the switch to microfiber. Why?
Turns out microfiber cloths clearly outperform cotton ones when it comes to cleaning, hands down. Due to the unique structure of their fibers, they excel at grabbing microbes and all kinds of other "cooties" (totally scientific terminology). They also require far less water and cleaning solution. Third, since they come in many different colors, you can easily designate a specific color for each cleaning job. I like red for the dirtiest jobs, like around toilets, green for sinks and blue mirrors. But it truly doesn't matter which color you chose for each task, as long as you stay consistent.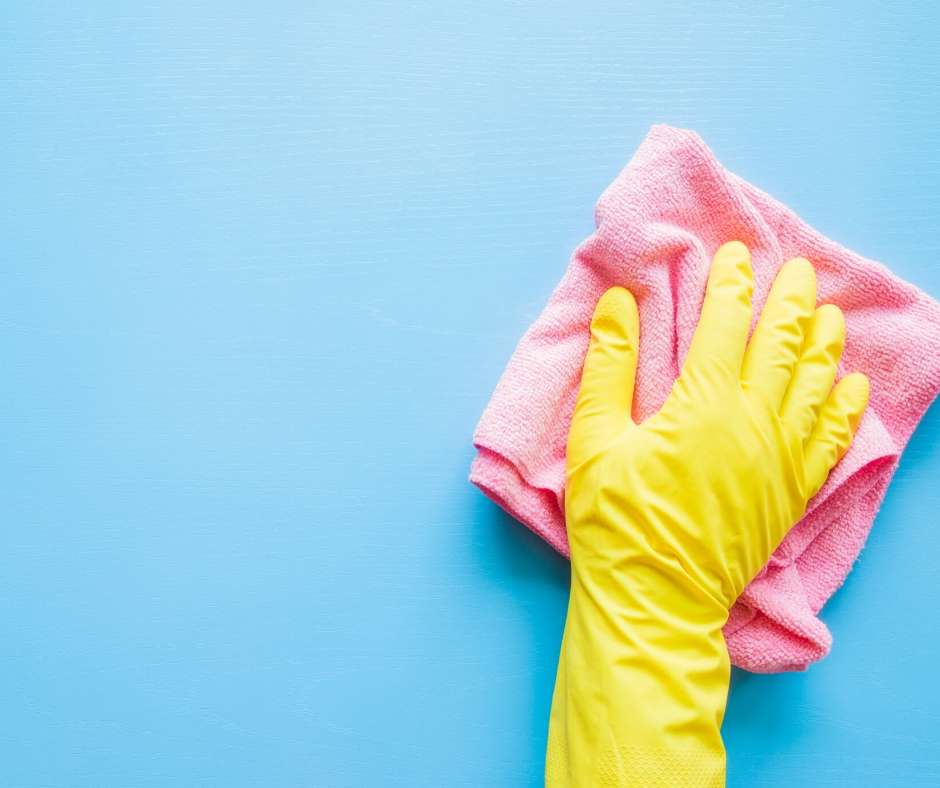 I prefer a slightly larger cloth and chose microfiber kitchen towels for that reason. They are easily found at the dollar store or you can order them here.
Glass spray bottles are not completely necessary, but best, because lemon essential oils will disintegrate plastic over time. I also like that they come in a variety of sizes and I prefer those that hold just over 2 cups for portability. Let's face it, they are kind of pretty, too, aren't they? To save money, save glass distilled vinegar (or any similar) bottles and add a spray trigger from a dollar store bottle.
In between cleanings, sinks and mirrors get a quick wipe down each day or as needed.
I have been using this system for nearly a year now and I cannot tell you how much easier it has made this previously dreaded cleaning chore. There is no running out of cleaning solutions, no irritating chemical smell, and virtually no waste!
Are you interested in ditching all of the toxic chemicals in your home?  Be sure to get your copy of my handy printable sheet with all of my favorite and super easy cleaner recipes in the FREE Resource Library. For more info on where you can get high-quality EO's check out the essential oil buying guide.
For other helpful tips and recipes, check out these posts:
HOW TO MAKE HOMEMADE CITRUS CLEANER FOR PENNIES
DIY CLEANING RECIPES YOU WILL WANT TO MAKE
HOW TO CLEAN A THERMAL COFFEE POT THE EASY WAY
HOW TO MAKE ALCOHOL-BASED HAND SANITIZER SPRAY
While you still have to clean with this system (sorry), I know that it will make your life easier. Following the same steps, every single time you clean will cut the time you spend scrubbing and take the dread out of this definitely no-fun chore. Let me know how it works for you! Have you ever tried a cleaning schedule?
Do you have some helpful hints and tips that have made your life easier? Let's hear them in the comment section! Why not share them on TheWittyGrittyLife Facebook group? Come on over and join us! And be sure to follow me on Instagram for a little dose of real life! Until next time!