Updated: July 2020
LIQUID SOAP YOUR HANDS WILL LOVE
Have you ever made liquid hand soap? To be perfectly honest, I was always perfectly content just buying mine, until earlier this year, when I encountered empty store shelves. If I go through the effort to drag myself to the store, I don't want to come home empty-handed. Has this happened to you?
Determined not to run into that problem again, I decided to just do what I always do: Make my own. After all, how hard can it be?
Well, it's not difficult at all. I did my usual research on Pinterest to see if I could find a recipe that sounded like a good fit. But then I realized that I already have the perfect recipe on hand. I guess I just wanted to be double sure. The liquid soap recipe I am going to share with you today is much gentler than most commercially available soap. You can create a completely fragrance-free version or add your favorite essential oils. More on that in a bit.
I have been using this exact recipe as a face wash for years. It removes makeup like a champ and even doubles as a natural shaving cream. So you are not just getting run of the mill liquid hand soap here, but three products in one!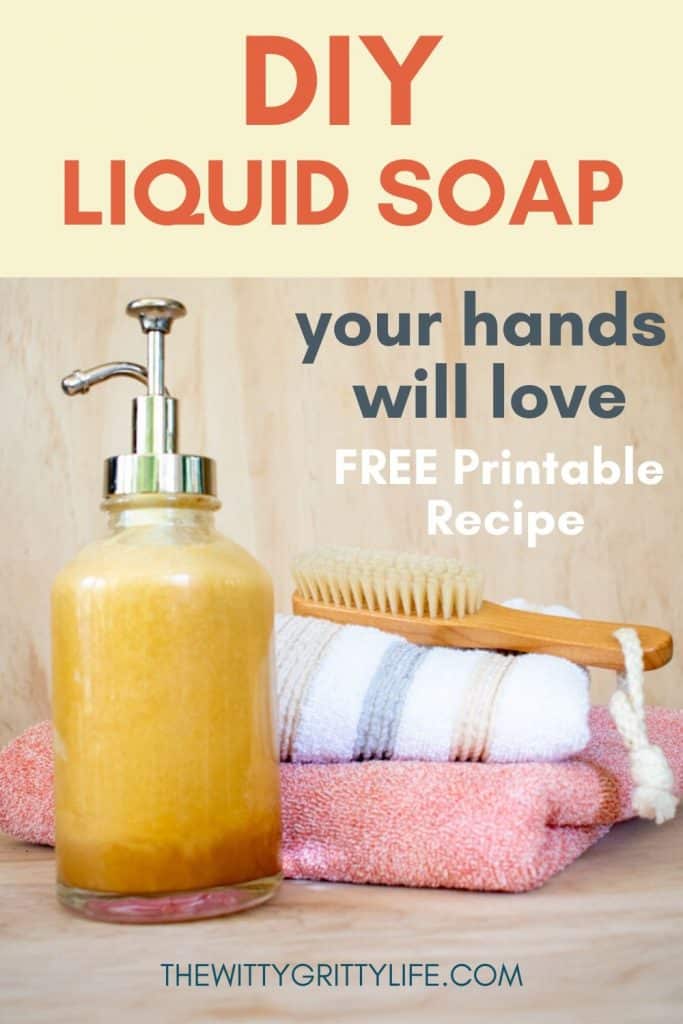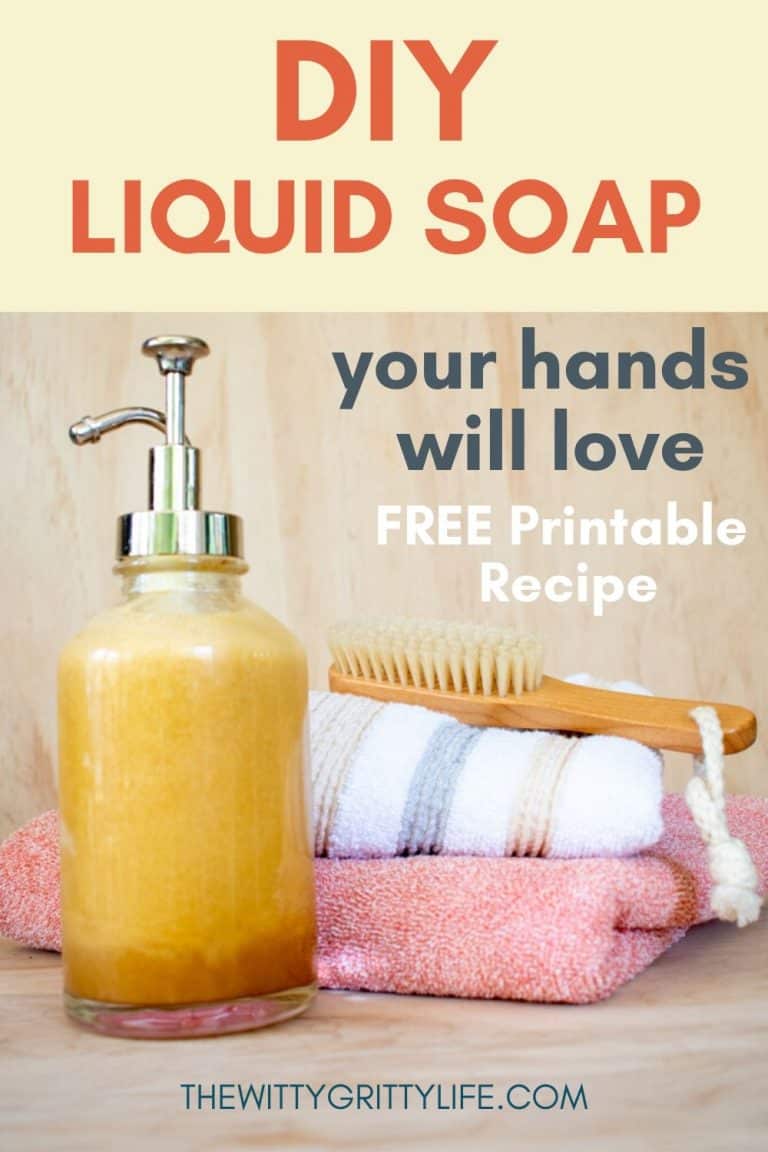 Proper handwashing is something that is near and dear to my heart. I worked in hospitals and physician's offices for many years, often with critically ill patients who were very susceptible to infections. Handwashing was part of my job. But to be honest, even though I always made sure to wash my hands well, I lather up even more now than usual and watch over my guys to do the same.
If you have any reluctant hand washers in your household, be sure to show them this little video I found! It does a great job explaining how much unwanted stuff is on your hands and why it's so important to do a great job lathering up.
* This post contains affiliate links. If you make a purchase by clicking on an affiliate link, I may earn a small commission. You can view my complete affiliate link policy HERE.
A few years ago my oldest son and I actually conducted a very similar experiment as a science fair project. It was such a hit with his teacher, they asked if they could use it to demonstrate the importance of handwashing to other students! If you are interested in duplicating what was shown in the video and teach your kids how germs grow, you can purchase similar agar petri dishes.
Still, all of that sanitizing and washing can be harsh and drying on poor little and big hands. Dry, itchy, and cracked hands, aside from being uncomfortable, can actually invite unpleasant skin infections. Using a gentle soap recipe that features antibacterial ingredients is a great way to keep your hands clean and healthy at the same time.
To make sure you'll have this versatile recipe on hand anytime you need it, I put a printable version of it along with lots of other useful info in the FREE Resource Library. Just sign up here and your password is on its way to your inbox!
LIQUID SOAP INGREDIENTS
As I mentioned above, using effective and well tolerated components is super important.
By including only gentle ingredients that have been used in natural skincare and cleaning you are doing your poor tired and hard-working hands a huge favor. It also makes it safe for any age. Let's take a look at the ingredients I'm talking about!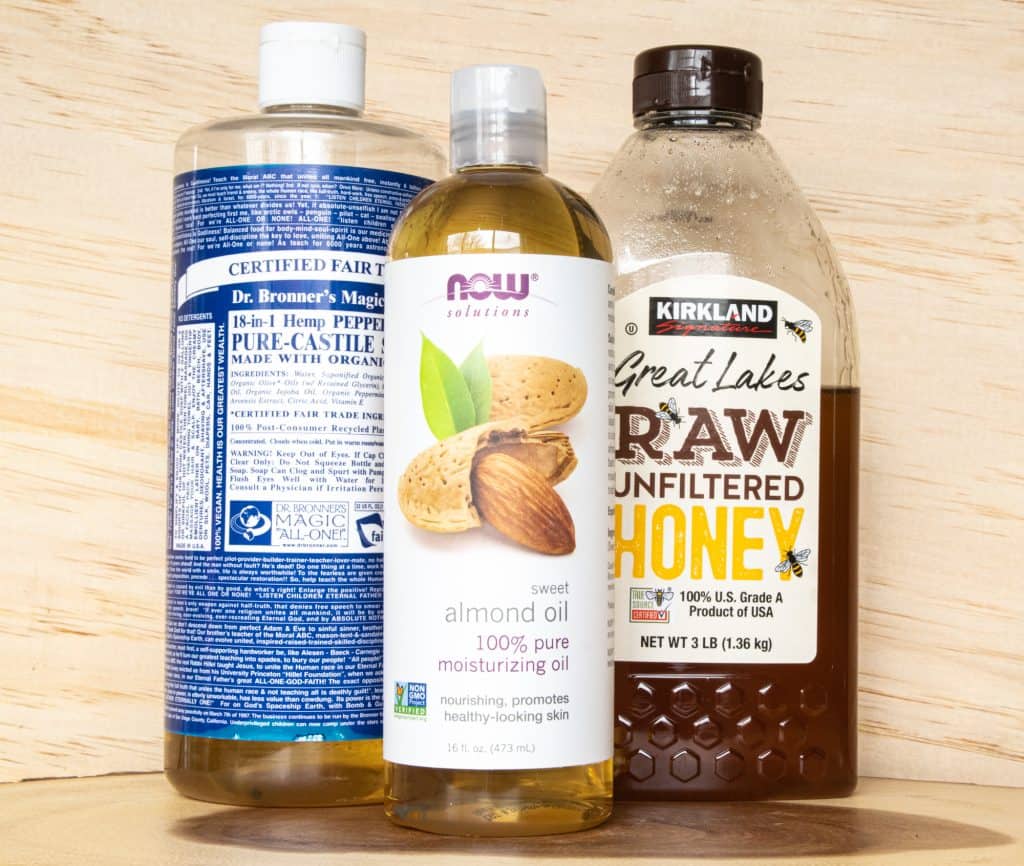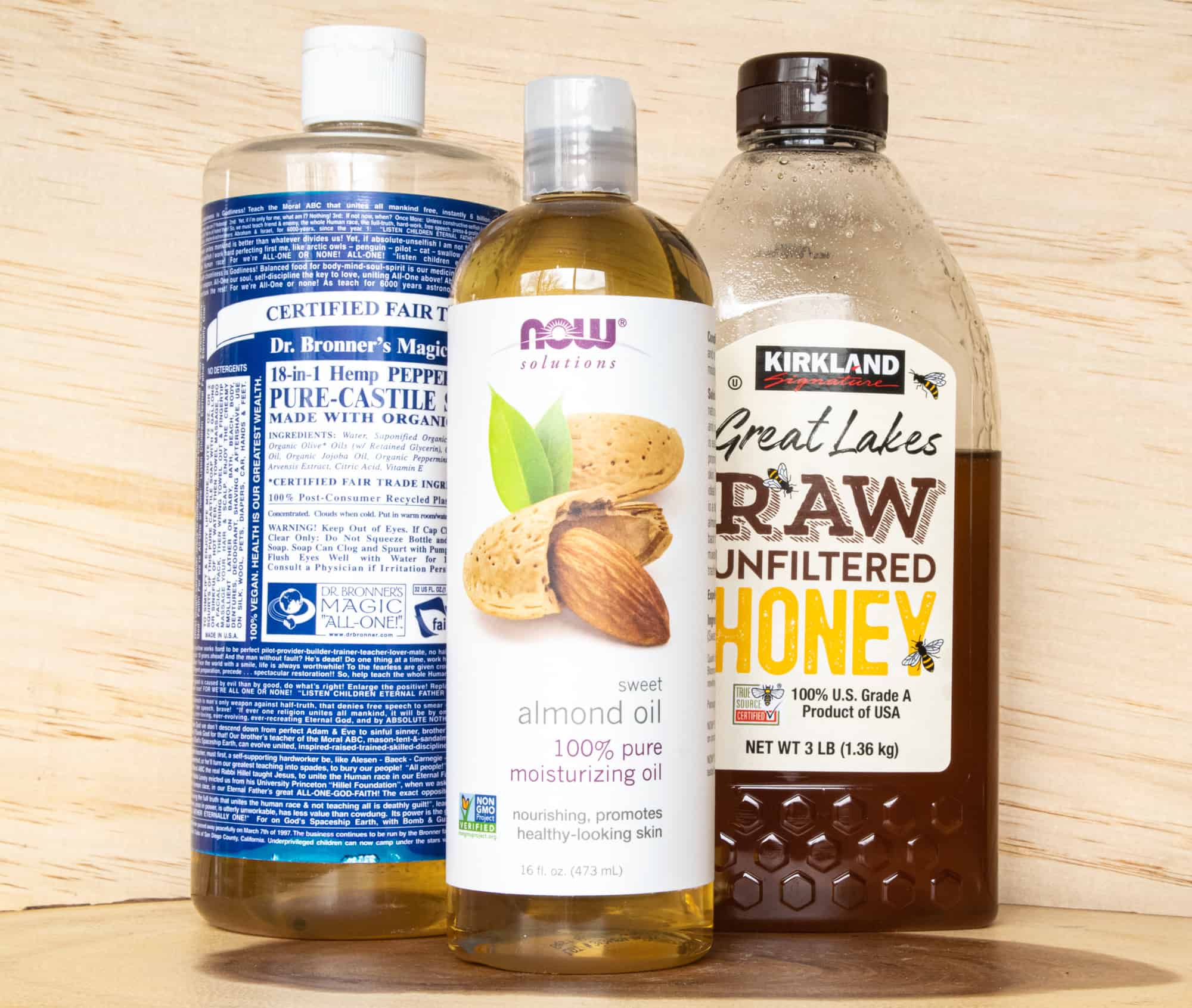 Buy each of them in larger quanties and you'll won't run out of soap any time soon. Of course, they come in handy for a number of different uses. You can find more recipes to put each one of those powerhouse ingredients to work in the FREE Resource Library!
CASTILE SOAP
Castile soap is a vegetable-based soap I consider a must-have workhorse in any household. It's incredibly versatile. You could even brush your teeth with it safely, although, fair warning, it has quite the soapy aroma. If you want to learn a little more about the many different uses for castile soap check out this informative post.
I have been using Dr. Bronner's Magic Soap for years and can attest to the fact that it works very well and a bottle will last you a long, long time. It is sold in a number of different scents like peppermint, lemon, lavender, etc. You can also opt for the unscented variety and add your own essential oils.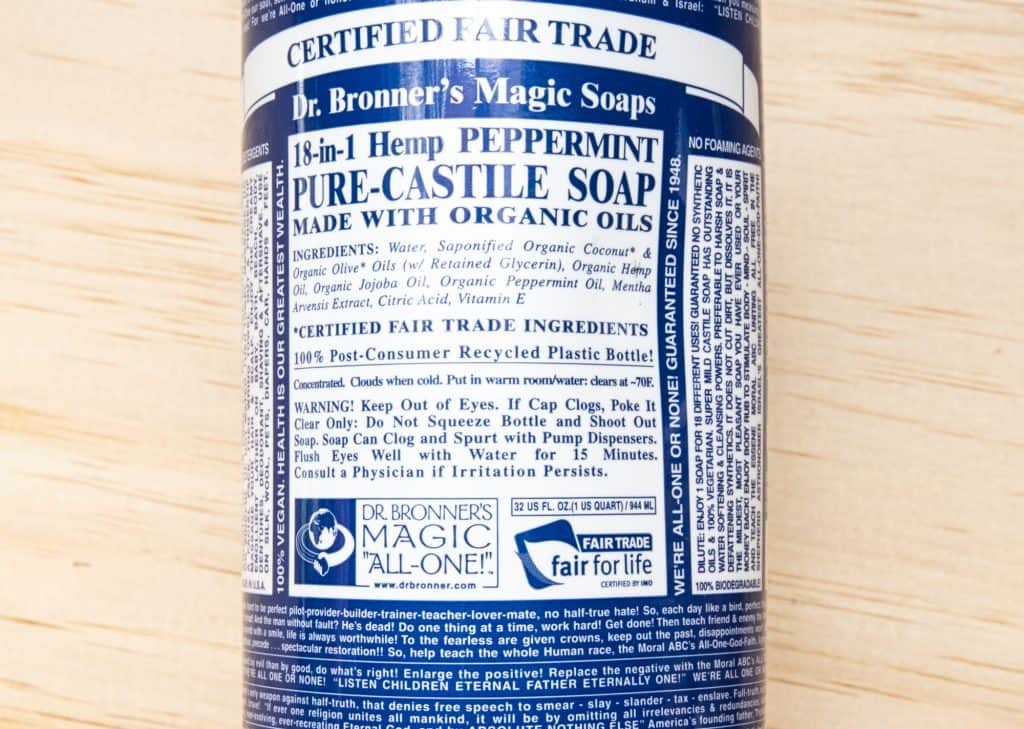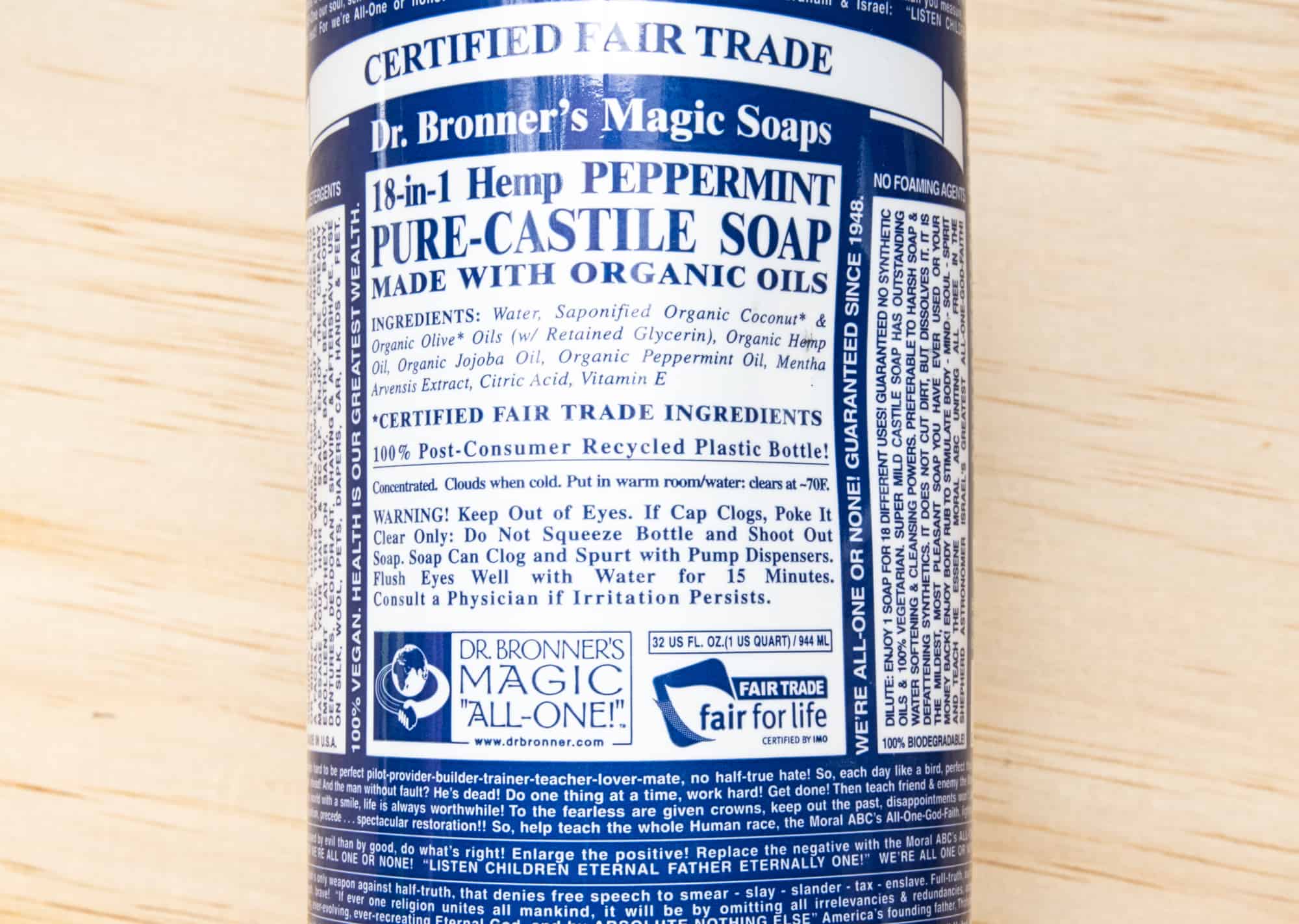 RAW HONEY
Honey is another of my all-time favorite skincare ingredients and you can sweeten your hot tea with it to soothe your sore irritated throat. I have fond memories of eating candies made with honey in my native Germany. My great-uncle was a beekeeper who never missed an opportunity to educate us about all of the important trees, shrubs, and other plants honey bees rely on for food.
Raw honey is included in this recipe because it is particularly gentle and soothing on irritated skin. Folk medicine often uses it as a treatment for infected wounds and light burns. It has natural antibacterial properties which makes it an excellent choice for treating acne without irritating chemicals. And last but not least, honey's moisturizing quality makes it a great choice for any skin-pampering recipe. Don't worry, you won't wind up with sticky hands!
ALMOND OIL
Almond oil is another excellent choice for keeping your skin soft and moisturized despite frequent washing. Like raw honey, it also boasts antibacterial properties and is often used in the natural treatment of dark under-eye circles and to lighten skin. I doubt it is in contact long enough to have an effect on those pesky little dark spots that show up on hands over 50, but hey, it's worth a shot, right?
ESSENTIAL OILS
Add your choice of about 8-10 drops of essential oils if desired. Some of the combos I like are lavender and lemon, lemon and mint, lavender and mint, pine and lemon, or just plain tea tree oil. You can design your very own signature blend!
Essential oils are one of Mother Natures' powerful gifts. They add so much more than mere scent. Oils like lavender have both calming and skin-soothing properties. Peppermint is invigorating, while tea tree oil has antibacterial properties. If you choose to add essential oils to your liquid soap recipe make sure to use only high-quality oils and remember to always do a skin patch test first. Check out my guide on buying great quality essential oils!
Here is the super simple Liquid soap recipe:
(Makes 2 cups)
1 cup liquid castile soap

3/4 cup honey

1/4 cup almond oil

15- -20 drops of essential oils like lavender, peppermint, lemon, pine, eucalyptus (your choice) – add just one of a combination
DIRECTIONS
The directions couldn't be any easier! Simply measure and combine all ingredients and pour them into a liquid soap dispenser with a pump. Since this formula lacks the chemicals that keep the ingredients in suspension, you will notice a little separation. No problem! Just shake the bottle gently to combine them before each use. Wash your hands just as you would with any other liquid soap.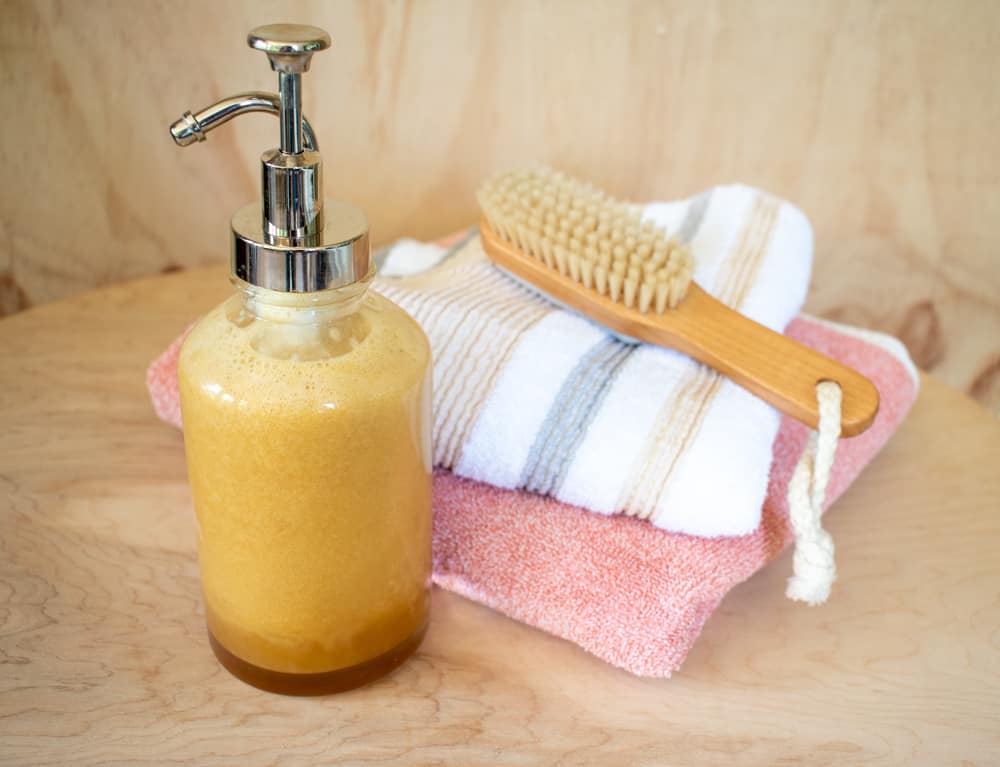 This recipe is a little more liquid than the commercial hand soap you might be used to. Just one squirt lathers up into a rich foam.
It's almost to easy, right? I think you will not only love the soap, but also the fact that if you run out you won't have to run to get to the store. Just refill your existing dispenser and you're back in business. And if you are looking for other ways to make your own effective sanitizing products, as well as tips for preventing illness, of check out these posts:
HOW TO MAKE 60% ALCOHOL BASED HAND SANITIZER SPRAY
HOW TO MAKE HAND SANITIZER GEL WITHOUT ALCOHOL
HOW TO MAKE SURE YOUR FAMILY STAYS HEALTHY THIS WINTER
Don't forget to pin this post so you can find it again easily.
Have a great day!