Hand soap has been on pretty much everybody's mind over the past couple of weeks. How could it not be, when we continuously hear what has become everyone's new mantra: WASH YOUR HANDS WITH SOAP AND WATER.
In my previous life in healthcare, I got paid to wash my hands many times a day every day. You work in a hospital or physician's office and that is just what you do. So I am used to doing that anyway. Okay, truth be told, I am washing them even more now than I usually do and watch over my guys to do the same. All of that sanitizing and washing can be harsh and drying on our poor little hands. Nobody likes the feeling of dry, itchy, and cracked hands.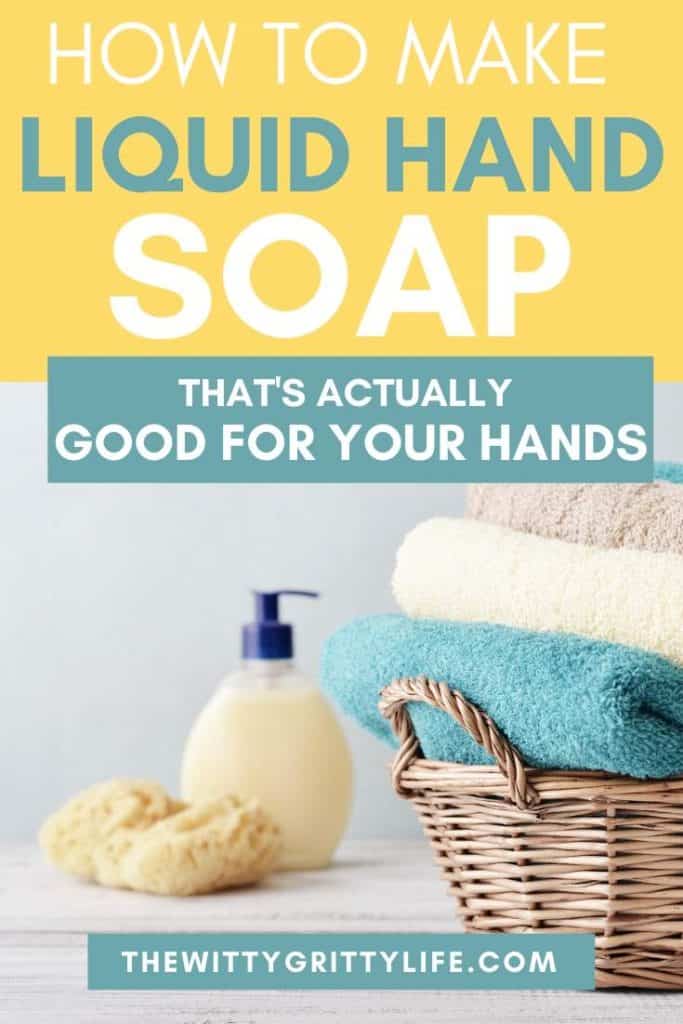 If you have read through any of my posts here, you probably know that I am a huge fan of making many of my own cleaning and skin and body care products. For one, it's just nice to know what is in them and it is incredibly convenient to simply make more when you run out. Many of my recipes rely on the same bulk ingredients which adds a definite money-saving aspect. The environment will love you for using refillable containers. See, it's all good.
Does this look familiar?
While people are currently tripping all over each other in stores trying to snag that last bottle of liquid soap, you can just make your own. But I want you to have the best! It wouldn't be right not to let you in on my super simple yet effective way to make liquid soap! Honestly, I couldn't live with myself. Of course, if I am going to DIY anything, the result has to be pretty gosh darn good. I promise you, it is!
You will find plenty of ways to make liquid hand soap on Pinterest. Many of them involve grating a solid bar of soap and mixing it with liquid. While it's probably not a terribly big deal, it still involves more labor than it should. So today we will stick to using all liquid components. Each of them is easy to find even when the stores are pretty much picked clean! You can use them for a number of different recipes, so I can only recommend buying them in bulk.
You will find the printable version of this recipe along with many others in the FREE Resource Library. Sign up is easy!
* This post contains affiliate links. If you make a purchase by clicking on an affiliate link, I may earn a small commission. You can view my complete affiliate link policy HERE.
HOW TO MAKE LIQUID SOAP THAT IS ACTUALLY GOOD FOR YOUR HANDS
Ah yes, I forgot to mention the best part! Your hands will love this stuff!
By including only gentle ingredients that have been used in natural skincare and cleaning you are doing your poor tired and hard-working hands a huge favor. It also makes it safe for any age. Let's take a look at the ingredients I'm talking about!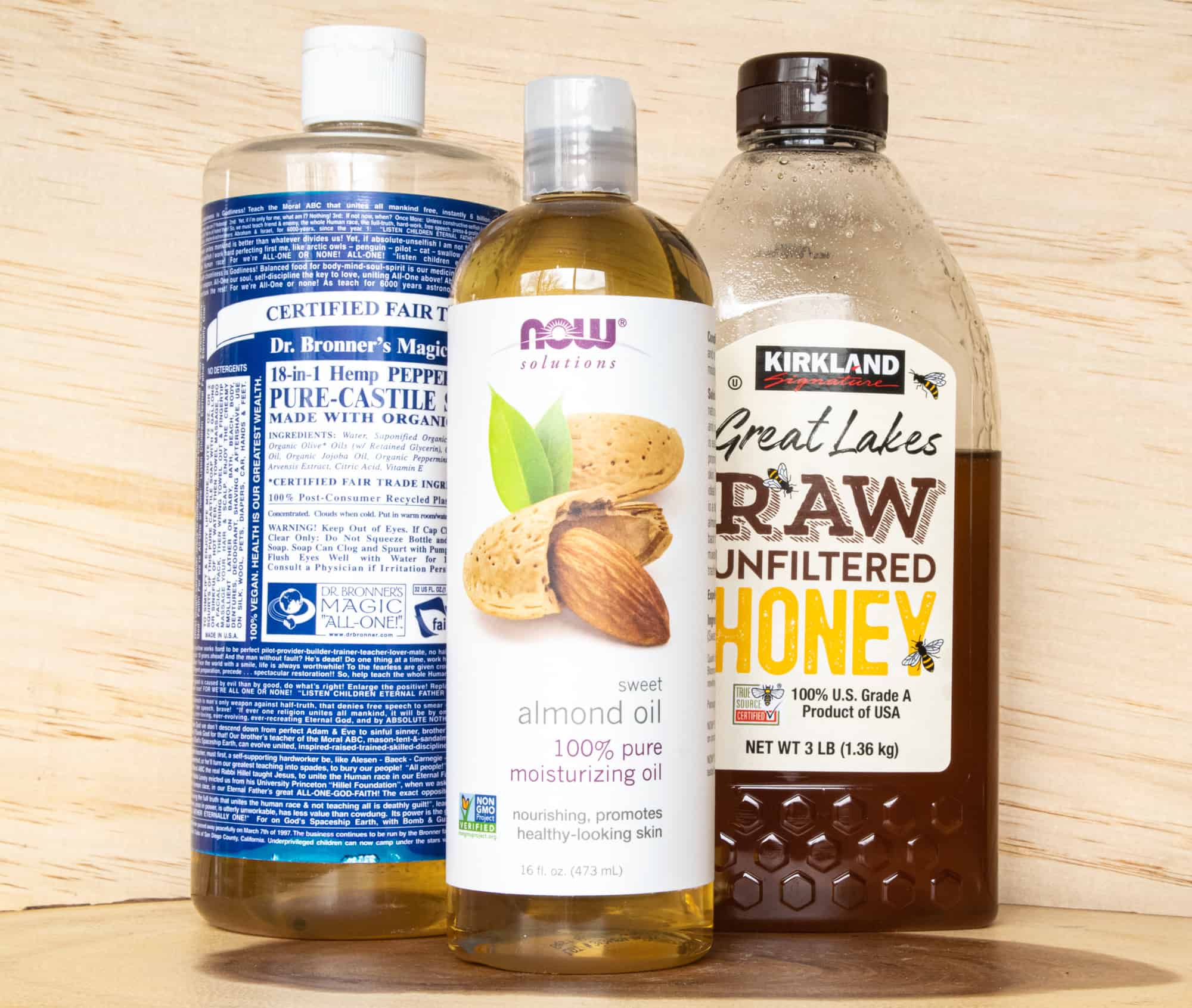 You can find more recipes to put them to good use in the FREE Resource Library!
CASTILE SOAP
Castile soap is a vegetable-based soap I consider a workhorse in the household. It's incredibly versatile. You could even brush your teeth with it safely, although, fair warning, it has quite the soapy aroma. If you want to learn a little more about the many different uses for castile soap check out this informative post.
I have been using Dr. Bronner's Magic Soap for years and can attest to the fact that it works very well and a bottle will last you a long, long time. It is sold in a number of different scents like peppermint, lemon, lavender, etc. You can also opt for the unscented variety and add your own essential oils.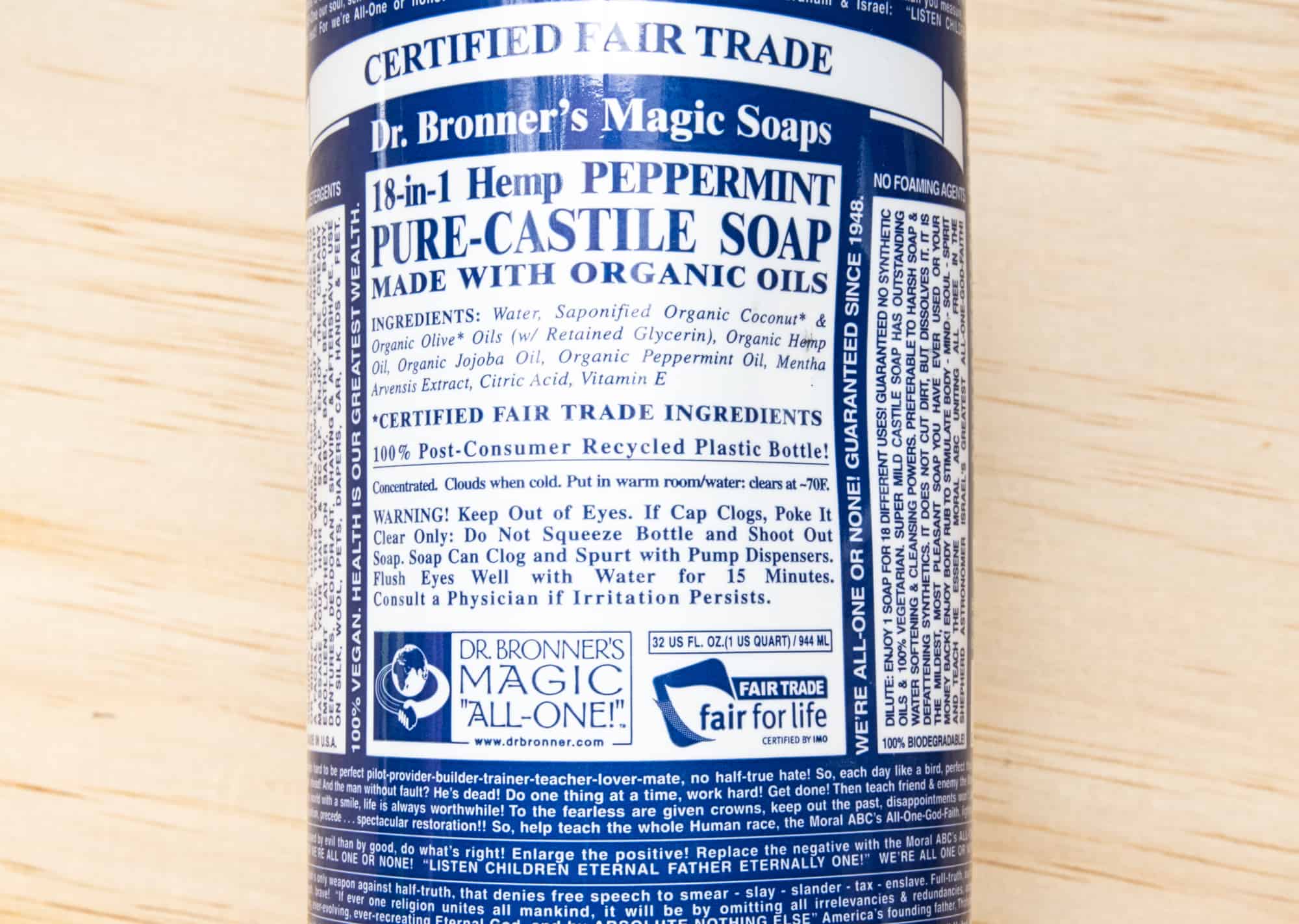 HONEY
Honey is another of my all-time favorite skincare ingredients and you can sweeten your hot tea with it to soothe your sore irritated throat. I have fond memories of eating candies made with honey in my native Germany. My great-uncle was a beekeeper who never missed an opportunity to educate us about all of the important trees, shrubs, and other plants honey bees rely on for food.
Honey is included in this recipe because it is particularly gentle and soothing on irritated skin. Folk medicine often uses it as a treatment for infected wounds and light burns. It has natural antibacterial properties which makes it an excellent choice for treating acne without irritating chemicals. And last but not least, honey's moisturizing quality makes it a great choice for any skin-pampering recipe. Don't worry, you won't wind up with sticky hands!
ALMOND OIL
Almond oil is another excellent choice for keeping your skin soft and moisturized despite frequent washing. Like honey, it also boasts antibacterial properties and is often used in the natural treatment of dark under-eye circles and to lighten skin. I doubt it is in contact long enough to have an effect on those pesky little dark spots that show up on hands over 50, but hey, it's worth a shot, right?
ESSENTIAL OILS
Add your choice of about 8-10 drops of essential oils if desired. Some of the combos I like are lavender and lemon, lemon and mint, lavender and mint, pine and lemon, or just plain tea tree oil. You can design your very own signature blend!
Essential oils are one of Mother Natures' powerful gifts. They add so much more than mere scent. Oils like lavender have both calming and skin-soothing properties. Peppermint is invigorating. If you choose to add essential oils to your liquid soap recipe make sure to use only high-quality oils and remember to always do a skin patch test first. Check out my guide on buying great quality essential oils!
Here is the super simple recipe: (Makes 2 cups)
1 cup liquid castile soap

3/4 cup honey

1/4 cup almond oil

essential oils like lavender, peppermint, lemon, pine, eucalyptus (your choice)
Combine all ingredients and pour into your liquid soap dispenser. Since it lacks the chemicals that are needed to keep all of the ingredients in suspension, you will notice a little separation. Just shake the bottle gently to combine them again before use. Wash your hands just as you would with any other liquid soap.
This recipe is a little more liquid than the commercial hand soap you might be used to. Just one squirt lathers up into a rich foam.
Easy peasy, right? I think you will not only love the soap, but also the fact that if you run out you won't have to run to get to the store. Just refill your existing dispenser and you're back in business. And if you are looking for other ways to make your own effective sanitizing products, as well as tips for preventing illness, of check out these posts:
HOW TO MAKE 60% ALCOHOL BASED HAND SANITIZER SPRAY
HOW TO MAKE HAND SANITIZER GEL WITHOUT ALCOHOL
HOW TO MAKE SURE YOUR FAMILY STAYS HEALTHY THIS WINTER
Don't forget to pin this post so you can find it again easily.
Have a great day!