Updated February 2020
Recently, as I picked up my homemade spray cleaner to clean handprints off various surfaces, I began mentally adding up all the different household cleaners I no longer buy. Honestly, even I was surprised how long the list of commercial cleaning products I am no longer using was. As it turns out, our house is pretty much cleaned with DIY cleaning recipes. What's equally amazing is I barely noticed the dramatic switch, because it was the result of many small changes over time. In essence, it's a process that just evolved. Better still, I don't miss any of those things, and I know you won't, either.
There are several reasons for using DIY natural cleaners and you might recognize and identify with a few, if not all of them. Maybe you are looking for ways to cut out toxic chemicals. Maybe you want to know what is actually in your cleaning supplies. Maybe you just are tired of lugging home so many bottles all the time. Does the thought of all that packaging winding up in a landfill bother you? How about saving money? Personally speaking, for me, it was all of those reasons. No matter your incentive, I'm sure you will find useful information as well as motivation in this post. In the spirit of keeping everything as simple as possible, none of the replacements are time-consuming and most contain basic ingredients. Each of those ingredients is very versatile and can be used in many different ways.
This post contains affiliate links. You may read my full affiliate link policy here. 
What are some of the cleaning supplies you can easily replace in your own home?
window/glass cleaner
all-purpose cleaner
floor cleaning solutions
carpet cleaner
air fresheners/deodorizers
laundry soap
fabric softener
Before you decide how to swap out your current, probably more toxic versions, let's take a closer look at some of the reasons for making the change.
ELIMINATE TOXINS FROM YOUR HOME AND THE ENVIRONMENT
This is probably the most important reason for ditching many, if not all artificial chemicals from the house. In our case with one family member a cancer survivor and another on the autism spectrum, cutting potentially harmful substances just made sense. Advertisers would have us believe that we simply cannot get that sparkling clean home without using their products. But I have found that this is just not true.
If reducing toxins is your biggest concern you have the option of going with safer, commercially available products to replace more toxic versions. Products like liquid castile soap, Sal suds, and thieves cleaner may seem a little pricey at first glance. But since they are quite concentrated, you actually get a whole lot more bang for your buck. Concentrates are versatile and take up a lot less shelf space than commercially diluted solutions in big plastic bottles.
Over time, I have settled on a combination of the above-mentioned concentrates as well as ingredients like distilled white vinegar, baking soda, and even bottled lemon juice. I combine them with high-quality essential oils to create my own arsenal of very effective cleaners.
By opting to create your own homemade cleaners you can help reduce the amount of packaging that might otherwise wind up in a landfill. Using a refillable glass spray bottle cuts out several plastic spray bottles. Besides, they look so much better, don't you think?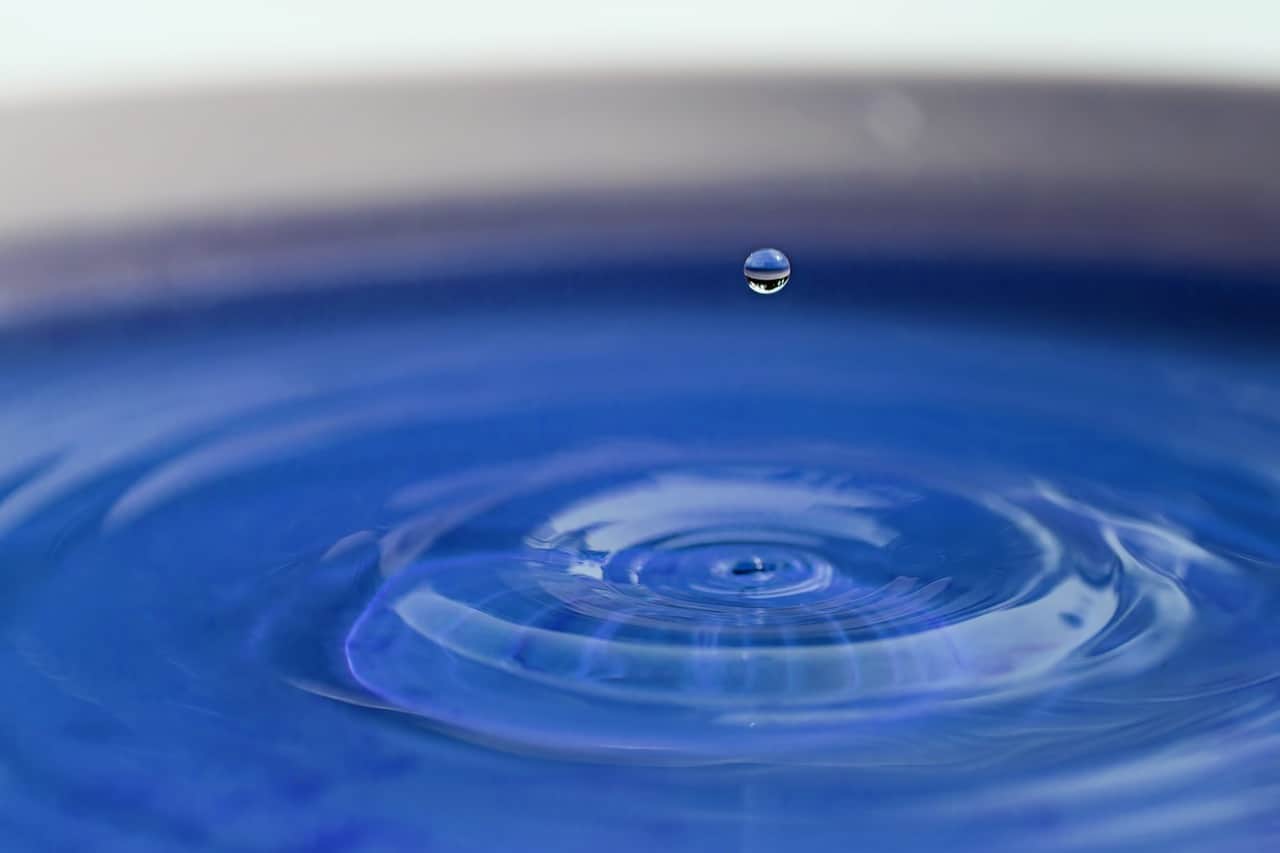 SAVE MONEY AND TIME
Even if you are not actively trying to eliminate toxins, you might be attracted to making your own supplies to save a few bucks.  How does making your own version of store-bought items save you money? For one, many of the base ingredients can be bought in bulk. Think things like vinegar or baking soda. Both are incredibly versatile not only as food but as a cleaning ingredient. And both are dirt cheap. That pricey laundry soap can easily be replaced by a homemade version you can create by making your own for pennies a load. It's much easier than you think.
You save time as well as money. How? No more trips to the store, because you ran out of window cleaner. Besides, who wants to lug around all these heavy bottles? Be kind to yourself my friend, you have better things to do, don't you? You can create your own homemade in cleaner in the time it would take to make a shopping list!
And since you are using bulk ingredients and/or concentrates you save on space as well. This is a biggie for anyone who is trying to embrace a more minimalist lifestyle.
If you are wondering how long it will take you to gather recipes to create your own cleaners and come up with safer, cheaper ways to incorporate into your cleaning routine, fear not! I made it easy for you with this post by sharing my tips with you. All of the recipes I link to are recipes I have tried myself and I am completely confident that they will work.
Here are some of my must-have ingredients to have on hand all the time:
white distilled vinegar
washing soda (can be made from baking soda)
essential oils like lemon, tea tree, lavender, mint, thieves blend
The manufacturers of cleaning chemicals would like you to believe that you absolutely need a different product for each and every cleaning job in your home. Well, that is just not true. You will find that you need surprisingly few cleaners to accomplish a whole lot.
The recipes in this post as well as other ways to cut unwanted chemicals from your life, are all available as handy printables to you in the FREE Resource Library. 

RECIPES
GLASS AND ALL-PURPOSE CLEANER
This recipe is so simple and easy to put together, it's almost hard to believe that it works. You may have heard that vinegar is an excellent cleaner, but may not have had much luck cleaning your windows with vinegar alone. Why is that? Most windows and glass surfaces that have been cleaned with commercial cleaning solutions, you know the blue stuff, have an invisible waxy residue. Vinegar alone will not cut through that and create streaks. By adding just enough dish liquid, you gain the power to wipe away those pesky streaks for a beautiful clean.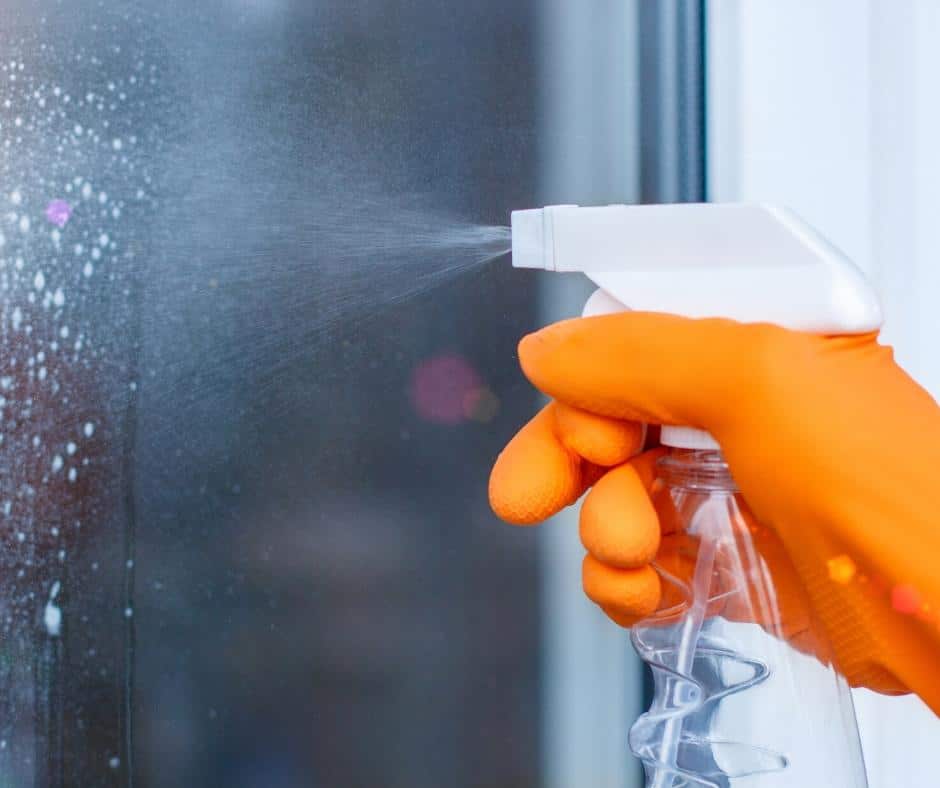 Here is the super simple recipe:
2 cups of filtered or distilled water
1/2 cup white distilled vinegar,
1 tbs dish soap like Mrs Meyers or Thieves.
Generally, the above glass cleaner recipe will work exceptionally well for most all-purpose cleaning tasks. But if you prefer a separate cleaner you can find the recipe and my easy bathroom cleaning tips by clicking here. All of my favorite cleaning recipes can be found on a handy printable in my FREE Resource Library.
SOAP SCUM REMOVER
For a very effective soap scum remover combine
1/2 cup white vinegar followed by 1/2 cup Sal suds detergent (often sold in health food stores in the cleaning aisle) in a glass spray bottle.
Shake well before use and spray on the area to be cleaned. Let sit for 10 minutes, then rinse. This stuff works, but be sure to work in a well-ventilated area due to the strong smell.
For added cleaning power use a Mr. Clean Magic Eraser pad. I always keep plenty of those on hand and they make cleaning so much easier and faster!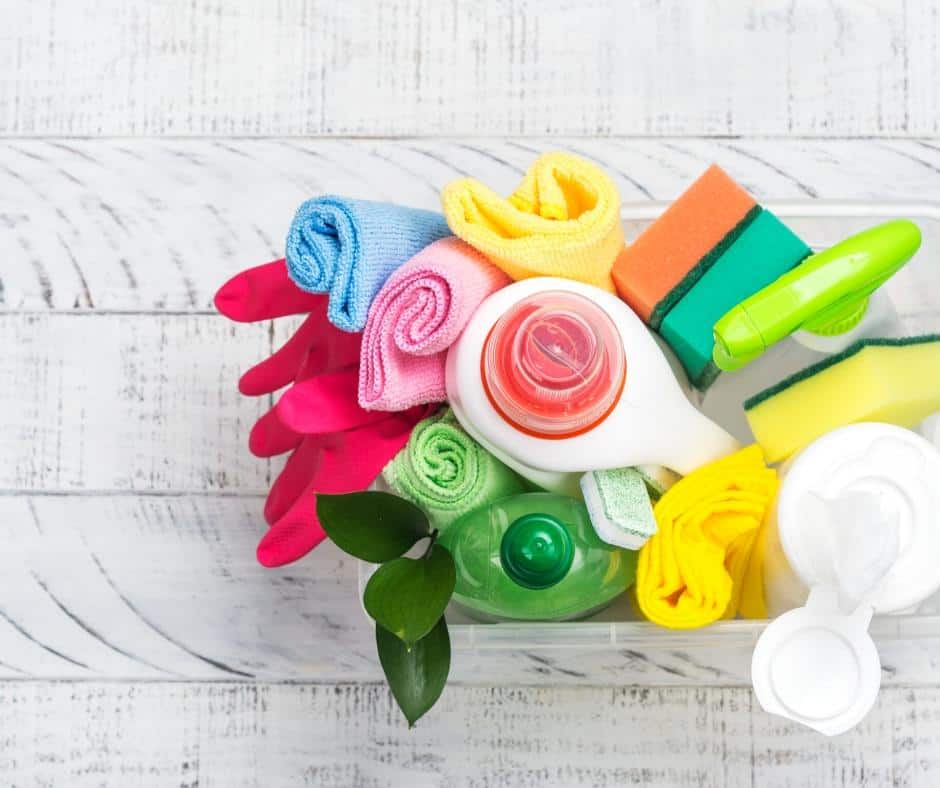 FLOOR CLEANING
For laminate, tile and sealed wood floors, the best non-toxic cleaning method I have found is a steam cleaner. The cleaning pads are washable and reusable and steam is amazingly effective in loosening even stuck-on dirt. I was lucky enough to find my current steam cleaner at our local Aldi store. This model is very similar to the one I have.
After owning another steamer with a rectangular mop surface, I prefer the triangle shape, because it gets into corners more easily. Most models also come with a carpet glide which allows you to run the steamer over your carpet surface to freshen carpet in between deep cleanings. This doesn't pick up any dirt but does refresh the carpet.
If you are not up for the steamer route, you can use the all-purpose cleaner spray above and mop it with a microfiber dust mop to give your floors a nice clean. Always sweep well before using steam or a wet cleaner on your floors.
CARPET CLEANING
At our house, a carpet cleaning machine is an absolute must. I couldn't imagine not having one. I used to buy commercially available cleaning solutions until I figured out that I could probably make my own solution for much cheaper. Well, lo and behold, it works!
Here's the recipe:
1 gallon of hot tap water
1 TBS of dish soap ( without bleach of course!!!)
2 TBS white vinegar
1/4 cup of 3% Hydrogen peroxide
Fill the tank with hot water, add remaining ingredients. Always test first on a hidden area to make sure it won't fade carpet.
AIR FRESHENING SPRAY AND DEODORIZER
Advertisers would have you believe that your home has to smell like Spring rain or some other fragrance. The fact is that most air fresheners are actually quite toxic, not to mention unnecessary.  Clean doesn't have a smell. And if you want your house to smell like a Spring rain, just open the windows in Spring when it rains.
Still, there are those times when you would like to enjoy a pleasant scent. That is where essential oils really shine. Just a few drops of the oils of your choice in a spray bottle with distilled water and organic witch hazel (acts as a dispersing agent) and you can spray those stale odors away.
8 oz distilled or filtered water
2 oz organic witch hazel
10 – 15 drops essential oils, a combo of mint and lemon as a pick me up, or lavender and mint as a calming scent – feel free to experiment with your favorite scent.
Alternately you can place essential oils in a diffuser and freshen your rooms that way. Just be sure to use high-quality pure oils that don't contain fillers and added chemicals or you are defeating the purpose. Here is where I get my hands down favorite kind.
Always use caution when using or diffusing or spraying essential oils around pets. Consult with your veterinarian.
LAUNDRY SOAP
After recently finding out that even the "all-natural" Costco laundry soap I've been using scores poorly with regards to the environment, I am determined to begin making my own laundry soap again. It's really not that difficult and it lasts for a very long time. This recipe makes a liquid laundry soap, which is the kind I prefer in my HE top-loading washer.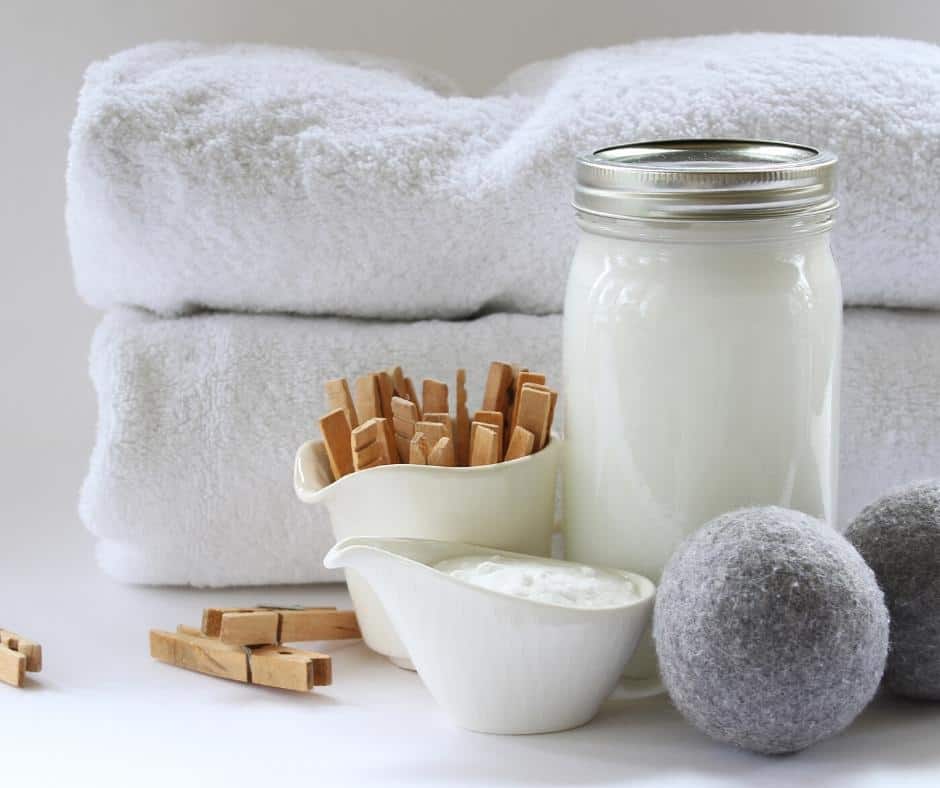 It calls for three basic ingredients you can find at any larger grocery store in the laundry aisle. And just in case you want to go even more old school and make your own washing soda I found the recipe for you to do just that! Pretty cool, right? The borax used in this recipe is also great for combating ants. There is some discussion about the safety of Borax, a natural ingredient so I thought I'd link you to this article, to allow you to make an informed decision. Personally, I'm cool with it, though.
FABRIC SOFTENER
Have you ever walked through the neighborhood and smelled someone's fabric softener from the dryer sheets they were using? I call them "Bounce" houses. Fabric softener sheets were one of the first things to leave our house. I replaced liquid fabric softener with white distilled vinegar a long time ago. It actually helps rinse excess soap from your laundry.
Stinky washer? That won't an issue at your house if you add vinegar to every load and letting your washer air out after.
After using plastic dryer balls for some time, I discovered wool dryer balls and haven't looked back. I love that I can add a few drops of essential oils to the wool kind for lovely smelling clothes.
You can buy wool dryer balls or even create your own. They last a long time and will pay for themselves in no time.
STAIN TREATMENT
Use a dab of Sal suds on tough stains. It is especially useful for those tough to get out grease stains and will work for even those types of stains set by the dryer. For stains like blood, cold water will do the trick along with hydrogen peroxide. I usually keep a bottle of peroxide fitted with a spray nozzle handy for when nose bleed season strikes our house.
If you are interested in creating a clean and easy version of Oxyclean laundry booster, I have found a great recipe here.
As promised, none of the recipes are difficult or time-consuming. They all work exceptionally well and will not only save you money and time but might have you breathing a little easier as well. I don't know about you, but after reading far too many labels with chemicals I cannot pronounce, I prefer knowing exactly what goes into my cleaning supplies.
For additional cleaning tips be sure to follow TheWittyGrittyLife on Pinterest.
Check out this post to see how to clean a thermal coffee pot the easy way.
Do you have a favorite cleaning recipe? I hope I have inspired to give homemade cleaners a try! Do be sure to share your experience if you do in our Facebook group! Not a member yet? We'd love to have you join the fun!