Updated 7/20
NATURAL DEODORANT THAT REALLY WORKS
Summer is here in full force and that means lots of sweating. If you are like me and cannot go for a minute without deodorant after your shower, you probably know how hard it can be to find a deodorant that really does the job. How about one that doesn't contain questionable ingredients like aluminum or parabens? 
Yes, there are plenty of aluminum-free options to be found, but even after trying several different brands, I have yet to find one that actually works for me.
So I turned to natural deodorant from the health food store. I kept trying different "all-natural" brands, most with a hefty price tag. But no matter which brand I chose, they still didn't do as good a job as I had hoped for.
And I found them to be irritating to my delicate armpit skin after a while. The most likely cause of irritation turned out to be baking soda. Finding a formulation without it was nearly impossible.
Back to square one,  I was beginning to doubt that such a recipe existed – in stores anyway. 
I may be many things, but I am not a quitter. So I did what I always do in situations like that. I figure out how to make it from scratch. Surely there had to be a DIY recipe that worked well.  I spent lots of time online searching for the right one and came up empty. All of the recipes I found and tried failed to live up to their promises, so I decided to create my own. 
And after some trial and error, I arrived at just the right formula for a truly natural deodorant. You know what? It really works – of course, or I wouldn't tell you about it!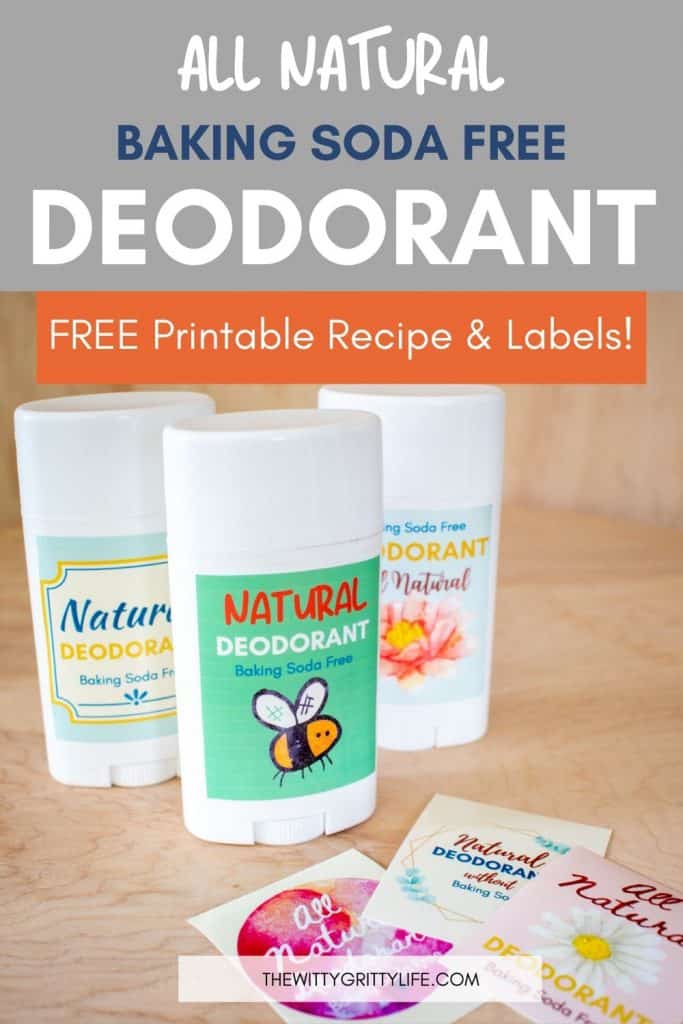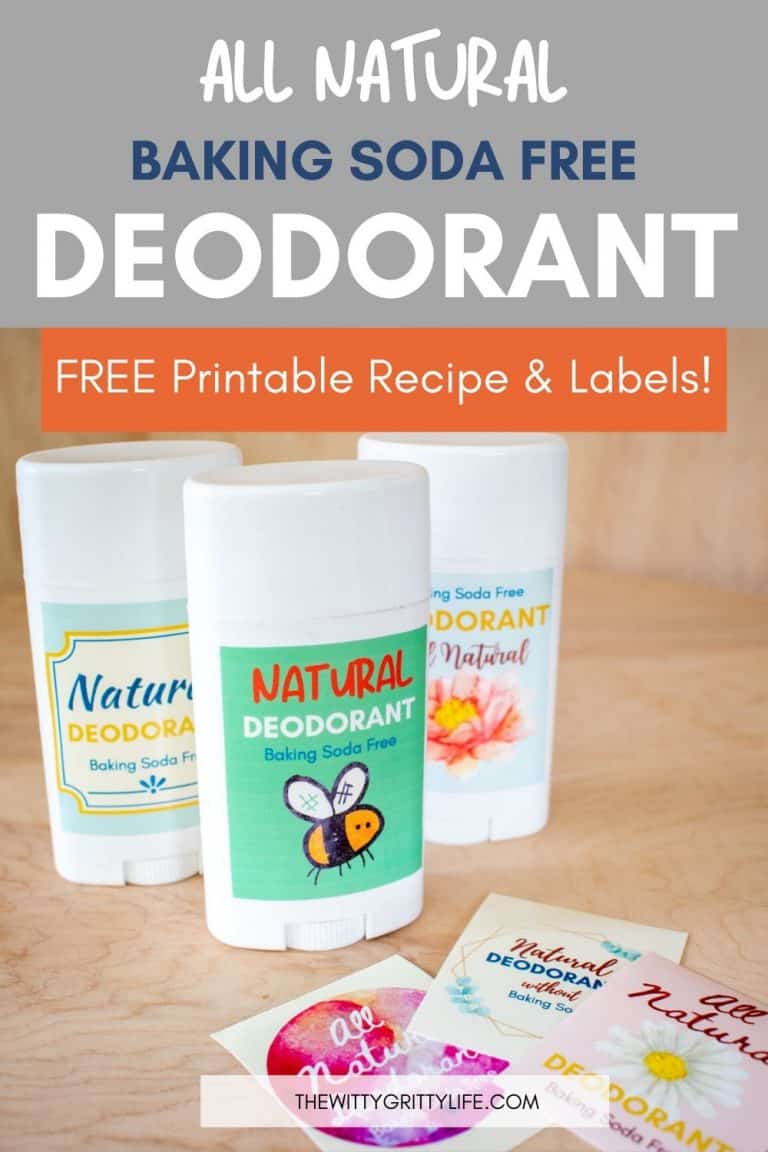 I am so excited to let you in on my little secret on how you can smell great without the worry of toxins.
DEODORANT VS ANTIPERSPIRANT
Before we get to the actual recipe, I would like to touch on the important difference between deodorant and antiperspirant. While often used interchangeably, they are not the same. 
The term deodorant refers to odor-controlling properties while antiperspirant actually inhibits the sweat glands from excreting liquid. Interestingly enough, while deodorant is considered a skincare product, antiperspirant is actually classified as a drug by the FDA. You can read more about it here. The actual odor is not caused by the sweat itself, but by the bacteria that break it down. 
My goal was to create a formula that has mainly deodorant and some antiperspirant properties through the use of targeted ingredients. 
When I researched various options, baking soda was part of most formulas. As mentioned above, I love baking soda for all kinds of different uses, just not in my deodorant. 
It does have amazing odor-absorbing qualities and sounds great in theory if it weren't for that one major drawback.
THE PROBLEM WITH BAKING SODA
Why is it irritating to skin, especially after prolonged use? Well, it's simple chemistry coupled with a little physics. 
You probably heard about baking soda as a great natural replacement for abrasive cleaners. While it is much gentler on your porcelain sink, it is mildly abrasive nonetheless. Add that to tender and potentially freshly shaved armpits and you will experience irritation.
Baking soda (sodium bicarbonate) also has a Ph level of 9, making it alkaline. A normal Ph level for skin hovers at around 5.5, more on the acidic side. Skin wants what skin wants. So going baking soda free is definitely a must in my book to keep the correct Ph level for happy skin.
Here is an example of some of the chemicals that are commonly found in mainstream commercial brands. Petroleum byproducts? Pass.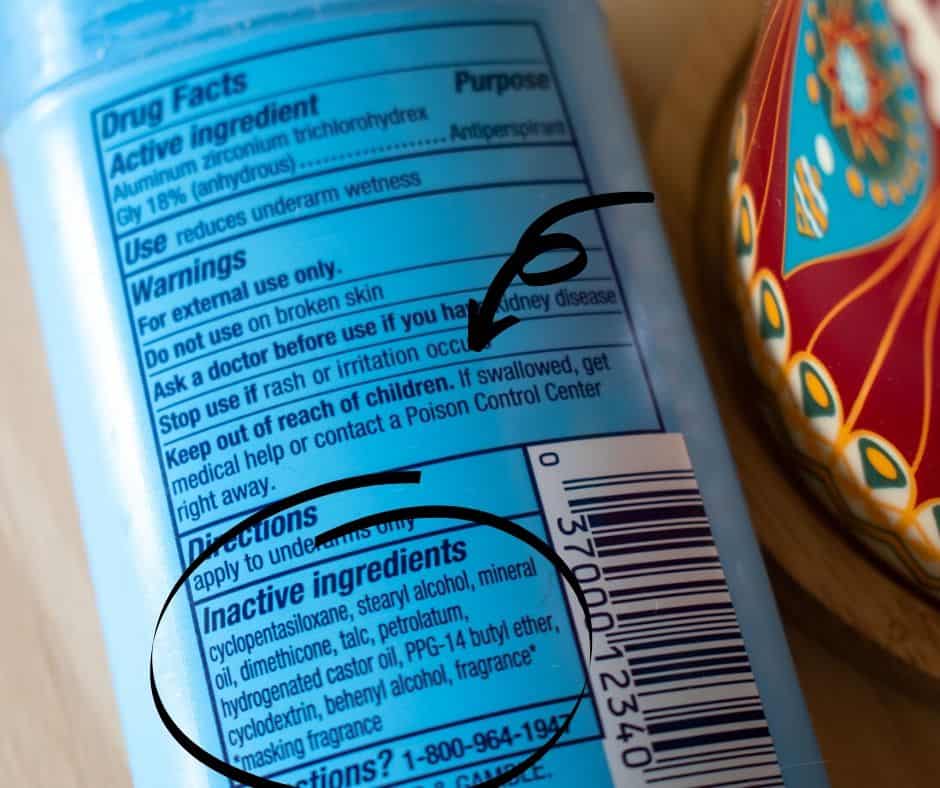 Again, it works very well, but that little warning to keep it "out of the reach of children", along with the suggestion to call poison control if accidentally ingested? Consult your doctor if you have kidney disease? Well, that gives me pause and makes me a bit nervous.
Even so-called natural options can contain ingredients like fragrances. Skincare manufacturers do not have to disclose what is actually in the fragrance they use. Whether or not you consider this a problem is up to you, of course. Personally, I tend to steer away from questionable chemicals whenever possible.
If you are unsure where you stand on the use of fragrances in skin and body care products, I encourage you to take a look at this video about toxins in fragrances. it's all about making informed decisions!
While this brand admittedly worked better for me than most, it has a hefty $12 per stick price tag and still contains the aforementioned baking soda and fragrance. It certainly is a good start in the right direction.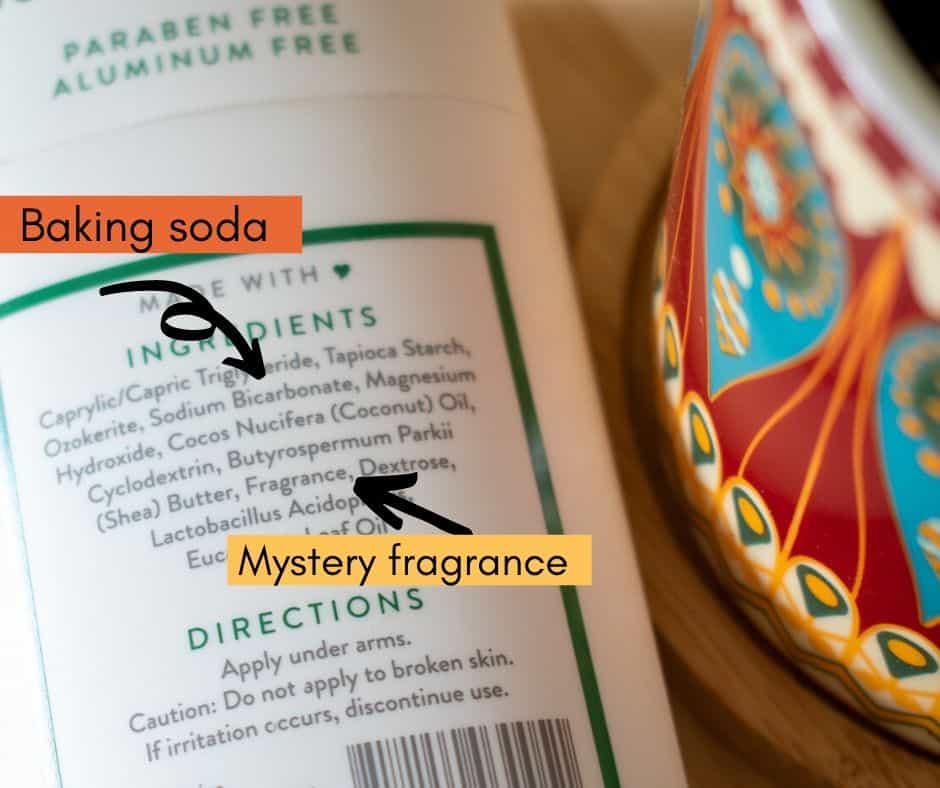 If you have a natural or even organic brand you love that works for you, stay with it! I am not trying to convince you to ditch something you are perfectly happy with. 
But I have a hunch that you might be looking for something better or you wouldn't be reading this post, right?
WHICH INGREDIENTS DIDN'T MAKE THE CUT AND WHY
As I mentioned, this was not my first time around the deodorant making block. I found a promising recipe using bentonite clay on Pinterest a while back. It turned out much too dry and was nearly impossible to apply.
Who wants to struggle just putting on deodorant? Just take a look at this hard, crumbly mess! It was like concrete.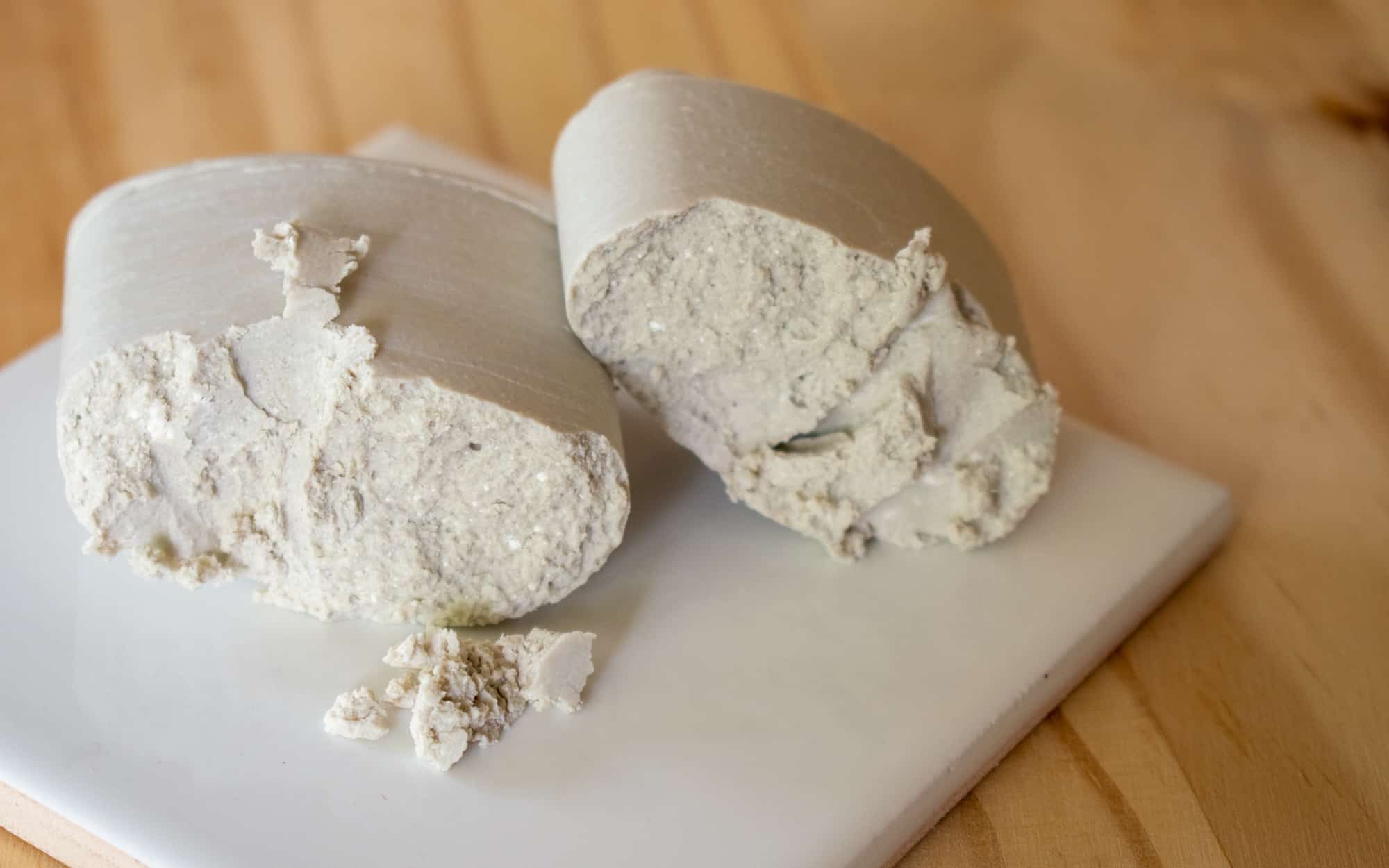 But you can still put bentonite clay and its wonderful detoxifying qualities to good use. Use it as a mask for your armpits (hear me out) before you make the switch to all-natural deodorant! Read about the process in this post from wellnessmama.com. 
So I continued my quest, determined to find the recipe. That turned out to be slightly more difficult and time-consuming than I had anticipated. Finding the right balance and getting the proper consistency took some patience.
Thankfully, I succeeded! Let's talk about how I arrived at this specific list of ingredients. My main goal is to choose the best components for each recipe I create. Each ingredient has a very specific purpose nothing less nothing more.
Of course,  you can find this recipe and most importantly those adorable labels as FREE  printables in the  Resource Library.
Here is a list of criteria for my natural deodorant recipe:
baking soda free

safe, gentle ingredients

easy to make

control odor and wetness – yes, it actually has to work! 

cost-effective

easy to make

stick form
The last requirement is really mainly for ease of use and convenience. At our house, we prefer deodorant in stick form. 
WHAT ELSE DIDN'T MAKE IT INTO THE RECIPE
You read my reasons for ditching bentonite clay and baking soda.
To be extra sure, I tested one formulation with baking soda. It left me smelling okay, but not for long and I found the consistency to be just a little too gritty and a little itchy. My gracious testers agreed. 
One ingredient that sounded promising was magnesium chloride. The recipe I tried with it sounded promising but wound up an utter failure. Even after grinding the magnesium chloride flakes into a fine powder, I still wound up with gritty sludge at the bottom of the bowl that refused to dissolve.
Not easily defeated I decided to try magnesium oil spray just to be sure. It did an okay job on days that weren't hot and didn't make me sweat too much. However, magnesium oil can leave a film on your skin and may cause itching and burning.
This post contains affiliate links which means I will earn a small commission if you make a purchase at absolutely no extra cost to you. You can read the entire affiliate link policy here. 
NATURAL DEODORANT INGREDIENTS THAT MAKE SENSE AND WORK!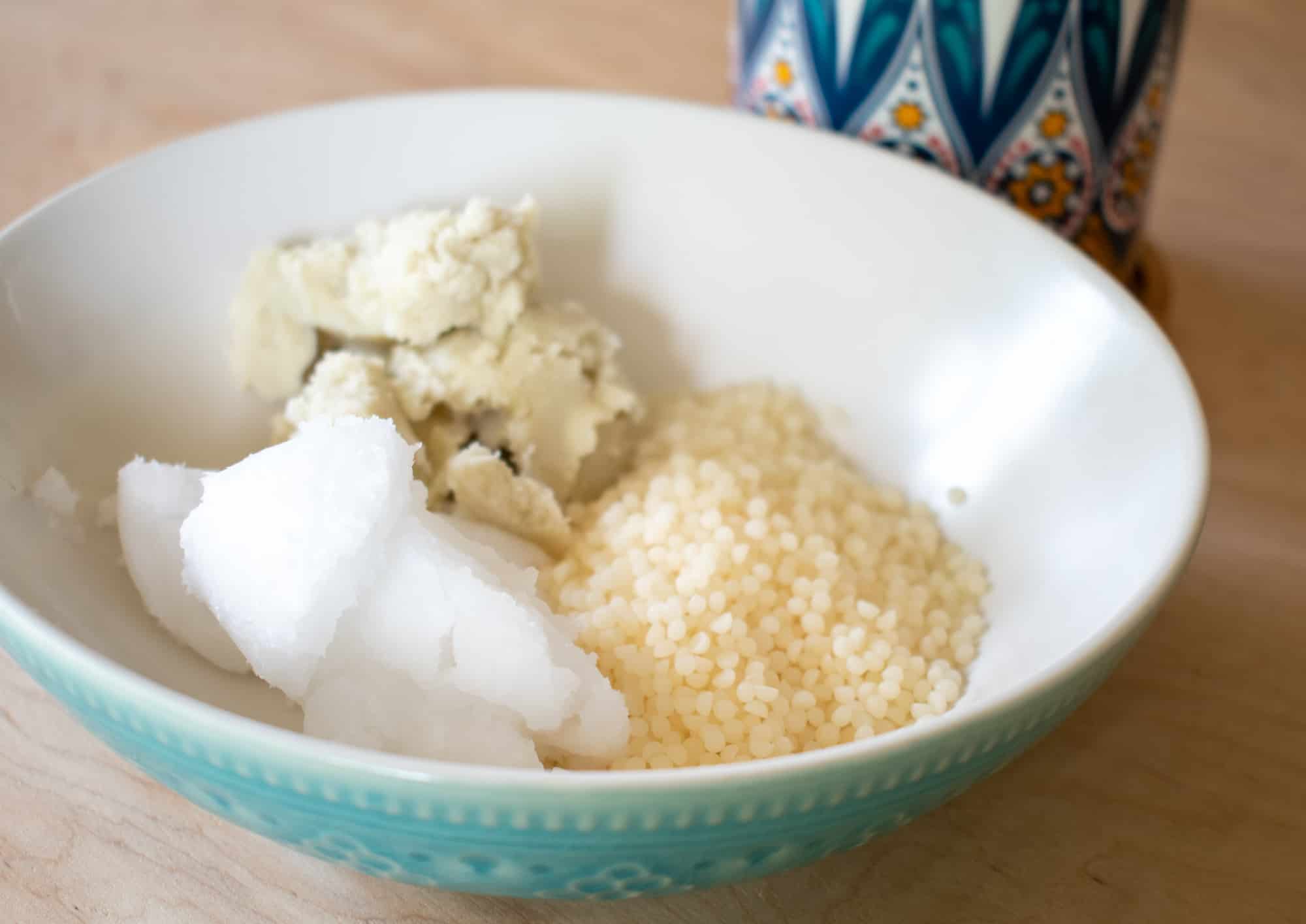 COCONUT OIL
My initial concerns about potential staining from coconut oil were unfounded.  The key is to use only high-quality virgin unrefined coconut oil.
The reasons I opted to include it in my recipe are fairly straight forward. Coconut oil is readily available, has well documented anti-fungal and anti-bacterial properties, and gives the finished product smoothness and glide.
And like the other ingredients used in this recipe, it is a versatile staple that can be used in a number of other beauty recipes!
ARROW ROOT POWDER
Arrowroot powder assumes the role of "wetness absorber" and adds a slight antiperspirant component. It outshines cornstarch because it is a non-GMO, ph-balanced ingredient, that has both antiseptic as well as anti-inflammatory qualities. It is safe enough to be fed to babies:) This is the brand I have been using for years. You can find it at most grocery or health food stores.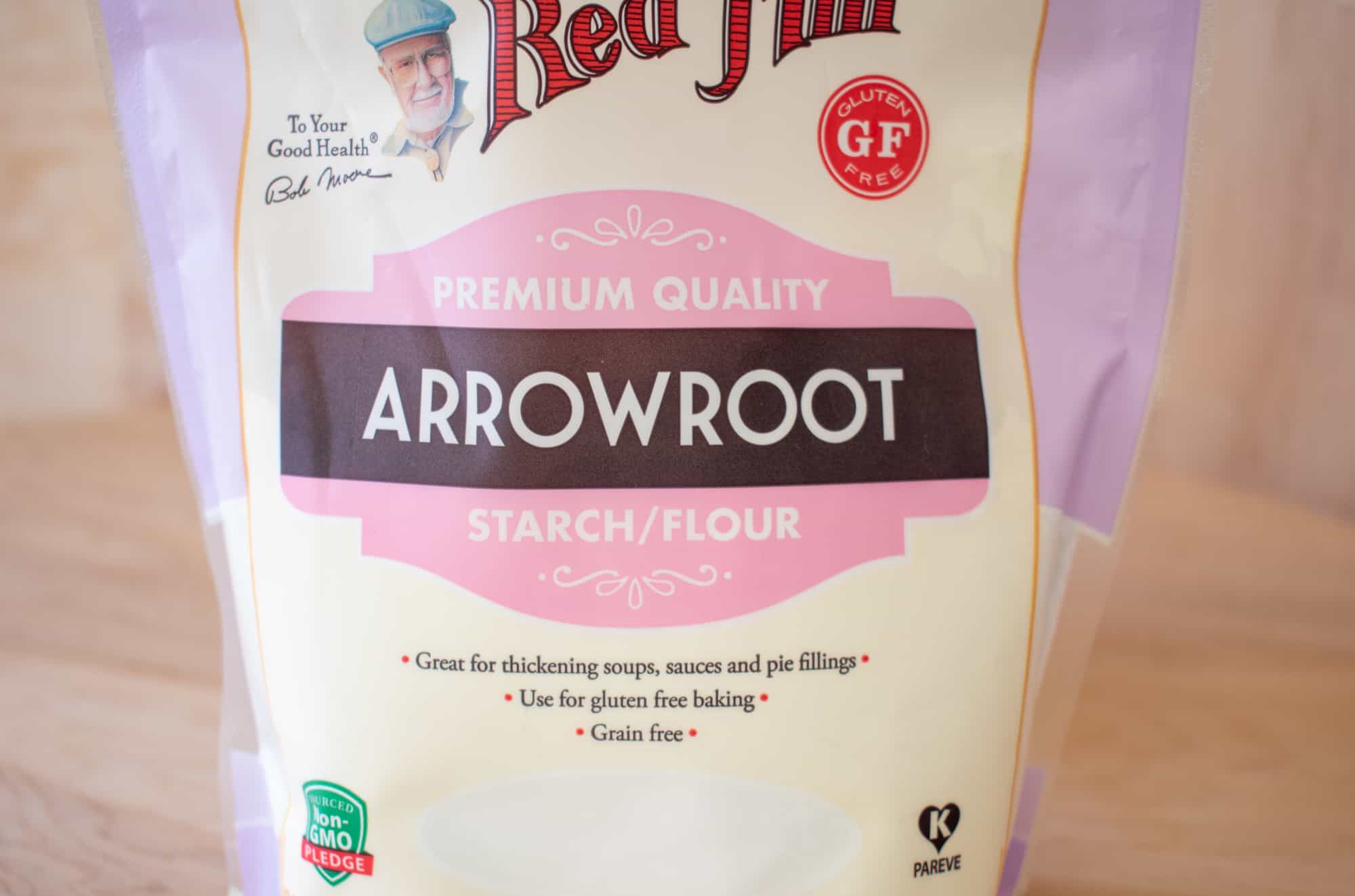 ZINC OXIDE
Zinc oxide kept popping up in recipes that lacked baking soda and was featured as the active ingredient. Zinc oxide is also commonly found in homemade sunscreen recipes and diaper rash ointment (there is the baby safe thing again!). Many people actually swear by using the rash ointment as a substitute for deodorant.
When ordering zinc oxide, make sure you are purchasing the non-nano kind that is also pharmaceutical grade.
SHEA BUTTER
The addition of Shea butter allowed for a slight reduction in the amount of coconut oil used. Katie over at Wellness Mama has a handy list with the many different uses for Shea butter. It is an ingredient I keep on hand for all kinds of homemade concoctions from hand cream to body balm to lip balm.
BEESWAX PELLETS
Beeswax gives the deodorant recipe enough firmness to be put into stick form. I buy mine locally whenever possible, but high-quality beeswax pellets are readily available online. What makes beeswax a star ingredient is that it forms a protective barrier from environmental assaults on your skin.
While it does have hygroscopic, speak water-attracting properties, both the zinc oxide and the arrowroot powder help with moisture absorption.
I always keep beeswax pellets on hand to create all kinds of useful stuff like these reusable beeswax bowl covers or homemade lip balm that will have you ditch the storebought stuff. 
VITAMIN E OIL
Vitamin E is a powerful antioxidant that reduces the damage done by free radicals. It is included here for its ability to fight off toxins as well as added skin pampering.
ESSENTIAL OILS
Many of the recipes I researched treated essential oils as an optional ingredient. I consider essential oils a very important part of this recipe. Not merely there to add a pleasant fragrance, essential oils can add calming and cooling properties, depending on which ones you decide to use. Oils like tea tree and thieves have been prized for their antibacterial properties for centuries.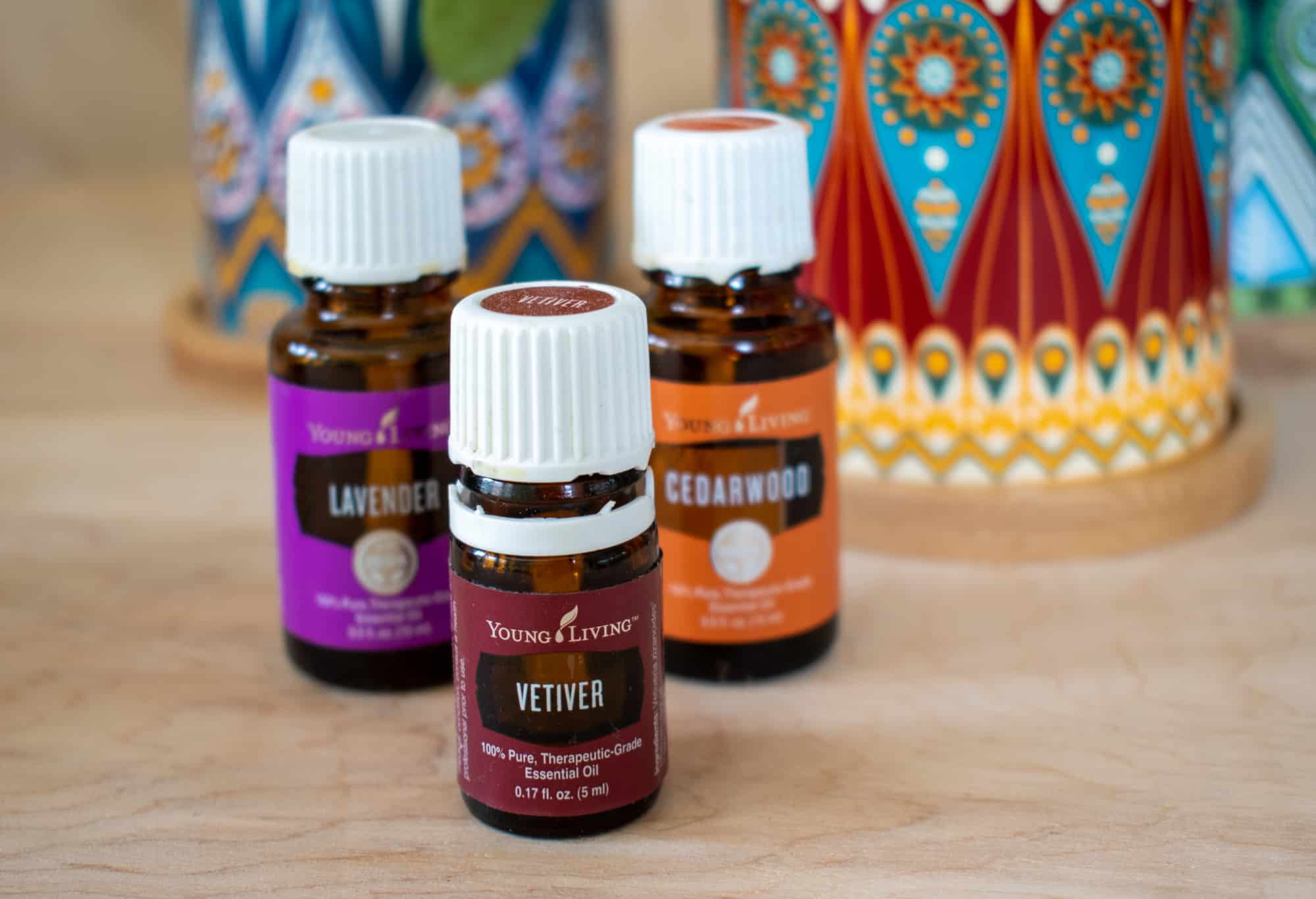 Essential oils allow you to individualize this natural deodorant recipe to suit your own taste and need! If you are going through the trouble of making your own deodorant, you might as well include them.
Be sure to use only high-quality oils. I buy mine here, but you can find several options in my guide to buying essential oils. 
The combination of cedarwood, vetiver, and lavender drew praise from my testers, male and female. It is the same combination of oils my teenage son uses and we all know that it takes a strong formula for teen stink.
This recipe yields a formulation that is soothing and holds up well, but if you need a stronger formulation tea tree oil, thieves, or purification (a special blend from Young Living) or a combination of all three are all safe bets.
One thing that natural deodorant formulations have in common is that you will notice more wetness. There is just no getting around it. They are deodorants, meaning that they address the odor component of perspiration rather than wetness.
DEODORANT CONTAINERS
Deodorant tubes are easy to find online.  You can use empty clean tubes or purchase fresh, reusable ones. This recipe will make the exact amount for two regular size sticks.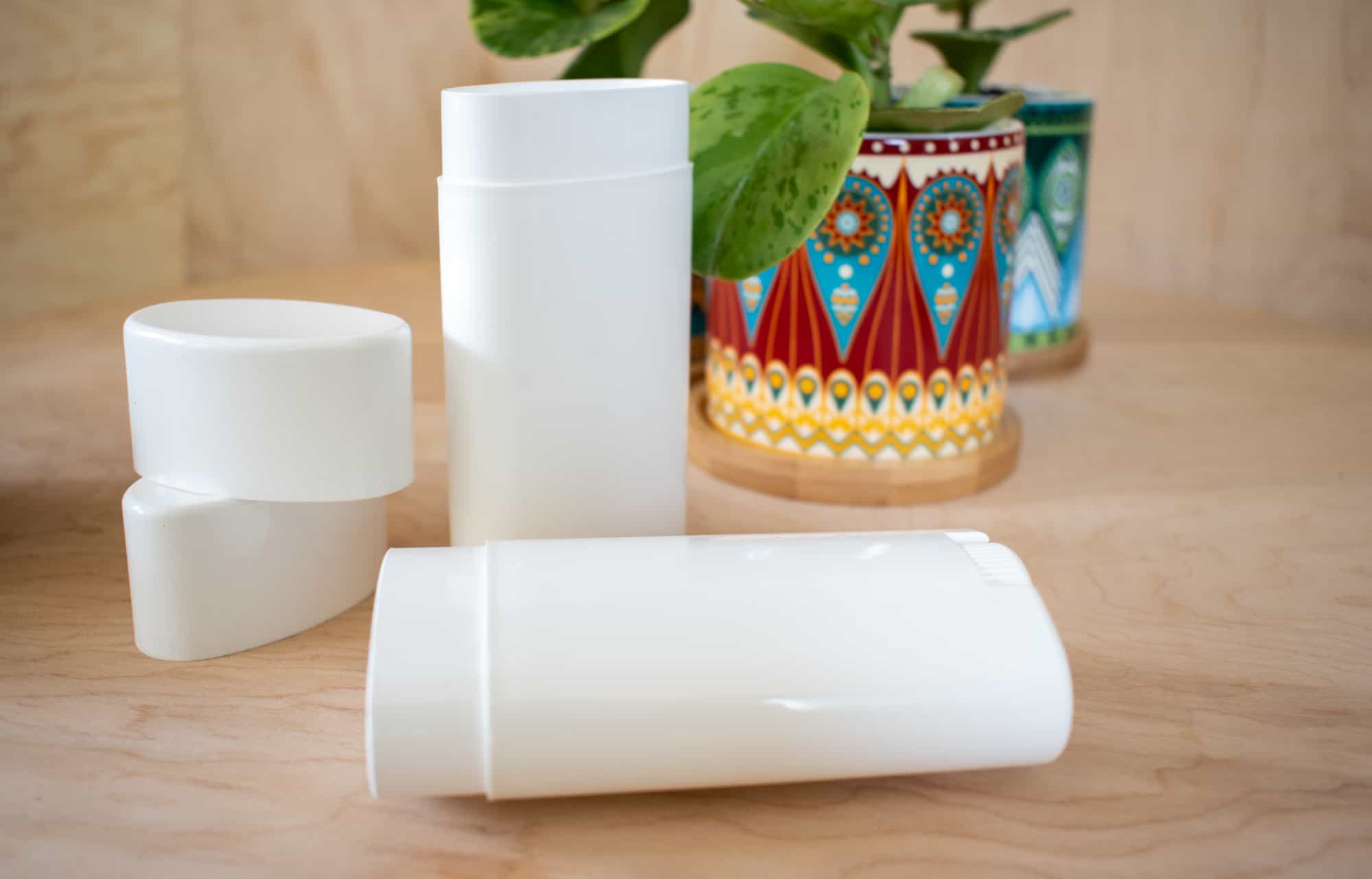 Of course, I had to create cute labels for them! You can find all of the labels you see in the pictures as FREE printables in the Resource Library! Be sure to sign up to get your password! 
To make sure the labels can withstand daily handling without rubbing off, I printed them on my favorite glossy printer paper. I love that stuff and use it for so many different things around the house. 
INGREDIENTS:
3 TBSP (45 ml) coconut oil, virgin unrefined* 

2 TBSP (30 ml) shea butter, organic unrefined 

1/4 CUP (about 30 gr) BEESWAX PELLETS**
1/2 TSP (3 ml)

V

ITAMIN E OIL – optional  
2/3 CUP (85 gr) ARROWROOT POWDER
2 TBSP (30 gr) ZINC OXIDE POWDER – non-nano 
15 drops LAVENDER ESSENTIAL OIL – I buy mine here

10 drops CEDARWOOD ESSENTIAL OIL

6 drops VETIVER ESSENTIAL OIL

or essential oils of your choice (do a skin patch test first on any oil you plan to use
* If you find that your deodorant is difficult to use and feels too dry, you may use 4 TBSP of coconut oil. This can happen if your deodorant is stored at cool temps. 
** For a completely vegan version substitute 1/8 cup of candelilla wax for the beeswax pellets.
EQUIPMENT:
DOUBLE BOILER
PYREX BOWL OR WIDEMOUTH MASON JAR – dedicate a bowl or jar to making beauty products
WOOD POPSICLE STICK OR SPOON HANDLE FOR STIRRING
EMPTY DEODORANT CONTAINERS
LABELS – find the cute labels I used in the FREE Resource Library
INSTRUCTIONS:
Combine coconut oil and beeswax pellets in a shallow pyrex glass bowl or mason jar and place it in a double boiler. Gently heat until oils and wax are completely melted, stirring occasionally. Add shea butter and allow to melt fully.
Turn off heat and add vitamin E oil, arrowroot powder, and zinc oxide.
Stir until very well combined and free of lumps. Reheat mixture slightly if necessary.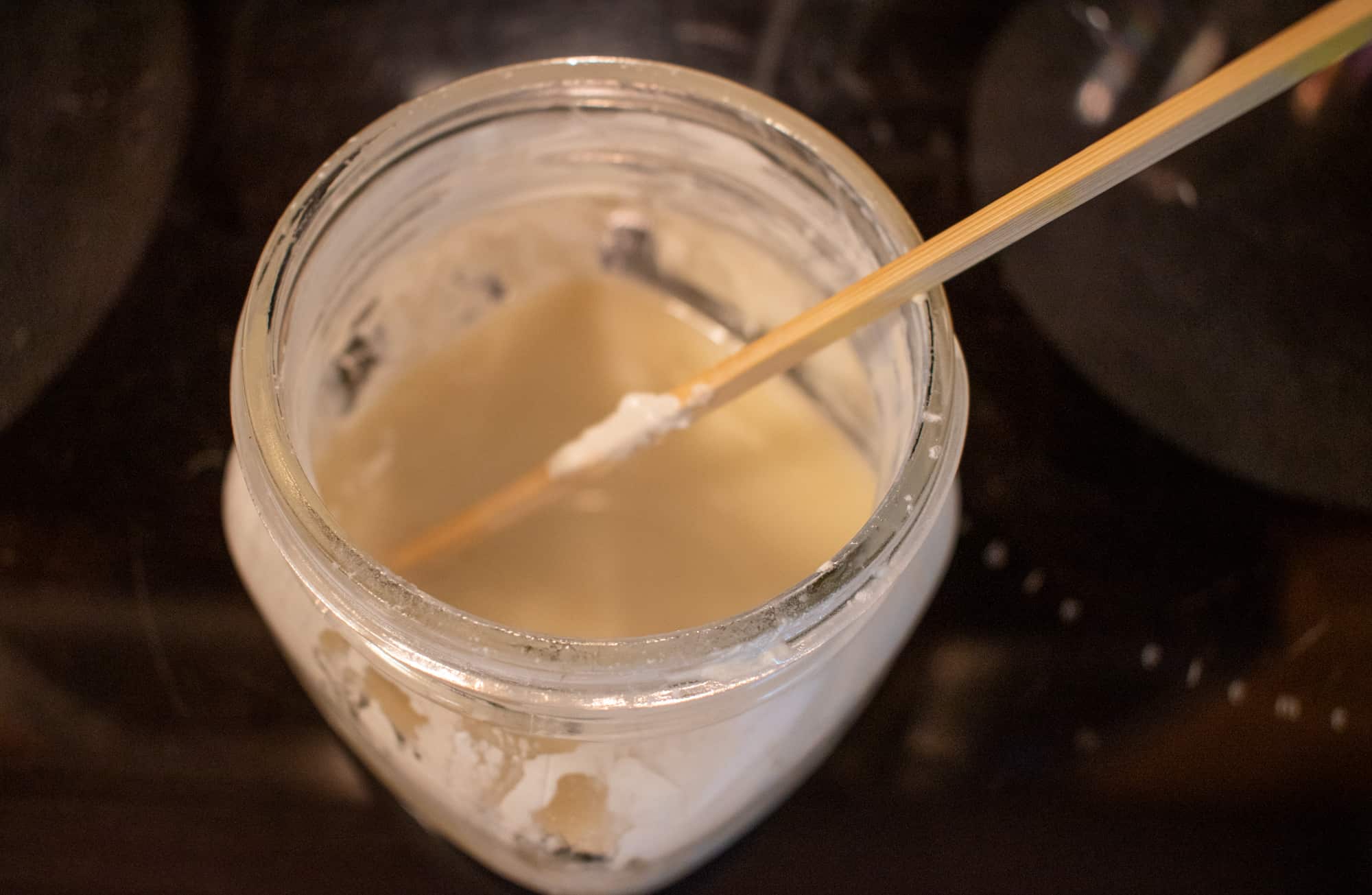 Once everything is well combined and slightly cooled, add essential oils and immediately fill the mixture into deodorant tubes/containers.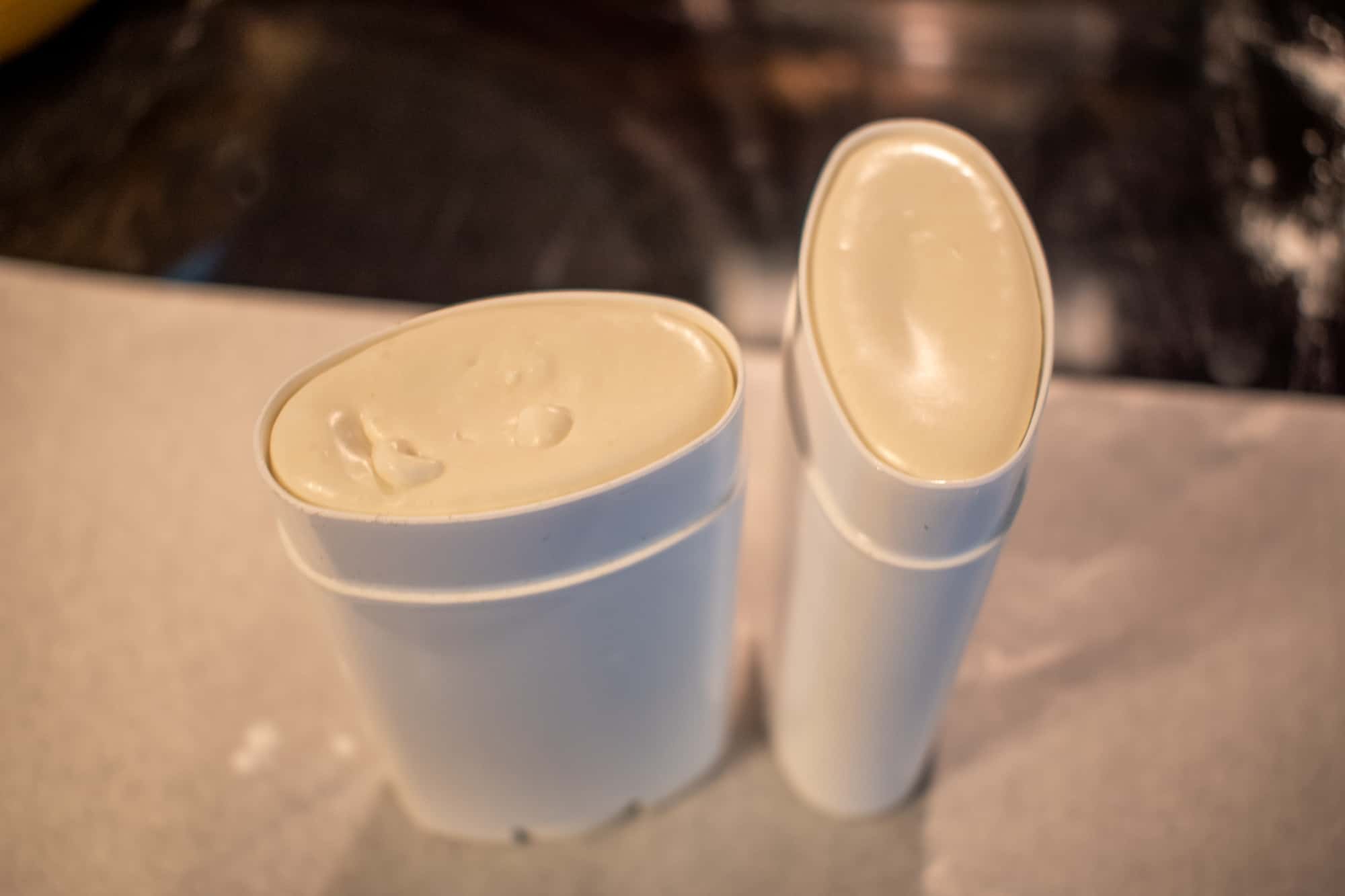 Let cool completely on a small tray lined with wax paper or paper plate.
Use as you would any regular deodorant stick.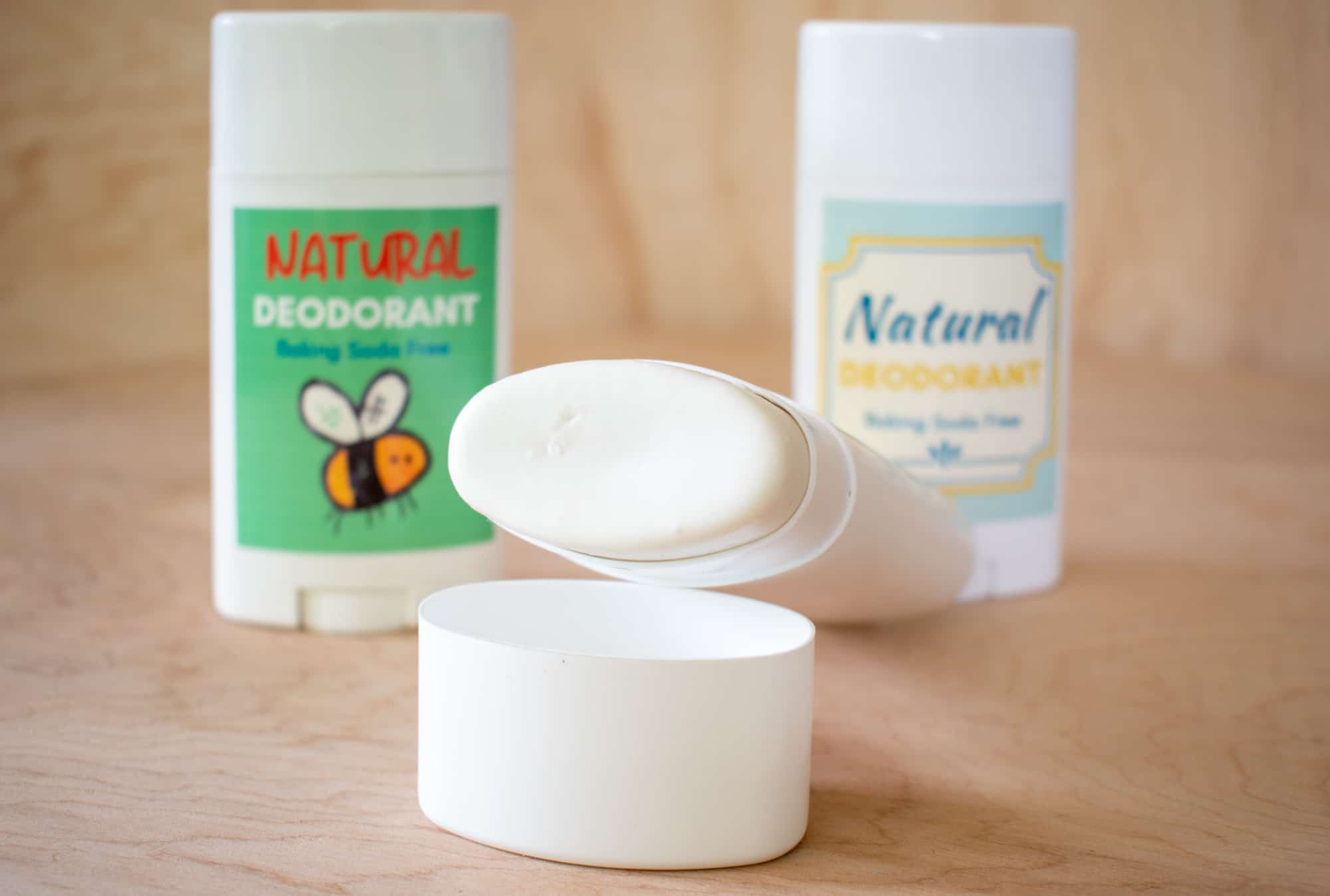 Smooth and creamy, just like any store-bought brand.
ADDITIONAL NOTES:
Natural deodorant formulas will not prevent wetness as well as commercially available deodorants loaded with pore plugging chemicals. The arrowroot powder/starch in this formula does a pretty good job though. You may need to reapply deodorant once during the day if you tend to perspire a lot. 2-3 thin layers work better than one thick goopy layer.
For a cream version: cut the amount of beeswax pellets in half and fill the mixture into small jars instead.
FINAL THOUGHTS:
While purchasing the ingredients for this recipe may seem like a big investment, initially, all are very versatile and you can use them in a number of different and simple beauty recipes.
Creating your own skincare and home remedies will save you in the long run. This recipe is for two regular size sticks but you can easily double it. However, I recommend working in smaller batches to reduce melting and handling time.
For other recipes using some of the same ingredients check out some of my other posts:
Homemade Lip Balm – a Super Easy Recipe
How to Create Homemade Soap like a Pro
3 Cheap and Easy Luxurious Gifts You Can Make in No Time 
A natural deodorant recipe without irritating baking soda that actually works!
Inspired? Curious? Sure, making your own deodorant may seem a little bit too "crunchy" for some, but to be honest, it is a whole lot easier than it sounds. Once you have all of your ingredients on hand, it's a snap to make. One stick lasts for a long time.
If you like creating your own beauty and skincare products, you can find lots of additional recipes in the FREE Resource Library. Connect with our like-minded community on Facebook and follow me on Instagram for the latest happenings!