Of all the beauty products, lip balm is the one I have used the longest and pretty much daily for as long as I can remember. Through the years I have also gone through my share of store-bought lip balm "duds". What sounded great and smelled wonderful often wound up irritating my lips more than anything. My bathroom drawer used to be full of partially used tubes for that exact reason.
Sound familiar?  So as I moved towards a more natural and healthier living style, making my own lip balm became kind of a no-brainer. And you know what? Not only is it really easy to whip up a big batch, but it really works. No more chapped, burning and irritated lips.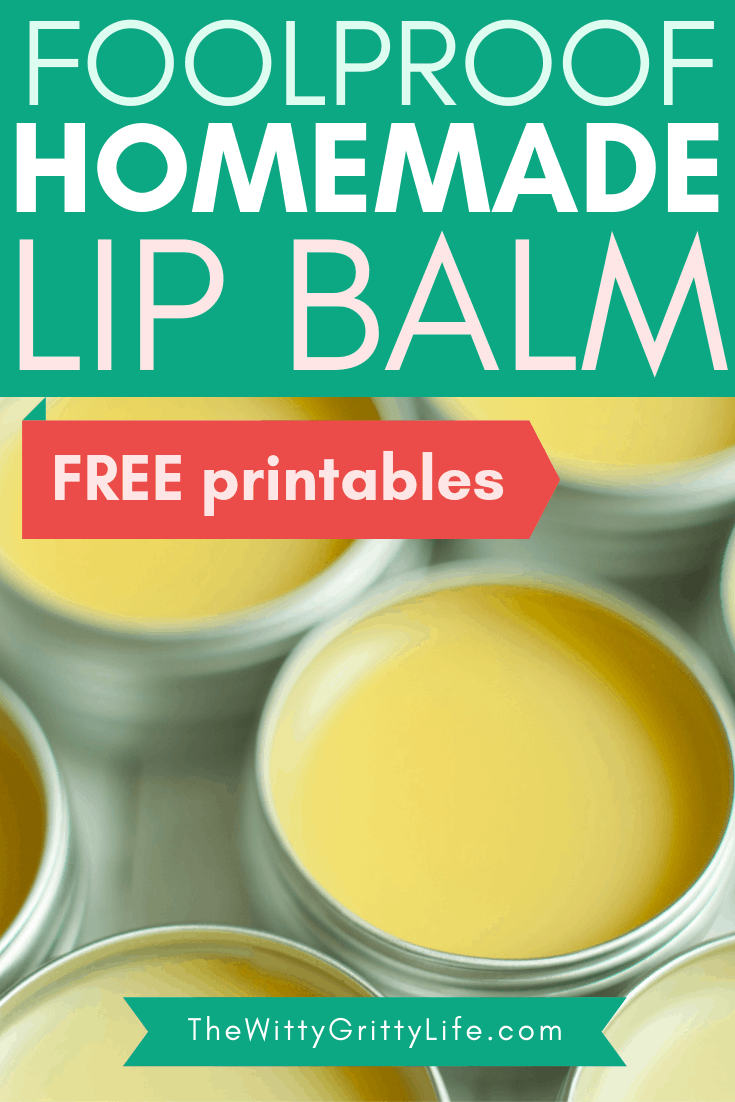 If you are interested in creating your own homemade beauty products, lip balm is the perfect thing to start with. No fancy ingredients or tools required.
The recipe I am sharing you with you today is pretty much foolproof! It works best if you plan on using small tins or glass jars, but can easily be adapted for tubes if desired. Especially during cold and flu season, putting your finger in a tin of lip balm may not be the best idea. The choice is yours.
Better yet, while I am presenting it here as a lip balm, this recipe can easily be adapted to become your next favorite hand or foot balm! I am all about simplicity and versatility:)
You can find my homemade lip balm recipe along with all of my health and beauty recipes as FREE printables in the Resource Library, along with other bonus content not published on the blog. Sign up and the password is on its way to your inbox.

When I create a recipe, it has to meet several basic criteria:
ingredients readily available
no empty"filler" ingredients
no special equipment or skills needed
customizable to your tastes and needs
INGREDIENTS FOR HOMEMADE LIP BALM:
#1. OLIVE OIL
And just to be sure, anytime I mention olive oil, I am talking about cold-pressed extra virgin organic oil. It is one way to be sure you are getting high-quality pure olive oil and that is what works best. Many lower quality olive oils are actually blends which won't work nearly as well. Don't you owe it to yourself to use nothing but the best? What makes EVOO such a powerhouse ingredient? For one it is packed with antioxidants, but it also contains fat-soluble vitamins, namely A, D, E, and K. Vitamin E has been used for psoriasis and eczema for ages. EVOO is an amazing moisturizer with antibacterial qualities. Not bad for something from the grocery store! Even though olive oil has a proven skincare record since antiquity, it can create allergic reactions in some people. Always be sure to conduct a skin test (dab a little inside your arm and wait up to 48 hours to see if any reaction develops) before you try it the first time.
#2. SHEA BUTTER
Shea butter is superior at softening skin due to high concentrations of fatty acids. It's emollient properties last for several hours, which make it a perfect addition to any lip balm recipe. High levels of oleic and linoleic acids combined with stearic acids give shea butter its antiaging properties and help combat environmental stress. Vitamin E aids in protecting skin from sun damage. Shea butter carries a low risk of allergies because it contains very little tree nut protein. The shea "nut" is actually a "pit" that is closely related to avocados and apricots.  It is a proven moisturizer and has been used in Africa for centuries.
#3. BEESWAX
While the beeswax in this recipe plays the important role of giving the balm the consistency we expect, it also contributes significantly in other ways. Beeswax is hygroscopic, which means that it actually attracts and holds in moisture! And as if that weren't already great enough, it moisturizes and repairs dry skin. It has pain-relieving and anti-inflammatory properties and is a well-known home remedy for acne. All of the above make beeswax and excellent component of homemade lip balm. Check out this post to find out more about the amazing properties of beeswax!
#4. HIGH-QUALITY ESSENTIAL OILS
Sure, you could absolutely create homemade lip balm without the addition of essential oils. It works fine just the way it is. But if you want it to be GREAT, you'll want to add in high-quality essential oils. They give this recipe that little something extra, that extends beyond a lovely smell. Lavender has soothing properties and is an excellent skin care ingredient. Peppermint adds a slight cooling and even plumping sensation. Combinations like lemon and lavender or lavender and peppermint are perennial favorites. And they taste yummy. No irritating artificial flavors here. If you are interested in incorporating essential oils into everyday life, you can find guides and suggestions in my free resource library! Young Living Oils makes it easy with their Vitality line of oils, all of which are specifically labeled for consumption.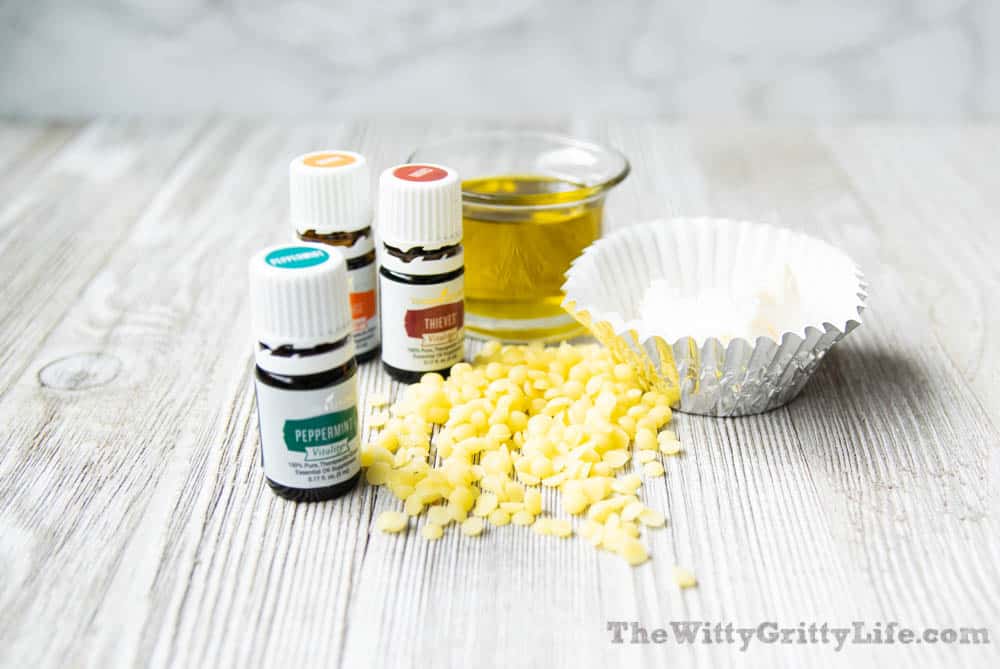 This post contains affiliate links for your convenience. You can read my affiliate link policy here.
THE RECIPE:
1/2 CUP of organic extra virgin olive oil
2 TBS beeswax pellets or grated beeswax (use 1/4 cup for lip balm tubes)
1 TBS shea butter
25 – 30 drops of high-quality essential oil – I get mine here
All of these ingredients are great staples to keep on hand and can be used in many different recipes! Find more recipes in the FREE Resource Library.
EQUIPMENT:
Double boiler: pot with hot water + stainless steel bowl + short wide mouth mason jar
Popsicle stick or spoon handle for stirring
Lip balm tins or Lip balm tubes – it makes about 5 small tins.
Tip: designate a jar for this recipe. Beeswax is very difficult to wash out completely.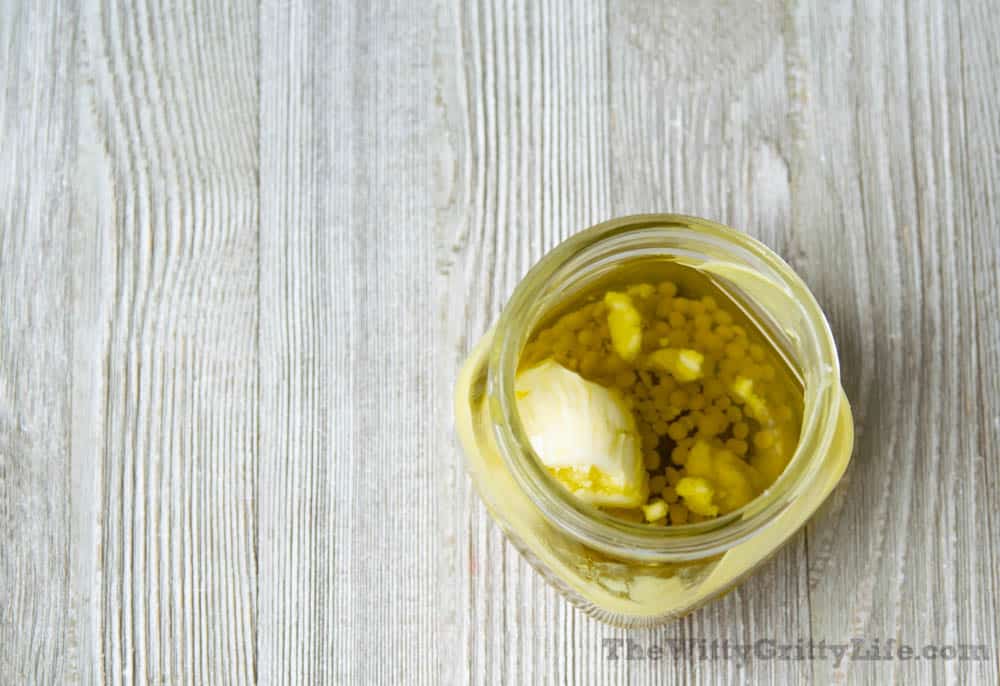 THE PROCESS:
Combine olive oil, bees wax pellets and shea butter in wide mouth mason jar. Place in double boiler. Melt over gentle heat until completely liquid.
Remove jar from heat, let cool slightly. If you are using essential oils to make one scent, you can add your oils at this point and stir well. Pour balm into tins or lip balm tubes.
If you want to create various different scents, pour lip balm mixture into little tins or tubes. Let cool at room temperature or in refrigerator until completely solid.
Essential oils and combos that work well:
Lavender and peppermint
Peppermint and lemon
Frankincense and peppermint
Tangerine
Lavender and lemongrass
Citrus oils may make skin more sensitive to sun exposure.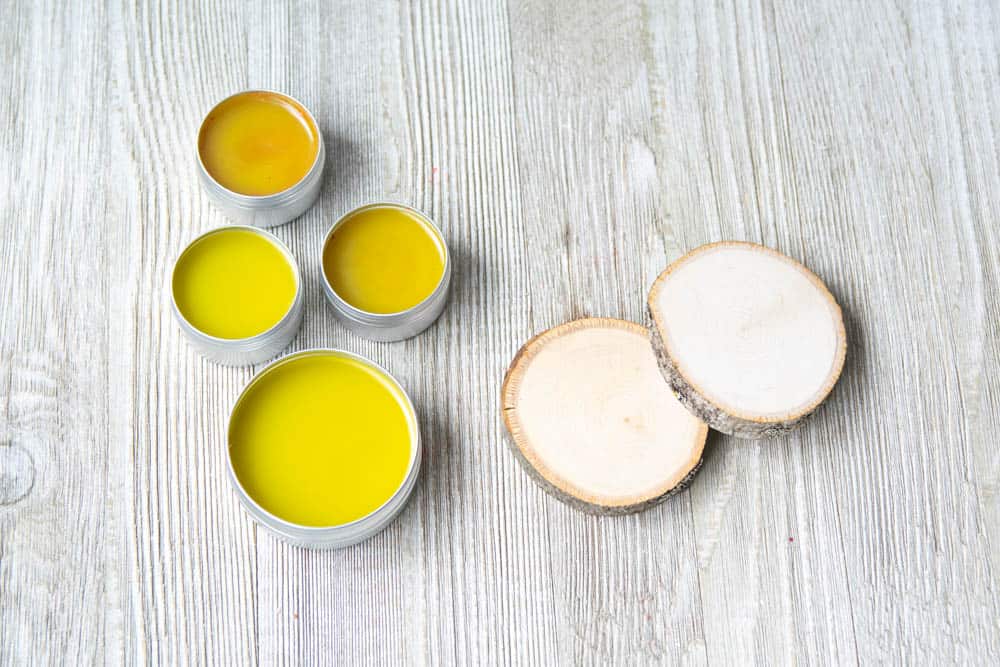 Why not create a batch and give as gifts? Your friends will love it!
Are you concerned about the ingredients in your skin care? Have you created your own products? I would love to hear about your experiences. This lip balm recipe is one of my staples and I hope it will become one of yours as well!
Keep it simple!