HOW TO GET THE MOST COMFORTABLE FIT FOR FACE MASKS
We are now several months in and wearing a face mask has become part of everyday life for most of us. And just like you, I yearn for the day when they will no longer be needed.
Until that day comes we might as well make sure our masks can do their job well. Today I want to share a couple of simple tips with you that will allow you to get the most comfortable fit for your face masks.
When I designed my easy sew washable face mask pattern, I based it on designs that I wore during my career in health care. Tried and proven for many years, I knew that this simple basic mask design would work well for a variety of different sizes.
But even the best design will not fit every face contour or size as well as it should. Thankfully, there are some easy modifications you can make to allow for the most comfortable fit for your face masks.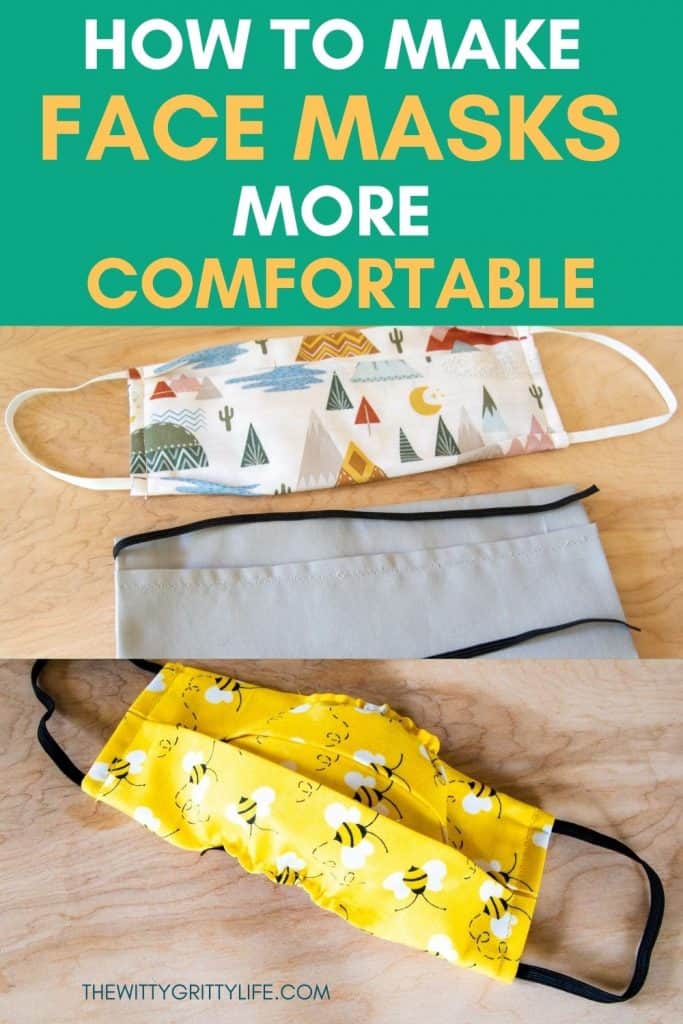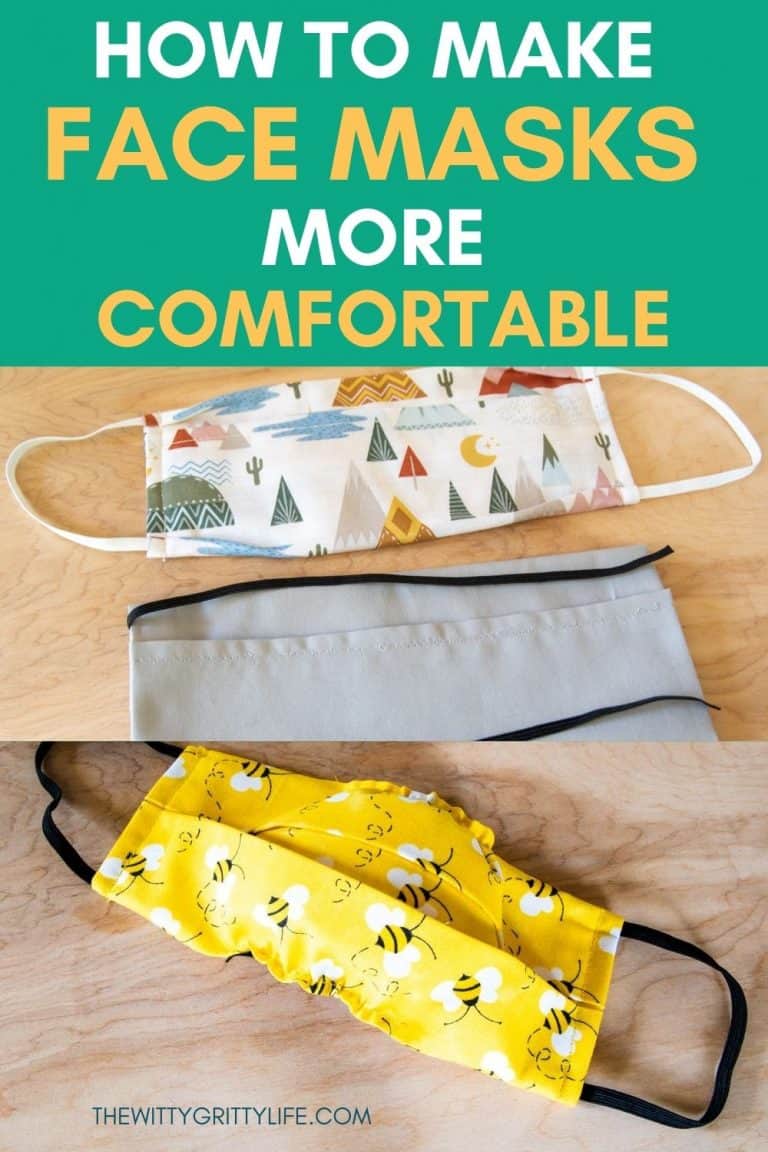 What are common problems with the fit of face masks?
Problems with fit in face masks can be divided into three simple categories:
Wrong Size – either too large or too small
Glasses fogging
Sore ears from wearing elastic
Let's take a closer look at each of those issues:
Wearing the Wrong Size Mask
Are you having a difficult time keeping your mask over your nose? If your mask keeps sliding down and you find yourself constantly touching it to put it back in place, you are probably wearing the wrong size.
Conversely, if your mask is so tight around your face that it leaves marks, you may need to get a bigger size. But who has the time or money to run out and try a different mask size or design? I hear you!
Read on, because my simple solutions should fix both of those issues for you.
Glasses are Fogging while Wearing your Mask
If your glasses are constantly fogging while you are wearing your mask, I don't have to tell you how annoying that is. To prevent or at least reduce fogging, your mask should fit snugly over the bridge of your nose.
It should allow you to wear your glasses over the mask to prevent fogging. Even hospital-grade masks can fog up your specs. The secret to keeping that from happening with any mask lies in proper adjustment while wearing glasses.
Unfortunately, most homemade cloth masks fit poorly over the bridge of the nose. If you think that you just have to live with that, don't worry, I have a simple solution for that as well!
Sore Ears from Wearing a Mask
This last mask problem can happen with just about any mask that is worn with straps around the ears. No matter how well-fitting and comfortable it may be, our ears just aren't built to hold elastic straps for long periods of time.
Wearing glasses is bad enough, don't you think? Elastic straps will also inevitably interfere with hearing aids as both occupy the same real estate.
Some mask designs feature adjustable straps, which is definitely a step in the right direction. But many use toggles, that may be challenging to find or ribbons that tie around the ears. To be honest, while ribbons are more adjustable, you are still left with a knot of some kind behind your ears.
If only there were a simple solution for that as well… I've got you covered!
Before we move on to the meat and potatoes part of this post I wanted to let you know about my FREE Resource Library. It's full of useful printables, including complete instructions for my popular mask pattern in both adult and children's sizes. Just sign up here and the password is on it's way to your inbox!
This post contains affiliate links. You can read my affiliate link policy here.
Getting your Mask to fit Your Face Better
Better Fit through contouring
Most medical-grade masks include nose wires that can be molded over the bridge of your nose for a better fit. So in order to get your mask to fit properly, you have to have a wire, right? Not really.
When I designed my mask pattern, I took this issue into consideration. While moldable nose wires are now easier to find as an add on to your mask, they are metal, generally, aluminum and have adhesive on the back. The problem I found with that is that the adhesive often fails to stick properly. Even if it does, it will lose its grip after just a few washes.
The simple solution? Add elastic over the part of the mask that sits over the bridge of your nose! And for an even better fit, add some around the bottom of your chin as well!
This common sense solution is durable, comfortable and stands up to repeated washing and drying with ease.
How to add elastic to your mask for better fit
Cut two 3″ pieces of ¼ inch elastic ribbon. Find the center of your mask on the top inside and bottom inside. Pin the middle point of the ribbon to the center of the mask.
Then, holding on to the center of the mask and ribbon, stretch the ribbon first on one side as far as it goes and pin, then on the other side.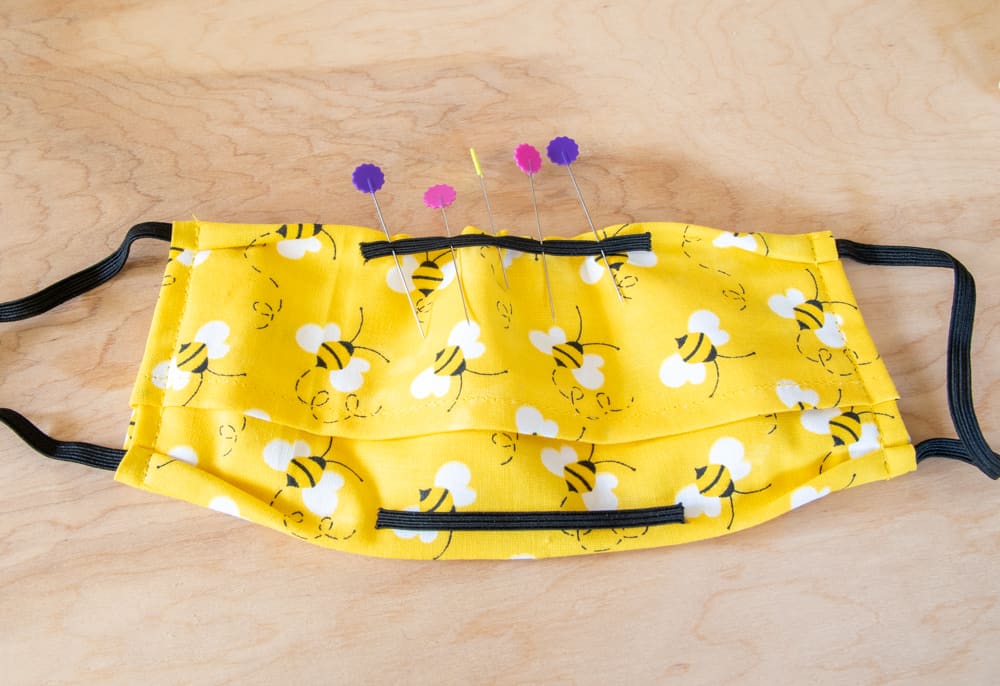 Repeat steps on the bottom of the mask.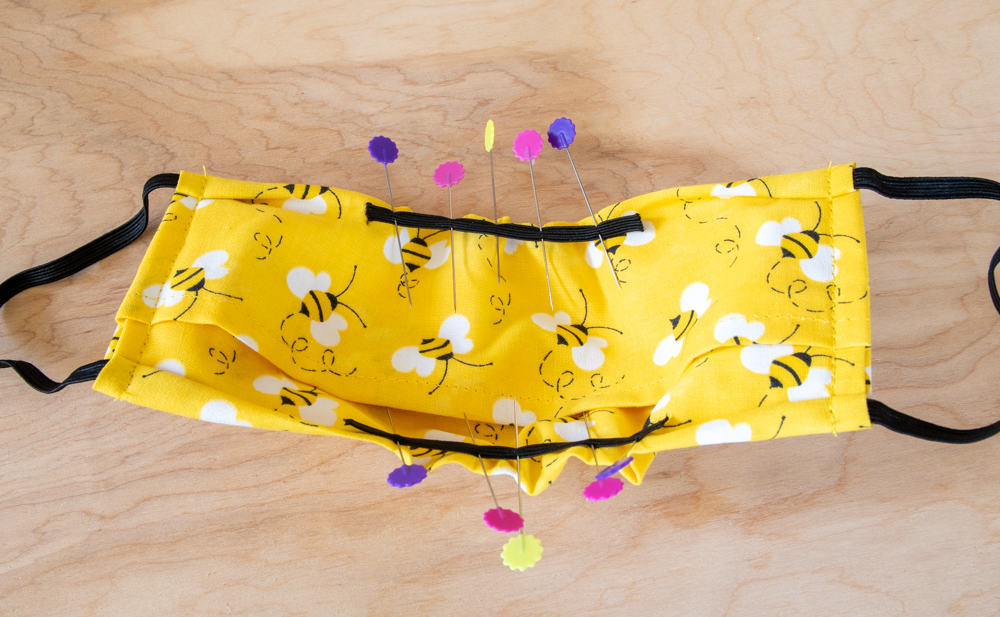 With fabric and elastic fully stretched, stitch elastic ribbon in place on both sides.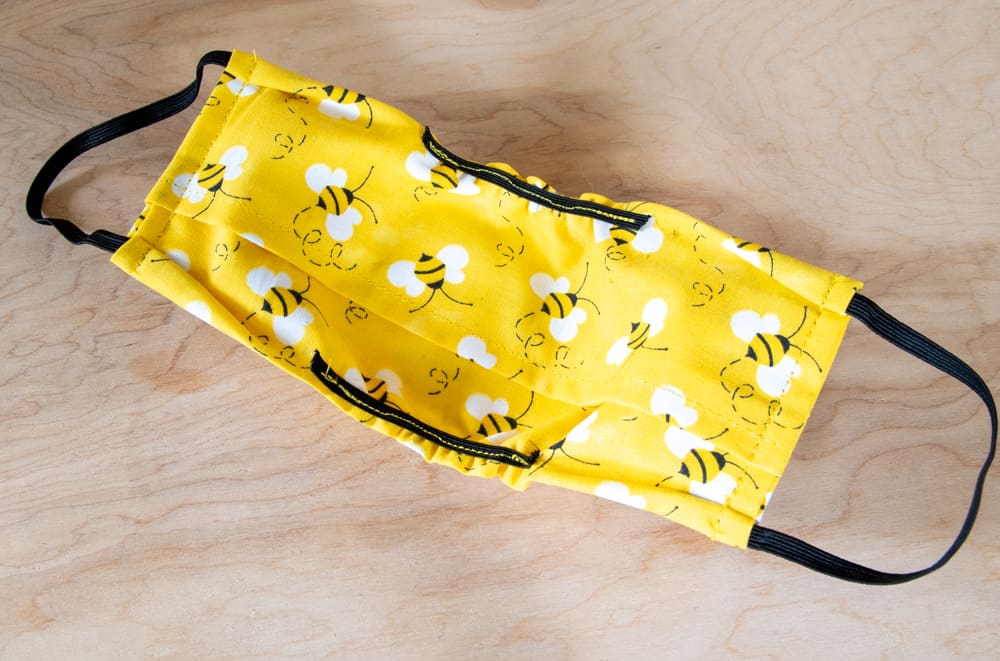 Now you have a mask that will fit the contours of the face much better. This is a great way to help eliminate foggy glasses and poor fit due to a slightly loose mask.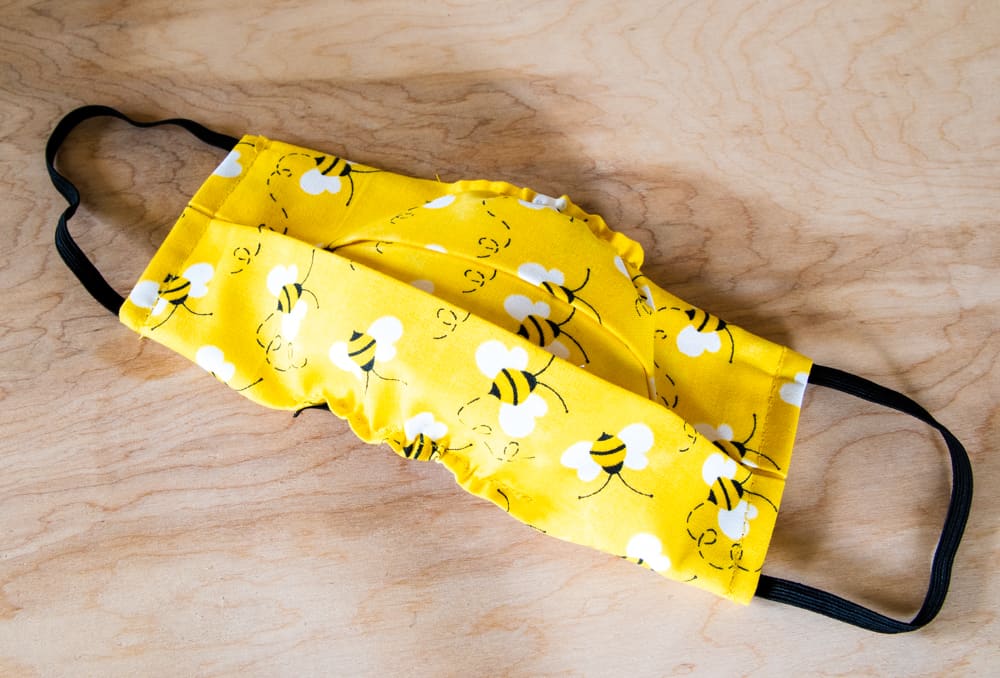 Here is what it looks like when worn.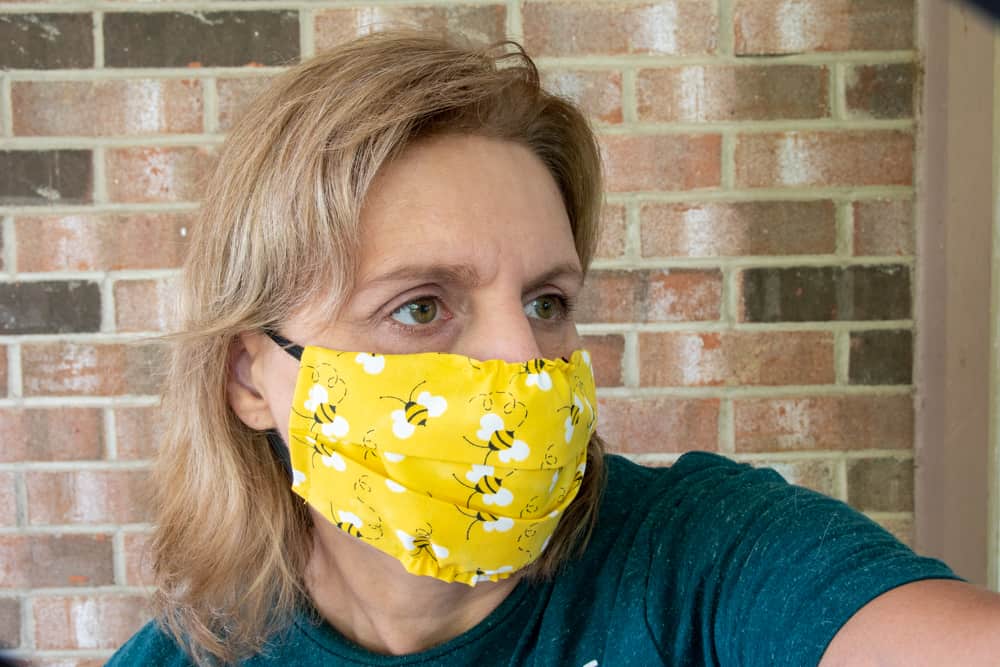 Get those straps off your ears
The best way to avoid sore ears and irritation from straps is to keep them off your ears in the first place. That is where the next two simple fixes come in. This one works best for guys with short hair, or if you like your hair in a ponytail.
Rather than sewing the elastic straps on as loops that go around your ears, make them go around your head! See what I mean?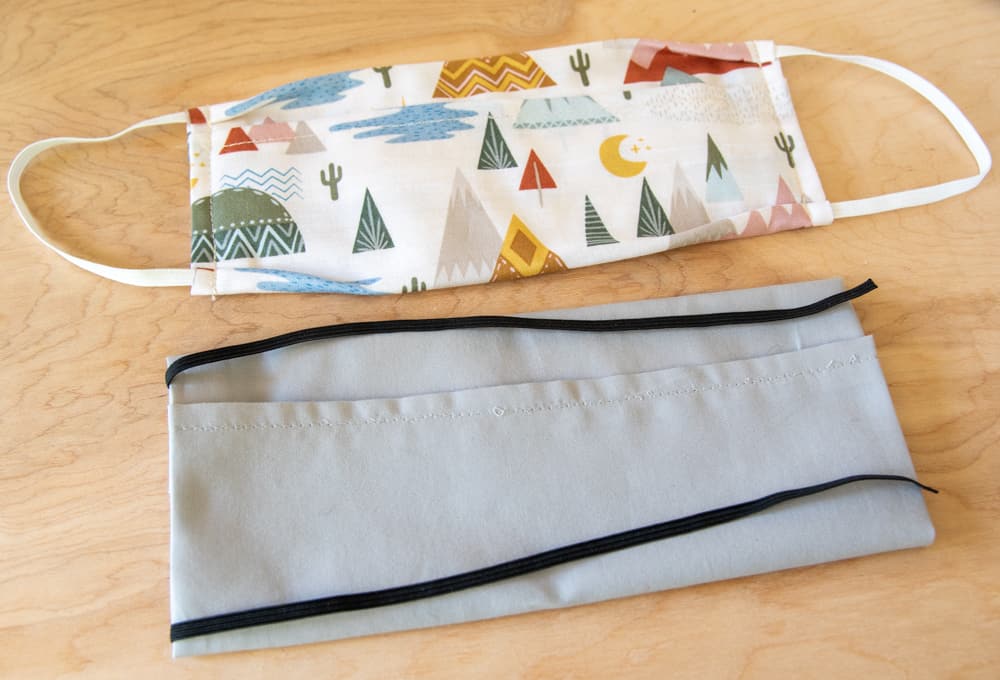 All of the steps of making the mask are pretty much the same, except for where the elastic is inserted.
If you opt to go that route, keep in mind that the elastic ribbon will need to be slightly longer than ear loops, by at least 2 inches. Try on the length around your head first!
Cross the straps over your head to keep them from sliding down. This also pulls the mask closer to your face, a great wearing option if your mask is too loose.
Tip: This method will not work with strips cut from t-shirt material, as it will not stretch nearly enough.
What I love about this strap configuration is that the mask can stay around your neck when you pull it off your face. A better option for those times you can safely remove your mask, but still need to have it at the ready. It certainly beats your mask hanging off one ear!
Comfort Add ons for Masks with Earloops
Is there a way to keep the loops of your favorite mask off your ears? Thankfully, yes. You can simply add an ear saver strap around the back. They are available in several different styles. The ones made of silicone are durable and flexible.
If you prefer to make your own, you can simply cut a sturdy piece of ribbon to size and sew a button on each side to hold the elastic. This also works well for elastic that has been stretched due to wear as you can adjust the length to your specific needs.
Many professionals in the healthcare field also opt for headbands with buttons sewn on the side to keep the straps off their ears.
You can either adapt an existing headband or buy a couple of pretty new ones. A woman needs options, right?
Of course, guys are not left out when it comes to this option. Simply add a button on each side of a baseball cap!
Face masks are an accessory that will be with us for a little while yet. And just like you wouldn't wear an uncomfortable pair of shoes, there is no need to make wearing your mask harder on yourself than has to be.
Choose one of these upgrades, mix a couple, or use them all! It's up to you. After wearing masks consistently when in public, these tips have worked well for me and I know they will for you too.
Related Articles: