Until a few years ago, I completely bought into the cosmetic industry's hype and promises. Like so many, I was convinced commercial products were the only way to keep me from looking like an old bag of wrinkles someday. Homemade skincare was what homesteaders living out in the boondocks did. Besides, who has that much time on their hands?
But then a couple of events changed how I approached skincare at our house. First, we found out that our youngest has very sensitive skin and I have avoided dyes, fragrances for a long time with him. The poor kid even broke out in hives the last time we had a real Christmas tree in the house, so I am not taking any chances in that regard.
Not long after that, my face turned into an itchy, irritated and swollen mess for no apparent reason at all. It was a though suddenly my skin decided it didn't want to play along anymore. After about a week of pure misery and an emergency visit to the health food store to find something to soothe the irritation, I had had enough.
After all, I had already made the switch to homemade natural or organic cleaning products. Why not try and do the same with the products my family and I were putting on our skin.
Initially, I tried to replace many of our skincare items with much pricier options from the health food store. But as I have done with my homemade cleaning products, I wondered if I could swap out the more expensive storebought products for more affordable homemade ones. It was easier than I thought. Sure, there was some trial and error involved, but I have now settled on a few products that are easy, cost-effective and most importantly, they work not only well, but better than their store-bought counterparts!
Today I want to share some easy DIY skincare recipes that will get you started with making your own organic or natural products.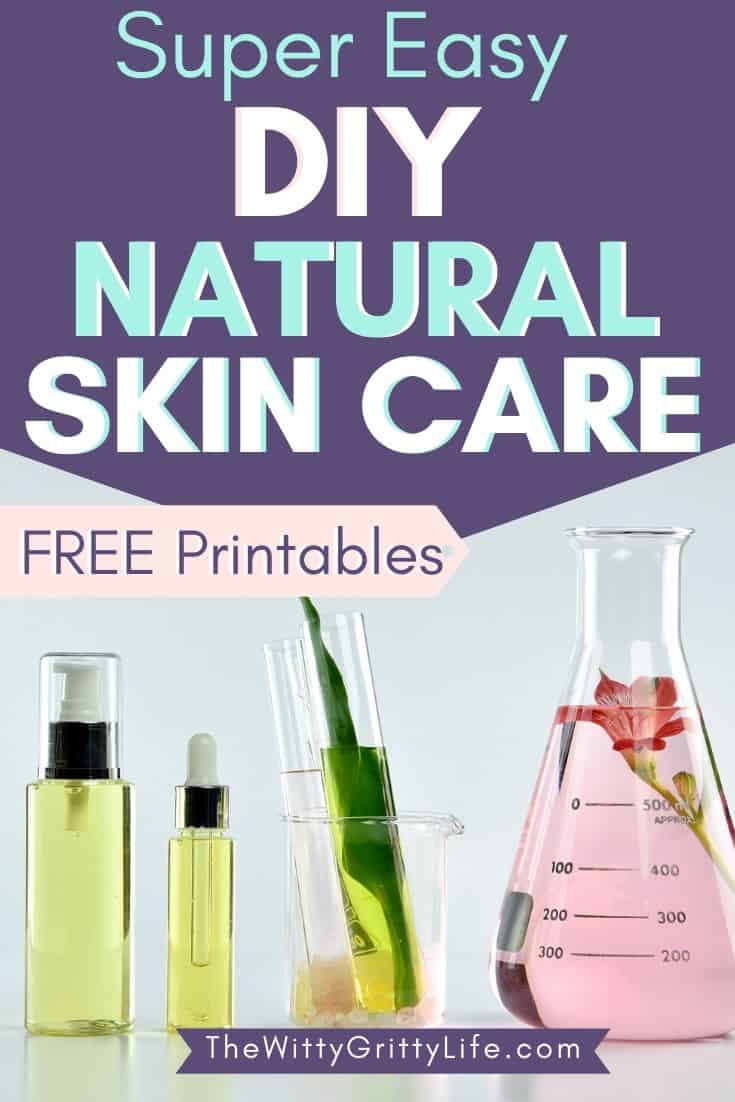 *This post contains affiliate links. You can read my full affiliate link policy here.
First, let's take a look at why you might want to consider making your own skincare products:
store-bought organic or natural skin care products can be very expensive and may be difficult to find
less waste because containers can be re-used
ingredients can be used for a variety of different recipes
knowing exactly what is in each product and how much puts you in control
time-saving, because recipes are quick to make and you don't need to go shopping for products
commercial skincare products may contain impurities or ingredients that have not been tested for safety
many ingredients in DIY skincare have been used for hundreds if not thousands of years
fewer products needed
Does this mean you should immediately toss your pricey storebought, conventional skincare products? Of course not, unless you are experiencing irritation or discomfort due to use.
I recommend a gradual switch to homemade products. Just replace what you have been using with your own homemade version the next time you run out!
If you aren't sure about the ingredients and how they stack up, you can check them in the ingredients database at the EWG.org website.
It can seem a bit overwhelming to think about creating your own skincare items, but I guarantee you, the basic recipes I am about to share with you today will win you over.
To make this as easy as possible for you, you can find each of the following recipes as a handy printable in my FREE Resource Library. Just sign up here.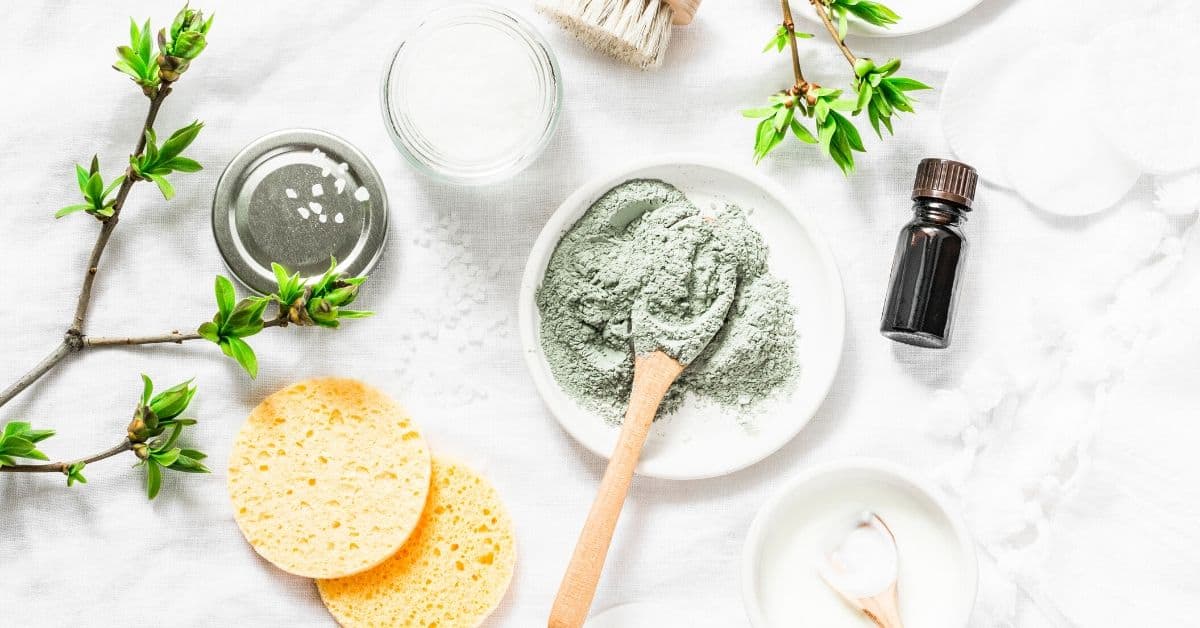 EASY HONEY FACEWASH
A good cleansing regimen is the cornerstone of every beauty and skincare routine. This honey face wash is gentle and suitable for all skin types. It can be used as an effective makeup remover (not suitable for eye makeup!) or just to cleanse impurities that have settled on your skin throughout the day. You can also use it as a cleaner for makeup brushes.
For any type of recipe, I look to gentle and effective cleaners that are easy to find, cost-effective and versatile.
Castile soap fits that bill perfectly. If you are an absolute purist, you can even make your own, but I have been happily buying Dr Bronner's Liquid Castile Soap for many years.
What is Liquid Castile Soap?
Castile soap is a vegetable-based soap that is free of any animal-based ingredients. This gentle, natural and biodegradable soap comes in both solid bar and liquid form and derives its name from the Castile region of Spain. It has been used for hundreds of years and has a number of different applications from wound cleaning to washing the stink off of Fido. You can learn more about the various uses for Castile Soap in this article.
This stuff is worth its weight in gold. You can find Castile Soap in a variety of different scents, like peppermint, lemon and lavender, just to mention a few. I like to stick to unscented versions and prefer to add on my own essential oils. The preference is entirely yours!
Castile soap should not be combined with hard water as it can leave a filmy residue. Do not combine castile soap with vinegar. They will essentially cancel each other out and the vinegar will break the soap down into its base ingredients.
The second ingredient in my easy honey facewash recipe is, ha, you guessed it: honey.
Skincare benefits of Honey
Honey is a rockstar. It is the only food that never ever goes bad. Found in Egyptian tombs, even honey 3,000 years old is still edible, though I have to be honest, I will stick with something more recent, thank you very much.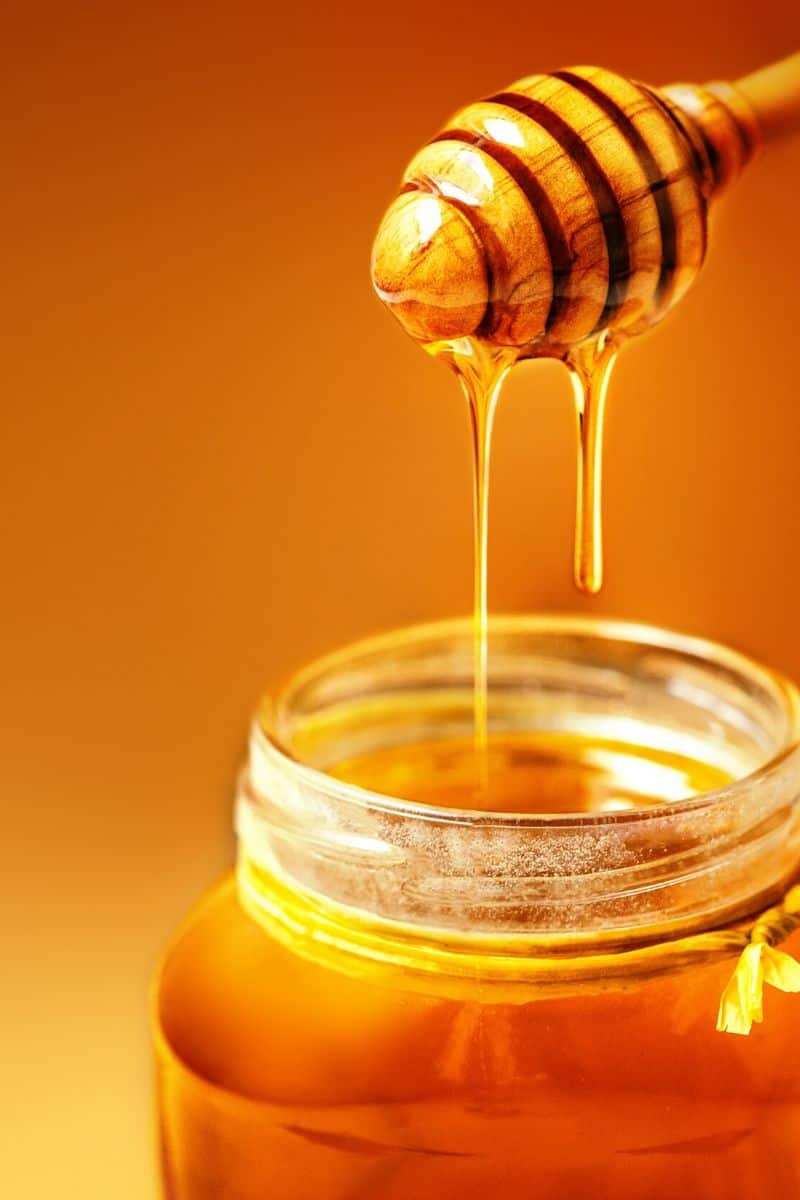 What makes honey the ideal ingredient in skincare products? Honey's main mission is to provide nourishment – to bees as well as skin. Its antibacterial properties make it ideal for skin that is prone to breakouts. With antioxidants galore, it also works well as an effective antiaging component. Honey is exceptionally well-tolerated, soothing and moisturizing.
It is also readily available at any grocery store, no special trips needed. Of course, honey has a number of different uses from sweetening baked goods to soothing irritated throats during cold and flu season. Plainly speaking, it is a staple that no household should be without.
When purchasing honey, be sure to opt for the raw, unfiltered variety to get the most benefit from its goodness.
Now that you know the two main ingredients, let's move on to the actual recipe.
Simply combine the following ingredients in a soap pump bottle:
1/2 cup liquid castile soap
1/2 cup raw unfiltered honey
4 tablespoons distilled water or filtered, boiled water
2-3 tablespoons oil – jojoba, avocado, grapeseed or sweet almond
Optional: 8 drops of essential oils like geranium, frankincense or carrot seed – check out my essential oil buying guide
Omit essential oils if you are using scented castile soap.
Mix well, use one pump to cleanse your face, excluding eye area
Special notes:
It is easiest to add all ingredients to the container in which it will be stored.
This mixture will easily store for 6 months or more, but I have a suspicion it won't last that long, because you will love it!
It will be necessary to gently shake the dispenser before each use. Since you are not using special chemicals to keep the ingredients in suspension, they will separate slightly. That is completely normal!
For an easy and gentle dermabrasion treatment combine 2 -3 squirts of honey facewash with 2 tablespoons of baking soda, mix into a paste and gently apply to face in a circular motion, wash off with lukewarm water. This works very well right before getting in the shower.
To remove eye makeup simply apply a few drops of jojoba oil and wipe off gently – works like a charm.
MOISTURIZING BODY OIL
If you are worried that oil will leave your skin greasy and slick feeling, don't be. This moisturizing body oil recipe is absorbed quickly and will leave your skin smooth and silky all day.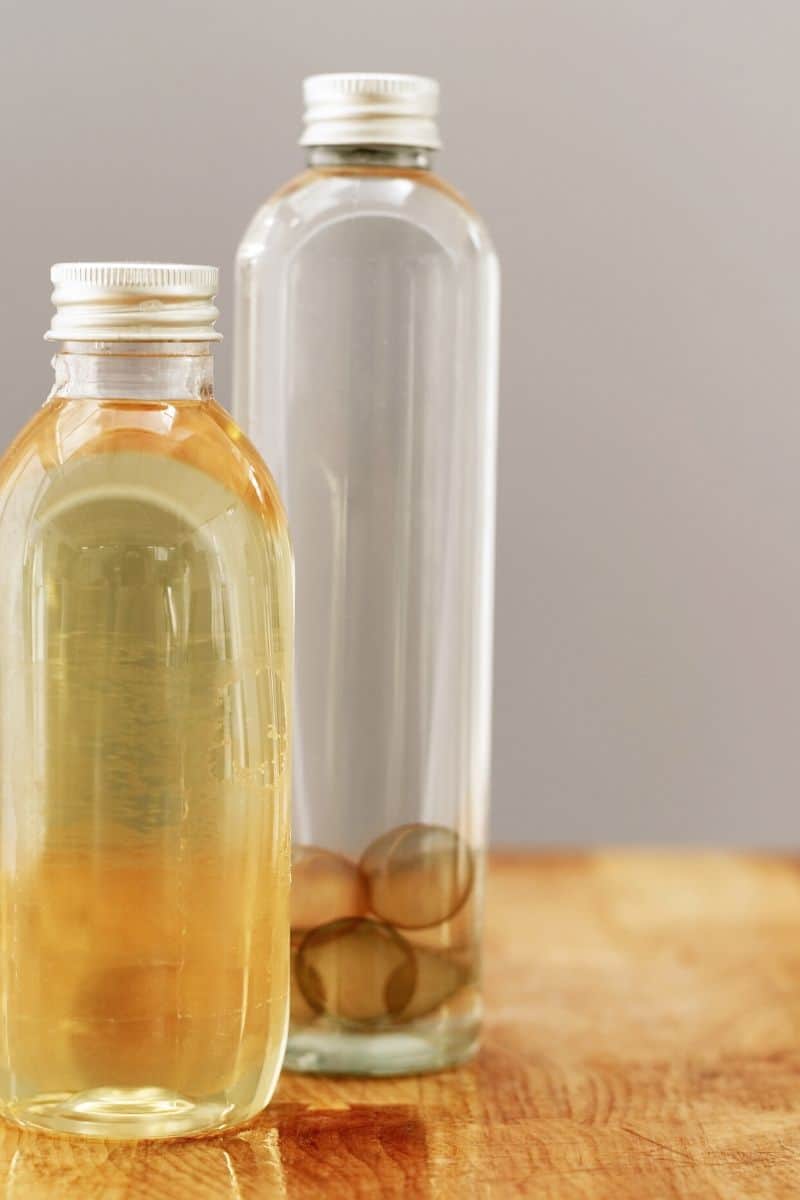 For this recipe, I combined several different oils known for their skin-soothing and nourishing properties. You can use the recipe as is or adapt it to your own preferences.
Simply combine:
1/2 cup organic olive or avocado oil
1/4 cup grapeseed or sweet almond oil
1 tablespoon jojoba or Vitamin E oil
10 drops of essential oils – like lemon, lavender, and peppermint or spearmint and tangerine or your very own combination.


CALMING BATH
Our son loves this combo and I have been using it for him for years. Making this calming bath recipe could not be easier and like the other two recipes in this post, it relies on the goodness of very basic staple ingredients. With only three ingredients you can whip up a quick batch any time you need some soothing relaxation. It contains three superstar ingredients: Epsom salt, baking soda, and essential oils.
Epsom Salt
Epsom salt (magnesium sulfate) is an inorganic salt made up of magnesium, sulfur, and oxygen. It was originally discovered near the town of Epsom in Surrey, England. Like many of my other favorite ingredients, it has been used for hundreds of years, primarily to soothe aches and pains as well as other various ailments, even ingrown toenails. Take a look here to see why having Epsom salt in your household makes a lot of sense.
Epsom salt is said to have detoxing properties and should, therefore, be combined with baking soda to prevent reabsorption of released toxins.
And here is the super simple recipe:
1 cup Epsom salt
1/2 cup baking soda
15 drops essential oil(s) like lavender and cedarwood for relaxation, lemon, and eucalyptus for colds
Special Tips:
If using essential oils, be sure to stay away from "hot" oils which may cause a burning sensation especially combined with warm water
This soothing bath recipe works best with water as warm as can be tolerated
What do you think? Pretty easy, right? If you like these simple starter recipes, be sure to check out my other posts featuring DIY beauty recipes!
HOW TO MAKE HOMEMADE SOAP LIKE A PRO
HOW TO MAKE HOMEMADE CHARCOAL SOAP
HOW TO MAKE YOUR OWN LIP AND HAND BALM
A SIMPLE CHEAP AND AWESOME CHARCOAL FACE MASK RECIPE
3 SIMPLE AND LUXURIOUS GIFTS YOU CAN MAKE IN NO TIME
My lip and hand balm recipe also works very well as a soothing eye cream!
I can honestly say that after using these recipes for a few years now, I don't miss store-bought products at all. If anything, I find them to be way too perfumy for my taste and often find myself itchy and uncomfortable after I use them. And never running out of your favorite face wash or moisturizer makes life so much easier! I hope I have motivated you to give them a try and please let me know what you think!
Be sure to join our Facebook group to participate in discussions, ask questions and share tips with other women just like you!
And be sure to follow me on Instagram for the latest updates!