Like it or not, hand sanitizer has become a must-have for every household in recent months. While not as effective as proper cleaning with soap and water it is definitely important in situations when hand washing is not possible.
I wanted to share this recipe with you today because not everyone can use or tolerate alcohol-based hand sanitizer. Maybe you simply prefer an alternative with natural ingredients because you are concerned about potentially troubling ingredients like triclosan, alcohol, and irritating fragrance.
Please keep in mind that nothing, even store-bought, commercially available sanitizers, will substitute for proper handwashing with soap and water.
To learn more about proper handwashing techniques please consult the CDC website.
And it is important to stress that this formula does not contain any alcohol and there is no scientific proof that it will prevent any illness like the common cold, flu, or other viruses. Use at your own risk.
If you are looking for an alcohol-based solution I recommend my recipe for hand sanitizer spray that contains a minimum of 60% alcohol by volume.
With all that said, our family prefers non-toxic products and I wanted to find another way to get clean hands in a pinch without worrisome chemicals. The result is this recipe which we have used for some time. It works well and is easy on the hands. As a matter of fact, we have found several additional uses for it which I will share with you below.
When researching an alternative for commercially available hand sanitizers I found a number of recipes that sounded promising. But they yielded way too little for use at our house and quite a few still contained the dreaded rubbing alcohol.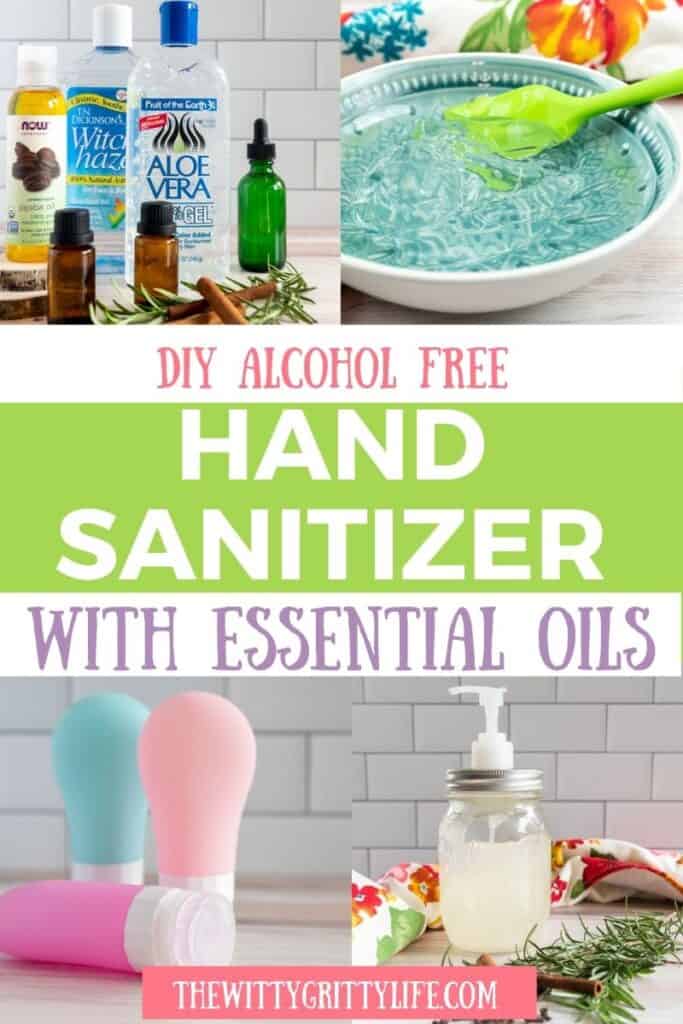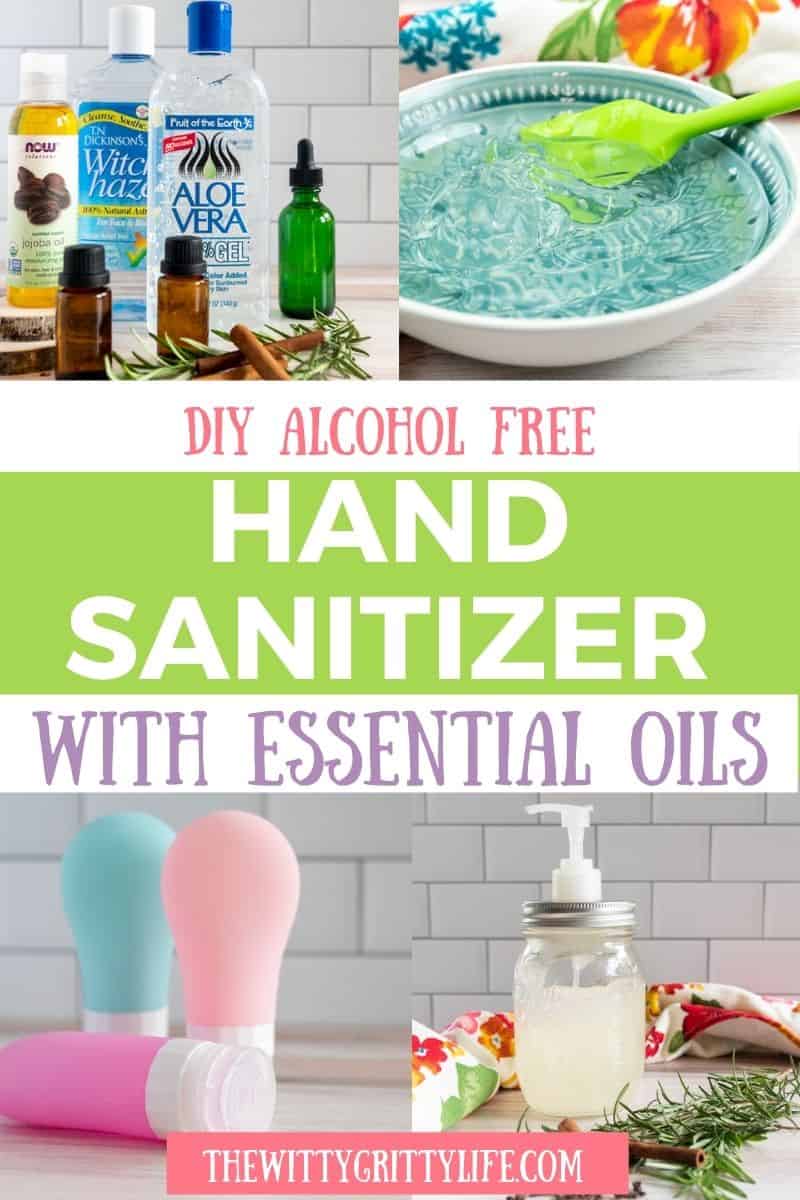 As always, my goal was to use only the most skin-friendly effective ingredients in this recipe. With this in mind, I narrowed it down to a few key ingredients, each of which plays an important role.
Related:
* This post contains affiliate links. If you make a purchase by clicking on an affiliate link, I may earn a small commission at absolutely no additional cost to you. You can view my complete affiliate link policy HERE.
To make it as easy for you as possible I included a printable version of this recipe, my alcohol-based sanitizer spray and all of my favorite health and beauty recipes in the FREE Resource Library. Just sign up here and the password is on its way to your inbox!
HOW TO MAKE HAND SANITIZER WITHOUT ALCOHOL
equipment needed for Diy Hand sanitizer gel:
Hand sanitizer ingredients:
Before we dive into the actual recipe I would like to give you some insight on why I chose these specific ingredients. As I mentioned, every one of them plays an important role.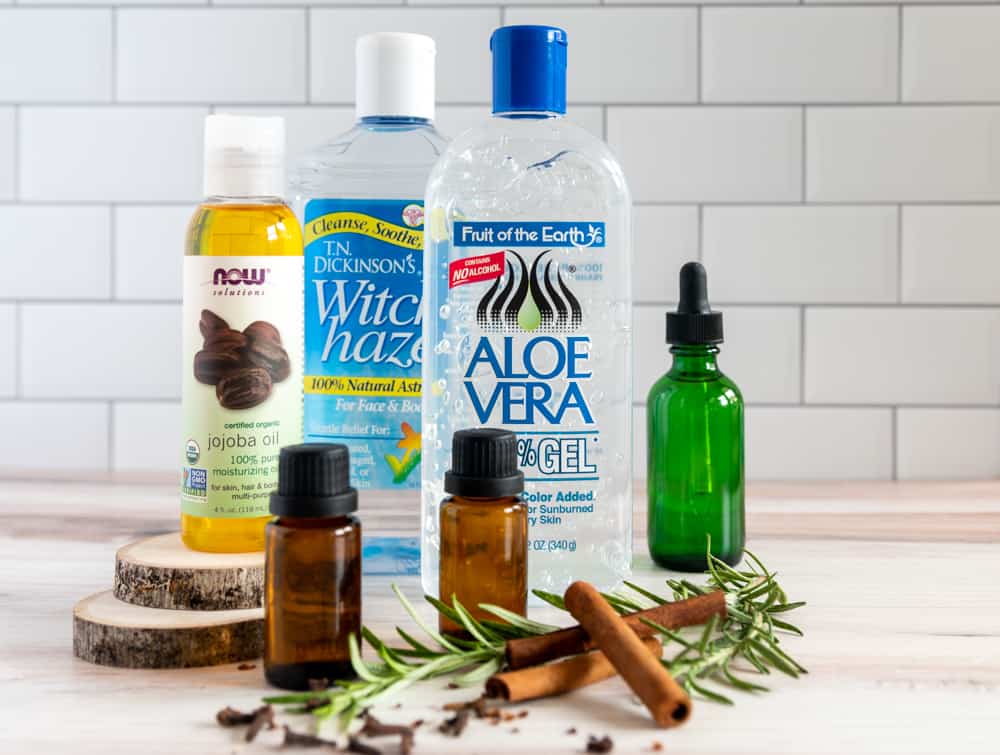 ALOE VERA GEL
Aloe vera is a trusted and proven skincare ingredient that has been used widely for centuries. Aloe vera gel has well documented curative, therapeutic, and antibacterial properties that make it a perfect base for this gel-based hand sanitizer recipe.
Its common uses include, but are not limited to soothing sunburns and insect bites, relieve itching, and chafing. It is well tolerated and usually readily available at any drug store and online. You can read up on its many uses as well as actual documentation and research findings at the National Institute of Health website.
I always keep an aloe vera plant on hand. They are easy to grow, look lovely, even fairly cat-proof! And if you have a scrape or burn, you can just cut a leaf off and squeeze the gel from inside to apply directly on your skin. It doesn't get any more natural than that!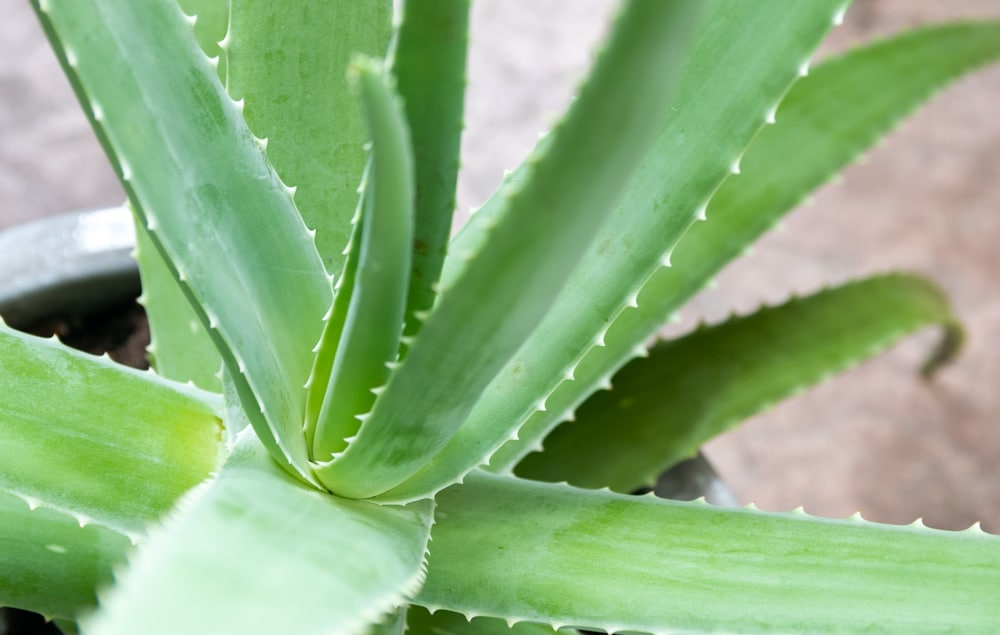 This recipe will also work with freshly made aloe vera gel. Make sure you store it in the refrigerator and use it up within two weeks.
WITCH HAZEL
The North American Virginian Witch Hazel (Hamamelis Virginiana) plant's bark and leaves yield a strong antioxidant and astringent, which also has mild disinfectant properties.
Also used for centuries, witch hazel is frequently applied as a remedy for acne, psoriasis, eczema, aftershave treatments, ingrown nails, cracked or blistered skin, and insect bites.
Unlike rubbing alcohol, which tends to be very drying to the skin, witch hazel is soothing. It aids in the even dispersal of ingredients in this and other recipes. You can use witch hazel as a gentle skin toner all on its own.
And did you know it is the main ingredient in most hemorrhoid remedies? A very versatile ingredient indeed! We always keep some on hand at our house.
JOJOBA OIL
Adding as many moisturizing ingredients as possible was important for this recipe. If your poor hands are rough and dry from constant washing, they will really appreciate the added moisture. Jojoba oil fits the bill perfectly.
A relatively new commercial crop, jojoba oil is extracted from the seeds of the evergreen Simmondsia Chinensis shrub native to the Southwest and North Western Mexico.
Check out these links if you are interested in learning more about the many skin benefits of jojoba as well as the history of use and how the oil is won.
Like aloe vera and witch hazel, jojoba is a star all on its own, with numerous skin benefits that include moisturizing, antibacterial, antioxidant, non-comedogenic, hypoallergenic, oil-controlling, wound healing, scar diminishing, dry skin therapy, sunburns, combatting fine lines and wrinkles – good stuff!
Plain jojoba oil gently removes eye makeup and works very well for the oil cleansing method.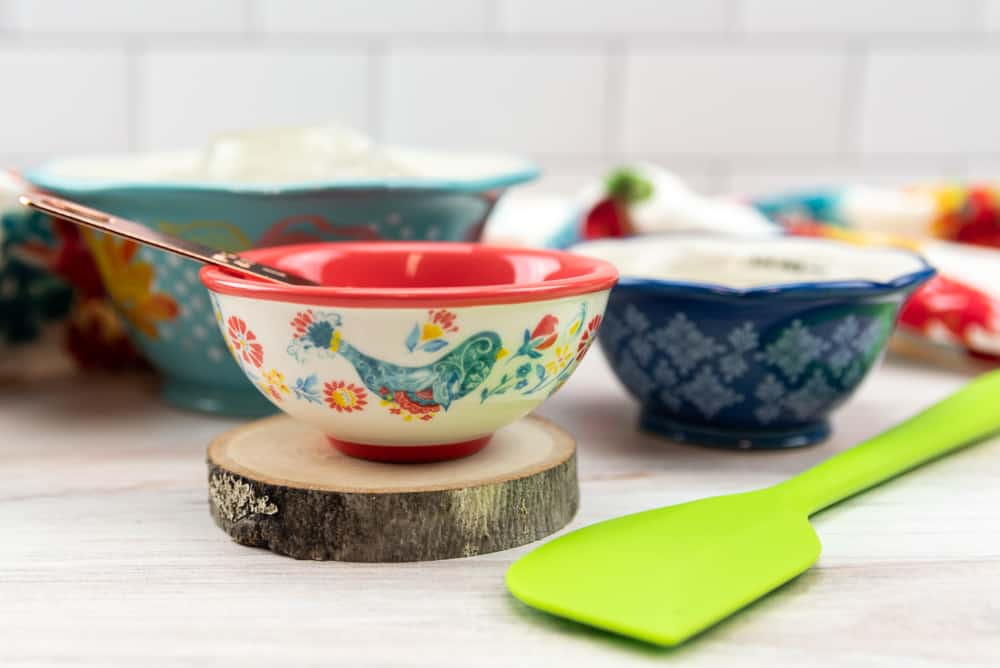 You can substitute glycerine or vitamin E oil for jojoba oil.
ESSENTIAL OILS
This final ingredient adds yet more antibacterial action and some pleasant all-natural scent.
A number of different essential oils have been used in folk medicine and are believed to have antibacterial, antifungal as well as antiviral properties. Slowly, over time, more and more studies are emerging that indeed confirm those properties, although more are definitely needed.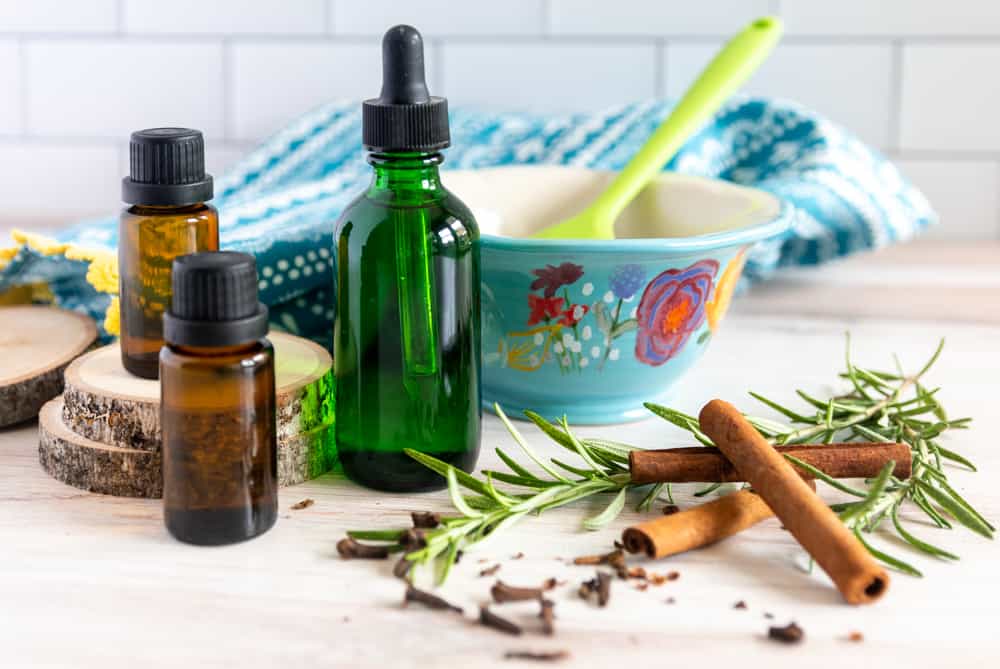 Those oils include tea tree (melaleuca), lavender, lemongrass, eucalyptus, peppermint, orange, lemon citronella, and geranium. My favorite version of this recipe uses a couple of blends (Thieves and purification) that include many of the oils mentioned here. Using blends is not a must and you can use single oils in combination without any problem.
Whenever you use essential oils, be sure to use only high-quality oils. To help you find a quality, I put together a buying guide that includes a list of reputable sources for pure oils.
HAND SANITIZER RECIPE:
COMBINE THE INGREDIENTS IN A BOWL
1 cup pure organic aloe vera gel

1/4 cup witch hazel

1 tsp jojoba oil or glycerine

a total of 15-20 drops of essential oils of your choice:

a combination of lemon, lavender & thieves (5 drops each) or tea tree, thieves and purification (5 drops each)
The combination of tea tree, Thieves, and Purification is the one we use at our house. See below what other uses we have found for it.
If you don't have Thieves oil or Purification on hand, simply use 10-15 drops of tea tree oil.
Gently stir until fully combined. The mixture will be a smooth gel and take on a white tinge.
After all of the ingredients are thoroughly mixed and combined, fill the hand sanitizer into a pump dispenser or several small reusable silicone tubes. Wide mouth jars work best as they are much easier to fill.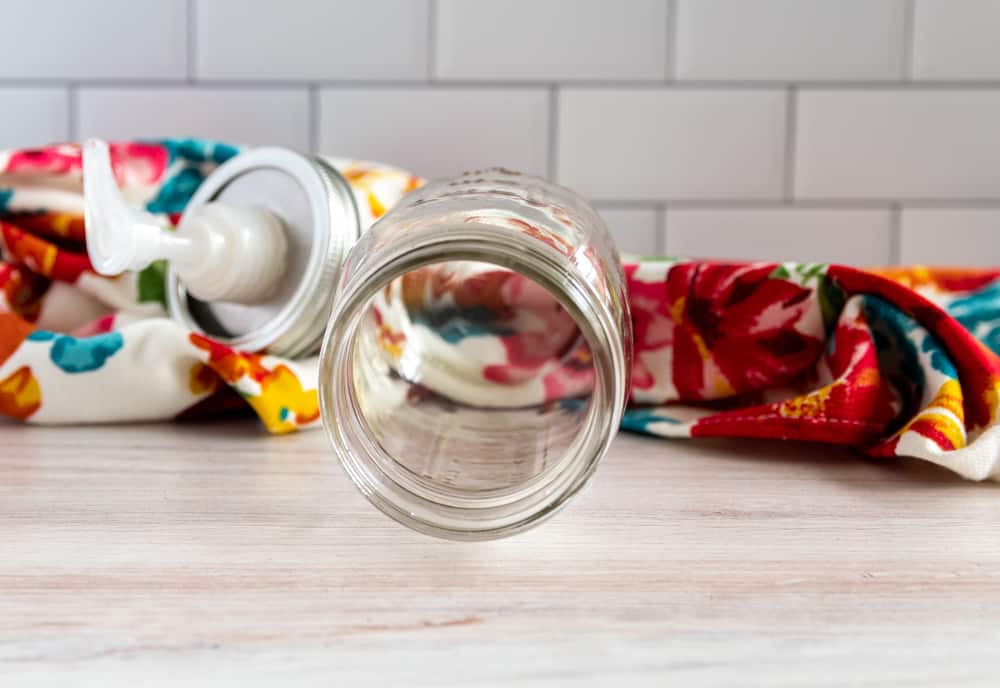 These fun reusable silicone tubes make it easy for you to take your alcohol-free hand sanitizer gel with you!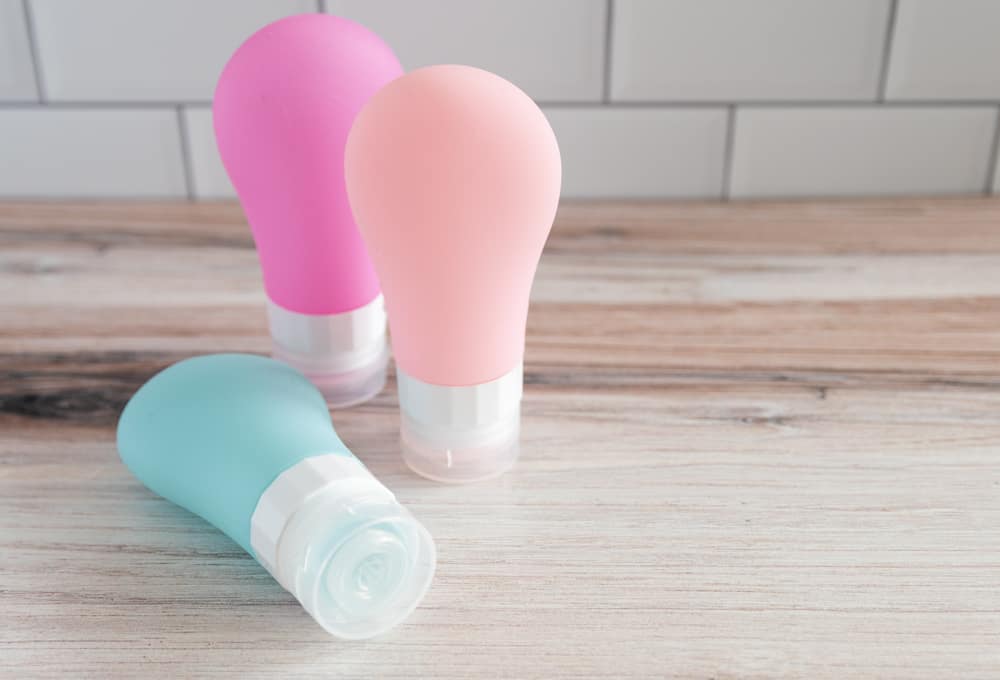 How to Use alcohol-free Hand Sanitizer
To use squirt a pea-size amount of homemade alcohol-free hand sanitizer into your palm and rub in thoroughly until dry. A little goes a long way and it dries quickly. I suggest keeping a bottle in each bathroom.
This recipe also acts as a great moisturizer after washing your hands. I love using it that way to make sure my hands are extra clean. And be sure to always keep a little tube handy in your purse when you're out and about and don't have access to a sink.
While even frequent hand washing and using hand sanitizers is no guarantee that you won't get sick this cold and flu season, it is one of the best methods for reducing your risk. Wear your mask in public and remember to always sneeze into your elbow or shoulder!
Helpful Hints and Suggestions:
Mason jars fitted with a pump work best, because they have a wide mouth and are easy to fill.

To fill a bottle with a narrower neck, put hand sanitizer mixture into a zip baggie, close the top completely, and cut a small hole in one of the bottom corners of the bag. This allows you to pipe the mixture into a smaller opening without making a mess. It's just like piping frosting onto a cupcake!

If you opt for citrus oils for your family, be sure not to store your hand sanitizer gel in plastic. Citrus oils will degrade plastic.

Hand sanitizer makes a great gift at any time of the year! Just divide it up into several little personalized bottles for your friends.

Don't forget to pack your homemade hand sanitizer on your next camping trip!

At our house, the formula containing thieves, tea tree, and purification is the go-to remedy for bug bites, itchy skin, soothing minor burns, and irritations.

Use it as a substitute for deodorant in a pinch.
Related Articles:
If you make any of them be sure to share your experiences over in our Facebook group or on Instagram!