With the Holiday Season right around the corner, time is getting shorter by the day to find those few extra and thoughtful gifts. Luckily, the ones I am about to share with you today are not only easy to put together but will work year-round to impress family and friends. If you are still looking for some cheap and easy luxurious gifts you can make in no time, look no further!
Don't worry if you have little or no experience creating homemade beauty products! You can pull these together in a snap, I promise.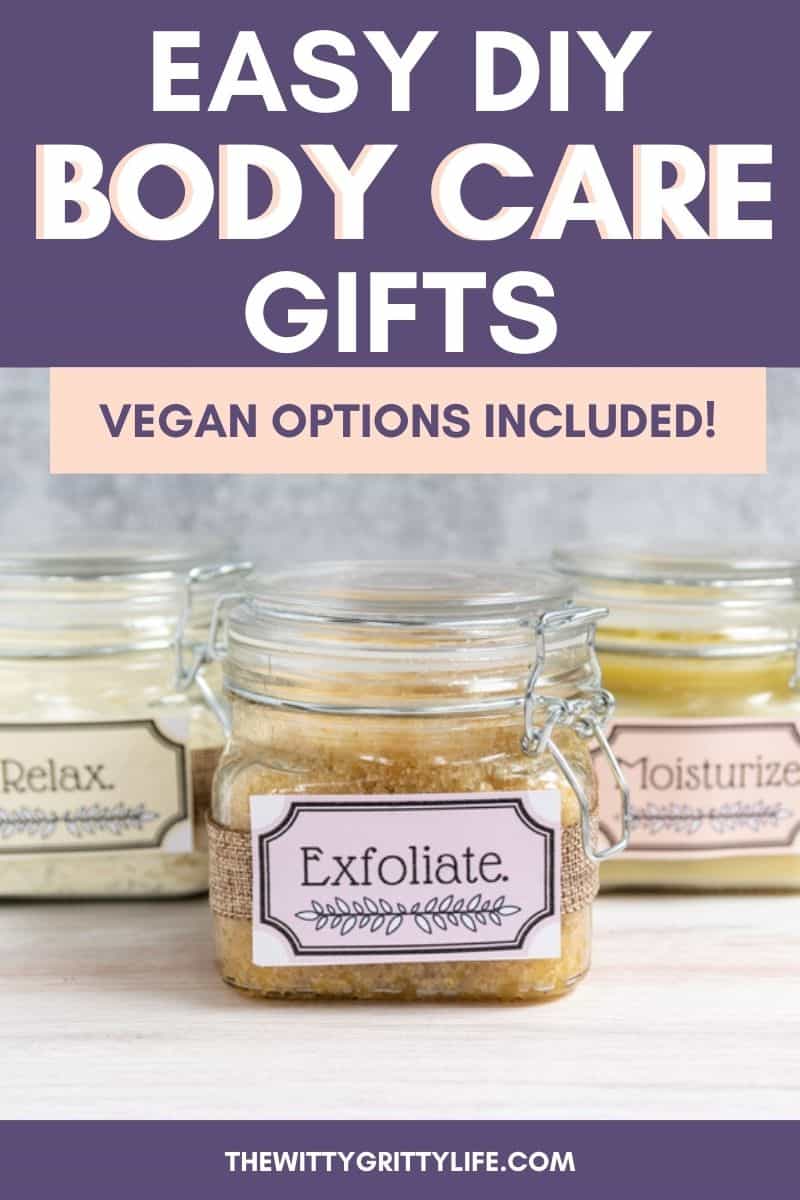 And there is even a good chance you may already have some if not all of the ingredients on hand. If you don't, they are definitely worth purchasing, because each one of them can be used for several other of my skin and body care recipes right here on the blog.
To make it as easy for you as possible, I created a printable file that contains not only all of the recipes mentioned in this post but the pretty labels as well as matching gift tags.
They are waiting for you in the FREE Resource Library. Don't have a password yet? Signing up is super easy and your password is on its way to your inbox in an instant.
This post contains affiliate links for your convenience. This means that if you buy something through one of these links I may earn a small commission at no extra cost to you. You can read my full affiliate link policy here.
You can absolutely repurpose pretty jars you already have or check at your local Dollar Tree store. It is my favorite place for all kinds of sturdy and affordable glassware. A while back I snagged my favorite jars: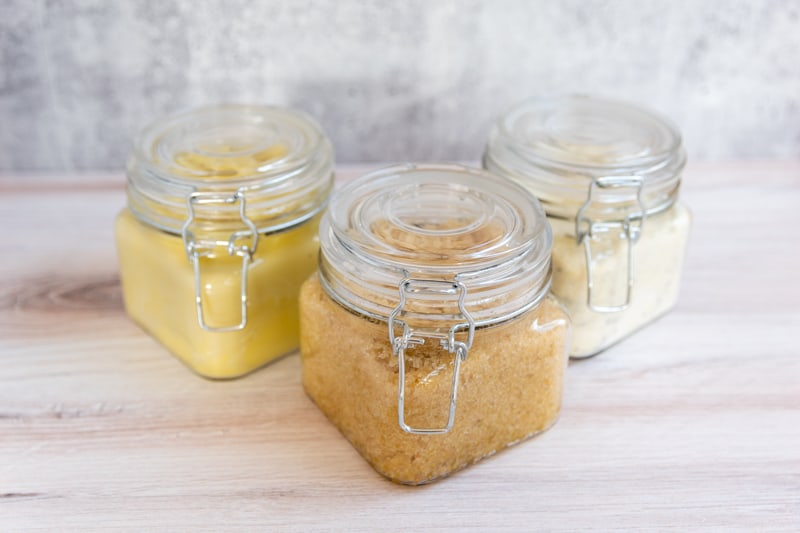 It's hard to believe they were only a buck, right?
I love jars with air-tight lids for this project. You can find inexpensive and attractive jars at Dollar Tree throughout the year. But since they can be a little more challenging to find during the Holiday season I recommend you get them when you see them. You won't be sorry!
These pint-size canning jars are an excellent alternative if you don't feel like venturing out to a store! They come in handy for so many different things.
LUXURIOUS GIFTS YOU CAN MAKE IN NO TIME
SOOTHING AND RELAXING BATH SALT
This is a super easy recipe I have been using at our house for a very long time. It is so relaxing and calming, perfect for a nice warm bath right before bedtime!
Again, all of the recipes mentioned in this post are waiting for you in a nice printable format in the FREE Resource Library.
Let's get moving. To make my soothing and relaxing bath salt, you will need three simple ingredients. Since the size of the jars, you will be using may vary, or if you want to make several jars worth, this recipe makes 1 1/2 cups of bath salt for reference. That is actually the exact amount we use for two baths at our home.
1 cup Epsom Salt – easily available at any drug store or Walmart and Target
1/2 cup Baking Soda
10-15 drops of high-quality essential oils like lavender, lemon, cedarwood, geranium – I buy mine here
Totally optional: dried lavender buds. I just happened to some on hand and thought they would make a nice addition to this recipe.
Epsom salt is also available as a lavender version. With most ingredients, I prefer to buy the plain variety and add my own oils, but the choice is entirely up to you, of course.
Just place all ingredients in a clean, dry bowl and mix thoroughly. It works best to use a fork or even your hands to break up any lumps and to make sure the essential oils are dispersed throughout the mixture.
Scoop them into your clean dry jar and that's it.
PAMPERING SUGAR SCRUB FOR HANDS, FEET, AND BODY
This next recipe is just as easy as the last, I promise! Sugar scrub is one of the few sweet indulgences that will not add any inches to the waistline:) Sugar has wonderful exfoliating qualities and you have it in your pantry right now. What gives this scrub its deeply emollient quality is oil.
You can create this scrub with your favorite oil. For this batch, I went with my old standby: Extra Virgin Olive Oil, organic, of course. It's cheap, easy to find and another one of those ingredients you likely have on hand.
I have also made the same recipe with grapeseed, avocado, and almond oil, even a combination of several oils. All of them work very well. The choice is yours.
Here is the basic sugar scrub recipe:
Optional add-ons: high-quality essential oils – about 15-20 drops (check out my essential oil buying guide), 1 tsp dried lemon peel powder
For this batch, I used both lemon, peppermint, and lavender essential oils as well as lemon peel powder. I drink a lot of lemon water and love to save organic peel to dry and use in recipes like this one. You paid for the whole lemon, might as well use all of it, right?
Grind dried peels in a coffee bean grinder or zest the lemon peel before you dry them to save the grinding step later.
10-15 drops of essential oils: here I went with 5 drops each. This ratio works beautifully without being too overpowering.
Add all ingredients to a dry, clean bowl, mix well until it resembles coarse wet sand. Fill into a dry clean jar, packing the mixture slightly with a spoon.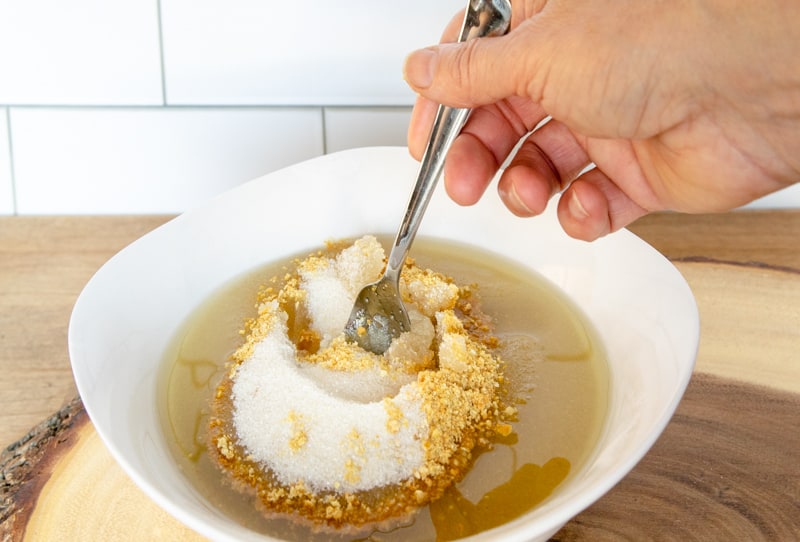 After you mix it your sugar scrub should have the consistency of wet sand as shown here.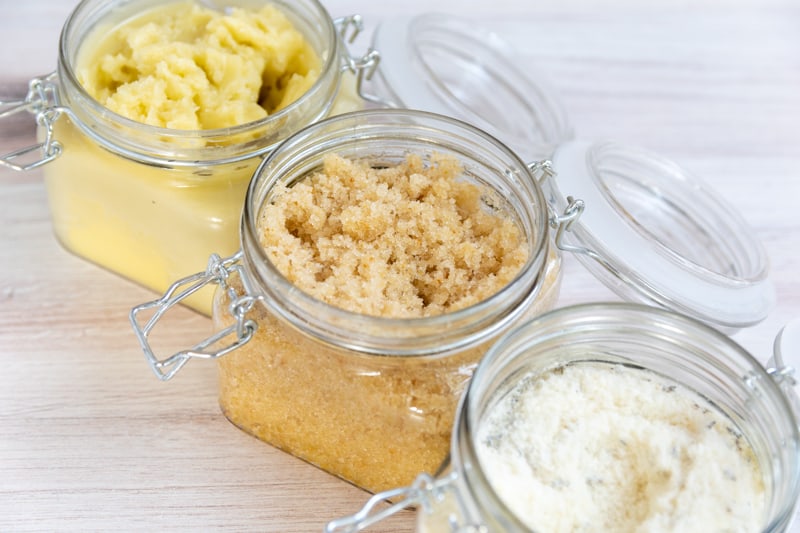 This recipe makes just a little over a cup (8oz). If you find this recipe too runny, just add a little more sugar, if you prefer a little more moisture, add a little more oil. It won't take much, so add it in very small increments.
After experimenting with many different oil and sugar amounts, I found a ratio of three parts sugar to one part oil works best. Just make sure the scrub is very well mixed before you adjust it.
To use, just scoop out about a tablespoon of the mixture and rub liberally all over your hands or feet. Rinse well and pat dry. If you are using this while in the shower be extra careful as it will make your feet very slippery!
Don't use this on your delicate facial skin! The sugar crystals are just too coarse to make this scrub suitable for use on your face.
EMOLLIENT HAND AND BODY BALM
Every season has its challenges when it comes to keeping skin moisturized. Having a great natural moisturizer is a great way to combat dryness throughout the year. During the colder time of the year, this is one of my go-to formulations.
The last recipe is adapted from my favorite lip balm recipe. I've been making and using it for years and love it! And I know you will too!
Here is the basic recipe:
1 1/2 cups of oil – I used avocado in this recipe
1/2 cup beeswax pellets OR 1/4 cup candelilla wax for a vegan option
2 tbsp shea butter (you can substitute mango butter)
Optional: 20-30 drops of essential oils
Even if you don't normally keep beeswax or shea butter on hand, you might want to grab some. Both have amazing properties that make them a skincare winner.
Like many of the other ingredients above, they are very versatile and will save you tons of money in the long run. How? Well for one, you are saving cash by making your own presents right now, correct? Seriously, they are worth splurging on.
Since this recipe requires warming the mixture to combine ingredients, my goal was to streamline the process to make it as simple as possible. The good news is, this recipe is not any more labor-intensive than the other two above. Melting the ingredients requires a double boiler like the one shown below.
The bottom pot contains gently simmering water. To make it more convenient, you can combine the ingredients in the jar you are using for melting. Just make sure that the jar you are using is heat-proof.
I would recommend only adding about 1/2 of the oil until all of the beeswax pellets are melted, then add the rest of the oil.
Trust me, it'll speed up the process considerably. This picture shows the jar full and it took quite some time to melt the beeswax completely.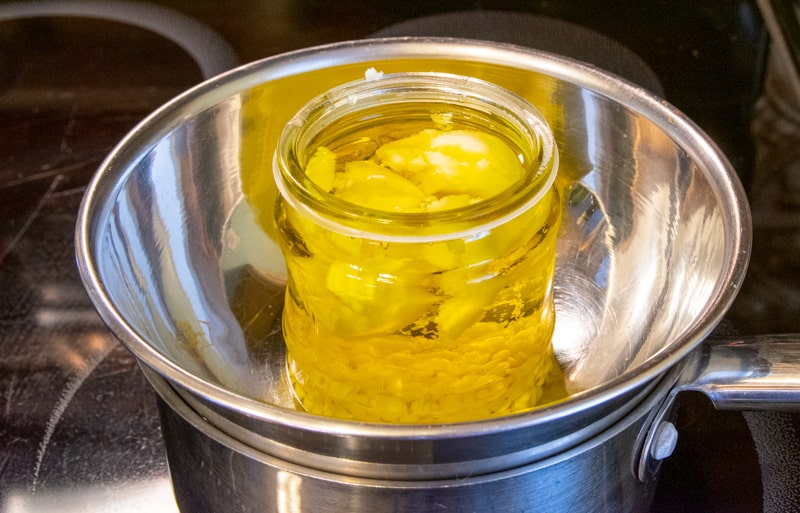 After the pellets and the shea butter have melted completely, carefully remove the jar from the double boiler (use oven mitts!) and let cool slightly.
Once the balm mixture has cooled slightly add the essential oils of your choice.
The combinations mentioned above will work well, but I opted for a combo of tangerine essential oil (15 drops) and spearmint essential oil (5 drops). There is just something about that citrus mint combo…
Let the balm cool completely. Now all of your homemade luxurious gifts are ready!
The amount I created filled my particular jar exactly to the top. If you have some left over, pour it into a little jar to keep for your own use. You will want to make more, I promise!
And here they are all together!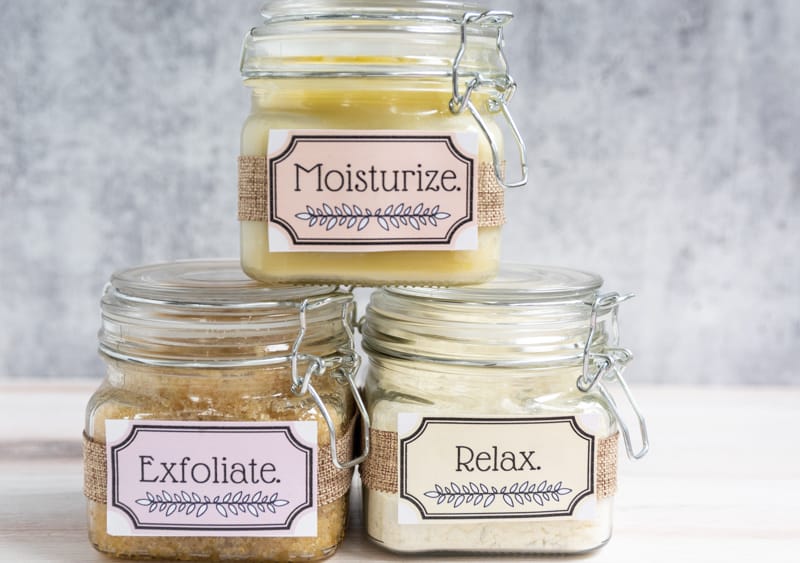 These cute and useful gifts are not limited to the Holiday Season by any stretch.
To decorate my jars, I hot glued inexpensive ribbon from the Dollar Store around each jar and added one of my printable labels. Of course, you can get as creative with your jars as you like!
Don't forget to print out the simple to follow instructions from the FREE Resource Library and keep them handy for the next time you need a quick and thoughtful gift that really shows you care.
You can do this! Creating cute and heartfelt gifts should not be stressful. I know your friends and family will really appreciate a lovely gift, especially if it's a treat that won't pack on extra pounds.
If you love homemade beauty products and treatments be sure to check out these posts:
How to Create Homemade Soap like a Pro
A Simple Awesome Face Mask Recipe
Naturally Moisturizing Lip Balm for the Whole Family
Let me know if you try these recipes and feel free to share your beautiful results in the
Witty Gritty Life Facebook group!