EASY ALL NATURAL ROOM FRESHENER SPRAY
With so many of us spending more time at home, we want to make our surroundings as pleasant as possible. All-natural air fresheners are something I have used to offset the fact that I live with guys and a cat dude for as long as I can remember.
Advertisers would love us to believe that in order to have a home that smells clean we should be using their toxic products full of mystery chemicals. You and I know that's bunk.
If you check out EWG.org's list of air fresheners, you will notice that all of the products listed that scored well contained essential oils.
Actually, a house that is truly clean should smell like NOTHING. Clean simply does not have any smell at all. The best way to eliminate odors is to make them go away by cleaning up the source. Covering them up isn't really solving the problem.
But even if you have a clean home that doesn't have a smell, you might enjoy a little natural fragrance. You know, something that doesn't make you gag, wheeze or give you a headache? That is what today's post is all about.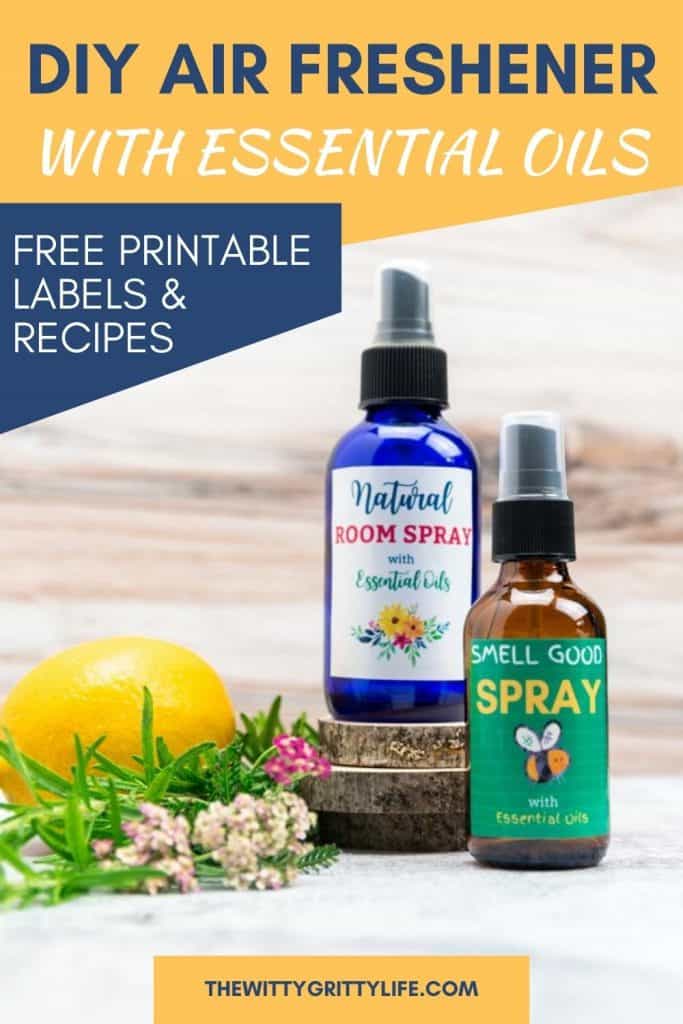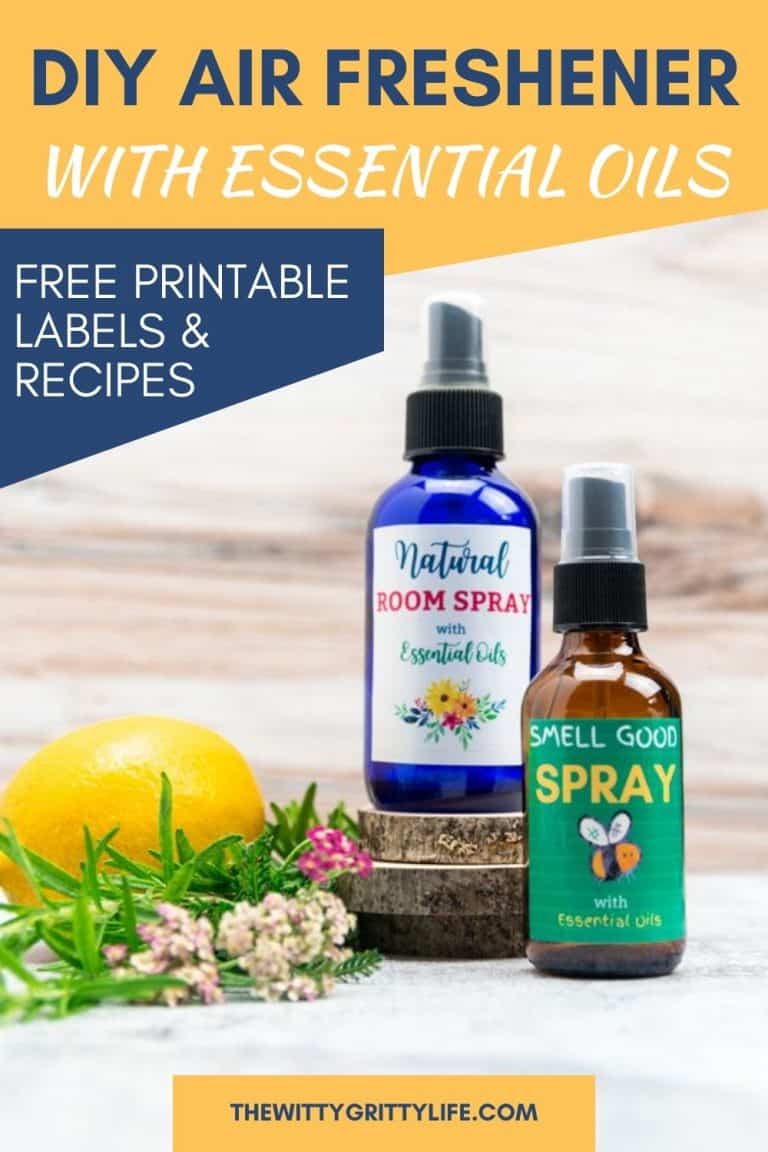 And as with so many other things, why bother spending your hard earned money at the store for something you can so easily make yourself?
Since I already create pretty much all of my own natural cleaning and skincare products, I always have the simple ingredients it takes to put this recipe together on hand.
And before I get to the nitty gritty of this post I have to let you know about my FREE Resource Library. I created it just for my readers and it contains an ever growing wealth of printables you can use to make your life better.
Of course, you can find the pretty labels to go with your room freshening spray and many more essential oil blends for your air freshener spray in the Resource Library. The labels are a must-have, don't you agree? Just sign up here and the password is on its way to your inbox!
*This post contains affiliate links. You can read the complete affiliate link policy here.
ALL NATURAL ROOM FRESHENER SPRAY
What I love about this room freshener spray is that it is not only super easy to make, but you can completely customize it to your own taste. I will include a few different essential oil blends at the bottom of this post, but you can find many more popular seasonal recipes in the FREE Resource Library.
Even better, all of the essential oil blends used for this handy spray will also work in your diffuser.
Let's get started!
room freshener spray ingredients
3/4 cup filtered or distilled water
1/2 cup witch hazel
1 1/2 tsp vegetable glycerine (optional, but highly recommended)
1 tsp baking soda – if using to absorb odors
essential oils – see bottom for custom blends you can create
This recipe makes a little more than 10 ounces of spray, enough for five 2 oz or two 4 oz and one 2 oz bottles.
Tools TO MAKE all-natural room freshener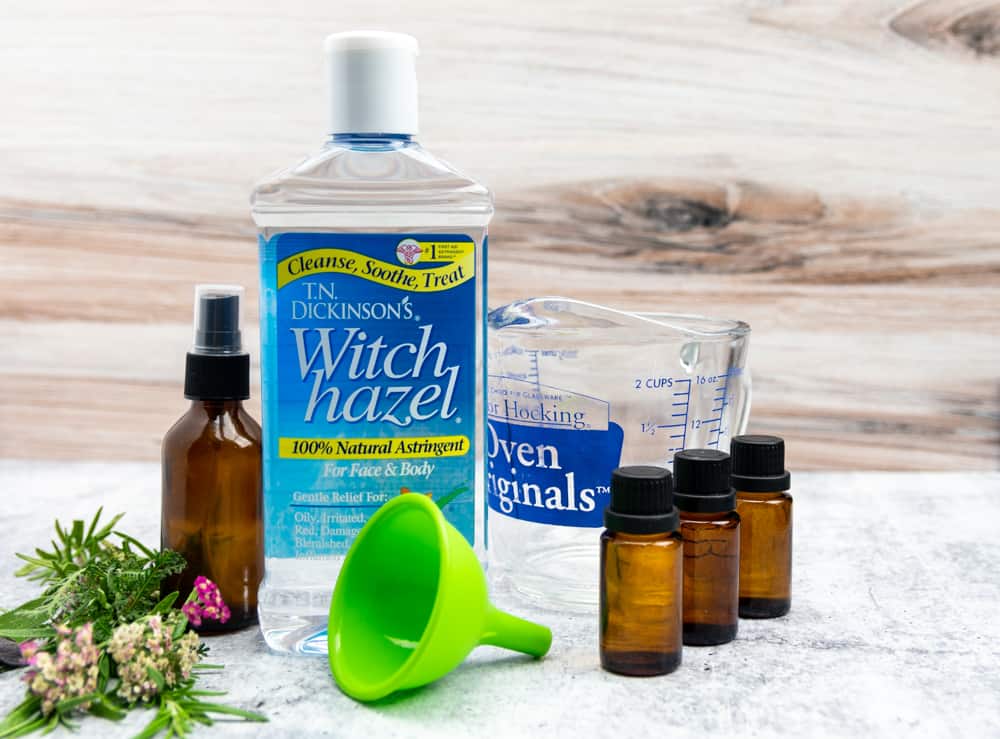 Glass bottles come in several convenient sizes: 2, 4, and 6 ounces. The smaller 2 oz size works well because they are perfect to keep in each room as well as in the car. This is the same size bottles I recommend for my alcohol-based hand sanitizer spray recipe.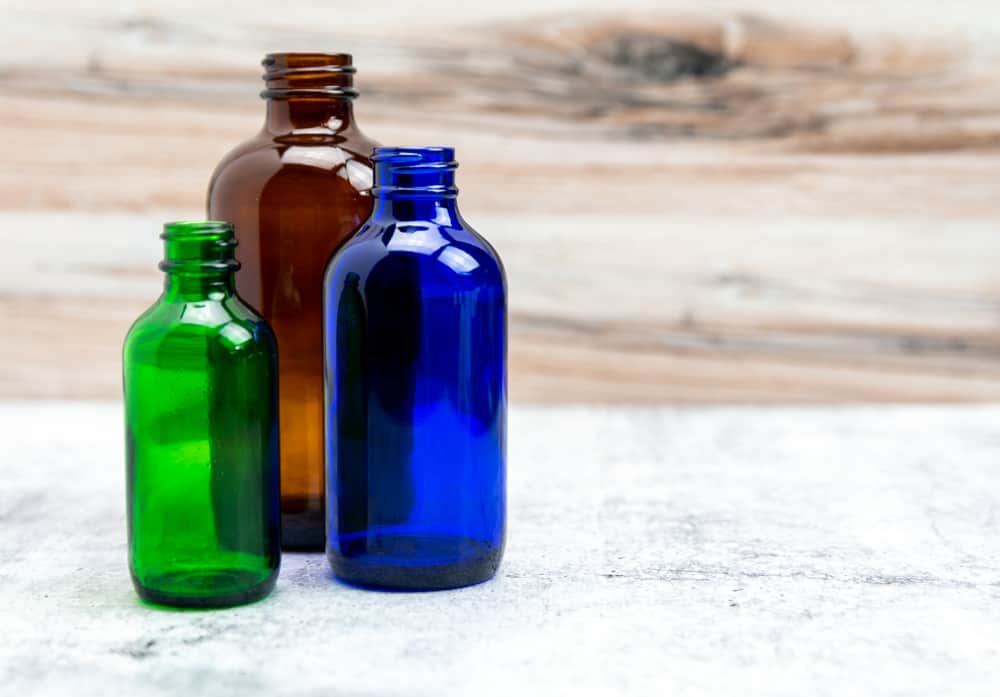 For rooms where the spray will be used more frequently, I recommend using a 4 oz bottle. Some essential oils, like lemon, will actually break down plastic bottles. Glass bottles are reusable, and much more environmentally friendly! Find labels to print for your room freshener spray in the Resource Library.
Making the spray
Putting it all together couldn't be any easier. Pour distilled water into the measuring cup, add witch hazel, glycerine and, baking soda (if using). Stir to combine well. Make sure the baking soda is completely dissolved. Now add the desired blend of essential oils. Gently mix and pour into spray bottles using a funnel.
Witch hazel is an all-natural astringent and acts as a dispersant, meaning it will help keep the oil particles suspended in the air a little longer.
While glycerine is optional, I strongly recommend it. It helps in combining the water and essential oils and aids the witch hazel with dispersion.
Baking soda is recommended if you plan to use the spray like Febreze – to eliminate odors on soft surfaces.
Always shake the spray bottle slightly before use. Read here about the many other uses of witch hazel.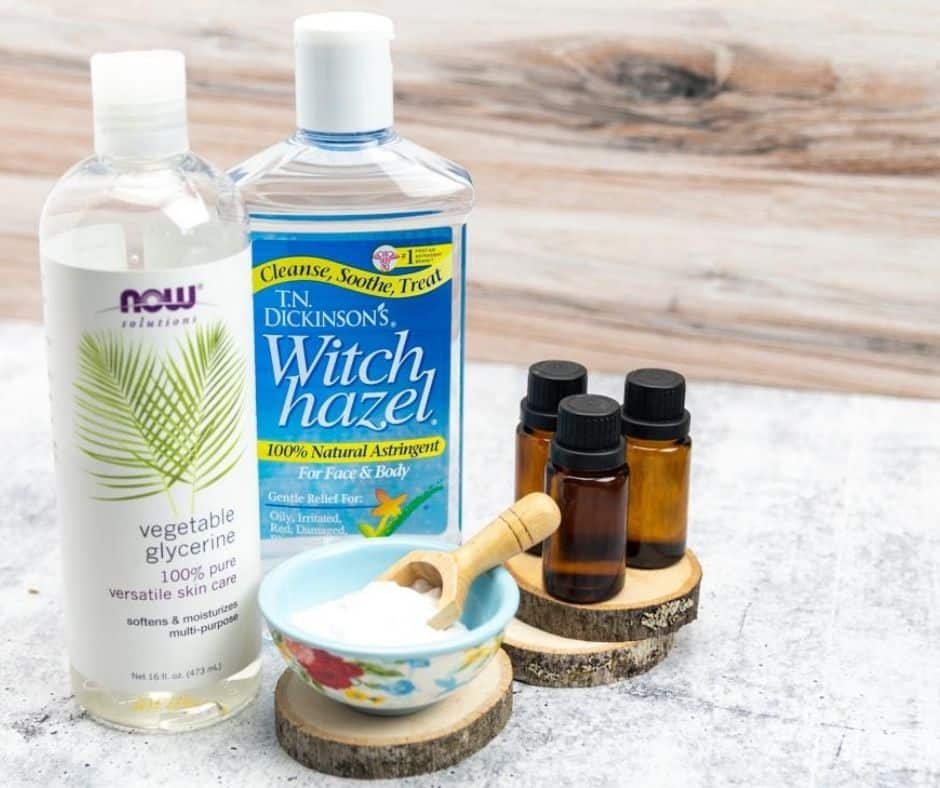 A note about the essential oil blends that are listed here and in the FREE Resource Library. The number of drops is enough for one recipe.
Note: Labels are not only pretty, but they let you or your family members know what is in the bottle. I highly recommend labeling your bottles. Not every label works well, though. These glossy label paper sheets are my absolute favorite kind of label for this kind of project because you can create any size label you need and just cut them out.
Use caution when spraying essential oils. Never spray when pets are present in the room to keep them from inhaling the spray. Check out this article about pets and essential oils.
THE MANY USES FOR ROOM REFRESHER SPRAY
As I mentioned above, I have several bottles of this spray on hand at all times. Here are a few more uses for your new favorite all-natural room freshening spray:
keep a bottle in each bathroom
eliminate unpleasant odors in shoes and gym bags if you can't wash them right away
quickly refresh car upholstery
spray pet beds between washings
spray on linen for a fresh scent
refresh sofa pillows (always test first to make sure it won't stain)
keep a 1 oz size bottle in your purse for fresh air on the go
POPULAR ESSENTIAL OIL BLENDS TO
FRESHEN AIR
Before I move on to my favorite essential oil blends I want to stress that the quality of the essential oils you use matters. Cheap grocery store brands are often cut with other oils and have been exposed to harmful chemicals during the extraction process. To learn more about how and where to buy essential oils, be sure to check out my essential oil buying guide.
Certain oils, like lavender, have been used for centuries to keep things fresh. There are unlimited combinations to create customized scents. Here are just a few I thought you might like to get you started.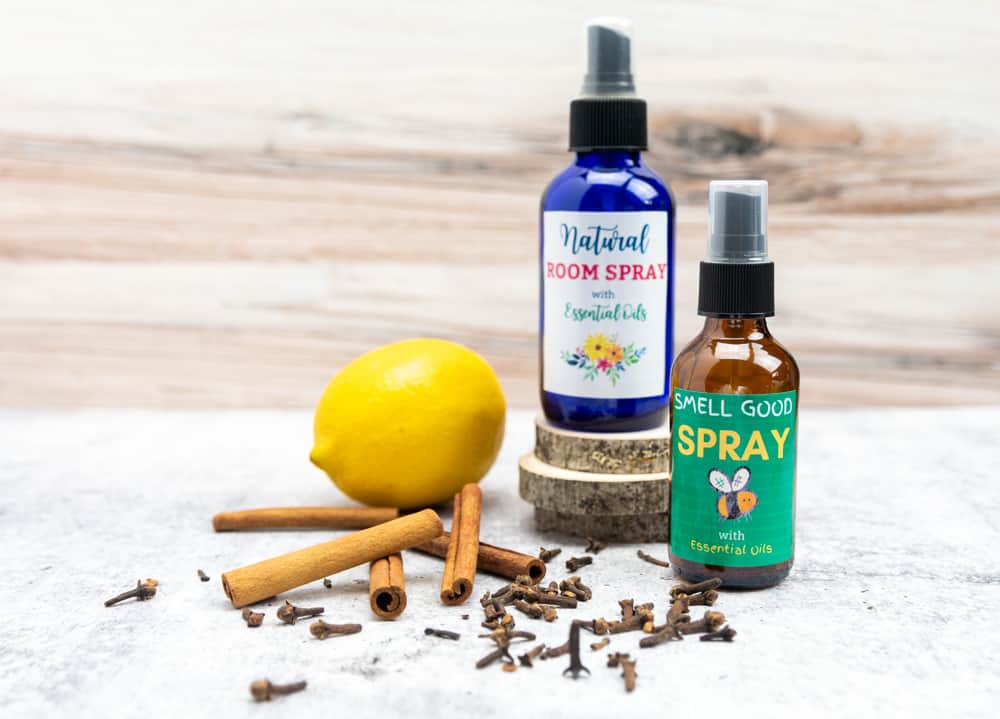 FRESH LINEN SCENT
20 drops lemon + 15 drops lavender + 5 drops rosemary
SPRING RAIN BLEND
20 drops lemon + 15 drops pine + 8 drops vetiver
SPRING AIR
15 drops cedarwood + 10 drops lavender + 8 drops tangerine + 8 drops vetiver
APPLE PIE
12 drops lemon + 15 drops cinnamon + 12 drops clove
Fall in the forest
15 drops lemon + 12 drops pine + 8 drops cedarwood + 6 drops rosemary
winter blend
16 drops peppermint + 12 drops bergamot + 8 drops cypress
These and additional essential oil blends for every season can be found as convenient printables in the FREE Resource Library. Print them and keep them handy for reference!
HOW TO KEEP YOUR HOUSE SMELLING FRESH :
regularly air out the house, even in the colder seasons
vacuum and dust frequently (remember to clean the air intake vents for your furnace!)
wash pillowcases and curtains regularly
toss pillows in the dryer on a steam refresh cycle if you have one
steam clean floors and carpets regularly
place a bowl of white distilled vinegar in a room overnight
use activated charcoal packs in areas like closets
use baking soda or activated charcoal pellets in the refrigerator to absorb odors
empty the trash frequently and clean the bottom of the trash can
Check out this post on more uses for activated charcoal.
IF YOU ENJOYED THIS POST BE SURE TO CHECK OUT THESE RELATED ARTICLES:
HOW TO MAKE HAND SANITIZER SPRAY – ALCOHOL BASED
HOW TO MAKE ALCOHOL-FREE HAND SANITIZER
DIY CLEANERS THAT WORK GREAT AND WILL SAVE YOU MONEY
Do you have your own favorite essential oil blend? Please share it in the comments below!! And be sure to check out TWGL's group on Facebook and follow along on Instagram.
This post is dedicated to the memory of my friend and mentor Elizabeth who taught me whatever little I know about essential oils.