Welcome back to part three of Saving Dixie the dresser! Today I'll show you how easy it is to restore tired brass hardware. If you are just joining in, be sure to catch up on part one and part two to learn where this makeover began.
While it may be tempting to just chuck sad-looking hardware and start over, I can assure you that it is almost always worth the added effort to clean and restore the existing, original to the piece, stuff. It saves money and it's easy enough for beginners.
This is what the hardware looked like: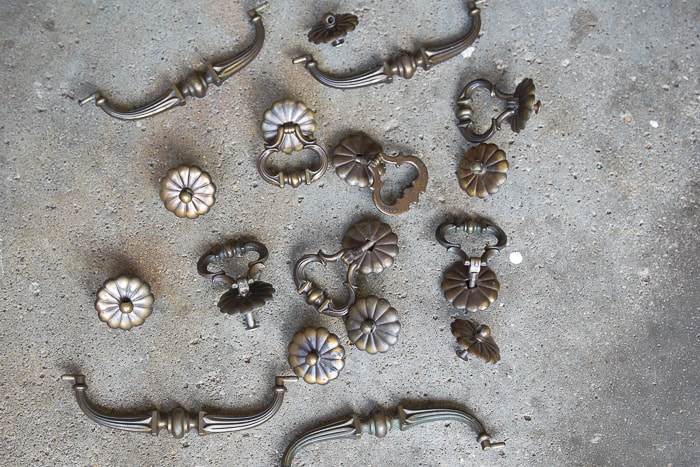 There is a fine line between patina and just gross. The hardware on this dresser sits right on that line.
Often, finding reasonably priced handles and knobs is challenging, especially ones that match up with existing holes. And sadly, it seems they often don't make hardware like they used to. Reusing what is already on the piece also helps retain the original character of the piece while keeping down costs significantly.
Spiffing up what's there is the perfect thing to pass time while waiting for the paint to dry:) Dixie's pulls and handles looked to be made of brass.
From my experience of working with brass in my jewelry designs, I know brass cleans up relatively easily with lemon juice. You know, that stuff in the big green bottle? That's one of the few things I recommend bottled lemon juice for. Yuck for cooking and baking, but yes, terrific for cleaning brass!
Here is how you do it:
Fill a (thrift store) glass dish about halfway with undiluted lemon juice
Soak brass pieces for about 10 minutes
Rinse under running water
Clean with a little mild dish soap and a brass brush
Dry thoroughly with a lint-free cloth – an old t-shirt will do just fine
The goodies are getting their beauty bath! I only had this round bowl on hand but will be using a rectangular one next time to allow for more room for longer pieces.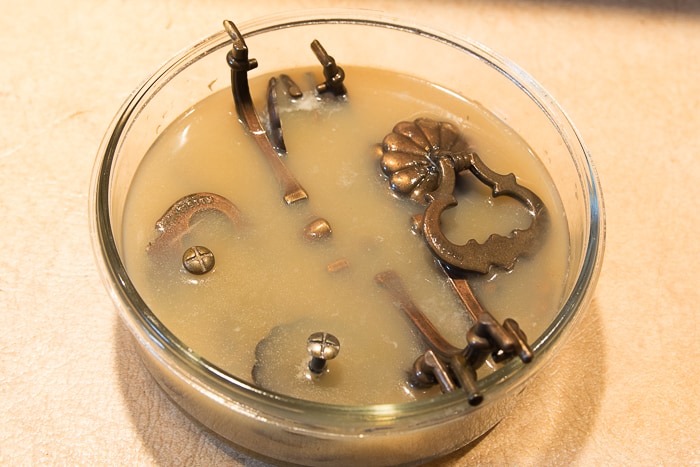 This is what it looked like after a good soak in lemon juice and a scrubbing with a brass brush. Not bad, but I knew I could do much better!
Isn't it amazing what a little lemon juice and some scrubbing will do?
Once the brass hardware is clean and dry, it's time to move on to the fun part of the project – turning these sow's ears back into silk purses!
This post contains affiliate links for your convenience. To read my affiliate link policy please click here.
Enter this stuff: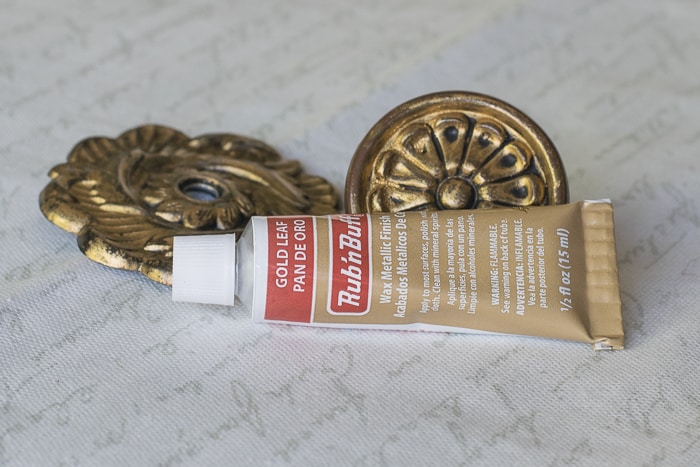 If you read this post, you already know how I feel about Rub'n Buff. Gush. It is easy to use, cheap, goes a long way, and comes in many different colors. Truly a DIYers dream.
For the second part of this little project, all you need to do is:
Protect your work surface with some paper towels or newspaper
Put on non-latex gloves to protect your hands (unless you enjoy having golden hands that require a thorough scrubbing, in that case, carry on)
Use a soft piece of cloth, like a piece of cotton t-shirt or decommissioned sock to apply a small amount of Rub'n Buff to each piece
And, you guessed it: rub and buff
That is it. Done. Pat yourself on your back. You restored hardware.
Can you tell which pieces got the Rub'n buff treatment?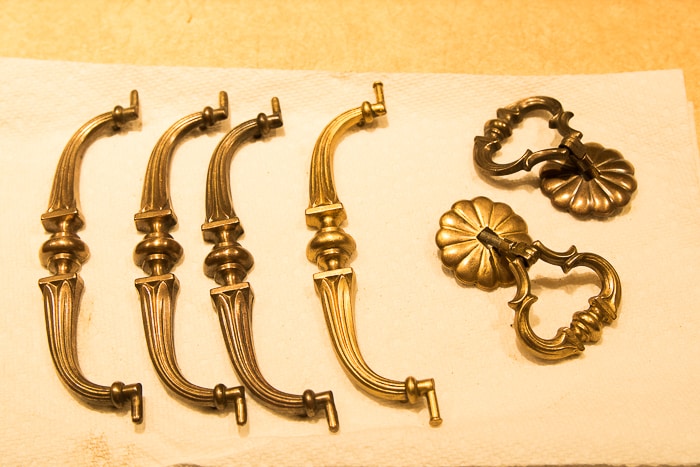 Looks great, doesn't it?
Here is a sneak peek at the finished project!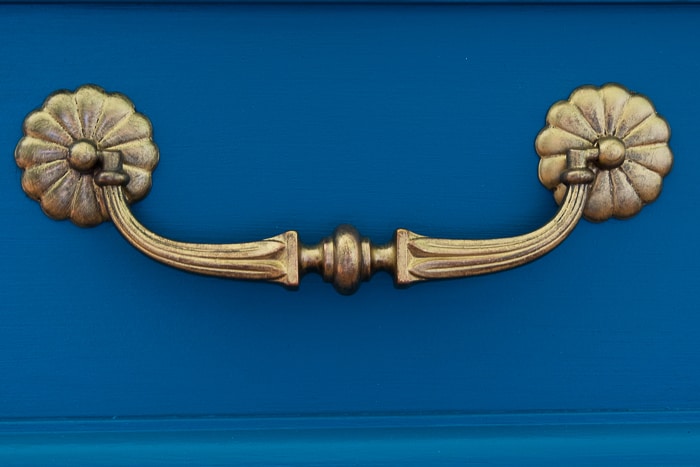 Honestly, I couldn't be any happier with it! Such a cheap and easy upgrade!
List of supplies:
Bottled Lemon Juice
clean, lint-free cloths (old t-shirt or cotton socks)
paper towels
glass bowl
dish soap
Now you are ready to go out and bring some hardware back to life, right?
Thanks for checking in today! Dixie is all done and waiting for her big reveal on Thursday! Hope you'll come back and check her out!
Better yet, subscribe and you won't have to stress yourself about having to remember. It's that easy!