The holiday season is here and with it comes unique challenges that can spell disaster. But don't worry, there are simple steps you can take to ensure that every member of your household, even the furry ones, can enjoy a safe Christmas.
If you want to prevent accidents and injuries especially, if you have pets or little children with curious hands, read on!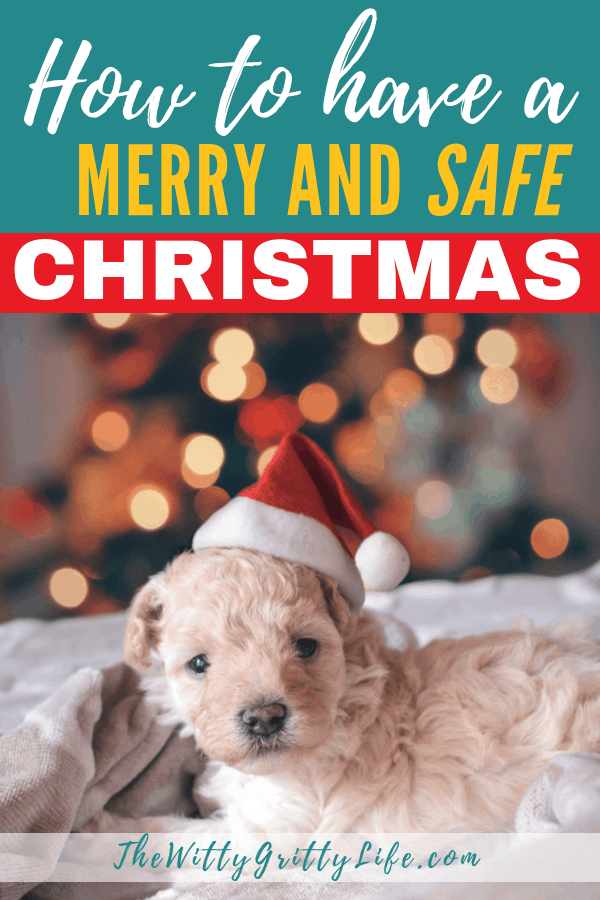 At our house, this issue moved to the forefront when we brought our rescue kitten "Walli" into our lives. Of course, we had always made sure not to make the obvious mistakes like leaving candles unattended, but that was about it.
After all, our gentle, calm soul of a black lab mix never bothered any decorations. But we quickly realized that Christmas with Walli would be a challenge.
He is not our first cat, but unlike our previous cats, he is super high energy and gets into everything. Our other cats loved hanging out under the Christmas tree, never messing with it at all.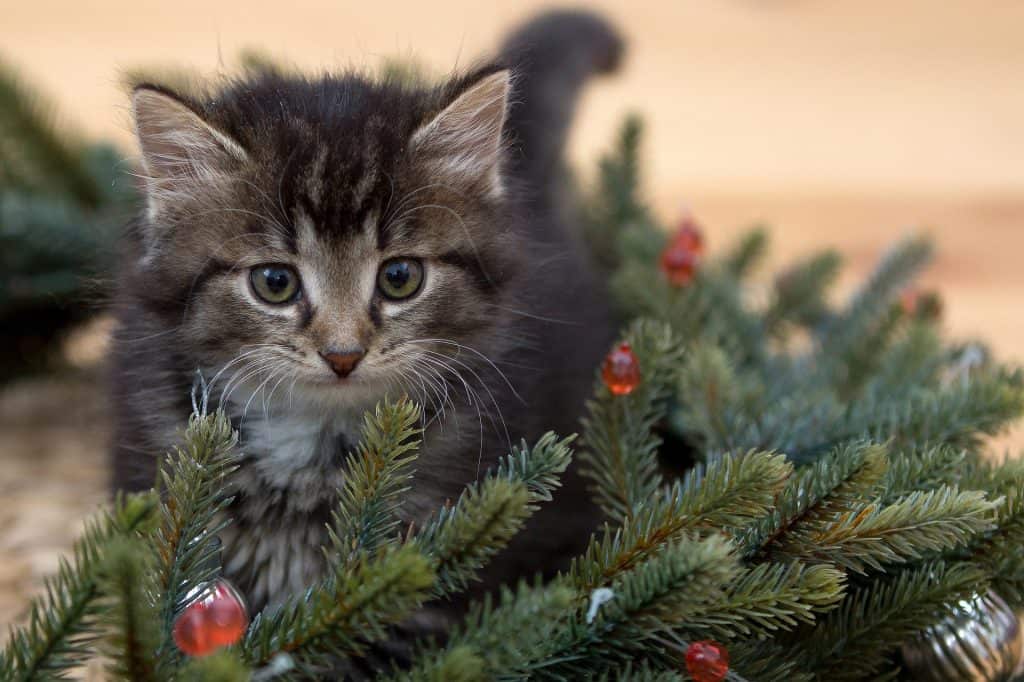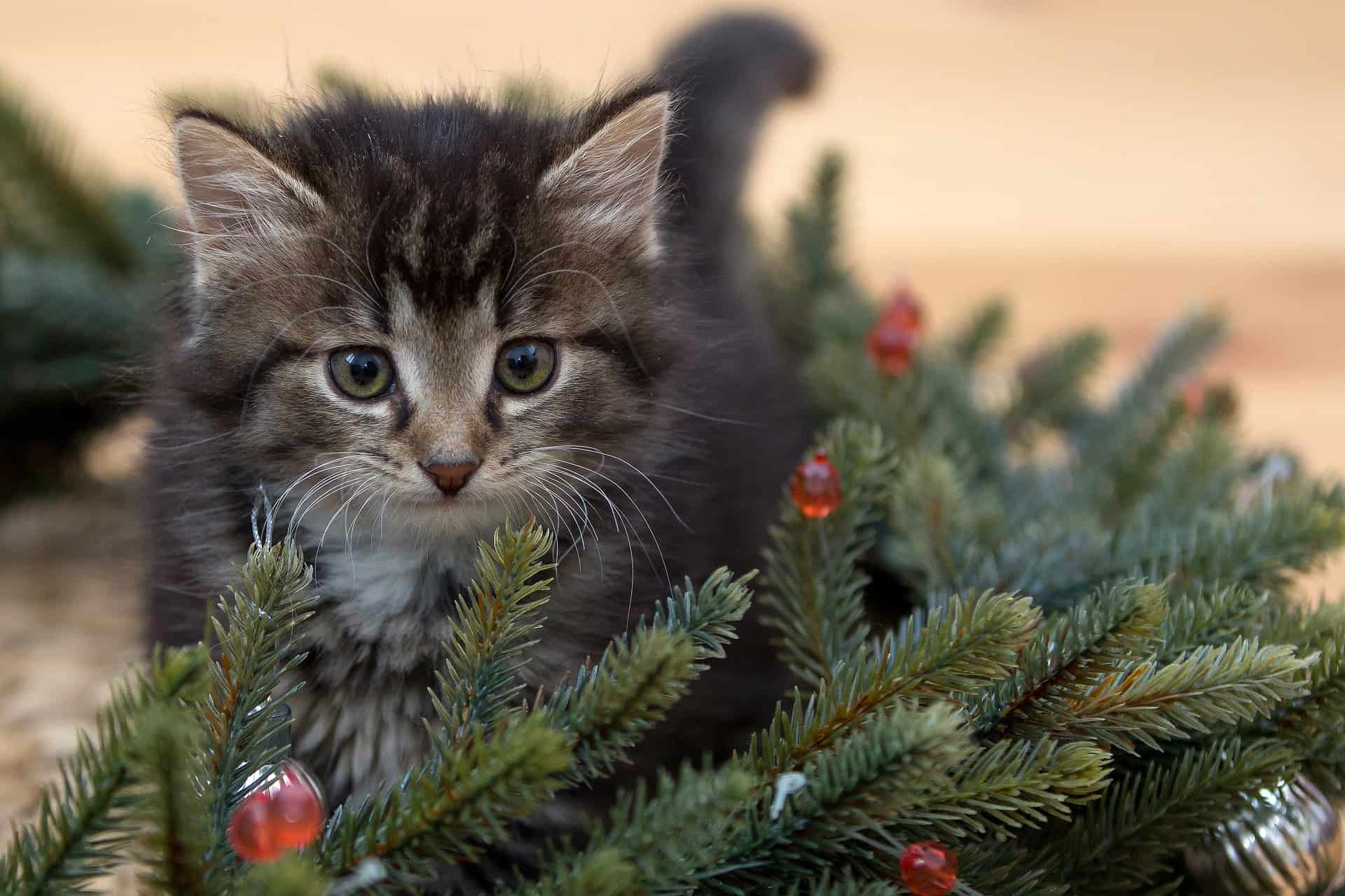 Inquisitive, energetic cats aren't the only ones who can make decorating for the holidays challenging. Looking back through my own childhood even, there were a few times when Christmas joy could have turned into an emergency room visit! Had emergency rooms been a thing back then… More on those experiences later.
Because Christmas with all its decorations and festivities should be full of joy and magic, I wanted to create this guide to help you easily check this one very important thing off your list. After all, few things are more stressful than worries about keeping everyone safe!
This post contains affiliate links for your convenience. You can read my affiliate link policy here.
HOW TO HAVE A MERRY AND SAFE CHRISTMAS
One of the most common and potentially most devastating Christmas disasters is FIRE. Every year people die tragically and countless others are injured due to flames sparked by Christmas-related activities. Knowing how to prevent these from happening in the first place, should be on the top of your priority list!
According to firefighters across the nation, the most common causes of Christmas related home fires include:
candles
Christmas trees
cooking
space heaters
CANDLES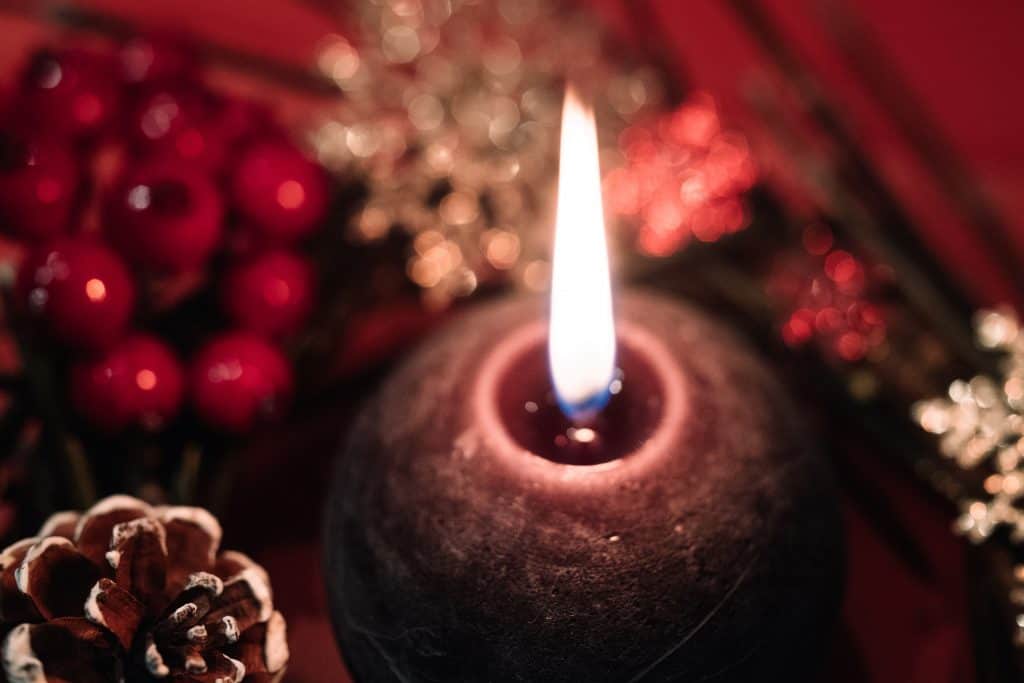 What I am about to ask you may sound a bit harsh, but please hear me out. Ditch candles. Candles, speak open flames, just don't mix well with rowdy pets and inquisitive little kid hands.
There are so many realistic options that will give you the mood and ambiance you are looking for without the fire hazard. My personal favorite kind: flameless battery operated candles with remote control!
Now tell me that is not a fantastic invention! No need to get up and blow out several candles after a long hard day of shopping or other holiday prep counts as a win in my book. Stick to neutral models and use them in your decor all year!
CHRISTMAS TREES
Fresh Christmas trees that have dried out are essentially tinder. Oils in dry trees act like an accelerant, which means that they not only catch fire quicker but also burn much more rapidly. Combine that with an overload of electric lights or the open flame of a candle and you are in for disaster.
Even though artificial trees have a better record when it comes to catching fire, they should never be left unattended with the lights on. Always be sure to turn off any Christmas tree lights before you leave! Make sure your fresh tree has plenty of water and is seated properly in a sturdy, well-made tree stand.
To ensure you are getting a truly fresh tree visit a local tree farm if you can and cut your own. Google "Christmas tree farms near me" to find one. This article has good pointers on how to make sure your tree stays fresh.
Not all tree stands are made alike. Most rely on fairly flimsy screws to hold the trunk in place. I have never found this to be effective. Be sure to invest in a solid model that will hold your tree securely without too much hassle. The Krinner Genie XXL has a foot-operated ratchet system with five prongs to hold the tree securely in place. A 2.5-gallon water reservoir will help you in keeping your tree well hydrated. Consider it a solid investment into future Christmas happiness. For extra floor protection opt for a tree tray made especially for this purpose.
If you choose to cut your own or purchase a pre-cut tree be sure to get one that has not been sprayed with pesticides. The last fresh tree our family brought into the home apparently was. After watching our youngest experience a serious case of hives through the entire holiday season, we found out the fresh tree was the culprit. This was confirmed because as soon as the tree was removed from the home, the hives became history.
Always inspect Christmas tree lights for frayed and/or broken wiring and replace if needed.
COOKING
When you are expecting company for dinner, the kitchen can become a crowded and hectic place. Be sure to keep kids and pets out of the kitchen altogether if possible, or at the very least assign a person who is not cooking to keep a close eye on them.
Little ones reaching for enticing looking cookies in a hot oven are a recipe for disaster. Learn how to prevent and deal with different types of fires in the kitchen, i.e. grease fires ahead of time and make sure you always have a fire extinguisher handy just in case.
SPACE HEATERS
Blankets, pillows, or stuffed animals left too close to a space heater will quickly ignite. The same goes for space heaters toppled over, unattended, and too close to furniture or curtains. Bright red lights are interesting to small children and beckon to be investigated. Space heaters left on top of a small table can be knocked over by a playful cat or even a hard wagging dog tail!
Make fire safety a priority in your home, even more so during the Holiday season. Check that all smoke detectors have fresh batteries and discuss a fire escape plan with your family and overnight guests well ahead of time.
OTHER COMMON CHRISTMAS SAFETY HAZARDS:
A higher risk of house fires is not the only mishap that can put a serious damper on your holiday spirit. But don't worry every problem has a solution and I would like to show you how to ward them off well ahead of time.
The holiday season comes with its own specific set of dangers for all age groups. Prevention is key to keep everyone safe and happy, especially small children and pets. Here are some of the most common potential hazards:
falls while putting up and taking down decorations

lacerations from picking up broken glass ornaments

swallowing or choking on small decorative parts or ornaments

bowel obstructions in pets from eating ribbons and string

poisoning from ingesting plant material and foods not suitable for pets or drinking tree water

falling Christmas trees

electrocution from chewed cords

mouth injuries from chewing on and breaking little light bulbs
FALLS
Severe and sometimes fatal injuries from falls tend to spike around Christmas time. Be sure to be extra careful when putting up decorations inside and out, especially if a ladder is required. Ladders should be solid and secure. Don't try to reach too far.
Keep decorations limited to areas you can move to and on safely. Pick a calm dry and ice-free day to install outdoor decor. Be sure to enlist help so you don't have to carry and reach for decorations. Decorate higher areas of the house from the inside by placing battery operated lights in windows.
The same safety rules apply for decorating indoors. Make sure you only use secure ladders and solid step stools when putting up decorations and employ a helper!
LACERATIONS
Many Christmas ornaments are made of glass that is easily broken or crushed by curious little hands. If you have little ones in your home or expect them to visit, be sure to hang glass ornaments out of reach. Alternatively, display your most precious and delicate glass ornaments behind glass (like in a china cabinet) by hanging them from an ornament display stand.
A surprising number of injuries can also occur while opening presents, especially when sharp knives are used! And let's not forget those pesky papercuts from wrapping presents.
SWALLOWING OR CHOKING
Cute and adorable ornaments often come with small parts or parts that are loosely attached. They can easily be mistaken for candy or toys. Toddlers love to put everything in their mouth and can easily choke on small ornaments. The same goes for ornaments swiped from the tree by playful cats. Carefully inspect any ornaments or decorations for choking and swallowing hazards.
BOWEL OBSTRUCTIONS
Cats and dogs see strings, ribbons, feathers, and tinsel as fun toys that need to be eaten. Unfortunately, all of those can create serious problems in your pet's belly that may require surgery. Keep any ribbons, feathers, and tinsel off the tree and dispose of any wrapping materials as soon as the gifts are opened.
POISONING
While poinsettias get a bad rap for being poisonous, they are, but mildly so, there are other equally common poisoning hazards in every home. If you have a fresh tree, make sure your pets cannot drink the water from your tree stand. Standing water harbors bacteria that can make Fido or Fluffy seriously ill.
Another common cause of pet poisoning is the ingestion of foods that are toxic. Here is a list of foods your pets should never eat.
And no matter how much your pup wants to partake in the Christmas ham, stick to dog appropriate food. Most human foods are much too high in fat and sodium and can create serious health problems. And your dinner guests will appreciate not having to deal with a begging dog at the table.
FALLING CHRISTMAS TREES
Cats are notorious for toppling Christmas trees. What else would they think to do when someone puts a cool tree filled with amazing toys right in their living room? Cats are curious creatures and they are not afraid to climb.
Avoid having to decorate the tree more than once or risk losing your most precious ornaments (see above) by securing your tree to the ceiling or wall or both with hooks and monofilament fishing line.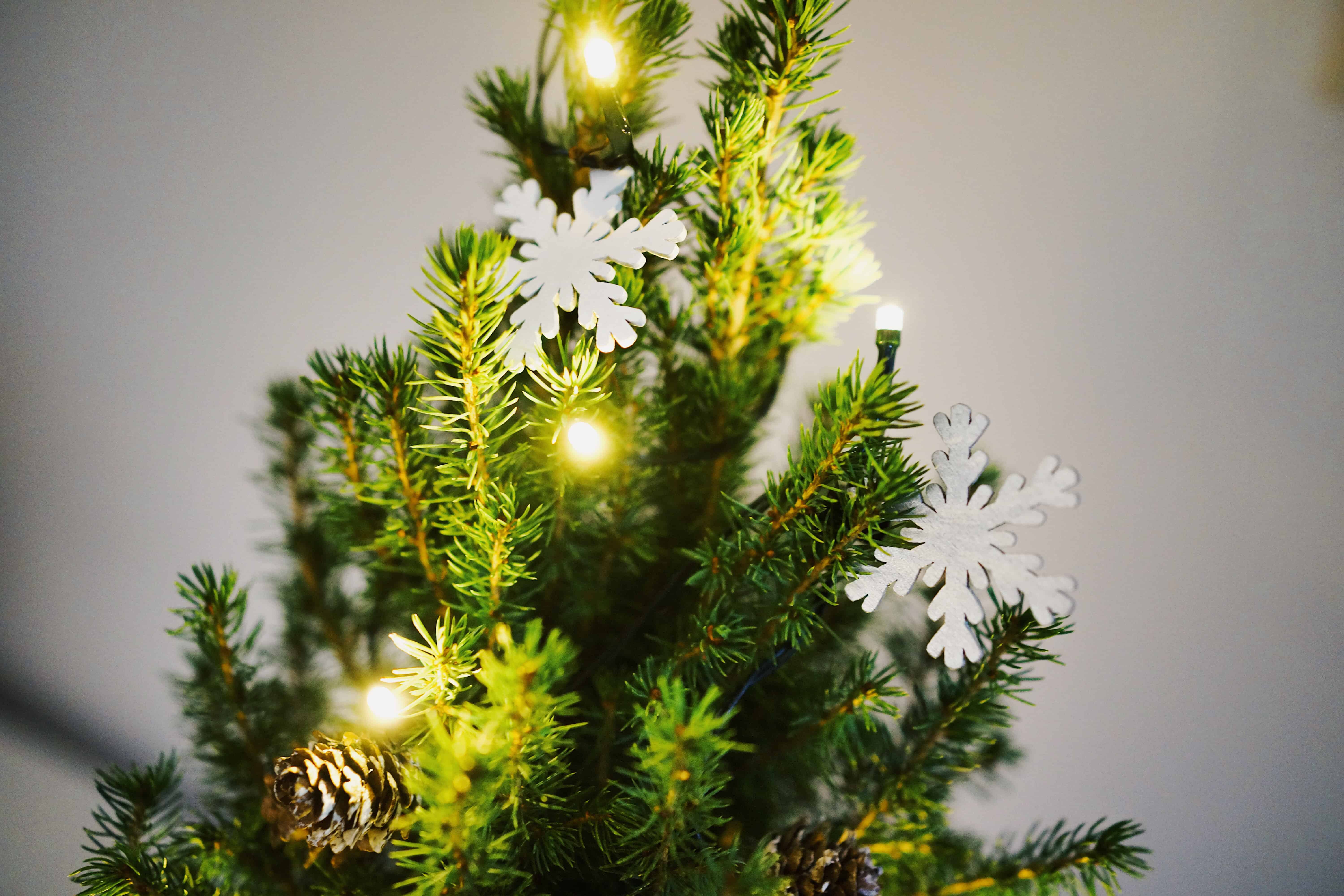 ELECTROCUTION
Cats and puppies like to chew. Unfortunately, they can meet a sad end if they chew through electrical cords and get electrocuted. Frayed and chewed cords also present a serious fire hazard as mentioned above. You may want to opt for cordless battery operated clip-on candle lights for the tree to eliminate cords altogether. The best part? They come with remote control.
I just ordered these and I am so impressed with the quality. The candles are about six inches tall. Of course, you will need far fewer lights with this type of lighting. Two sets of lights should be more than enough for a 7.5-foot tree. Currently, they are only available as white lights. Use battery-powered lights in your windows as well.
Another complication is chewing on light cords is the potential for chewing on small lightbulbs and subsequent injuries. Closely supervise both children and pets.
OTHER TIPS:
Don't use scented candles and products like sprays or potpourri to evoke the Christmas spirit. They can contain chemicals that are hazardous to little lungs. Potpourri is easily ingested. Instead simmer cinnamon sticks, cloves and orange peels in a small crockpot with a timer on the kitchen counter.

Diffuse essential oils intermittently, but use with great caution around pets.

Closely inspect all of your holiday decor for potential hazards such as the ones mentioned above, safely dispose of and replace any broken ones.

Cut down on the overall amount of decorations will likely make your home safer and less cluttered as well.

Secure all lights and garlands with clips.

Make sure any cords and wires don't pose a tripping hazard.

Provide a safe space for your animals, i.e. a quiet room, to give them a chance to get away from Holiday turmoil.
Sign up for my FREE resource library filled with fun printables, recipes, and checklists here:
Follow these suggestions and you should be well on your way to enjoying a merry and safe Christmas. Hopefully, you'll never have to deal with a four-year-old little girl who loved that shiny beautiful glass ornament so much, she crushed it and cut her little hand to shreds on Christmas Eve.
Yup, that was me! Guess how many times I've heard that story? Or the time two year old me ate all of the candy decorations off my grandmother's tree and then threw up all over the place?
Oma never put candy on the tree again, much to the dismay of my cousins. Ah yes, and there was the one year I singed off my little eyebrows admiring the candle flame on the advent wreath on the kitchen table.
Now those are some fun memories! Gosh, come to think of it I was a serious Christmas hazard. How my parents were brave enough to put real wax candles on the tree with two young children, I will never know. Needless to say, we lit that tree once or twice during the season – with eagle eye supervision.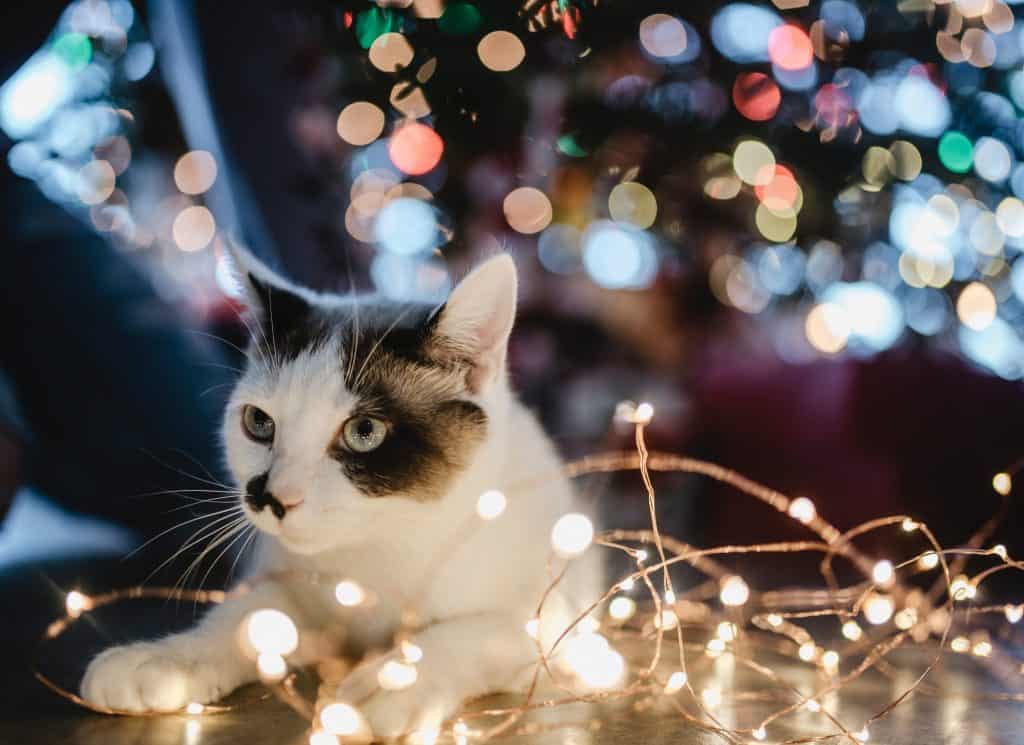 Have you checked out my super easy Christmas snow globe yet? Our cat is not bothering it at all!
May you have a lovely Christmas you and your loved ones can remember for all the right reasons!
HAVE A MERRY AND SAFE CHRISTMAS!