Do you remember pressing your nose up against the glass to admire those beautifully decorated store windows right before Christmas when you were little? Gosh, I sure hope you got to do that because it was simply the best. I consider myself lucky because when I was small, supermarkets and big-box stores weren't a thing yet.
While it may seem a bit tedious today, my parents, well mostly my Mom, actually had to walk from one store to the next to buy what was needed. You know, the butcher, baker, candlestick maker, well something like that. Each one of the stores made a big effort to draw you in, especially around Christmas time, with their elaborate storefronts. Just as though all you imagined Christmas to be was right there in front of you. To me, it was pure magic. And today's little project kind of reminds me of those window displays, in miniature format, of course.
I have been making these easy Christmas snow globes for a few years and love them each time. Actually, they are one decoration I generally leave up through the entire Winter Season and you will see in a minute how you can, too! They are like mini snapshots of various Holiday/Winter scenes.
Another thing I love about this simple craft is that you can personalize it completely to your own taste. I chose a woodland animal scene because it brings back so many wonderful memories of long walks in the snowy forest in Germany. Snow-covered woodlands were also very popular in many window displays. With the fluffy white snow transforming the landscape, there was always something magical in the air.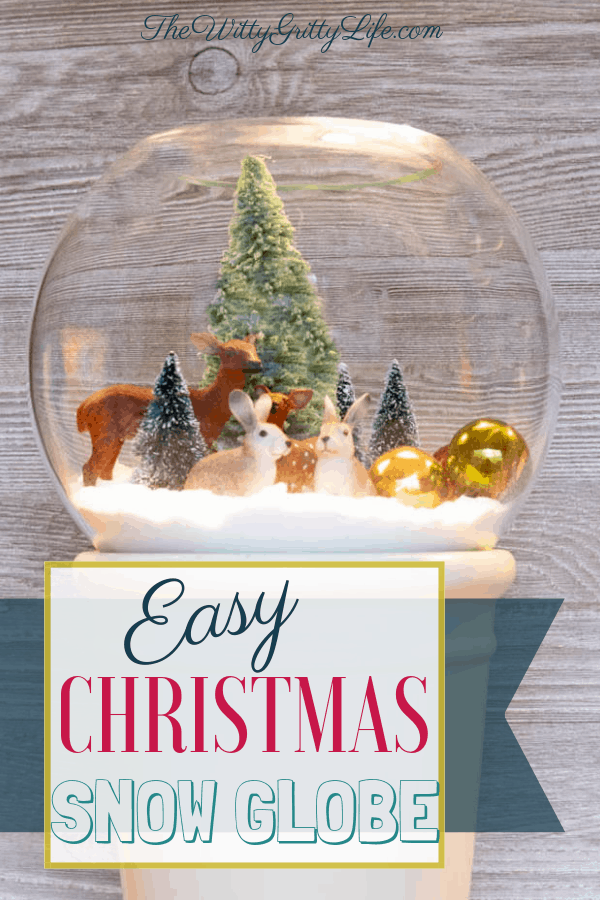 Of course, I also wanted to use materials that are cheap and easy to find. You can score a lot of the mini decorations that would look great in this project for a steal at craft stores right now!
This post contains affiliate links. You can read my affiliate link policy here.
HERE IS WHAT YOU WILL NEED TO CREATE YOUR EASY CHRISTMAS SNOWGLOBE:
HOW TO:
That is where it just doesn't get any easier! Just add some "snow" to your globe. The amount depends on the size of the vessel. I used about 1 1/2 cups here. For snow, you have several options. There is, of course, the synthetic store-bought kind. And it is fine to use, but I much prefer natural ingredients whenever possible. Baking soda is readily available, as is Epsom salt. I used the baking soda here, simply because I didn't have enough Epsom salt available. The latter has a little more sparkle and shine if that is what you prefer.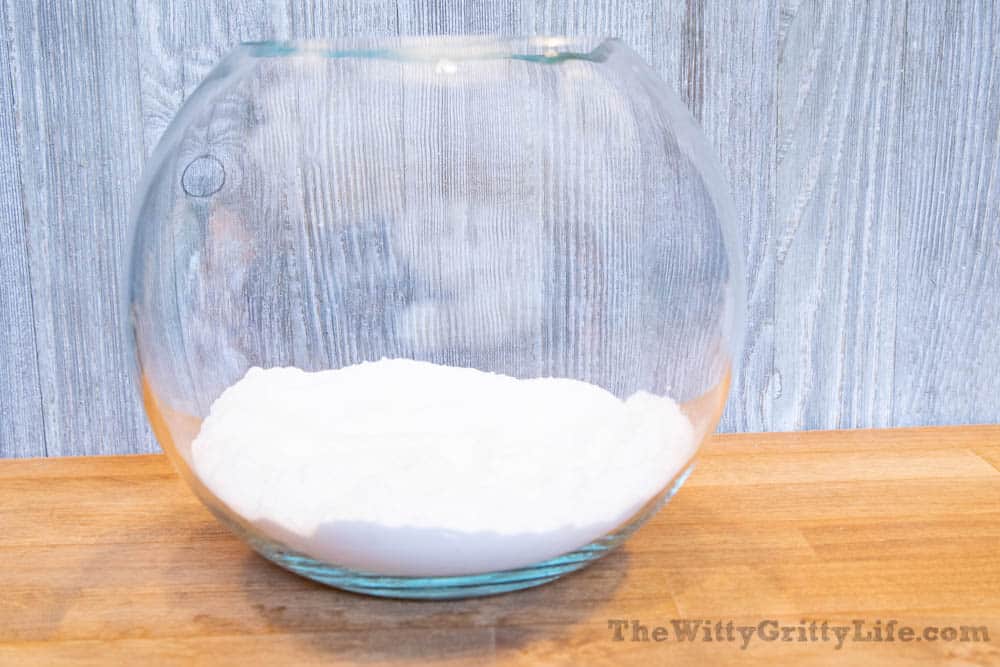 And here are some of the animals I had on hand from previous years: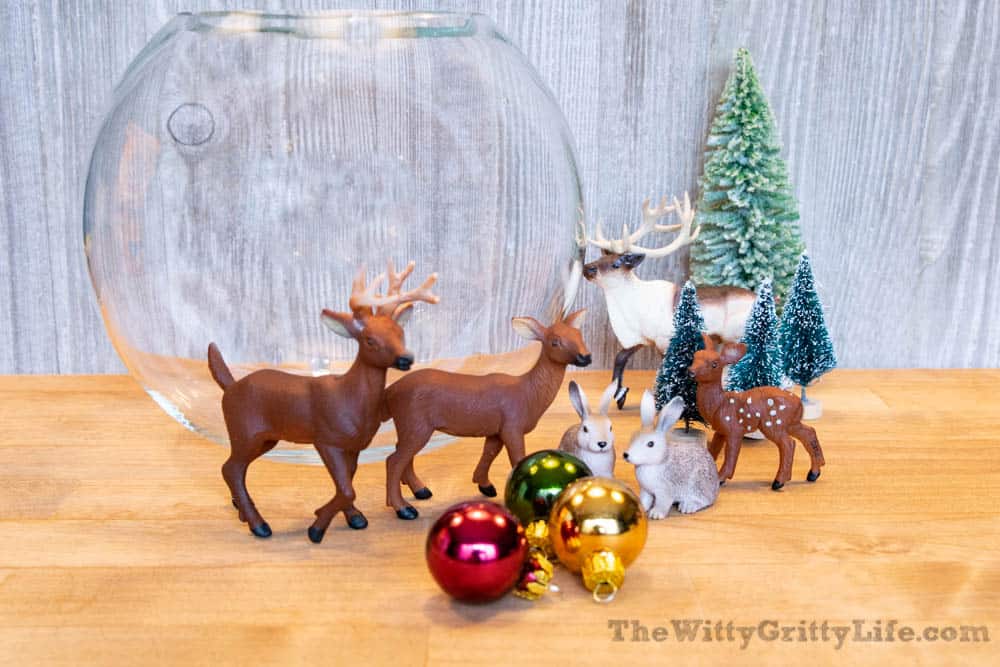 Once the snow is added arrange your decorations on the bottom of the globe or jar the way you like them. If it is to be displayed in a way that it will be admired from several angles be sure to arrange your figures in a way that looks great all around. Otherwise, begin at the back with taller elements and place them more towards the front according to size.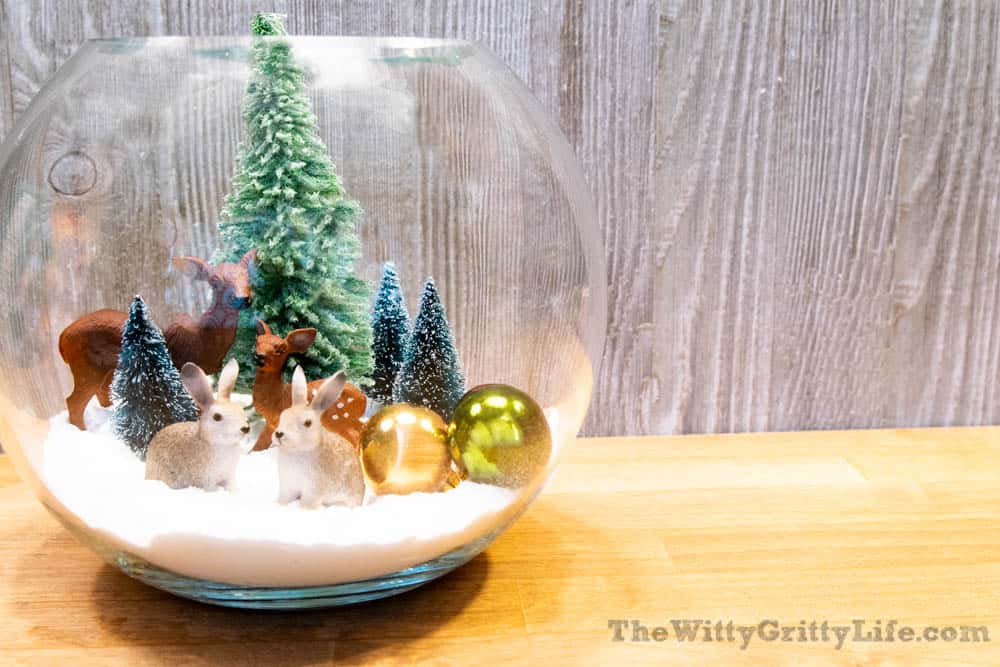 Simply remove the little Christmas balls for a Winter display you can continue to enjoy until warmer weather is around the corner. Aren't they like little Winter fairy gardens? Create several globes with similar winter scenes and display them at varying heights for added interest.
And that is my little, but super cute craft for the day. Start a new tradition with your kids and let them create a few of their own!
For more craft ideas, recipes and Holiday printables be sure to sign up for my FREE resource library right here:
Wishing you a very Happy Holiday Season! I'll be back soon with more ideas to create fun gifts your friends and family will love!
Be sure to check out my Facebook Group, follow me on Instagram or Pinterest for more tips and ideas! Would love to see you there! And don't forget to sign up for the FREE and ever-growing resource library!