Happy Tuesday to you all! We just returned from a camping trip and my batteries are recharged! Nothing like some outdoor fun and hanging around the campfire:) It is like hitting the reset button. Having amazing weather certainly didn't hurt!
Today I wanted to check in with you and share one of my most favorite things, something of an obsession with me. Or you could call it a collection, either way. What makes it even more fun is that these items always come from thrift shops or my favorite home consignment store. And you know how I love thrift shops! The pieces I have found on my little excursions often cost less than a dollar. I believe the most I have ever spent on a piece was about $12, because I just had to have it.
To say I love pressed glass would be a bit of an understatement. All the pretty colors and patterns – swoon. And since it was pretty popular in the middle of last century, it fits exceptionally well into the Mid-century Modern style that I am so fond of right now. But it is by no means strictly Mid-century Mod.
So what exactly is pressed glass? According to Wikipedia, it is glass created with a technique used to press molten glass into a mold using a plunger. It was first patented by John P. Bakewell in 1825 to make furniture knobs. Many also know this style of glass as "Depression Glass", because it was inexpensive to make and quite popular at the time. Today Depression Glass remains a very popular collector's item with rare colors such as canary yellow, purple, black, opaque green and cobalt blue fetching nice prices.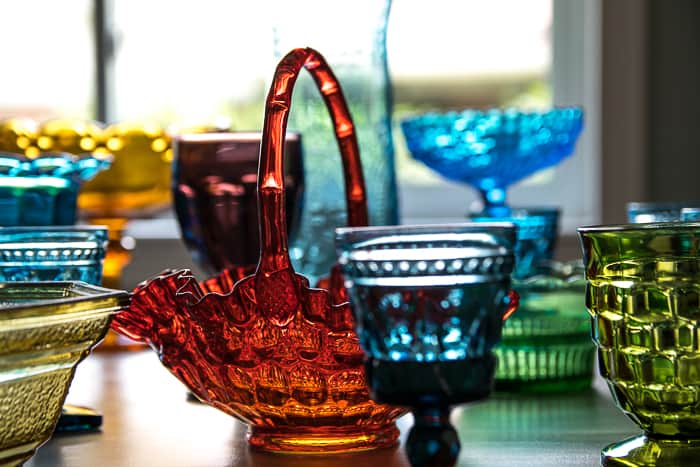 Much of what I generally find in the thrift shops are pieces from the 50's and 60's. I am not a serious collector, nor do I have a great deal of special knowledge about this type of glass. But that doesn't mean I can't be a connoisseur, right?
Pressed glass items are also about as American (made) as it gets, provided you stick to the vintage variety. Most are familiar with Fenton glass or the Indiana glass company, but there are many other well known American makers, some of whom still exist today.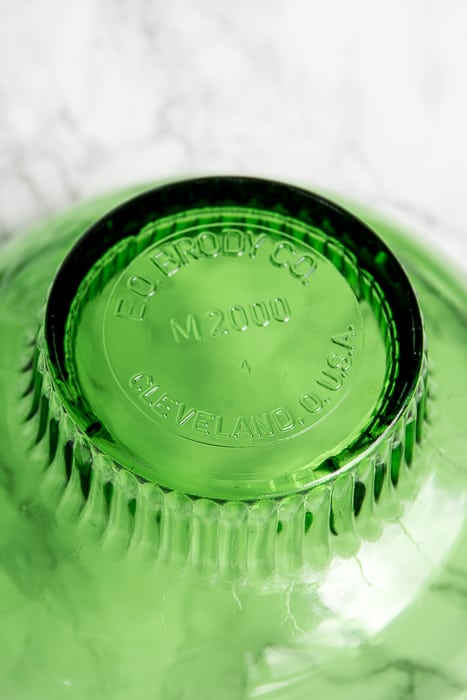 What makes pressed glass so uniquely versatile is that many of the pieces play well alone or in groupings. Some patterns are intricate and delicate, while others are plain and bold.
Just in our house colored glass is "pressed" into service as tea light holders, pencil cups, jewelry keepers, vases, planters, fruit bowls and yes, drinking goblets! Here is one of my favorite uses!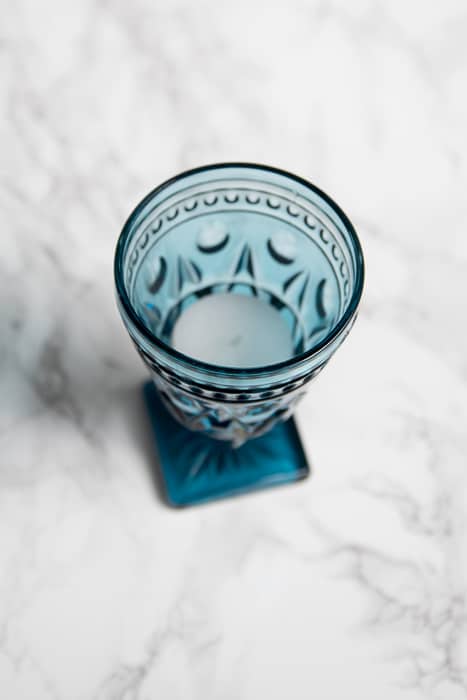 When the candle is lit, the colored glass adds beautiful ambiance to any table setting. If you would like to use them for drinks at a later time, just pop in a battery powered tea light instead to save yourself from having to clean up wax.
And speaking of serving drinks, don't you think these are amazing?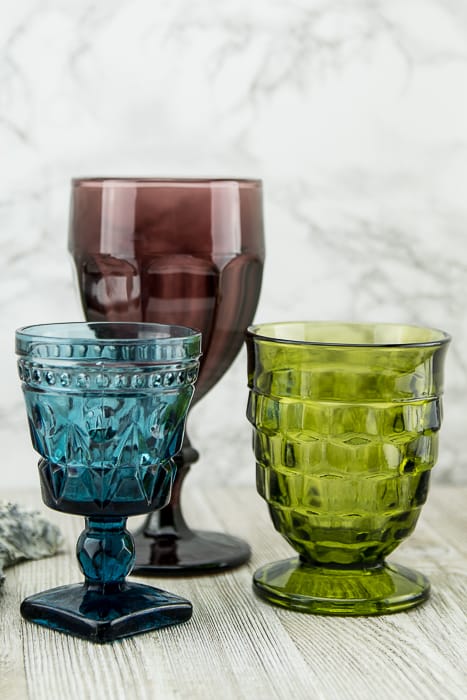 While the colors are fun and peppy, sometimes the eye is happier with a more soothing and monochrome display. Milk glass fits that bill perfectly.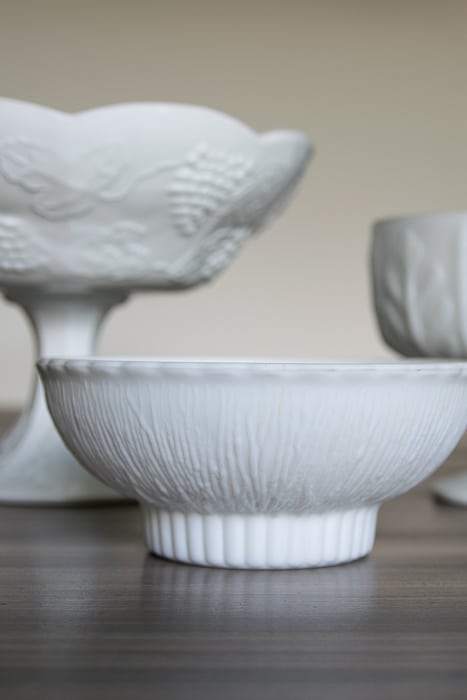 Don't you just love the various shapes and textures? Another option is to just plop in a succulent: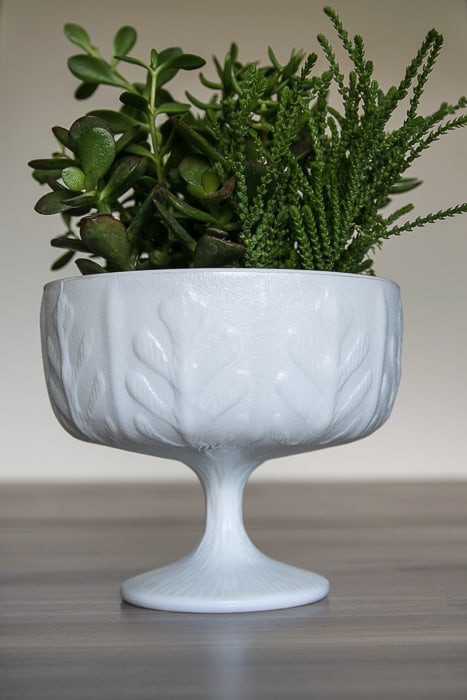 Just plop the planter in the bowl and voila! Doesn't get much easier than that, now?
What do you think? Have you ever been tempted to buy some pressed glass at the thrift shop, but weren't quite sure what to do with it? Do you own some pieces? I would love to hear what some of your favorite uses are for this fun home accessory!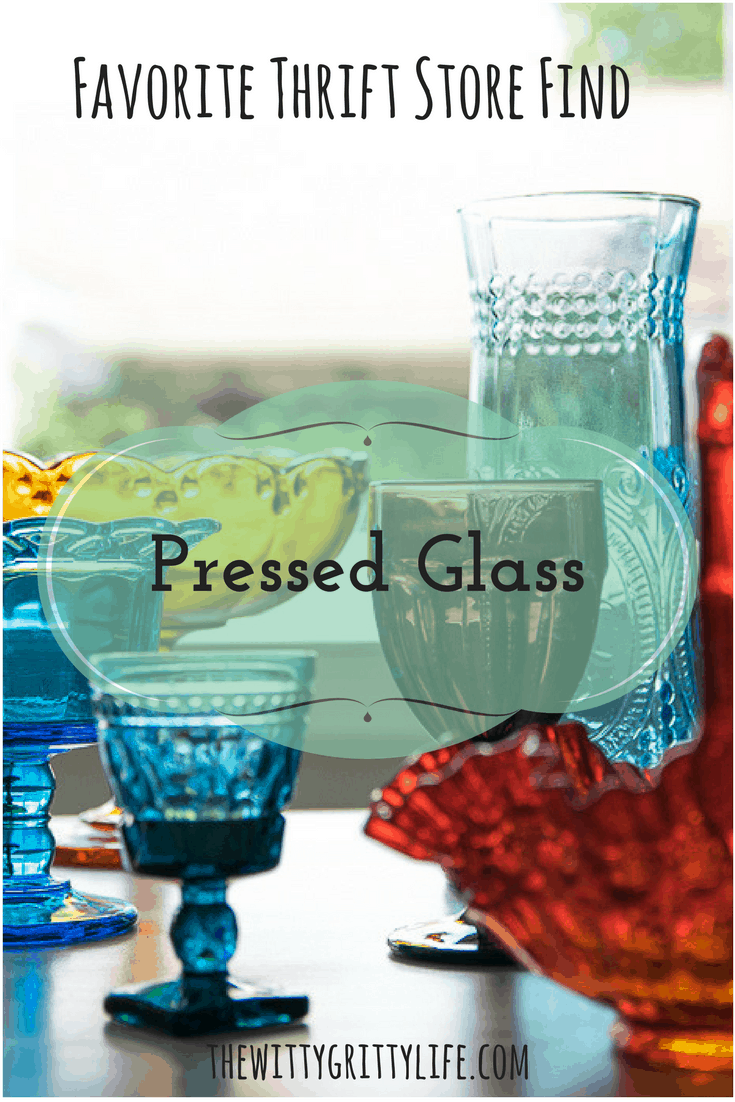 I hope I have inspired you to go out and find some pressed glass treasures of your own! Please be sure to share them for all to see on my blog Facebook page!
Have an awesome day!