Sometimes life is just plain hard. You try and try to get a grip, work to make everything run smoothly but something always seems to throw a curveball at you. If this is how you feel most of the time, you are not alone. Life is what happens when you make other plans, right? But even though it may seem as though we have very little control, there are ways we can make it easier on ourselves. And I would like to share some of them in this post with you.
It's been a rough week at our house. Much of it was spent wrestling weeds out of the yard and finishing getting the garden planted. For added interest my guys, all three of them, added some extra spice in the form of an ER visit for profuse nosebleeds (son), a vet visit for a broken tooth (dog) and a doctor's visit for poison ivy (spouse). To keep the momentum going above mentioned offspring shoved a big metal car down the toilet. Thankfully Mr WittyGritty was able to retrieve it and the bowl lives to see another day.
Living the dream my friends, living the dream.
Life's little curve balls and "brush fires" cannot always be avoided, but are you actually making some things harder than they need to be?  In the spirit of keeping it simple and common sense, today's post focuses on things that are not only easy to implement, but also easy to keep up. And did I mention they are free or cost mere pennies? All of these tips are little time and sanity savers that will definitely free up some valuable time for say, unplugging a toilet. I kid. Hopefully you are able to use your saved time in a much more fun way!
1. Ditch the top sheets  
Love having a made bed, but don't want to deal with the hassle of all those blankets and sheets? Get rid of those unnecessary top sheets and added blankets and use a duvet cover instead. Having grown up in Europe, speak without top sheets, I really never quite understood the reasoning behind using a top sheet.
After years of tackling them every morning, I finally decided to go back to my old world ways and ditch top sheets in favor of a duvet cover. Now making the bed is simply a matter of straightening the pillows, smoothing the bottom sheet and pulling up the comforter. Bed made. Would I like to have an elaborately styled bed with all the fixin's? Sure, but who has time for that? Invest in a well made comforter (I have had a nice down one for years) and I assure you you will be comfortable year round.
Such a happy look!
or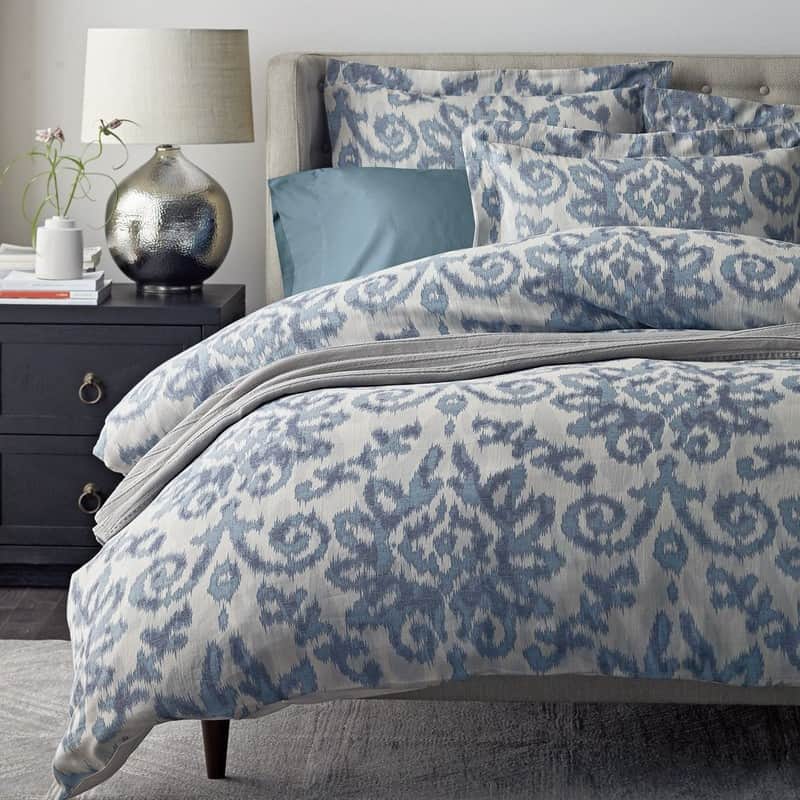 What to do with the top sheets that came with your sheet set? Well, make a duvet cover, of course! If you can sew a straight line, this is the project for you!
2. Arrange furniture to make sweeping and vacuuming easy
When you live with a kid whose sole mission in life is to spread crumbled dirt through the house, as mine does, there is no getting around daily vacuuming and frequent sweeping. You should be able to accomplish this without being impeded by ill placed furniture. Life got easier when I decided to space my living room furniture in such a way that I can easily vacuum between the sofa and end table, the book cases, between the arm chair and ottoman.
All it takes is moving your furniture an inch here or there to allow space for the vacuum head to easily glide in between without having to move it every time.
3. Set up an envelope system to save all of your receipts
At the beginning of each year I sit down with 13 envelopes and write the name of a month on each one plus an extra for gifts. Now we put each and every receipt in the envelope that corresponds with the month.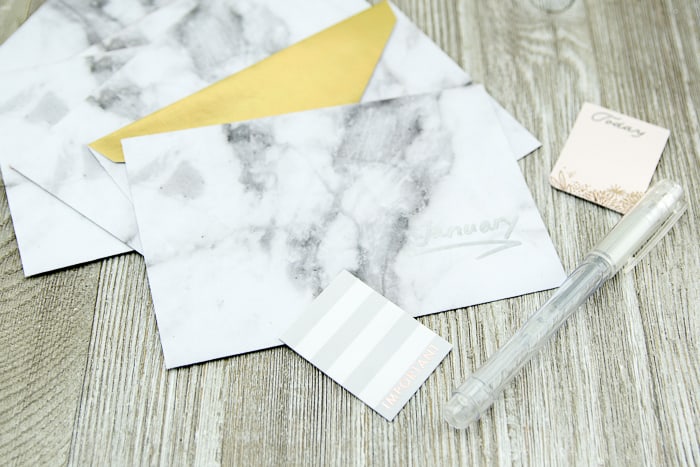 How is this a time and sanity saver? Ever wanted to return an item, but couldn't find the receipt? Thought so. This used to happen to me all the time. And sadly there were a few items that never got returned, because the receipt was never found.
We have made it a habit to just automatically put each receipt in the monthly envelope right as shopping bags are emptied.
Are you trying to come up with a budget? This simple little system makes it easy. Just tally up your receipts on the back of the envelope each month to get a handle on where your money is going and start your budget from there!
4. Remove all unnecessary clutter from counter tops
When I recently shared my bathroom cleaning system, clearing the counter tops was one of the steps. Nothing says disorganized mess like cluttered counters. Take a few moments to decide what really needs to be seen and put the rest away. Not only will you wind up with fewer items to clean, you will likely be much more motivated to give your counters a quick wipe when you don't have to shuffle items that are in your way. Here is some inspiration for you!
5. Make a weekly cleaning schedule
Assigning tasks to certain days of the week has been a game changer for me. You can set it up any way that works for you, but I have found bundling certain tasks to be easiest for me. Designating Monday's for bathrooms, Tuesday for floors and surface dusting, Wednesday for grocery shopping, etc. has made it much easier to plan ahead. You can set this up on a room by room basis, but I have found tackling something like just floors, or windows  or dusting – all throughout the house is a huge time saver. Jen over at iheartorganizing.com makes setting up a schedule easy with her pretty and free(!) printables!
6. Set up a cleaning caddy
While we are on the subject, setting up a cleaning caddy will make your life even easier. With everything you need at hand in a convenient little basket, you save time having to hunt for every thing you need. #lazyhousewife I love making my own cleaners. They cost mere pennies, I essentially never run out and it saves me time at the store. And they are non-toxic to boot! A win all the way around.
7. Use a shopping app on your phone
Have you ever made a fantastic shopping list and promptly forgot it at home? I sure have! Putting your list on your phone is fast, simple and you are much less likely to forget your phone. So be kind to yourself, save a tree and use a shopping app. I have been using my trusty "out of milk" app for years. You can easily set up multiple lists, one for each store. Just check off your items as you buy them. The app keeps them in your cart. Next time you need to make a list, just move the items back out of the "cart" onto the list.
Another option is to use store apps that allow you to clip digital coupons and create a shopping list at the same time. No more time consuming searches through piles of coupon books.
Here's a helpful list of this year's best shopping apps!
8. Put a stain stick by each dirty laundry basket
Don't you just love finding a laundry stain that has hopelessly set, because someone snuck the article in question into the basket? My guys, big and small are hard on clothes. When it comes to most stains, I don't even ask anymore, but I do ask them to treat the spots before they go in the dirty laundry basket.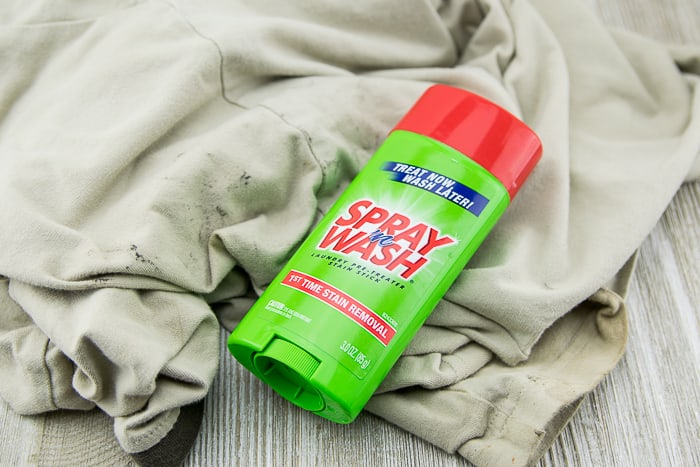 My mystery stain laundry woes decreased tremendously when I put a stain stick by each basket and asked that my guys apply the stick to their stains before dumping their items in it. 80% of mystery stains now come out without a problem. In my search for a more natural, non-toxic version of my trusted spray and wash stick, I came upon this recipe and cannot wait to try it! I promise to share the results with you when I do!
9. Cook enough for at least 2 meals
Not only does this save time, but money as well. Cooking extra at dinner time takes the guess work out of lunches for the next day and hopefully dinner as well. Does this mean you have to eat the same thing two days in a row? Not necessarily. There are many different meals that can be created with ease from one piece of meat. Roasting two chickens is not much harder or time consuming than roasting one. Serve a roast chicken dinner one night, create a completely different meal with the second bird the following day. Whatever keeps you out of the drive thru at your fast food joint or a restaurant for dinner! I've been doing this for as long as I can remember, the time savings alone are enormous and my guys don't mind!
10. Set up a donation box
Make sorting through clothes and other items easy by designating a donation box. Mine is in the laundry room, because it's easy to wash clothes that no longer fit and just toss them in the box. Having this setup (doesn't need to be big) encourages other members of the family to donate items no longer in use and and makes purging the house a snap.
Little changes can save you a lot of time and effort over time! And as you can see, often they require nothing more than a minor adjustment and a little imagination. Have you found any helpful tricks that make life easier on a daily basis! I'd love to hear what amazing tips you have up your sleeve!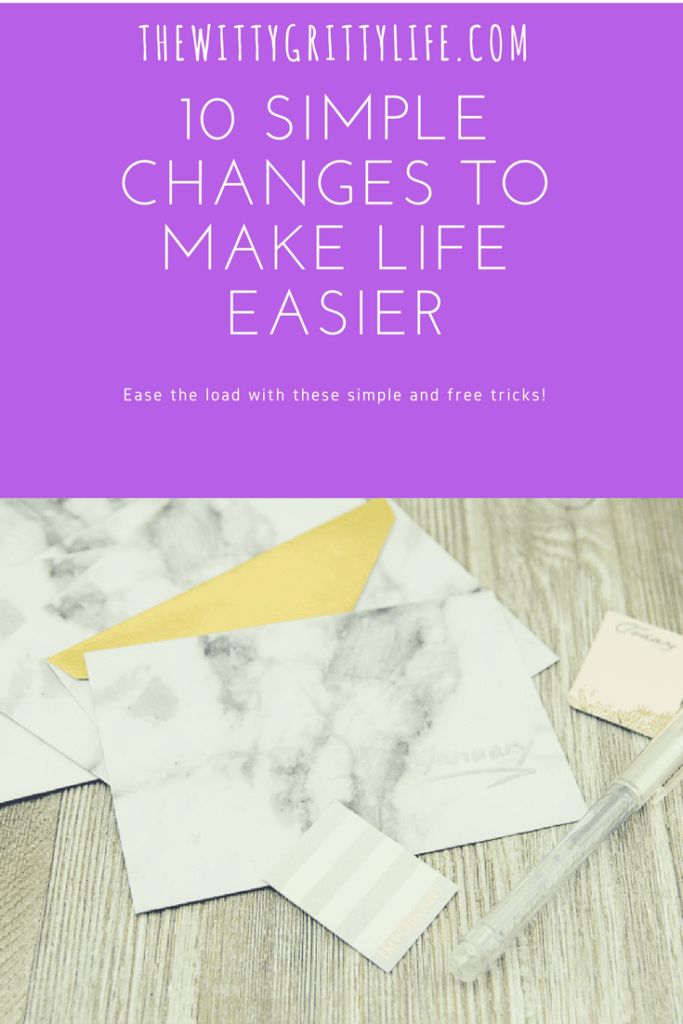 Keep it simple:)