Are you tired of celebrating Mother's Day by taking her to a crowded overpriced brunch and handing her a store bought planter? I mean it's better than nothing, but is that the vibe you want to send Mom for all she does day in and day out? Luckily there is no need to resort to boring fall-back gifts and showing your deep appreciation and love for Mom is neither expensive nor difficult with the guide I put together for you today.
If you are said Mom tired of getting the same old snooze fest for gifts, be sure to inconspicuously forward this post to the struggling gift buyers in your life! It's a win all around:)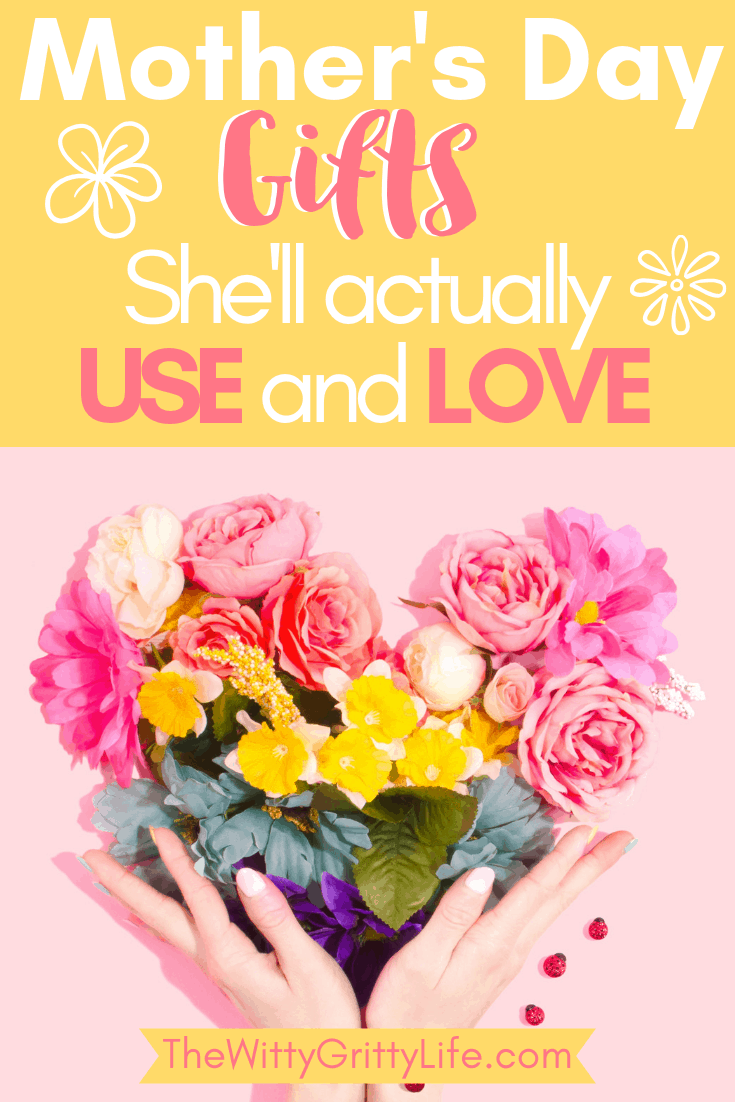 I have been a Mom for nearly 23 years. If there is one thing I can tell you, that above all Mothers want to know that any gift they receive was thoughtfully chosen with care. It doesn't need to be elaborate or expensive, but if it isn't given with love, you are missing your target at best or make Mom feel unappreciated and misunderstood at worst. The good news here is that thoughtful giving is easier than you might think and many Moms have a tendency to leave a trail of hints about the things they love and cherish most. It's not really all that difficult to read the tea leaves when it comes to figuring out what she would really adore.
Everyone has certain likes and loves. Does the special Mother in your life collect certain items? Are there themes that tend to show up in her home and wardrobe? Is she creative? Constantly stressed out? Does she never take time or spend money on herself, because she feels she has neither? All are valuable clues my friend!
Today I put together what I feel is a pretty comprehensive list of gifts that should include something for every special woman who works so hard to give her family a good home and life. Better yet, the list of suggestions you find below works just as well for birthdays or other holidays, even the occasional "just because".
This post contains affiliate links which means that if you make a purchase through one of those links, I may earn a small commission at absolutely no extra cost to you! You may read all of the boring legal stuff here.
Okay, let's dive right in! There is no time to waste!
Mother's Day Gift's She will Love and Actually Use!
When it comes to finding great mother's day gifts you can choose to pick a theme like stress relief or pampering and stick to it or combine gifts that go hand in hand. When curating this guide, I wanted to make sure to include gifts that are both thoughtful and useful. Mom's are really great at taking care of everyone else around them, but tend to cut corners when it comes to taking care of themselves.
Let's face it, stress is part of a mother's job. That makes anything that can ease it the perfect gift for pretty much any Mom. Here are a few tried and true gift ideas that are sure to please. Better yet, they are proven to work!
1. Noise canceling headphones
Relaxing is not easy when there is lots of noise all around. This pair of headphones is bluetooth enabled so there are no pesky cords to contend with. Highly rated for travel (think noisy airplane), listening to your favorite tunes or meditation app or even nothing at all, they have a battery life of up to 30 hours. Several other colors are available and at only around $60 they are a steal.
Why not combine this gift with a meditation app that will help Mom calm down and relax? Here is a useful list of highly rated meditation apps, for both I-phone and Android platforms. Most are free, but offer additional in-app purchases which might be useful once Mom begins to use them regularly. Meditation is a very effective method of stress relief and can contribute greatly to overall wellness. The perfect add on gift for Mom to use with her headphones, don't you think?
2. White Noise Machine
Are you sensing a theme here? Our world has become such loud place that often makes it difficult to relax with all kinds of ambient noise. White noise machines are excellent at canceling all of those pesky sounds when you want to rest peacefully, but don't want to don headphones. This portable option will allow Mom to drown out unwanted noise wherever she goes for peaceful rest. And I love that it looks pretty unobtrusive or dare I say stylish!
This one will be high on my wish list for sure, right alongside this next intruiging little item…
3. Acupressure Relaxation Mat
This next gift is one I have heard a lot of great things about and cannot wait to try for myself. While it looks a little bit like a modern day torture device, the glowing reviews speak for itself. As someone who has experienced both back pain and migraine headaches, I am always looking for affordable, low tech and most importantly, drug and chemical free solutions to combat pain. This looks and sounds like it will do the trick. Bonus points for portability!

4. Himalayan Salt Lamp
Whether or not you believe in the therapeutic value of salt lamps, one thing cannot be disputed: they have a warm glow that can't be beat. I have a couple of them already and cannot wait to add more. I looked around to find some gorgeous ones that will work with all kinds of decor. There are even pretty nightlights for the bathroom or hallway! I put together a selection of my favorite salt lamps for you here. Don't forget to buy some extra bulbs. Once you use a salt lamp you don't ever want to be without it!


5. Essential Oil Starter Kit
Essential oils have changed my life. I don't say that lightly, but after using them for over 3 years consistently now, there is just no way I could ever imagine not having them in my life. A starter kit like this one from Young Living comes complete with everything Mom needs to move forward in her journey towards better health. Essential oils pair perfectly with all of the above mentioned relaxation gifts! This enourmous starter kit contains everything needed to get started with essential oils, even a diffuser as well as a lifetime membership. You can sign up here and your starter kit is on its way. Money well spent, believe me! High quality essential oils have a number of lovely benefits from uses in skincare, to relaxation, even in cooking. Help Mom ditch chemicals in the home by surprising her with this thoughtful and useful gift she is sure to love.
You can find a number of helpful recipes in the FREE resource library. Just sign up here and the password is on its way to your inbox, no strings attached.

6. Gifts to Channel Her Artsy Side
I am a huge fan of coloring books and can attest to their therapeutic and calming value! Adult coloring books allow anyone to channel their inner little girl by filling in pretty pictures with vibrant colors. Combined with a nifty set of colored pencils coloring books make for a perfect little gift! She'll want more than one, I promise!

Coloring books are not the only fun artistic gift. Remember those paint by number pictures from the seventies? Well, they have come a long way and are making quite the comeback! Just look at these fun examples:

There are pictures for every taste and the best part? No artistic skill required!
If Mom likes to be creative, be sure to check out my post on sharpie painted dishes. You can print out instructions and gift her the oil based sharpie markers and white dishes needed to personalize fun mugs and plates!
Why not surprise her with a gift certificate to a learning site like Bluprint (formerly Craftsy)? They offer amazingly affordable courses taught by experienced and well known instructors in their respective fields. The video format makes it easy to learn a new craft or skill without the need to leave the comfort of your own home. Material lists and access to ask questions and show off your creations is included in the price of the class.
7. Give the Gift of Comfort
Even though the days are getting warmer, a light blanket or oversize scarf is always a hit. This one makes a colorful accent that would even work as a beachy skirt!

These Mexican blankets are classics that will never go out of style!

8. Skin Pampering
While I am a big believer in creating my own skincare products, like charcoal and honey oatmeal masks, there are a few products on the markets that deliver big results for a reasonable price. This one comes highly recommended and contains no nasty chemicals like so many other formulations on the market. Mom's skin deserves only the best!
Are you looking to DIY a special gift for Mom? No problem, I've got you covered! This set of three luxurious gifts you can create in no time is sure to impress! Each is super simple to make and will last a while! Be sure to check out my FREE resource library for more homemade beauty recipes that would make lovely gifts.
9. Fitness
Is Mom trying to get into shape for swimsuit season? Here are a few fitness related gifts she will appreciate!
Fitbit now offers smart watches as well. This model gives you all of the function you are looking for without the hefty price tag. And it's pretty! Of course, if you are a die hard Apple fan, the Apple smart watch is the way to go. I love that these new watches track all kinds of useful health information like heart rate and blood pressure.
How about a stylish yoga bag that doubles as a laptop bag? This roomy bag holds blocks, a mat or other workout gear and has padding that will keep her laptop safe from bumps. This is hands down my favorite all purpose bag I have ever owned. Extra bonus: it's the perfect size for a carryon bag and fits just right under an airplane seat. Highly recommend!
And what is a workout without a stylish waterbottle to stay properly hydrated. These are sturdy and come in a variety of patterns and colors.

10. Give the Gift of Memories
We may be snapping pics all the time to post on Instagram and Facebook, but good old fashioned photo albums are still a lovely gift, especially for Moms! I cannot think of one Mother ever telling me she had too many pictures of her kids or grandbabies!
Thankfully technology has caught up with photo albums as well and it is easier than ever to create thoughtful photo gifts. Socialprintstudio.com offers a great variety of affordable options. My personal fave is the 365 day tear off calendar. The pages are thicker than regular tear off paper, so each picture can easily be kept, framed or put in a traditional album. You get 10% off your first order just for signing up for their mailing list!
Why not have one of your favorite pics turned into a puzzle? A picture turned puzzle of our beloved dog Rascal was a hit with my Mom last year for her birthday. Portraitpuzzles.com did a fantastic and amazingly fast job at affordable prices.

One more option is to have your favorite picture mounted on canvas. Stores like Costco offer great quality at affordable prices on canvases as well as a number of other services like photo books.
11. Handmade Jewelry
Did you know there are thousands of dedicated artists creating amazing pieces of jewelry by hand just waiting to be bought for your favorite Mom? As an Etsy shop owner I would be remiss if I didn't point that out to you! Creating jewelry is a special part of my life and I would sure love it if you took a gander at my shop! Even if you don't find anything there, you'll be sure to come across something Mom will love in another shop. I promise! Here is a small selection of my handcrafted sterling silver rings. Each one is made to order in the specified size.

And there you have my list of favorite gifts for all the hardworking well deserving Moms out there! I hope this will take the guesswork out of Mother's Day shopping for you, heck, you may have found the perfect gift for her birthday or even Christmas here as well.
If you are a Mom, I hope your family celebrates you because you deserve to have a wonderful day. Be sure to let me know in the comments what you think about these gift ideas and I am always open to suggestions!
Be sure to sign up for the FREE resource library if you haven't yet. It contains a lot of useful information, free printable art you can frame and even a super handy guide with all my favorite homemade cleaning recipes.
Curious what I am up to? Follow me on Instagram for a dose of real life, not the glam fake version;) Like our page and be sure to join us over on Facebook in the TheWittyGrittyLife group! We'd love to have ya!
Happy Mother's Day!