If you find yourself overwhelmed by all the different choices when it comes to purchasing a rug, you are not alone! Thankfully it doesn't have to be that way. Today I would like to show you how to buy the right rug the first time. At the very least, I hope to point you in the proper direction before your eyes begin to spin from the dizzying selection.
Adding a rug to your space is a relatively budget-friendly way to instantly transform it. It adds warmth and comfort, color, and style. Rugs can even make your home safer, provided you know what to look for!
In recent years shopping for rugs has moved mostly online, which makes it even more important to know the basics before you make your selection. Long gone are the days of being limited to the local furniture or Sears and JCPenney store or pricey oriental rug dealers as the only predictable and limited options.
Before you can get a good grip on what will be the right rug for you, let's take a look at the most important factors to consider in the buying decision. That will put you on more solid footing before you ever get online or visit the home decor store. Doing a little homework upfront will almost certainly save you from buyer's remorse down the road and hopefully, save time and money to boot.
This post was completely revised in January 2021.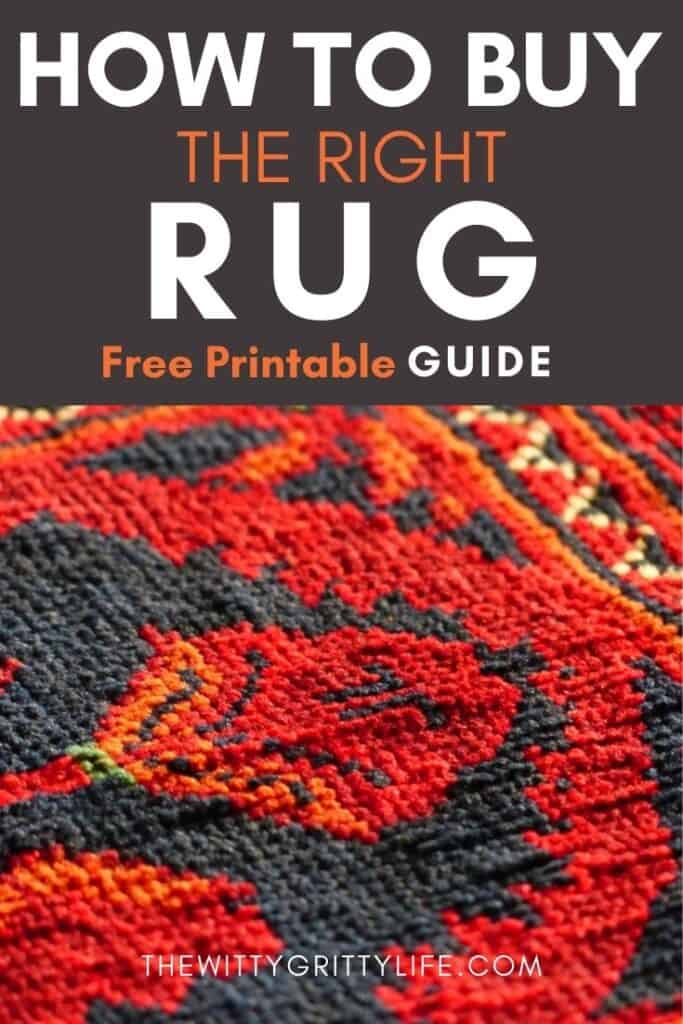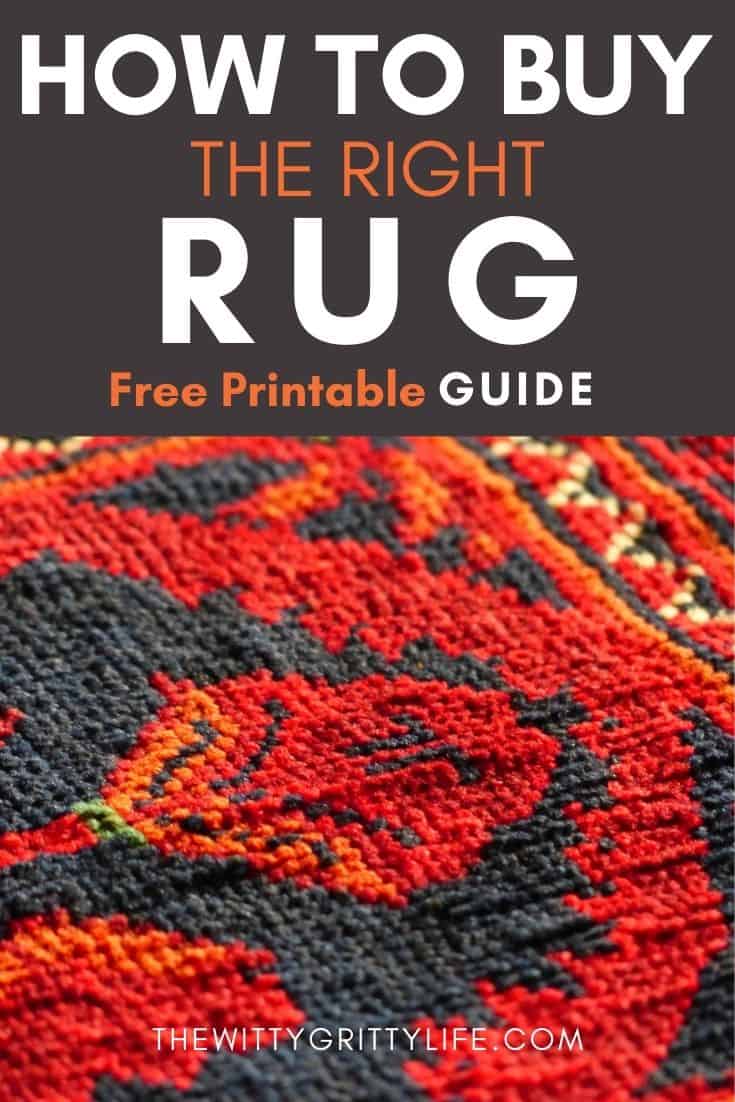 * This post contains affiliate links. If you make a purchase by clicking on an affiliate link, I may earn a small commission at absolutely no additional cost to you. You can view my complete affiliate link policy HERE.
To help you, even more, I put together a FREE printable Rug Measuring Guide, which even includes a handy sheet to document measurements for every room in your home. You can find it in the FREE Resource Library on page 3. Sign up here to receive your exclusive password as well as my weekly newsletter.
IMPORTANT CONSIDERATIONS FOR BUYING THE RIGHT AREA RUG
Before you dive into shopping, here are the five most important aspects you should take into consideration so you can truly feel confident that you are buying the right rug for your space:
-Size
-Color and Design
-Location
-Material
-Construction
Rug size
Only a properly sized rug will function as well as intended. This is one aspect that many buyers get wrong. Making sure you get the right dimension requires one simple step: measuring the space in which the rug will be placed to determine the correct size. An appropriately sized rug will not only look terrific but also work well. One example would be a rug under a dining room table that is too small, making it difficult to move the chairs in and out. Check out this useful guide to rug sizing to allow you to determine the proper dimension.
color and design
While color and design are mostly a matter of personal preference, this is also an area that can save on maintenance costs down the line. Are you sure you want to place a white rug in an area that receives a lot of traffic? If cleaning is not an important consideration, you are free to focus on color and design.
What is the statement you are trying to make? Are you going for calm and neutral or bold and bright? Will the area serve as a backdrop or the star of the show? How will the other elements in the room like furniture, window treatments, and wall artwork with the color and design?
Location of the rug
As I touched on briefly, the location of the rug can determine which color and design might work best. But aside from that, location will most likely also play a role in determining the material of the rug. Ask yourself: Is it a high traffic area? Is the rug a design statement or does it serve a more practical purpose? Will the rug be in a place that is exposed to moisture or lots of direct sunlight? The answers to those questions should play a large part in deciding on the material most suited for your location.
Material
Location, usage, and budget will likely be the main determining factors in making the final purchase. Those considerations will also come into play where the choice of material is concerned. Rug materials can be divided into two basic categories:
-Naturals
-Synthetics
Synthetics like nylon, polyester, and olefin (polypropylene) come in a wide array of colors and styles. Widely used in machine-made products, they tend to be more durable and much more budget-friendly than most of their natural counterparts. Check out this post to learn more about the various and most common rug materials.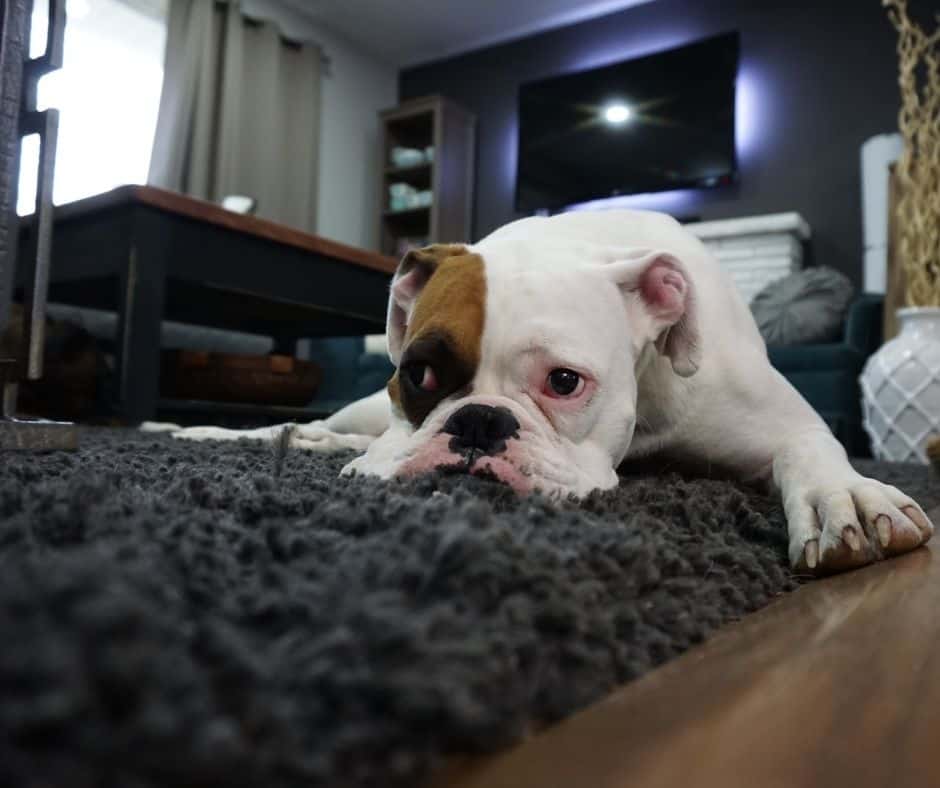 RUG CONSTRUCTION
Last but not least, let's take a look at different construction methods. Today's rugs are pretty much constructed the same they have been for hundreds of years. The major difference is that many of those techniques are replicated by machines these days.
Rugs can be flat-woven, knotted, tufted, needle-pointed, braided, and completely natural, like animal hides. They range in thickness from ultrathin to long shag. Here are some examples. From left to right: Woven, needlepoint, shag.
Click on the image if you would like to see each rug larger.
Choose sturdy thin to medium thickness woven rugs in heavy traffic areas. Avoid placing rugs that have a tendency to wrinkle and fold in places where they might present a tripping hazard. Longer shag type area rugs do best in areas that have little traffic that won't require constant vacuuming and cleaning.
Synthetic olefin rugs are a safe choice in parts of the home that get more traffic, receive lots of natural sunlight, and may be exposed to high levels of humidity. If you are opting for synthetic fibers, make sure they are thick enough to stay in place without wrinkling and warping. Be sure to read reviews if purchasing online. They are always a good way to determine how true to color the rug is as well as if it is as sturdy and heavy as promised.
A FEW MORE ADDITIONAL TIPS:
Always place a rug gripper pad underneath your rug to keep it in place and to help maintain its shape and reduce wear and tear
Vacuum and clean rugs regularly
Rotate rugs to prevent uneven wear and tear
Do take pets into consideration. Elderly pets or young puppies don't get along with expensive handcrafted rugs!
Remember to grab your rug measuring guide from the Free Resource Library! Do you have any tips or experiences you would like to share? Leave a comment below!
Do join our Facebook group and follow me on Instagram!