Updated: June 2019
Yeah! Summer is finally here! I don't know about you, but I am so looking forward to vegging out on those lazy Sunday afternoons! Part of the fun is, of course, eating outside as well. Few foods scream "it's Summer!" more than guacamole. But I am not talking about the store-bought goop. No, this is the real, fresh stuff. The best part? It is super easy to make. Five ingredients and you're there! Gluten-free, dairy-free, vegan goodness. And as if that weren't good enough, it's the perfect recipe if you are living the low carb life!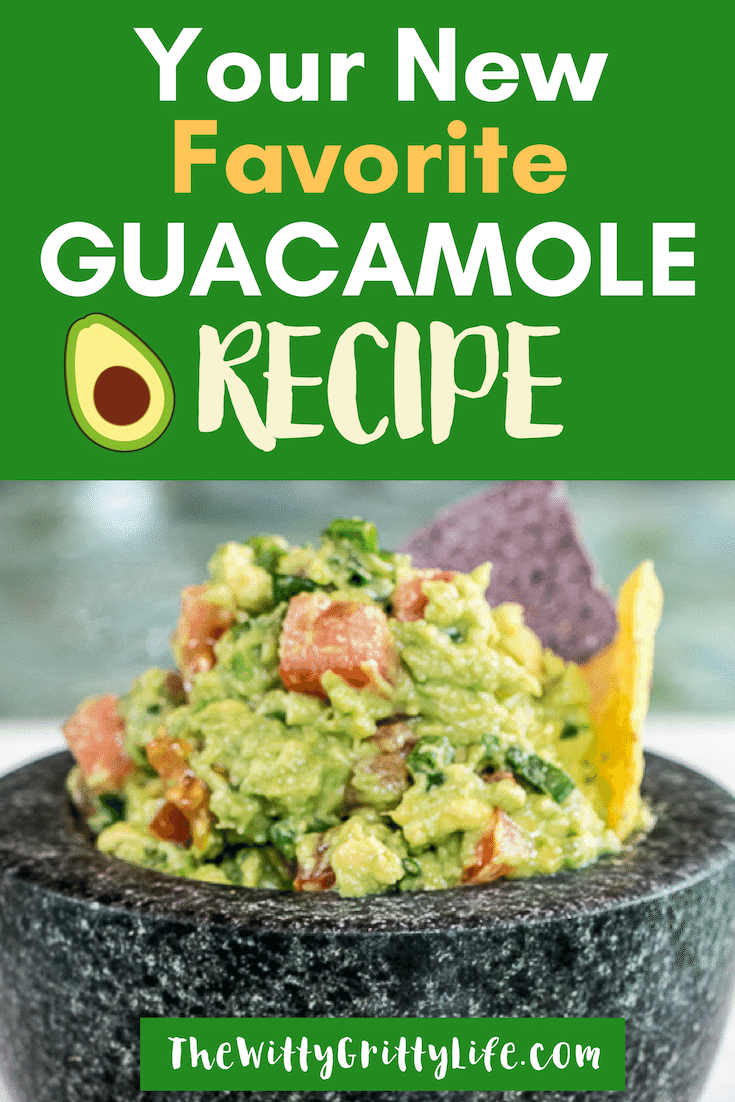 This post contains affiliate links for your convenience. You can read my full affiliate link policy here.
To stay in the loop and for access to the FREE Resource Library don't forget to sign up here and your exclusive password is on its way to your inbox.
WHAT IS IN GUACAMOLE?
Avocados are a superfood, chock full of nutrients, and my fave: HEALTHY FATS. Love those two words together! You can enjoy them in smoothies, salads, on sandwiches. If you are a lazy shopper like me and love versatile ingredients, avocados rank pretty high on the list. I snag a whole bunch when they are on sale.
To keep them from going bad, store them in the refrigerator until the day before you are ready to use them. If they are still pretty green let them sit out for at least a day. You don't want to try this recipe with green hard avocadoes, it just won't work.
On to easy guacamole goodness. You will find one ingredient absent in my recipe, but you are certainly welcome to add it if you'd like: cilantro. Why? It just seems to be one of those things that I either don't have on hand or something that dies of old age in my veggie drawer.
It all starts with these fresh goodies…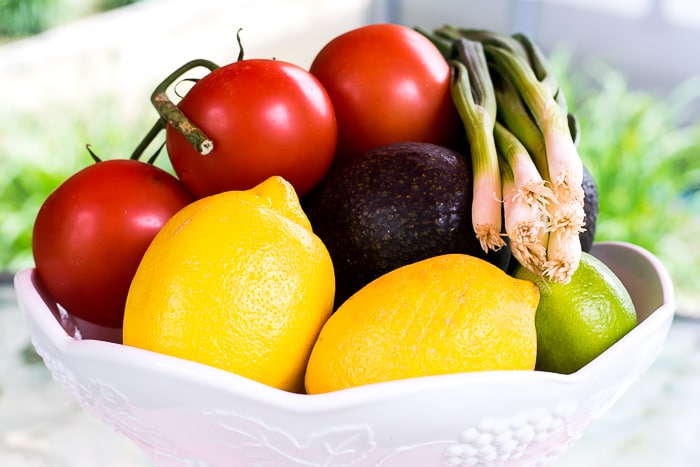 I try to use organic ingredients whenever I can, especially if the skin of the fruit of the vegetable will be eaten. This guacamole is more than just a dip on the side. It is meant to be a more substantial part of a meal, hence the chunky goodness.
From what my guests have told me, they like this recipe exactly because it doesn't have cilantro in it, so I am sticking to my version. And besides, it's simpler. Last time I checked, my blog wasn't about making life harder:)
If you like a little kick, feel free to add some diced jalapeno. How much depends on how hot the jalapeno is and how spicy you like your food.
When choosing avocadoes you can either get them when they are still green and hard and let them ripen on the counter or opt for ones that are dark and have a slight give. Stay away from mushy ones.
Putting it all together is pretty straight forward.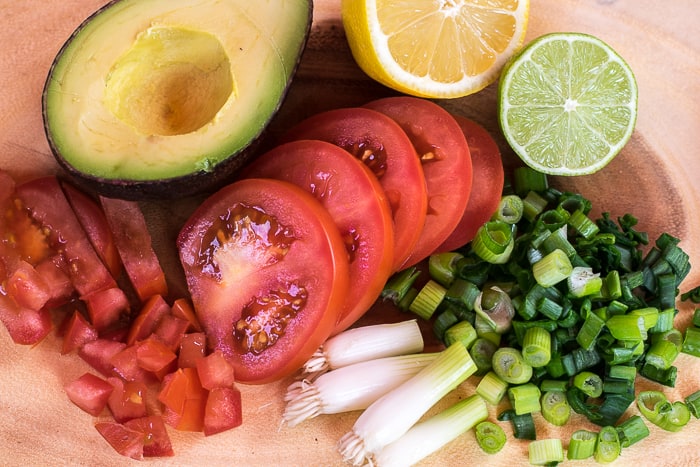 Halve the avocados, remove pits. Scoop out the flesh and place in a bowl. By the way, leaving the pit in the guacamole to keep it from turning black is an old wives' tale. It is air that oxidizes the guacamole and no pit will prevent that!
Once you have everything diced and chopped, it's time to mash the avocado with a fork, add the salt and lemon and/or lime juice, and mix well. Mashing the avocado, lemon, lime, and salt mixture first will keep the diced tomato and green onion intact. You should end up with this: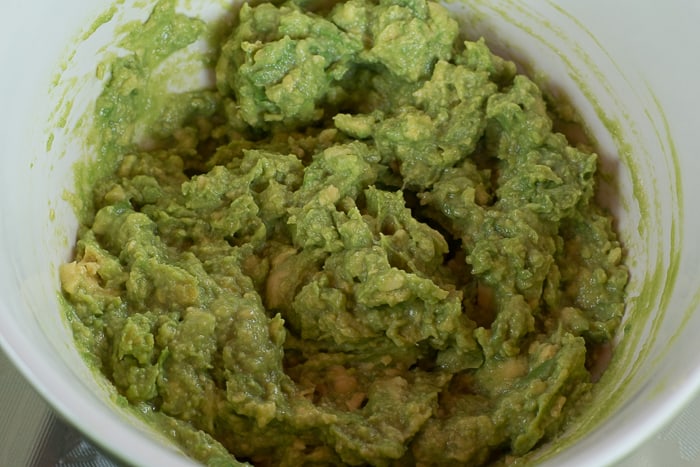 Fairly creamy with some avocado chunks.
Tip: If you stop right here you have the perfect spread for avocado toast. Insanely delicious!
Add your remaining ingredients: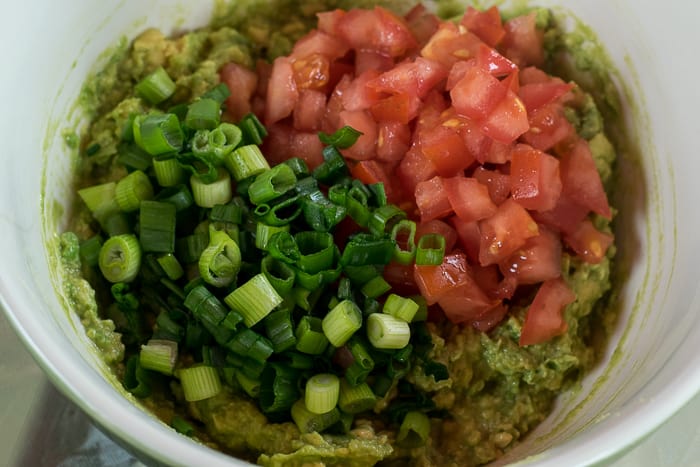 Stir well, taste and adjust salt and lime/lemon juice if needed.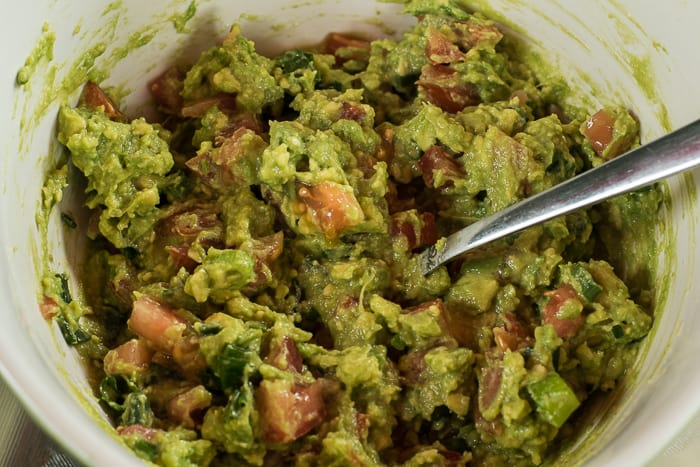 One little trick I have learned is to always keep Lime Vitality oil on hand for those times I want to add lime flavor, but don't have limes. Depending on the time of year, and I love to make this guacamole recipe year-round, the limes at the store can be so dry they yield very little juice.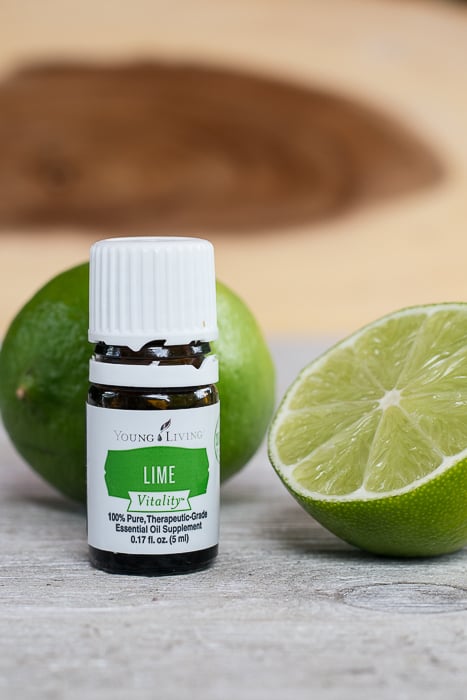 And here is a picture of the finished result! So pretty and chunky, not to mention delicious. Serve with your favorite chips. Pictured here are organic yellow and blue corn chips. Choose organic, because nearly all non-organic corn is GMO. Enjoy! I love a nice helping of it as part of a lunch bowl – so satisfying.
Easy five ingredient guacamole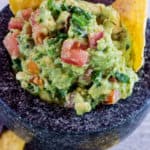 2 ripe avocados

1 medium tomato, diced

1/2 bunch green onions, sliced (use green parts only)

1/2 tsp Himalayan salt

3-5 drops Lime Vitality essential oil (optional)
Juice from either 1/2 lemon or lime
Cut avocados in half, remove the pit, scoop out the flesh into a bowl.

Mash with a fork until only small chunks remain.

Add diced tomato, sliced green onion, salt (adjust to taste if needed), lemon or lime juice, and lime Vitality essential oil drops if using.

Stir to combine well, enjoy.

This guacamole is wonderful with chips, on burgers, as a topping for tacos, as an addition to sandwiches in place of mayo.
This guacamole recipe has been a summer staple at our house for as long as I can remember. I hope you love it as much as we do! Make a double batch and bring it to your next cookout with friends. They will love you for it!
To stay in the know about what is happening here on the blog and on the sidelines be sure to follow me on Instagram and join our Facebook group.