If you read my last post, you'll know our dining chairs have been bugging me for some time.
A while back I noticed that I felt downright depressed when I walked into our cave of a dining room every morning. Finally it dawned on me why. The entire room was the color of poop. Brown walls, brown floors, brown table, you guessed it, brown window treatments and then black chairs! How monotonous, depressing and uninspiring. It was time to make some changes.
For a couple of months I worked my little heart out to erase almost all traces of brown and black.
I painted nearly everything, created new window treatments, added fresh accents. It was the breath of fresh air the room needed! And I have been very pleased with nearly all of it, except the finish of the dining room table and the style/color of the dining chairs.
Originally the plan was to give the table more of a gray washed finish, but I grew tired of the whole project and opted for paint instead. The gold stripes I added as accents on the table never looked right to me. The wooden chairs, not really my style to begin with, were much more vibrant than I had intended them to be. To add insult to injury, they quickly looked every bit as beat up as they did when they were black, courtesy of my chair slamming offspring. And so the room sat. For three long years.
I kept looking for the right chairs, but I couldn't really figure out what style would work best in the space.
This post contains some affiliate links. You can read my affiliate link policy here.
Practical me wanted plastic. It's easy to keep clean and there is no temptation to paint it a different color. It is also one of the few materials that should feasibly discourage my son's chair slamming habit. The Eames style chairs so popular right now seemed like my best option, albeit a bit predictable and trendy, until I spied a set o four of these beauties on Craigslist.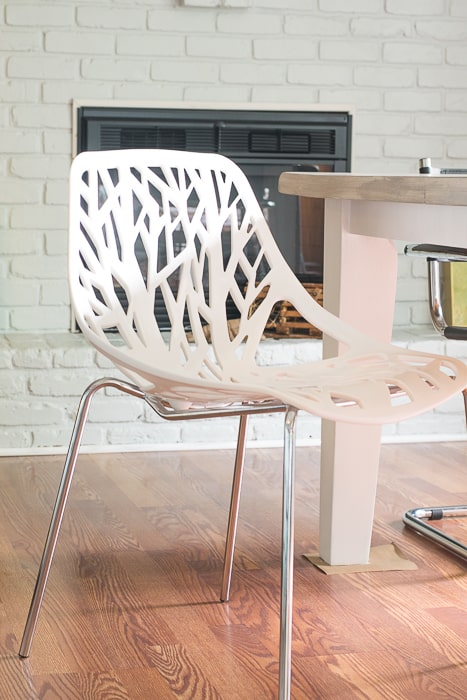 When I found the "tree" chairs, I fell hard. They had the unique and youthful look I had been searching for. The molded plastic insured that they would not be beaten up and scratched as the others had. And I would never have to paint them. Ever. A little research confirmed they were a deal too good to pass up (I got them for $125!) and I snagged them:) They are the exact height I wanted, sturdy and comfortable to boot! Here is a link for the same chairs.
At the same time (I know, right?) I also found these two gorgeous Italian leather and chrome chairs: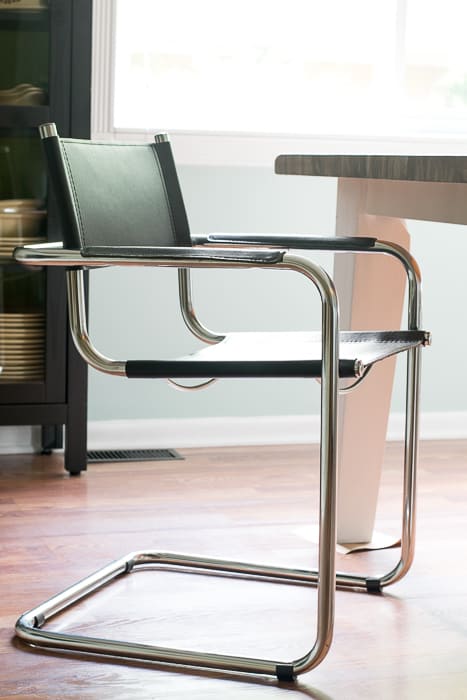 Bauhaus baby! I could not believe my luck. Still, I was too cheap budget conscious to buy them right away. And I didn't want to rush in. But they just did not leave my mind and when I returned to Craigslist a couple of weeks later I was beyond relieved that they had not yet sold! To add joy to my excitement, I later found out that they are actually worth a whole lot more cash than the $130 I forked out for them:) Big win there.
Here they are together at the table. I am working on the table right now and I am so excited how it's turning out so far! If you're nosy there are a few sneak peeks on Instagram🙂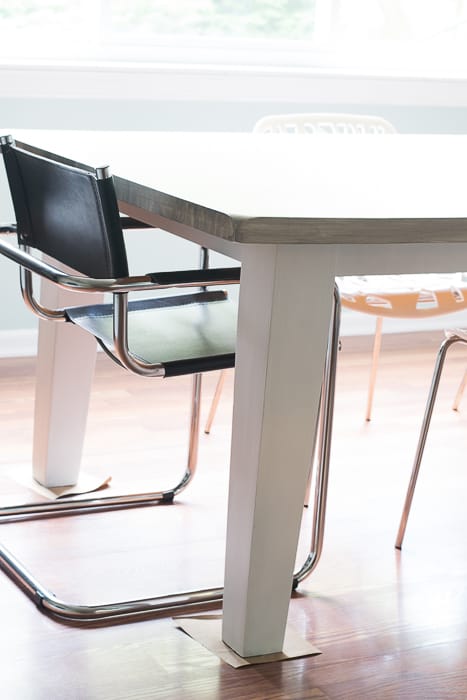 The two sets of chairs are a match made in heaven. I call them my ying/yang chairs! While the white patterned chairs are more on the airy and whimsy side, the black cantilever leather chairs add a sleek sophisticated element. They work incredibly well together in the space, because they are roughly the same height and have trendy chrome bases.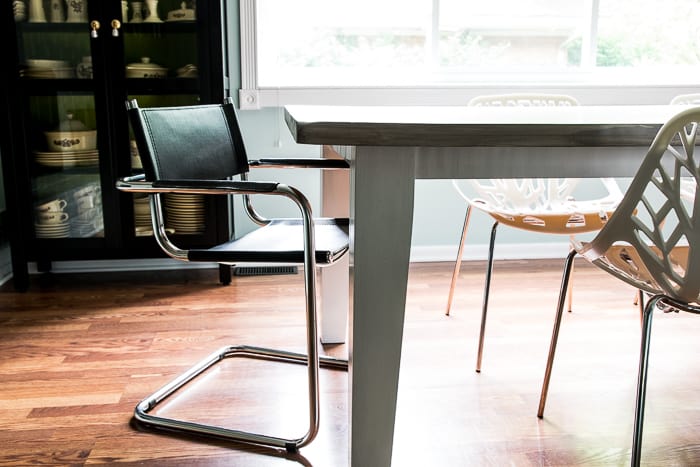 The math in the end works out as well: $255 for all 6 chairs and by the time the chairs I already had sold, that number came down to a cool $130 for all of my new to me dining chairs! They actually retail for around $1,800. Makes my bargain hunting heart skip a beat!
And not that I am trying to be trendy or anything, but metallic base seating is all the rage right now! Just check out some of the cool options, that Kate from Centsational Style, one of my favorite decor blogs, recently highlighted!
Here are a few more snazzy dining chairs for you!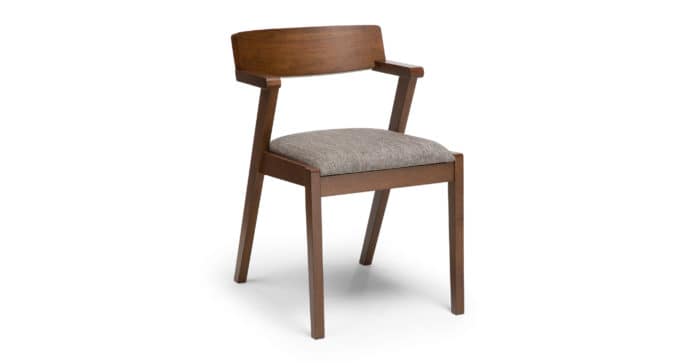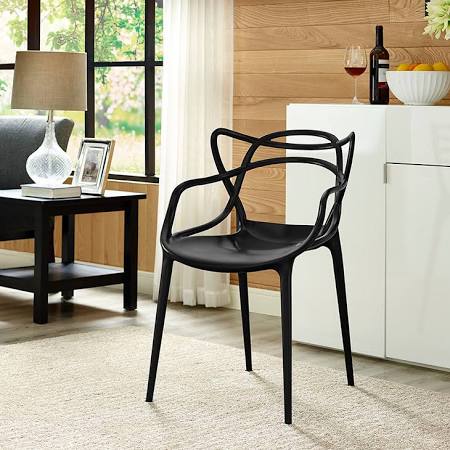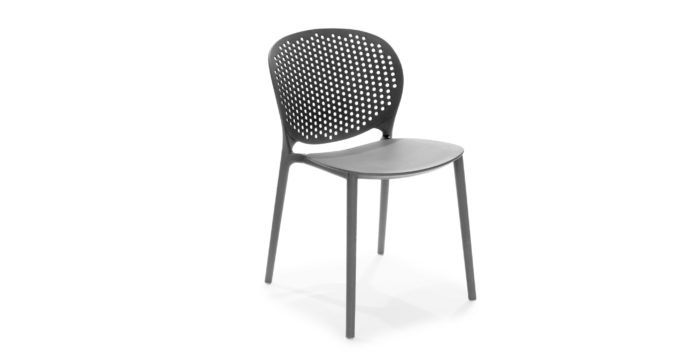 source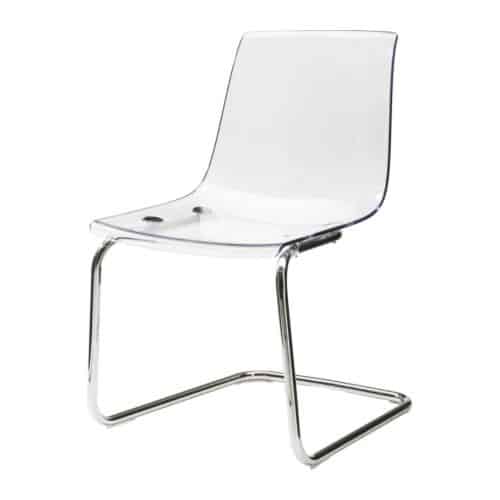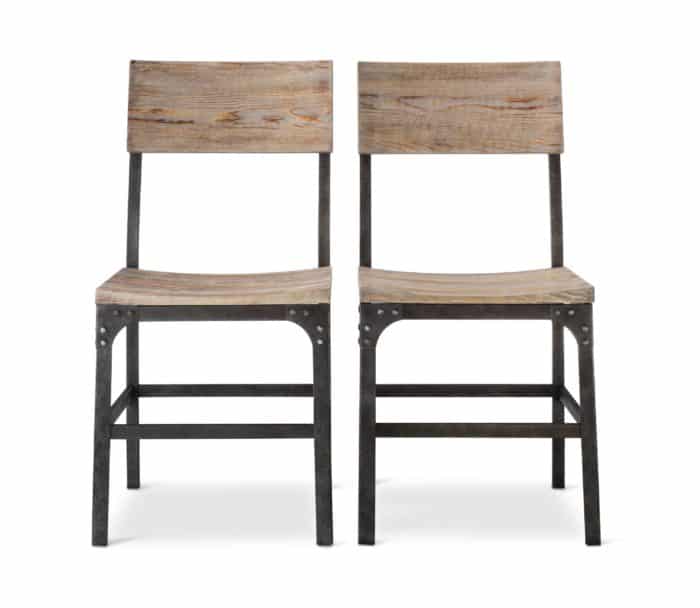 Hope you are sitting pretty!