You would think that crafters are the easiest people to shop for. After all, they love making stuff and always need supplies and tools to do it. And then you walk through the doors of a mega craft store. Shopping for the makers on your list can quickly become overwhelming.
Not to worry, as an avid crafter I am here to help you with fun and useful gift ideas the crafters in your life will really appreciate!
In my gift guide, you are sure to find something for any maker and creator in your life. I actually lied when I called this post my top 10. It includes so much more as you will see!
To save you time and hopefully some money as well, you can order all of these gifts online and have them sent directly to your craft enthusiast. 
And since I also want you to get the most bang for your buck, I sifted through countless reviews for each of the items I am showcasing today so you don't have to!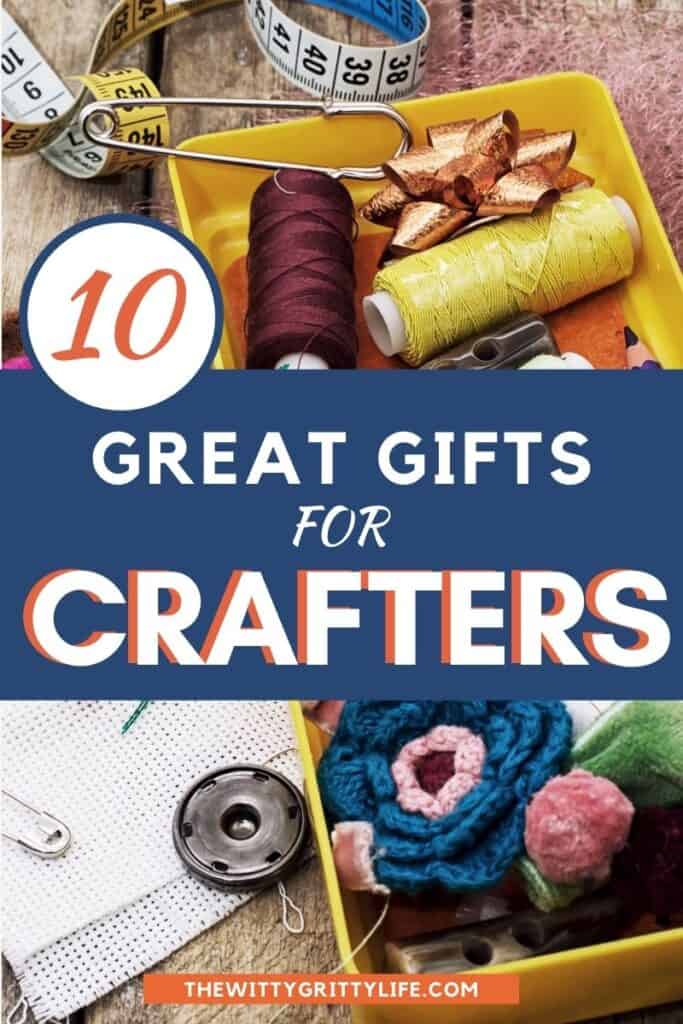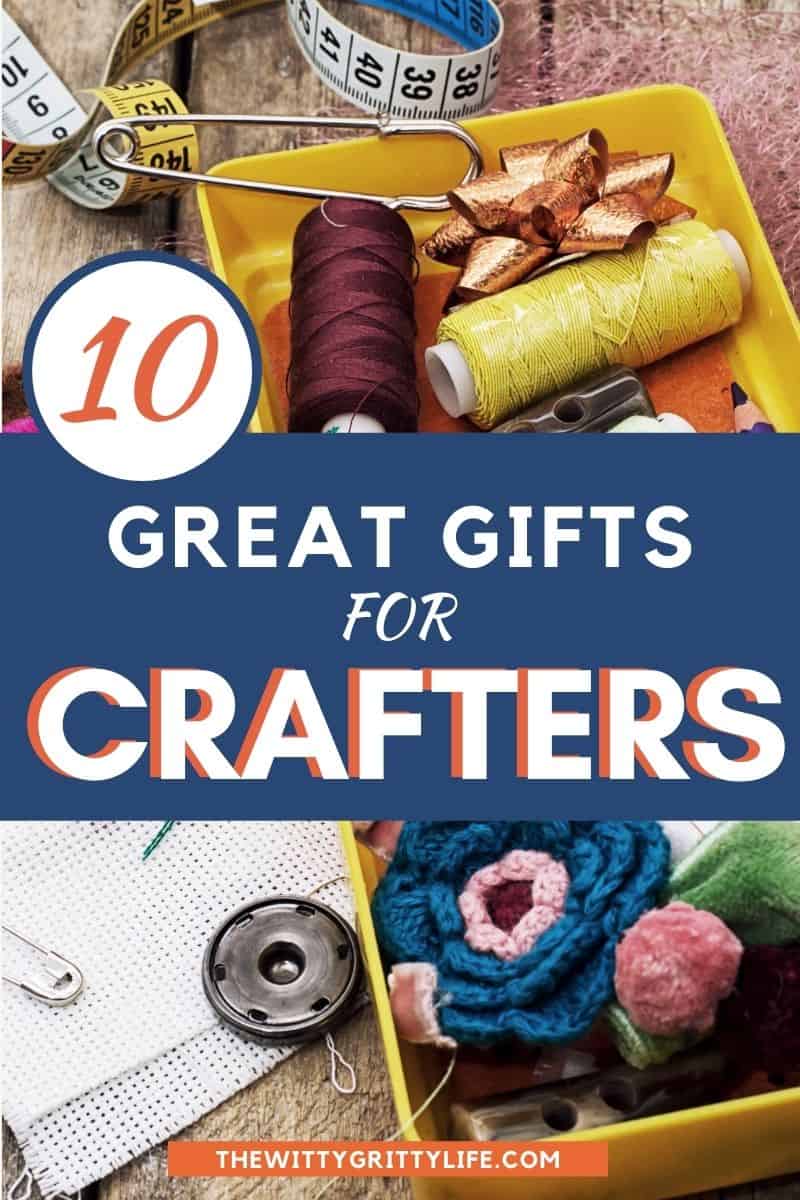 * This post contains affiliate links. If you make a purchase by clicking on an affiliate link, I may earn a small commission at absolutely no additional cost to you. You can view my complete affiliate link policy HERE.
For more craft inspiration, tips, tutorials, and printable art, be sure to check out the FREE Resource Library. Just sign up here and your exclusive password is on its way to your inbox!
With all of that out of the way, let's get started!
SELF HEALING MAT, RULER, AND ROTARY CUTTER
Okay, these are technically three different items, but you really need all of them to be able to use each. They are an absolute must-have for anyone who ever does any kind of sewing, quilting, or fabric art. Without them, it would have been impossible for me to crank out nearly 1,000 of my easy sew washable face masks!
With a self-healing mat, ruler, and rotary cutter making precise cuts is fast and efficient. I happen to know that a lot of crafters talk about wanting them, but never actually buy them. So chances are that the maker on your list needs these awesome tools but just has never gone out to purchase their own. Each of them is easy to store flat which makes them the perfect easy store gift for even those who don't have much room.
This particular mat is made from recycled materials and reversible as well! I love its generous size.
SEWING MACHINE CARRYING AND STORAGE CASE
Most sewing machines are sold with a flimsy dust cover. A proper sewing machine case not only provides proper storage and protection for the machine but lots of compartments for all the little odds and ends needed for sewing.
This is on the top of my own wish list this year! Being able to store your sewing machine and all accessories save not only space but time as well. No more running around looking for all of the little stuff needed for sewing. Sewing machine cases have made enormous progress in the looks and practicality department as these two examples prove!
TOTE FOR CRAFT TOOLS AND SUPPLIES
While we are on the subject of storage and keeping things neat, here are a few options that are fantastic for storing all kinds of craft tools and supplies. Many crafters love creating different things and a practical bag puts everything within easy reach and neatly stored away when not in use. Since not everyone will need a huge bag, I found some great choices that should work for a variety of uses.
First up on the left is a handy carrier to keep everything a crafter needs in one place. Just pick it up and take it wherever!
The second, zippered bag holds a variety of smaller items like thread and sewing tools. Perfect for storage and travel.
The pretty floral bag on the right holds an amazing amount of stuff. Click on the picture to see all the different compartments. It is also surprisingly large and the small picture definitely doesn't give that away.
GLUE GUN
Ask any crafter worth their salt what one of their most-used tools is and they will tell you about their glue gun. I have had the same little cheap one for many years, but a new one is definitely on my wish list. And from what I can tell, glue guns have come a long way since I bought my old drippy version!
The first option on the left has two temperature settings, which makes it a much safer choice, especially if it is used for kids' crafts projects. For anyone who has ever been burned by hot glue that is a definite plus! It has a nice wide stand to keep it from tipping over easily, a problem often encountered with cheaper versions. I also love that it comes with a generous supply of glue sticks and even glittery colors!
My second suggestion has everything any crafter could possibly need with a glue gun. I love that it stores neatly in its own zippered container. I know this would be any crafters dream! This one is also great for anyone who needs it to make small repairs around the house. 
My third choice on the right is cordless and rechargeable! Not having to work around a cord is a definite plus! This model gives any crafter greater freedom of movement. Who loves being tied down by a cord? And according to plenty of glowing reviews, the lithium-ion battery lasts through most regular gluing projects.
MOD PODGE
If you have read my blog, you know that I am a huge fan of all things Mod Podge. I love that it really requires no skill and can be mastered by just about anyone. You can also make some pretty cool stuff with it. This kit contains everything needed to get started making fun projects for the house or as gifts.
So yes, I can only recommend it as a wonderful craft medium. There are a few simple tools that will make crafting something amazing with Mod Podge even easier and they are pretty much all included in this handy kit.
In the last few years the people at Mod podge have come out with a number of different formulas that even include one that is dishwasher safe as well as one for outdoor use. The little sampler in the middle let you try a few.
My third Mod Podge gift idea is a book filled with creative ideas and everything to get you started on decoupaging like a pro. Buy one of these or combine all three into a gift that will give any crafter heart eyes!
SIZZIX BIG SHOT DIE CUTTING AND EMBOSSING MACHINE
This is a great low tech gadget for anyone who enjoys paper and fabric crafts, scrapbooking, jewelry making, and more. The Sizzix Big Shot is a little more on the pricey side but absolutely worth the investment for any serious crafter. I love that you can easily learn about it with the help of educational tutorials on YouTube like this one:
While I admire the fancy Cricut machines so many other bloggers gush about, the Sizzix appeals with its low tech simplicity. No computer skills or SVG cut files are needed to master it. Perfect for the crafter who wants to take a step up without the commitment of a tech-heavy gadget. No power outlet needed!
A STURDY APRON
Creating can get messy! That is why I have always relied on my trusty denim apron for years to keep my clothes protected. I cannot tell you how many times an apron has saved my favorite t-shirt or jeans from being ruined! And it certainly helps to have more than one! Here are a few stylish options to choose from!
CRAFTSY CLASSES/MEMBERSHIP
I have taken Craftsy classes for many years. Craftsy started as a creative platform selling online classes, then morphed into a membership site called Bluprint. It is currently in the process of reverting back to its old Craftsy name.
Craftsy classes are taught by professionals who are experts in their field. From cake decorating to jewelry making, sewing and woodworking, there is a class for everyone. They are a terrific alternative for anyone who is either too busy or doesn't have access to traditional crafting courses.
The yearly membership with access to all 1,500 courses currently offered, is a real bargain at $79.99. This is a perfect gift for ANY crafter! Check out their website at craftsy.com for more information.
PAINT BY NUMBER KIT
Do you remember those cheesy paint-by-number pictures from the seventies? Well, they have come a long way since then! I recently came upon PaintNumbers and was thoroughly impressed. I love that anyone can create a true masterpiece with one of their kits, yes, something you actually want to display. They even offer personalized kits that allow you to turn a favorite image into a paint by number image. Pretty unique!
For lots of other choices check out the great selection on Amazon as well!
GIFT CARD TO A FAVORITE CRAFT STORE
My last great useful gift for today may not be new and exciting, but will no doubt be appreciated by your crafter. You simply cannot go wrong by gifting money to fuel a craft obsession. To give it a unique flair and personality, pair it with a unique item like a fun coffee mug, tote bag, or t-shirt.
I hope I was able to give you inspirations you can put to good use!