Have you seen those tubes or tubs of charcoal face masks in the beauty aisle and wondered if they really work? While I really don't have an answer for you when it comes to the store-bought stuff, I can certainly vouch for the super simple DIY charcoal face mask recipe I am going to share with you today.
After doing lots of sanding and painting lately, my skin is really craving some TLC. But even if you aren't constantly exposing your face to dust, changing seasons can really do a number on your skin.
Any time my skin feels and looks a little tired and dull, I know it's time for some pampering with my favorite face mask recipe. It's not only gentle and detoxifying but also quick and easy. Great quality skincare isn't very complicated and doesn't have to be expensive as you will see in just a moment.
And I love this recipe, because it works equally well for aging and break out prone skin.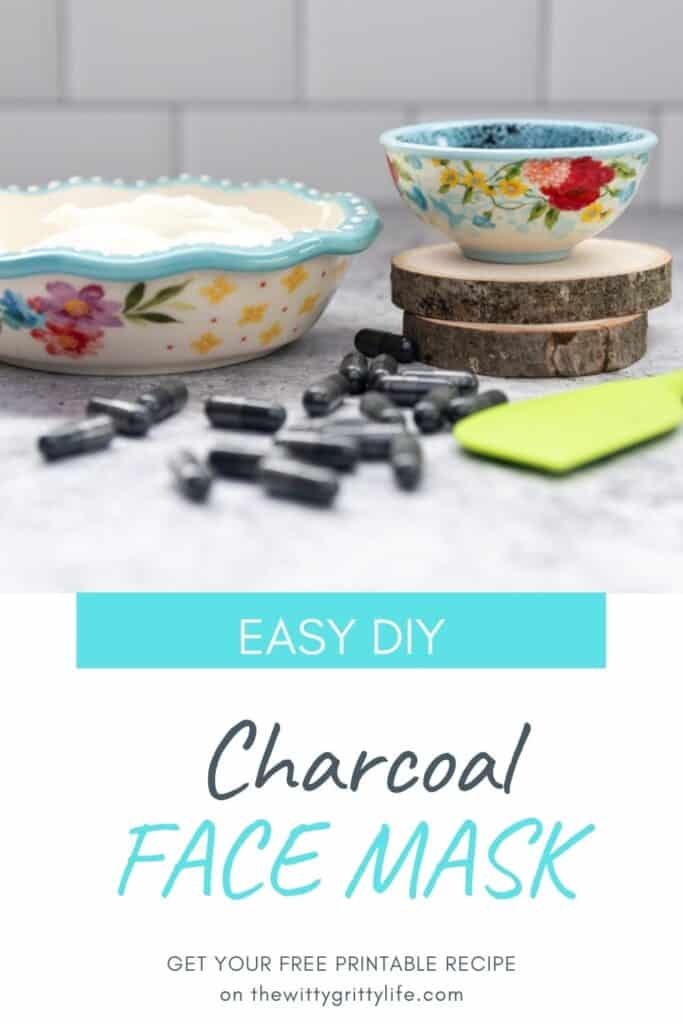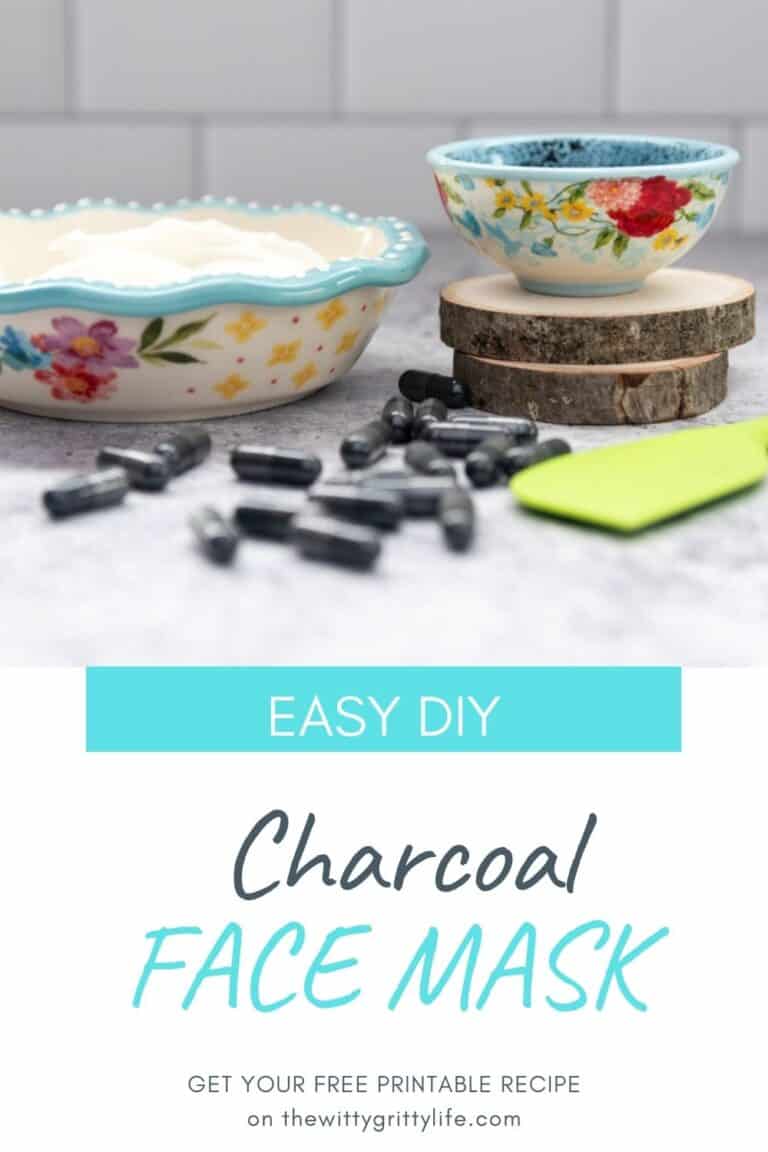 When it comes to beauty products, my philosophy doesn't stray from the way I approach pretty much everything else in my life. It needs to be simple, affordable, and most of all effective. That usually means basic, easy to find ingredients you might already have in your house.
If you are on board with my natural approach to skincare, be sure to grab my printable recipes from the FREE Resource Library. Just sign up here and the password is on its way to your inbox in an instant!
The recipe I have for you today checks all of those boxes. Honestly, it could not be any easier and will leave your skin feeling soft and nourished without any mystery chemicals. Using plain organic yogurt as a soothing, nourishing mask is not a new idea and I have been doing that for a long time. But when I dug a little deeper into the benefits of charcoal, a light bulb went off.
Why not enhance the already wonderful benefits of organic yogurt with the detoxifying power of activated charcoal?
Well, it works and it really is that simple!
If you prefer knowing what is in the stuff you put on your body and especially your delicate face this is the way to go. I mean, the expensive stuff touts "real ingredients" at a much heftier price tag. Why not just cut out the middle man/chemical factory?
Beauty products containing activated charcoal have gained a devoted following over the past few years because they work. Far from being a new discovery, charcoal has been around for a long, long time. There were likely cavewomen who smeared some leftover ashes on their faces from their cooking fires eons ago.
BEAUTY BENEFITS OF ACTIVATED CHARCOAL
What exactly is activated charcoal and what makes it so beneficial? The simplest way to describe activated charcoal is "pure carbon, processed in a special way to make it highly absorbent of particles and gases". Check out this definition of activated charcoal as well as the most common uses.
Activated charcoal is well known for its detoxifying properties and should be a staple in every first aid kit. It is commonly used in emergency rooms to combat drug overdoses and has been used for centuries to alleviate intestinal ailments.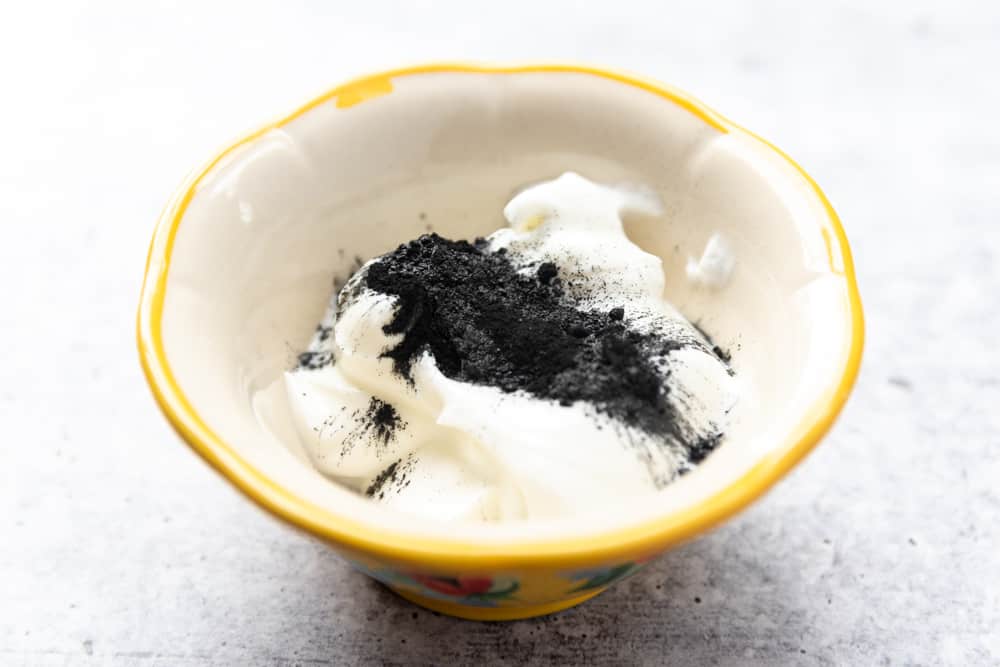 It is this detoxifying property that makes it such a valuable skincare ingredient. Our skin is bombarded by environmental toxins on a daily basis. Add to that a not always healthy lifestyle, as well as hormonal changes and you, have the perfect conditions for less th18an perfect skin. Charcoal is especially valuable in treating breakout-prone skin and absorbs excess oils that can lead to enlarged pores.
Its mild exfoliating component adds even more benefit that makes activated charcoal truly a power ingredient, even more so when combined with the second part of this easy face mask recipe.
BEAUTY BENEFITS OF PLAIN ORGANIC YOGURT
If you want to reap the maximum benefits from this beauty treatment, be sure to opt for organic yogurt. You can substitute goat milk for the cows' milk yogurt. Organic yogurt contains much lower levels of pesticides and other potential environmental contaminants.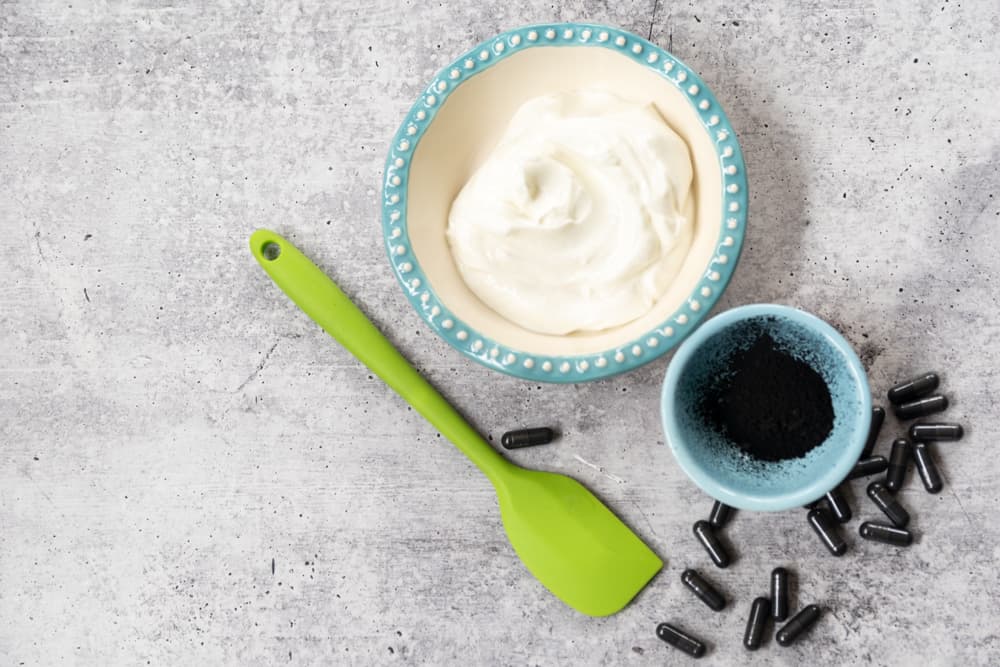 TIP: Greek yogurt has a much thicker consistency, which allows you to apply a thicker layer that will easily stay in place.
The main skin beneficial component of yogurt is lactic acid. Lactic acid is a powerful alpha hydroxy acid that aids in dissolving dead skin cells, the main cause of a tired and dull complexion.
Yogurt also contains probiotics.
There is growing evidence that applying probiotics to skin topically may be beneficial as well, especially in the treatment of rosacea and acne. Lactobacillus acidophilus and Lactobacillus casei, are the two dominant probiotics present in yogurt. Their effectiveness, when applied topically, has not yet been studied extensively. Some research suggests that adding lactobacillus acidophilus to other topical probiotics may increase their effectiveness.
In other words, yogurt not only helps improve your skin's health from the inside but the outside as well! Enjoy plain yogurt with fresh fruit and a handful of nuts like almonds, cashews, or walnuts as a healthy, satisfying breakfast or snack.
This post contains affiliate links. If you make a purchase through one of those links I will earn a small commission at absolutely no extra cost to you. You can read my affiliate link policy here.
The Recipe
2 TBS organic plain whole milk yogurt – Greek style works best
Contents of 3-5 activated charcoal capsules
Combine plain organic yogurt with contents of the activated charcoal capsules. Mix until well combined and smooth.
Apply evenly to clean face with fingers, avoiding mouth and eyes.
Be sure to protect clothing and surfaces. It is easiest to apply before my morning shower, wearing an old robe. Sit and relax, or plan your day for 10-15 minutes, step in the shower and rinse off completely. Don't worry, it comes off easily and won't stain your shower. You may want to use something other than your best white towels to pat your face dry, just in case!
Use this mask once a week, 2-3 times if you are experiencing frequent breakouts.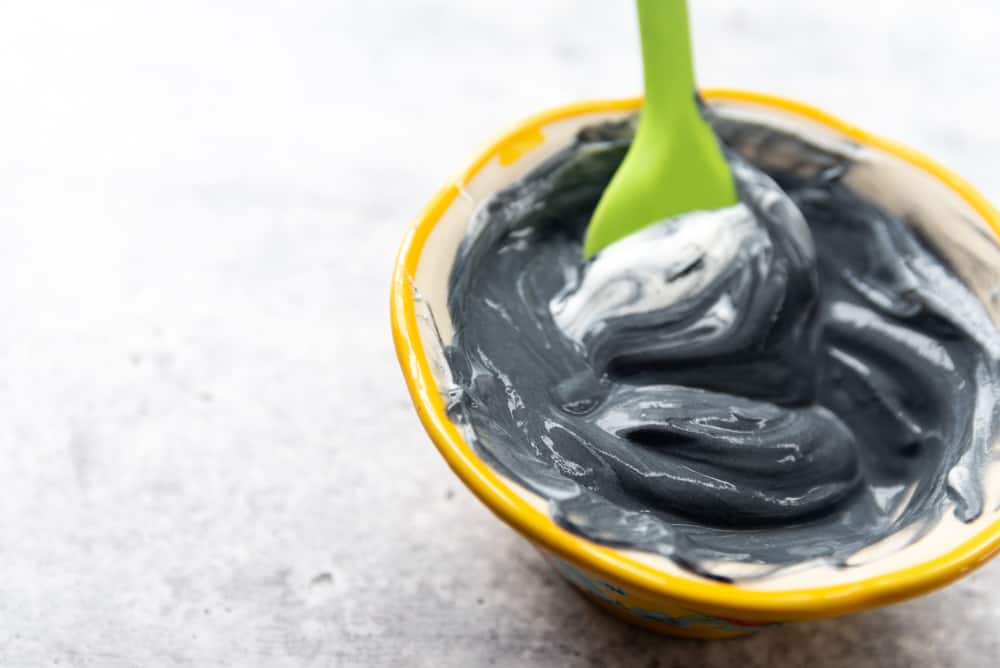 Since the lactic acid in this recipe softens and exfoliates, always apply a high-quality moisturizer with sunscreen right after use if you plan to go outdoors.
What do you think? It doesn't get any easier than this! I sure hope you give it a try the next time your skin needs a little extra pampering.
This easy DIY charcoal mask leaves skin feeling soft and looking refreshed! Are you new to the use of activated charcoal? Then you will love my post on other simple ways to add the benefits of activated charcoal to your life.
And here are additional homemade skin and body care posts for you!
A natural homemade deodorant recipe that actually works – baking soda free
Homemade lipbalm – a super easy recipe
How to create homemade soap like a pro
And of course, you can find all of my natural beauty and cleaning recipes in the FREE Resource Library along with bonus content not found on the blog! If you try this or any of my recipes be sure to share your experience in the comments below or on
The Witty Gritty Life Facebook group!