Hi! Today I am popping in with a simple craft that costs pennies and looks like a million bucks! I don't know where you live, but Winter has been a long, drawn out affair around these parts. This is the perfect quick project to add personality to otherwise plain and boring glass vases. Nothing like bringing in some fresh flowers when it's cold and blustery outside. Mixed metals are timeless and trendy at the same time. They are also neutral without being boring. Add a little sparkle for some truly unique pieces with your own personal touch.
I recently found myself in need of vases, when I discovered I had donate most of my vases to our local Goodwill store when I was on a roll decluttering. Great excuse to create some new ones, right?
When it comes to decorative items like vases, there is no need to invest much cash. As a matter of fact plain glass cylinder vessel work very well not only as vases, but they can double as candle holders as well. A real space saver! They make a perfect gift as well.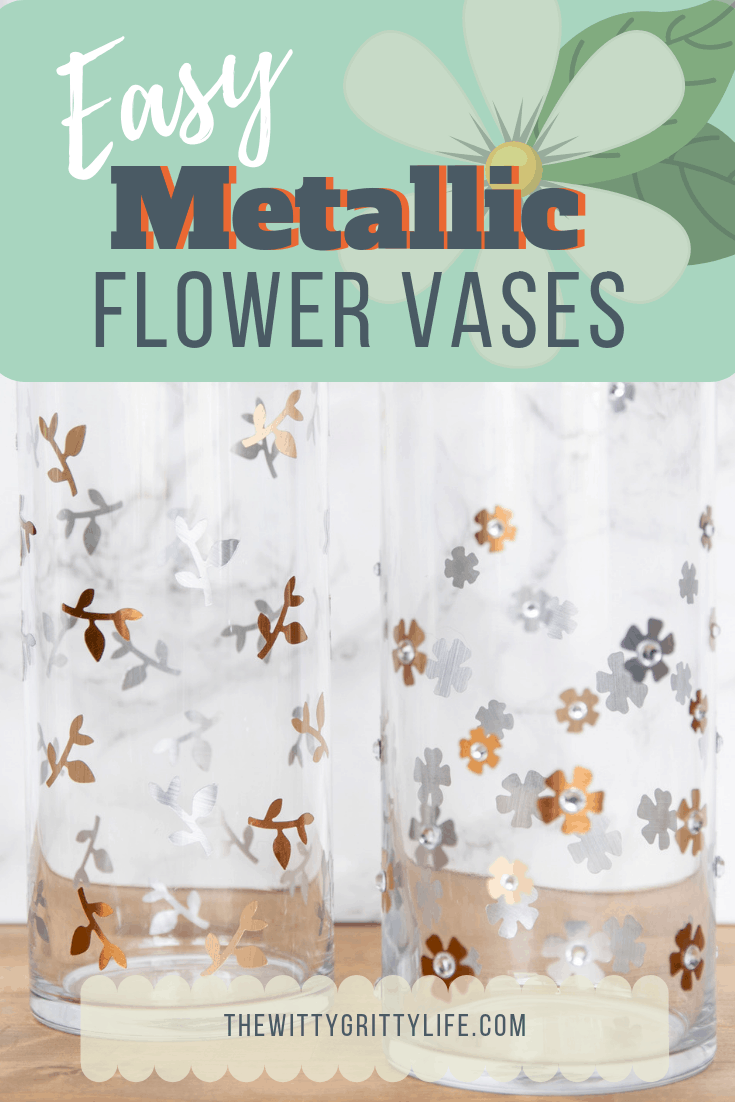 Are you ready to get started?
For this particular set, inexpensive glass cylinder vases work well. You can easily find them for cheap at the Dollar Store or Walmart. You could Also use some you already have on hand or inexpensive glass items from your favorite thrift shop. Just make sure they are smooth and don't have too much of a curvature to allow the metal flower decoys to adhere properly! As a matter of fact, all of the materials for this project are pretty easy to find at your local craft store. Don't worry if you live out in the boonies, a day's ride out on horseback, links are included for you to easily order all you need online.
Find tutorials like this along with lots of recipes and fun decorative printables in the Free Resource Library. Sign up at the bottom.
Affiliate links included for your convenience. You can read my full affiliate link disclosure policy here.
Here is what you will need to create your Easy Metallic Flower Vases:
glass vessel like a cylinder vase
metallic adhesive paper – find it with cricut supplies at your craft store or with shelf liners at Walmart (much cheaper)
floral punch(es) – or just a pair of scissors
The punch I used for this project is the kind used for scrap booking. When working with metallic adhesive paper, be sure to pick a punch that is not too intricate, because this type of paper does have a tendency to get stuck easier than paper or card stock. A tip if you are buying a new punch: most craft stores will have a 40% off coupon you can download onto your phone if you don't find them on sale when you're ready to buy.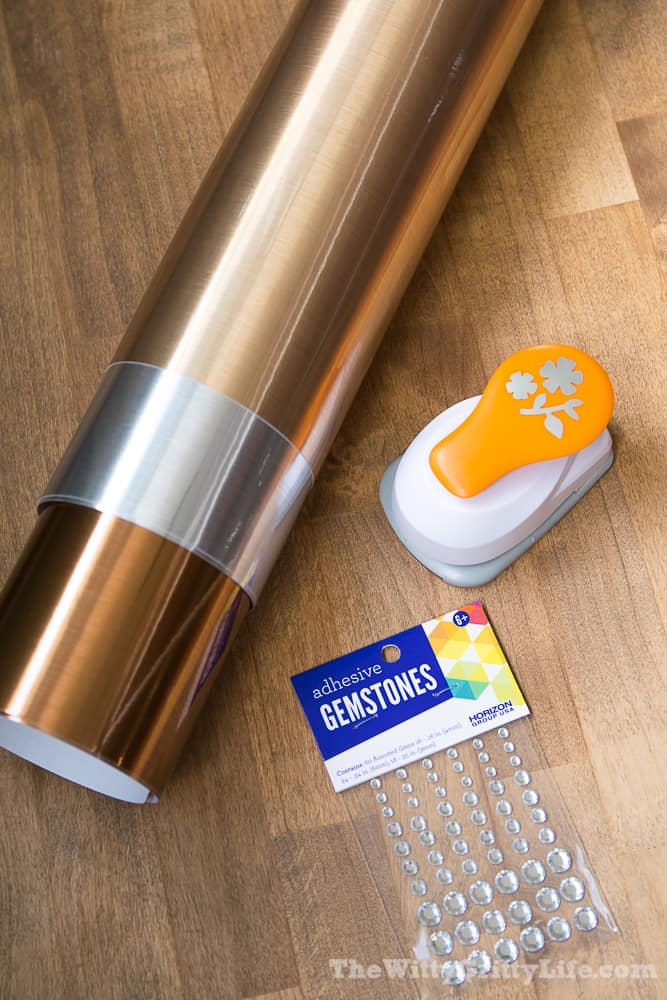 While I opted for a mixed metal look with three different foils, the vases would look just as great with just one or two colors.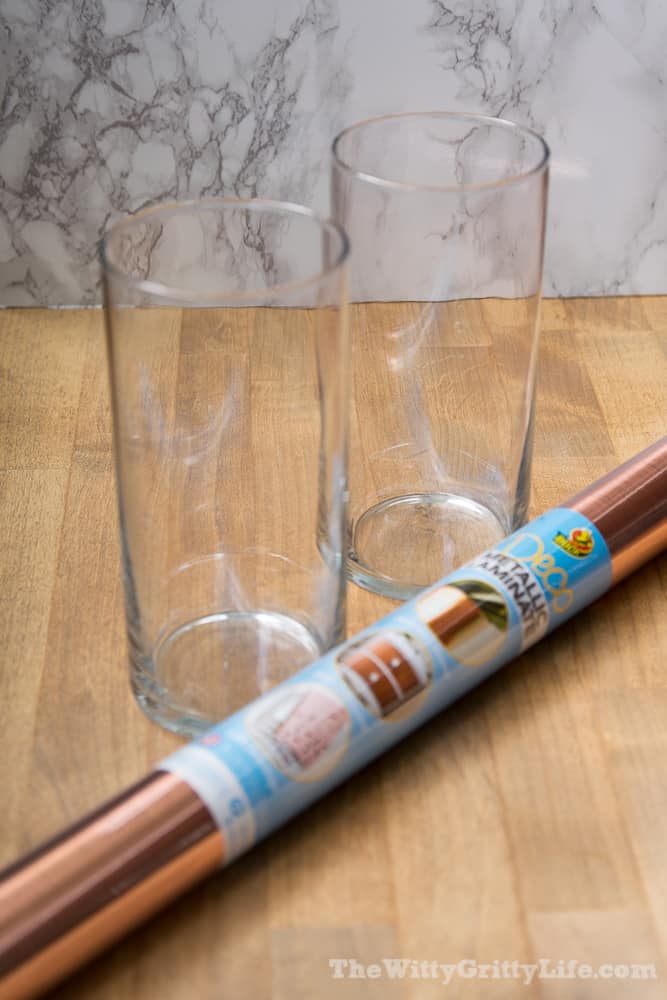 You begin by punching out the designs repeatedly in each color like this: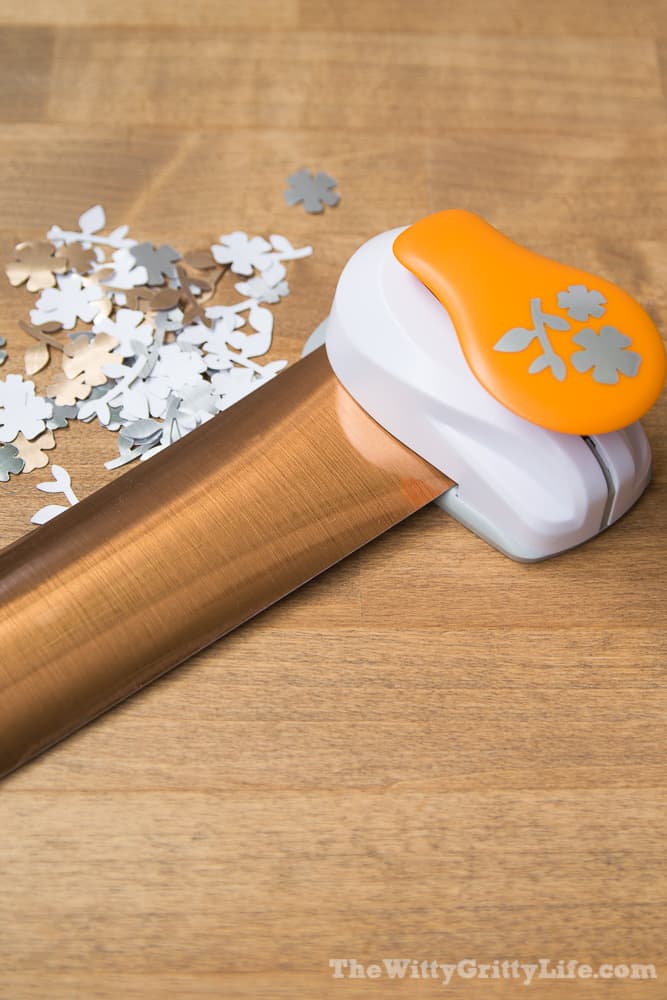 I found the foil to be much easier to work with when I cut it into a strip wide enough to fit the entire design.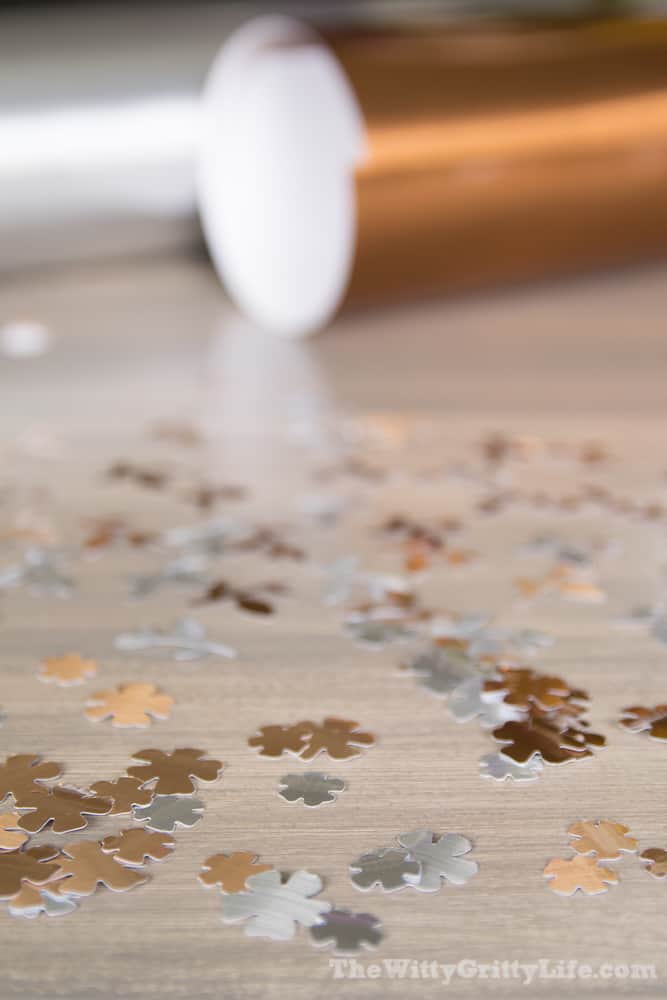 After you have about ten to fifteen flower designs punched out in each color, you can begin applying them to the vase. What you want the pattern to look like is totally up to you. I chose a random pattern, mixing up colors and sizes.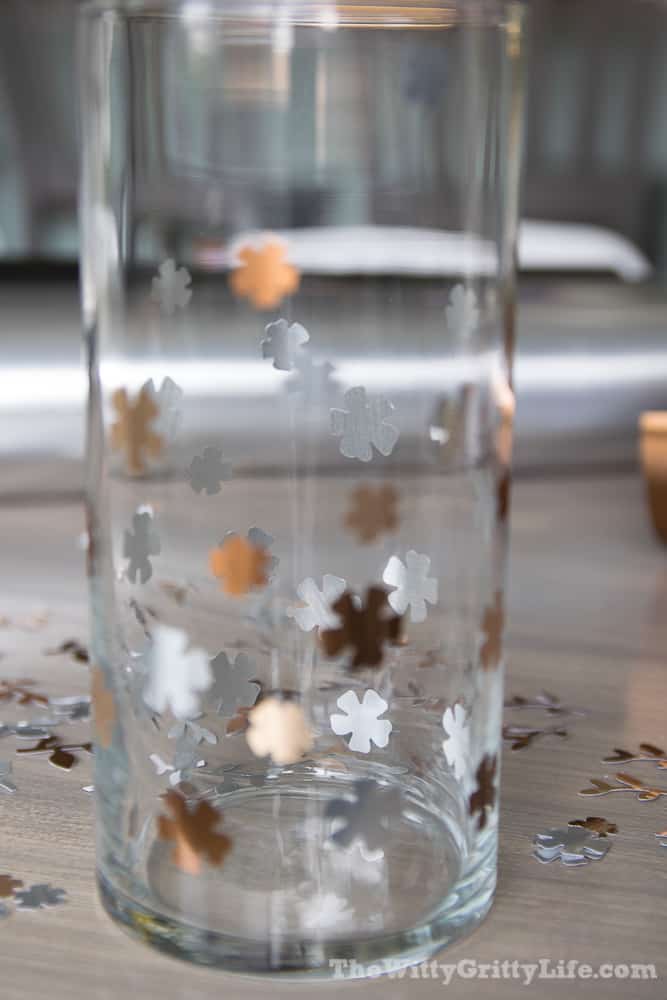 Here is the vase with flowers applied. I love this picture, because it shows that no matter the color, the back of the foil is silver. You could absolutely leave the flowers just as they are. But I was in a sparkly mood and decided to go ahead and gild the lily. For comparison, I applied just the stems and leaves to the other vase, to give you an idea what that looks like.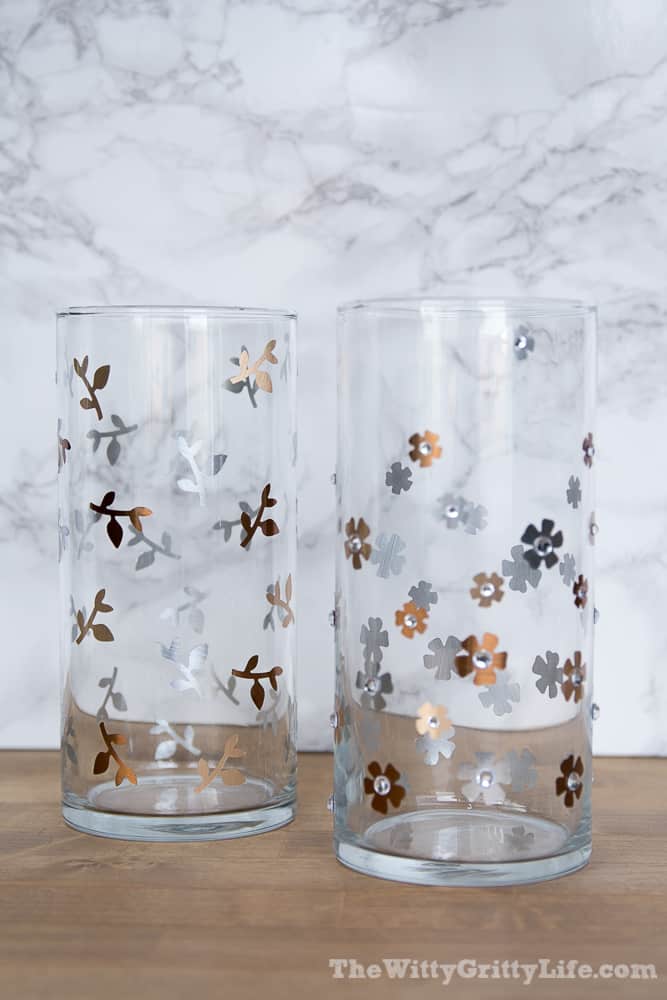 The adhesive gems couldn't be any easier to apply. Just peel off the backing, stick in the center of each flower and press firmly. I love how this simple little project turned out!
Wouldn't they make a nice hostess gift with a cute little bouquet or a candle?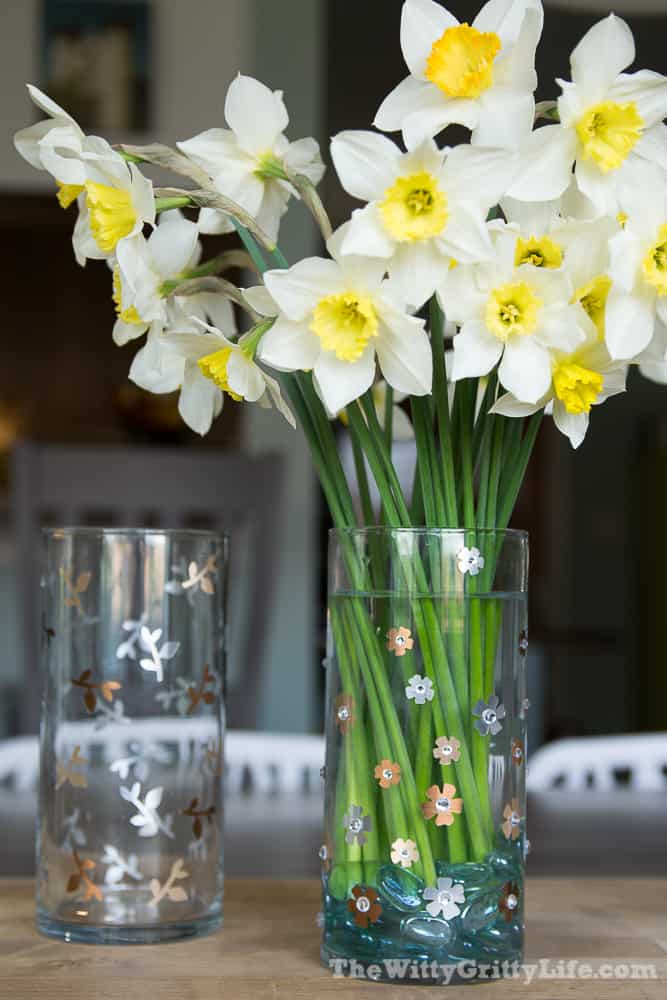 Much cuter than the generic flower shop vases.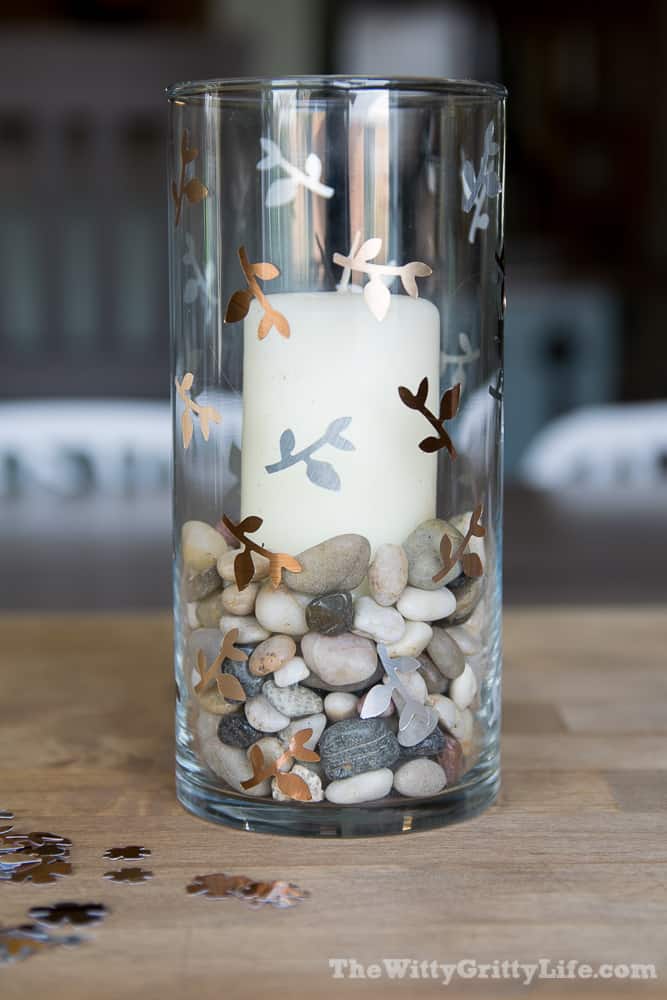 These metallic flower vases are also perfect as inexpensive additions to Summer garden party tables! You are not limited to decorating vases. This little project is perfect for giving drinking glasses, jars or votive holders that little extra touch. With so many different punch designs and foil colors available, you can personalize your creations many different ways. I actually bought several punches when I found them for 50% off. They are perfect for scrap booking and even in jewelry making!
And there you have it. Another fun project with adhesive foil. To be honest, lately I am in love with all things adhesive! With some of the new patterns and materials available, it is a quick and easy way to jazz up all kinds of different objects or areas in your home.
Check out some of my other projects using adhesive paper here:
And if you like DIY projects, tutorials, tips and printable art, be sure to sign up for the FREE Resource Library here:
Are you ready to give them a try? I sure hope so! And if you do, be sure to stop over in The Witty Gritty Life Facebook group to show off your creation!
Keep it simple!