When we moved into our current home nearly 19 years ago, it looked like the wallpaper fairy had exploded in it. There were several cutesie flower patterns scattered throughout, dutch boys and girls frolicking on a border in the laundry room. The main bath was a kaleidoscope with its psychedelic flower meadow. The formal dining room featured a floral stripe in "trendy" 1980's blue and mauve (gag).
If you guessed that the first thing I did after we got the keys was ripping wallpaper off our new home's walls, you would be 100% correct. Some came off easily, most did not. In a couple of rooms, we would have been better off just demo-ing the drywall and having new installed. What kind of glue did they use there anyway?
So to say that I was not really a fan of wallpaper would be a bit of an understatement. But recently, I began warming up to it again, slowly. And after installing the regular pre-pasted stuff in our son's room and a small half bath off the laundry room, I can finally say I no longer loathe it. The half bath's walls were in pretty bad shape, mainly because I had to chisel the last wallpaper off them.
Wallpaper has its place in design, no doubt. If you follow me on Instagram, you may know I've been working on a complete master bedroom revamp for some time. And while it's moving along at a snail's pace, there is progress nonetheless.
One of the design elements that I decided on is temporary wallpaper. I am still in the progress of working on that, but I thought this would be a fabulous opportunity to feature some of the amazing new adhesive wall covering designs available today. And boy, have they come a long way! Truly, I am in love.
WHY CHOOSE ADHESIVE WALLPAPER?
This evolved form of wallpaper comes with everything good and none of the downsides that turned me away from it previously.
easily removable

no special tools or skills required

small change, big impact

great way to try out design elements

budget-friendly

trendy, still something for every taste

easy to clean

tons of design options

versatile
IT'S RENTER FRIENDLY
One of the major reasons for choosing temporary wallpaper is that it is, well, temporary – if you want it to be. Stuck in a boring rental? You finally have an excuse to express your personality without having to repaint.
This feature also makes it the perfect choice for a nursery, especially if you plan on it being your child's room for the long haul. Now you can go wild decorating and when your little baby grows up, so can the choice of wallpaper! You could go from bunnies to graffiti without ever having to touch a paintbrush and that is a win in my book.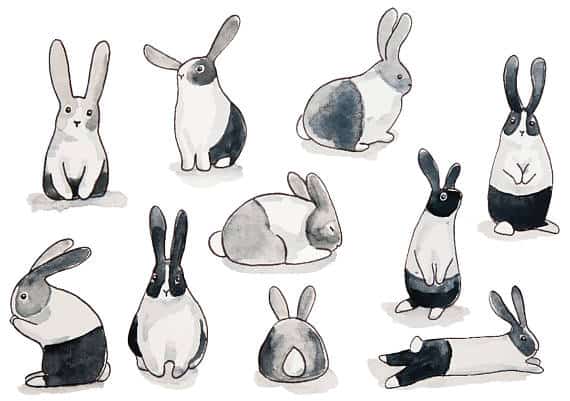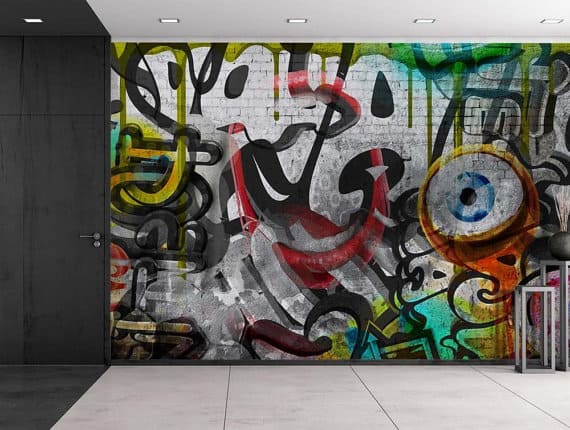 Are you planning to sell your house in the next couple of years? Worried that the buyer might not appreciate your choice of wall covering? Temporary wallpaper gives you the freedom to express yourself without the messy removal and cleanup that is associated with painting or traditional wallpaper.
NO SPECIAL TOOLS OR SKILLS NEEDED
This makes a project like wallpapering fairly attractive to even a novice DIY'er. With little more than a straight edge ruler, scissors or utility knife, and a squeegee or old credit cards you can be a wallpaper Ninja! Not sure if you are up to tackling a larger space? Start small and see how things go first. You can hone your adhesive paper skills by making over a small table:)
BIG IMPACT THROUGH SMALL CHANGE
There is nothing like adding just one more thing that makes a design perfect. A detail like temporary wallpaper can do just that. Try adding some to the back of a bookcase, inside a closet, or on stair risers for an unexpected detail. Is a strange nook or an awkward corner bugging you? Why not turn it into a feature instead of trying to hide it?
GREAT WAY TO TRY SOMETHING NEW
Why not use it to try out a design element before you fork out big bucks for something that might bore you quickly down the road? Think subway tile, brick, shiplap, chalkboard wall, etc. What might be all the rage today could be an overdone snooze tomorrow. Not sure if a look is the right fit for your space? Save money by trying its look-alike cousin wallpaper cousin first! Just take a look and see how real they are!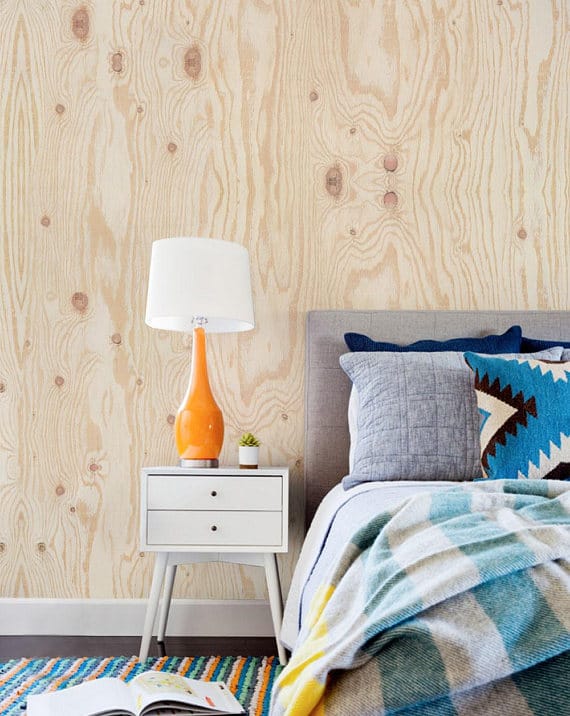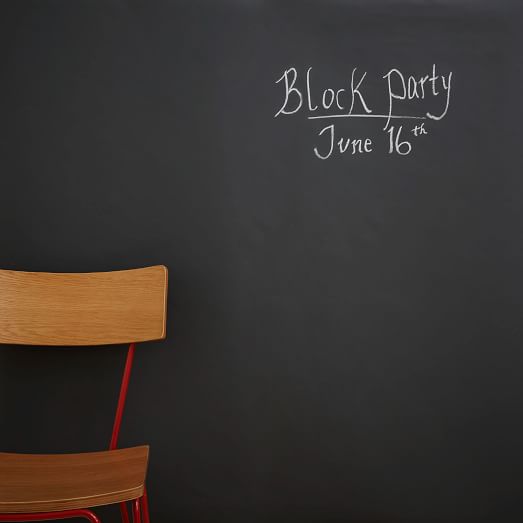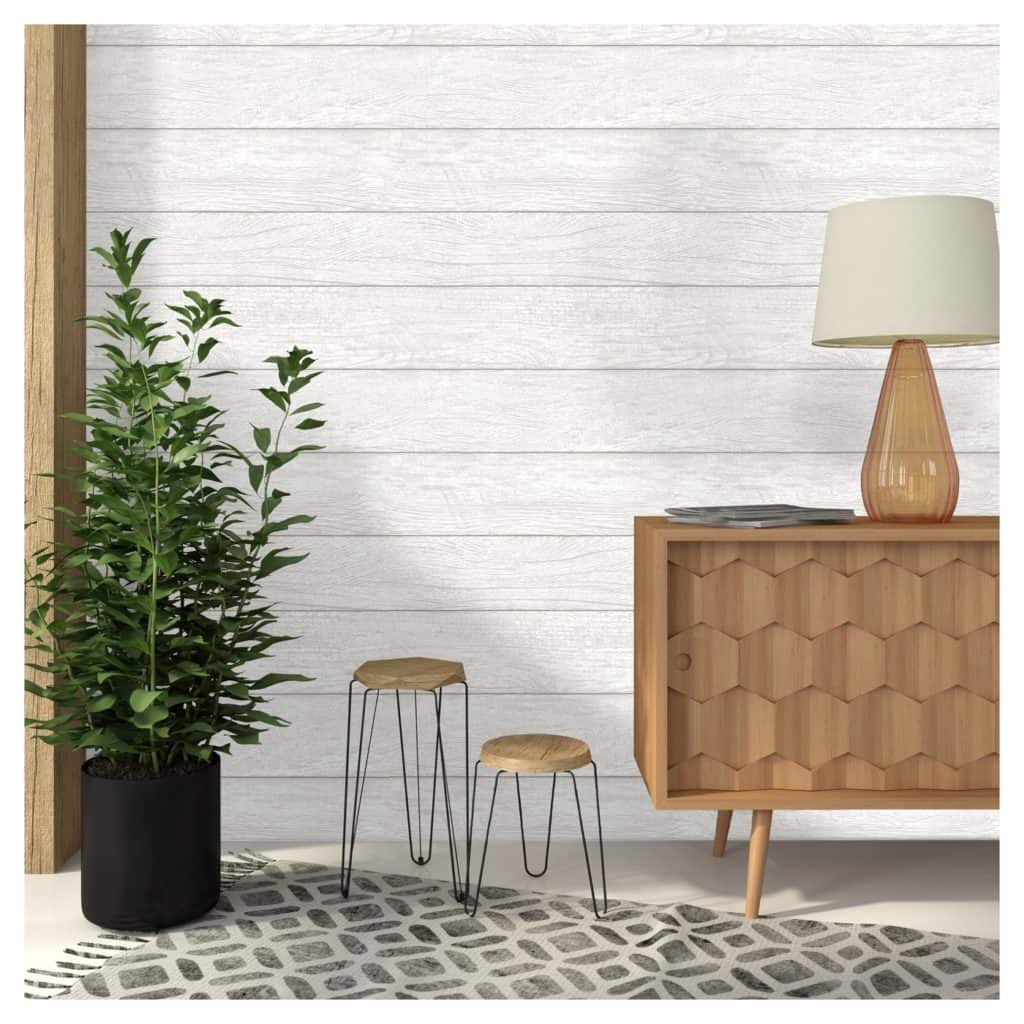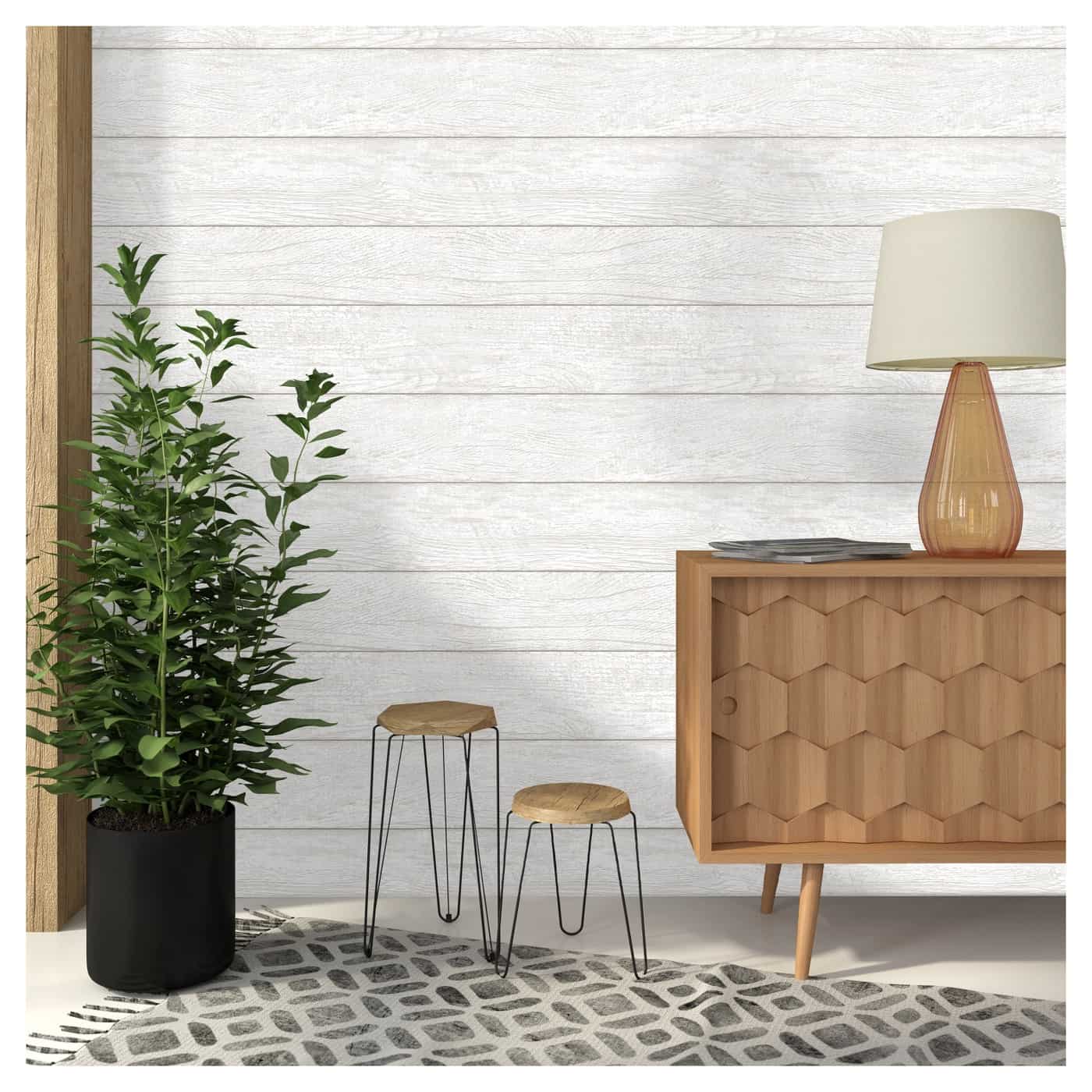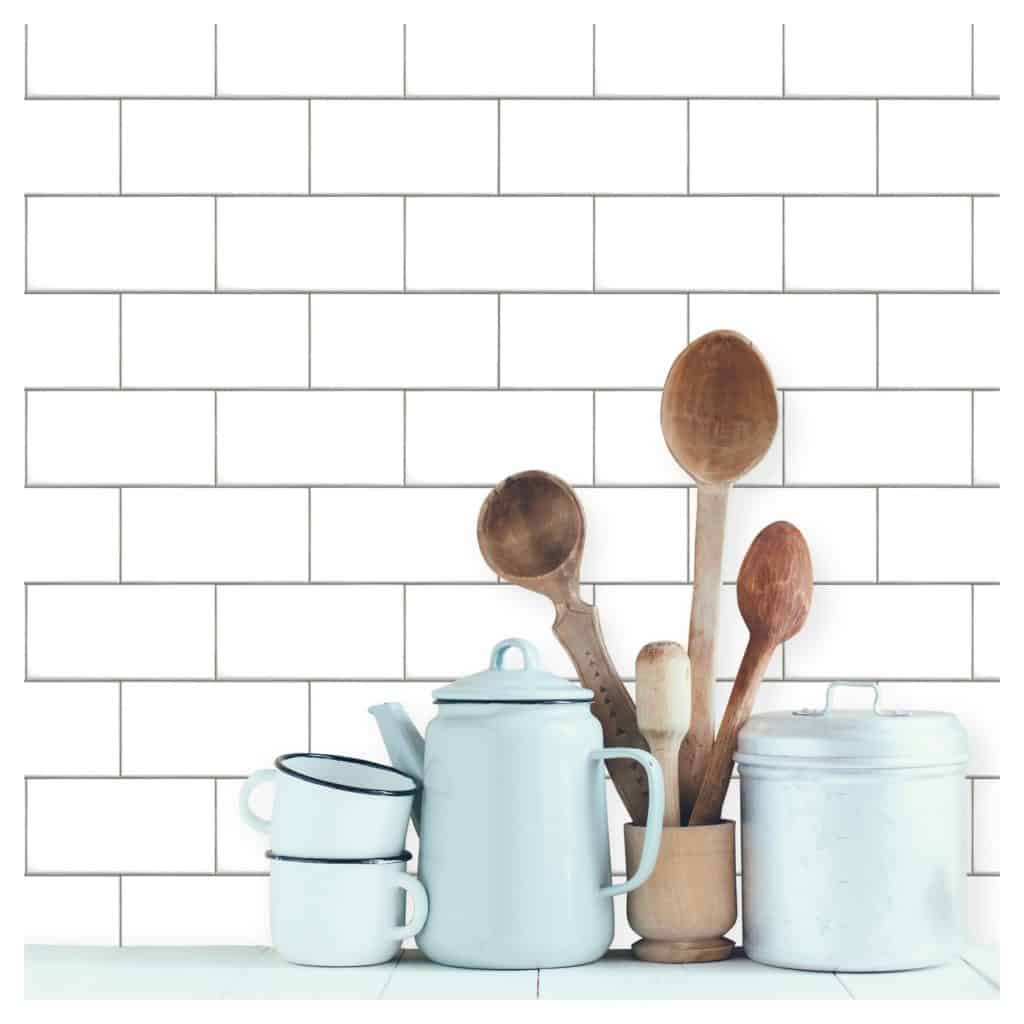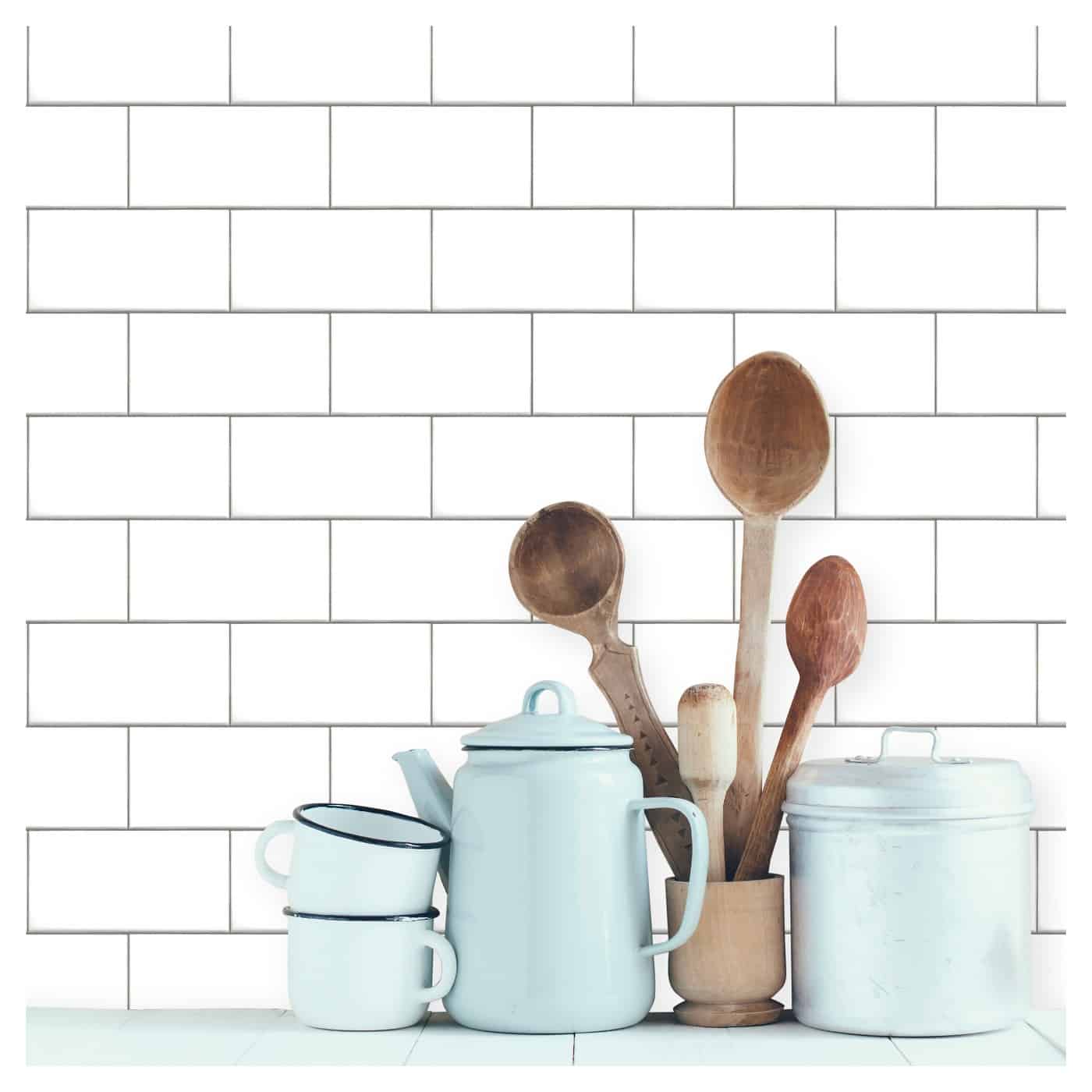 Pretty convincing, don't you agree?
BUDGET-FRIENDLY
Although there are a few pricey options available, temporary wallpaper is fairly easy on the budget. Even if you crave the high-end stuff, you could just use it sparingly like above wainscoting or on one accent wall to save money. And since you won't need special tools or skills to install it you can save cash on labor as well.
PLENTY OF OPTIONS FOR EVERY BUDGET AND TASTE
The variety of choices is absolutely amazing. There is truly something for everyone. Still can't find what you have in mind? You can have the wallpaper of your dreams custom made. Pretty awesome, right? Sites like spoonflower and vistaflags make it easier and more affordable than you might think. Another benefit of going that route is that you can often purchase fabric in the same pattern. Wouldn't this be the cutest print for a little boy?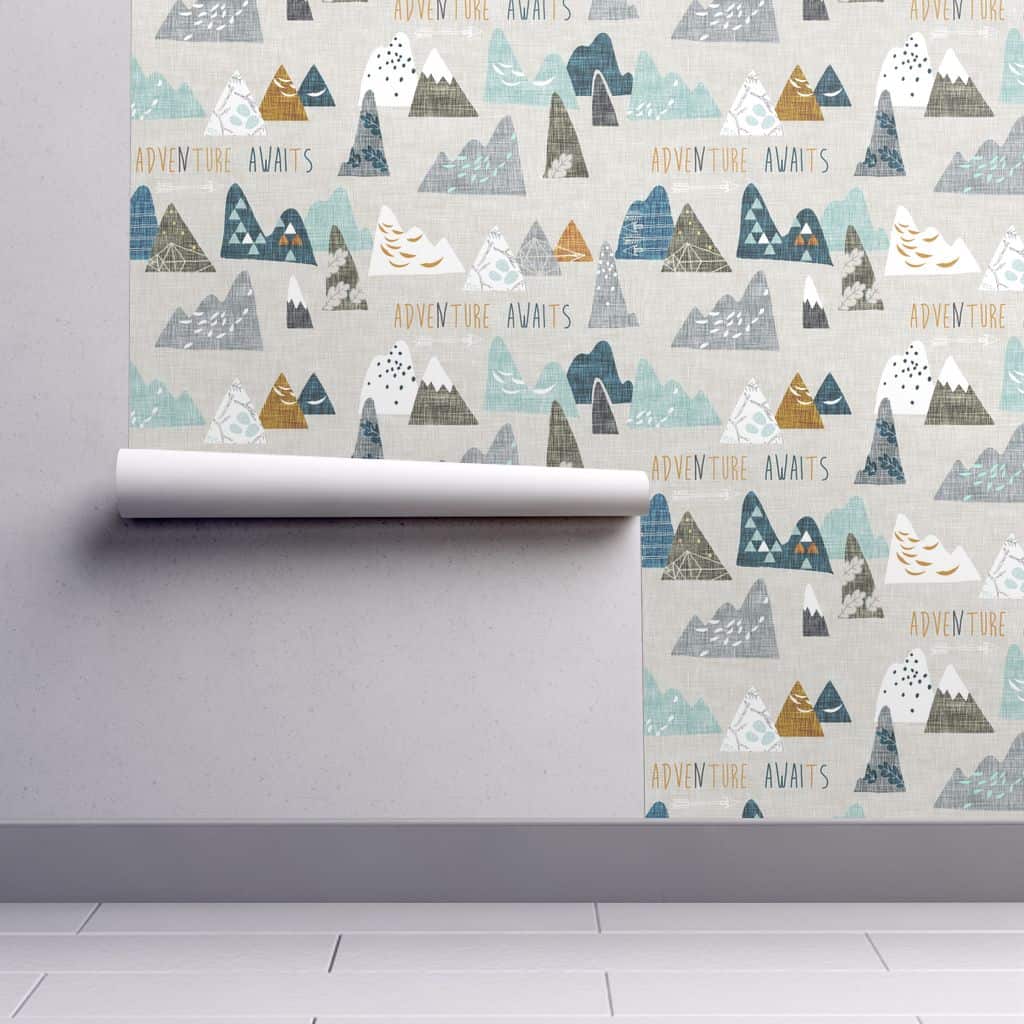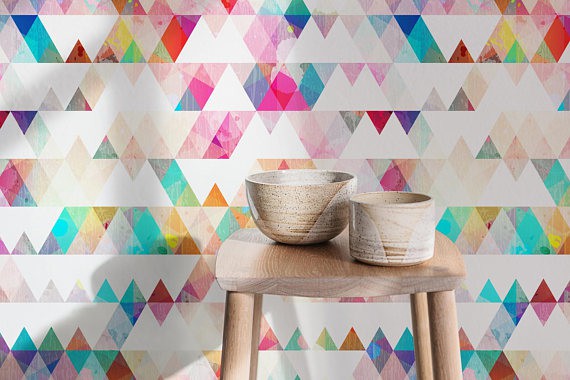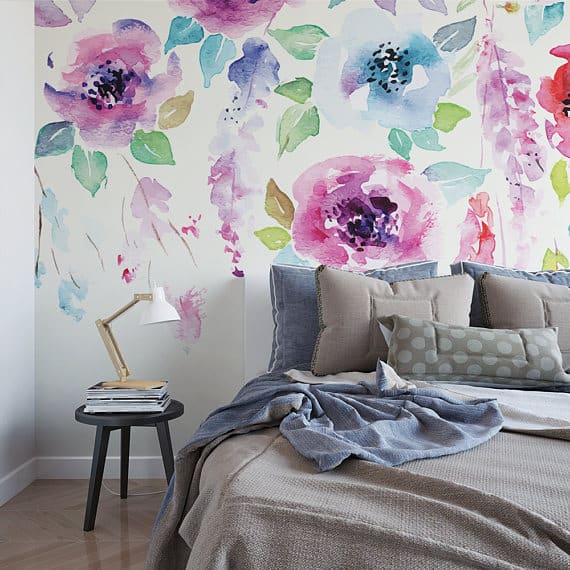 EASY CLEANUP
This point probably applies to most but not all, think grasscloth. But the fact that they are often printed on vinyl makes temporary wallpaper a star in places like bathrooms, kids' rooms, even hallways where clean-ability is a definite must. To me, this really seals the deal.
IT'S VERSATILE
There are few other design elements that are as versatile. Use on walls, of course, but also furniture, stairs, ceilings, framed as wall art as drawer liners… Endless possibilities my friends!
I am seriously thinking about doing something like this to my tired stairs!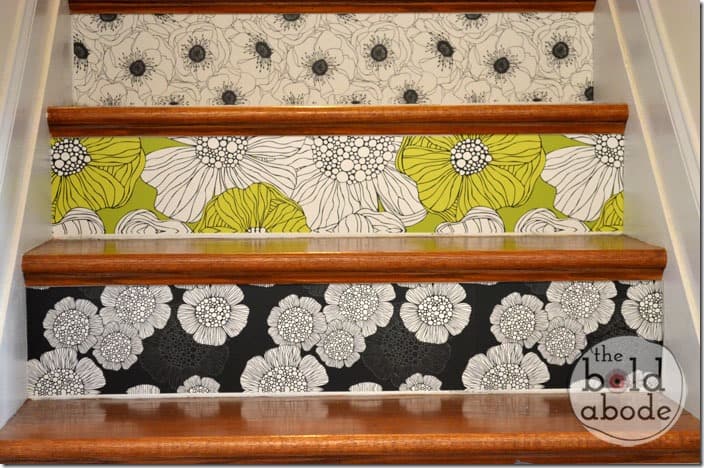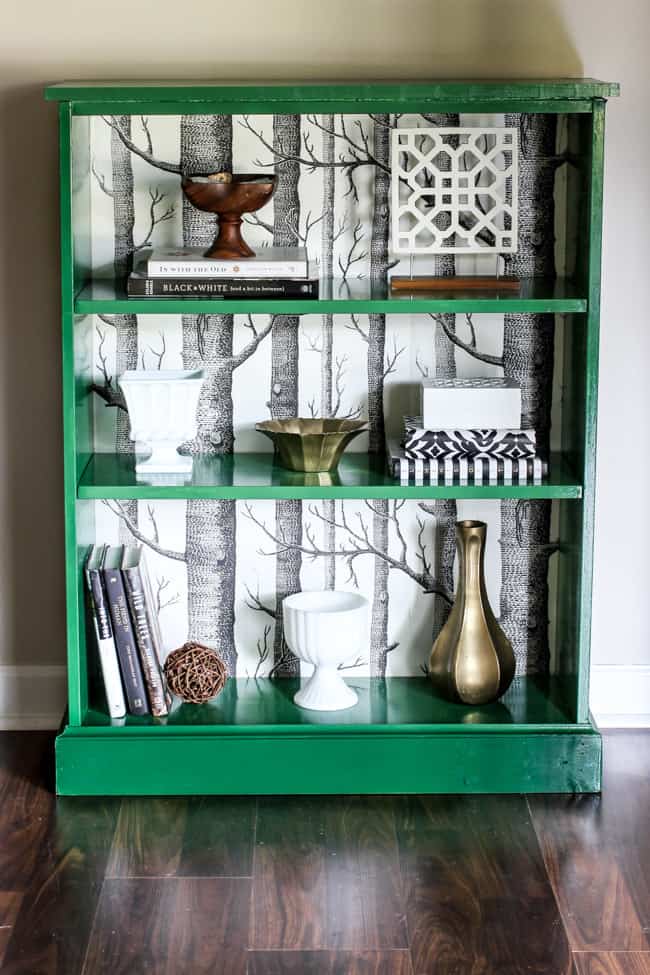 Hard to believe it's a cheap Billy bookcase from Ikea!
Honestly, I could add about a gazillion more cool examples. I'm pretty sure you get the picture by now: temporary wallpaper = a good thing. When it comes to home decor these days, nothing is more exciting than making something completely your own, even if it's a temporary space. How awesome is it to have so many options to put your unique stamp on your decor? Have you tried temporary wallpaper? I hope you are as inspired as I am to give it a shot. And if you do, be sure to share it in The Witty Gritty Life Facebook group!
Here are a few more fun online sources I have found for you to check out. Each offers a high-quality product that is unique and affordable.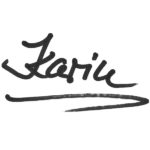 If you pin it now, you won't have to remember it later!