Do you love well made vintage furniture as much as I do? There is just something about knowing a piece has lived a previous life, that gives it the kind of soul brand new department store furniture lacks. Aren't we fortunate to have so many quality furniture makers in this country, who have produced work that stands the test of time?
Add to that the popularity of garage sales, Craigslist and my latest favorite: Facebook Marketplace all of which make these pieces a snap to find, along with a tolerable price tag. Recently, I made over one such find and thought I'd bring you along. Of course, every project has its little challenges and this one was no different. There may have been a big mistake that turned this into a bit of an ordeal… What was it? Well, you'll just have to read on, won't you? But I can assure you, it was a doozy that won't be repeated for sure!
For a long time, I had been looking for just the right dresser makeover. All that was missing was the actual piece of furniture. But I knew that sooner or later it would show up, and so it did.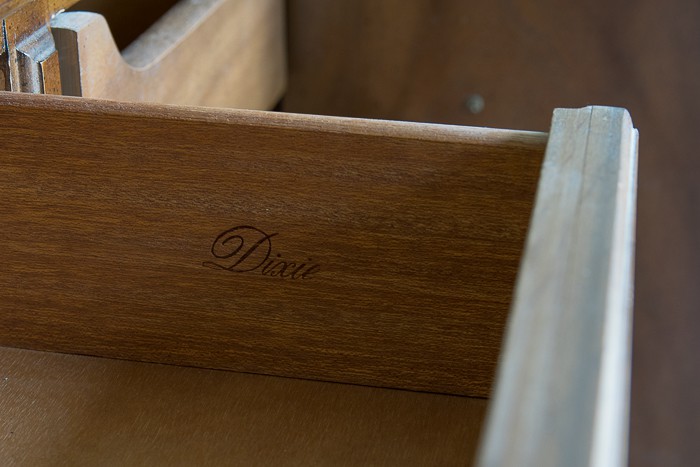 Dixie – I'm calling "her", because of the manufacturer, was a lucky chance find by Mr WittyGritty. She'd make a good dresser for our son's apartment, he figured. WRONG! She was exactly what I had been looking for to kick start my bedroom makeover. The right size, style, lines – just perfect. The $20 price tag sealed the deal.
Here she is!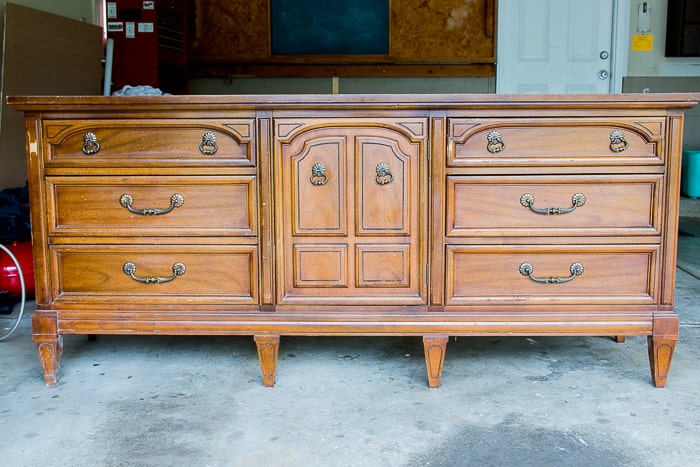 But like any woman her age, she came with a little baggage. Turns out the old girl has lived a bit of a rough life, as evidenced by a few scrapes, gouges, rough patches. I strongly suspect she may even have smoked;) Close up you can really tell that some serious love and care was in order! Get a load of the "fly poop" finish! Classy, yes? But she was structually sound and had good bones.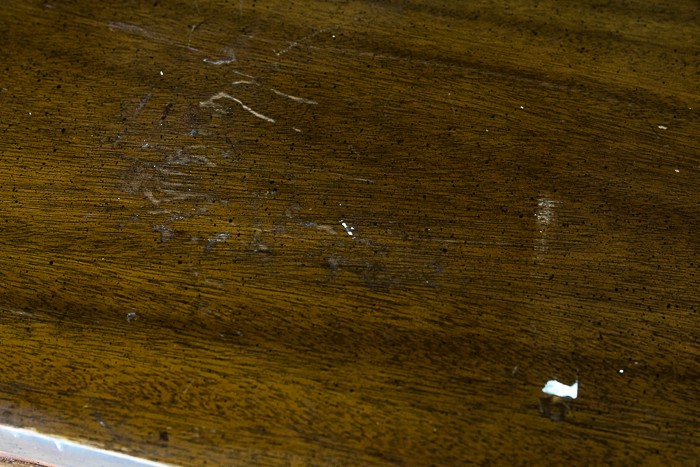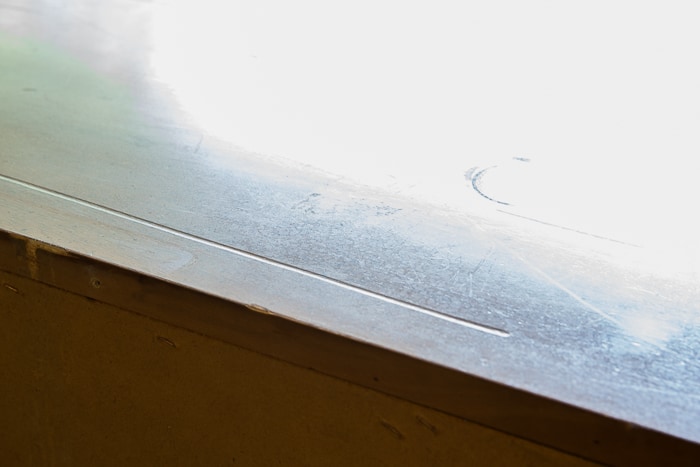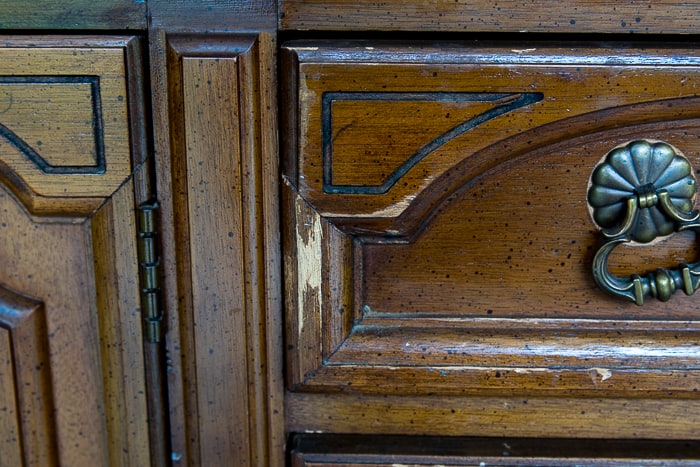 Poor baby!
This is not my first time at the dresser re-do rodeo and there are always lessons taught by any project. And so it was with this makeover. While Pinterest is full of quick and easy dresser re-dos, I knew from the start that I would need to be thorough and meticulous this time around. No short cuts for Miss Dixie!
Today I'll walk you through my version of "demo day". Well, not demo per se, but dismantling, cleaning and prep prior to actually painting. All of the not so fun, but oh so necessary, stuff that leads us to the good part.
First of all, we live in an area of the country that has a hardy and thriving bed bug population. Those little critters give me the heebee jeebees in ways I cannot even begin to describe. So, no and I mean NO piece of used furniture ever enters our abode without spending time in quarantine. That means a thorough inspection by yours truly, followed by a cleaning in the garage.
This post contains affiliate links. You can read my affiliate link policy here.
When initially cleaning a piece like Dixie the dresser, a mask and gloves, as well as a good cleaning solution, are always in order. My favorite is Thieves cleaner solution. It does a great job with grease or any other buildup and deodorizes like a boss. No Thieves handy? Krud Kutter Tough Task is another fabulous cleaner that cuts through residue like a boss. A heavy duty respirator mask would not be overkill when it comes to anything related to mold and mildew. But honestly, if you see anything that looks like mold or mildew, pass, it's just not worth taking a risk.
Affiliate links are included for your convenience. Read my full disclosure policy here.
Here is my process step by step.
After carefully unscrewing and removing every piece of brass hardware for cleaning and refreshing, remove all of the drawers and set them aside. You may want to label them to make things easier later. Spray cleaning solution – find recipes here or use something like this – inside the dresser and each of the drawers and let them sit for at least a few minutes.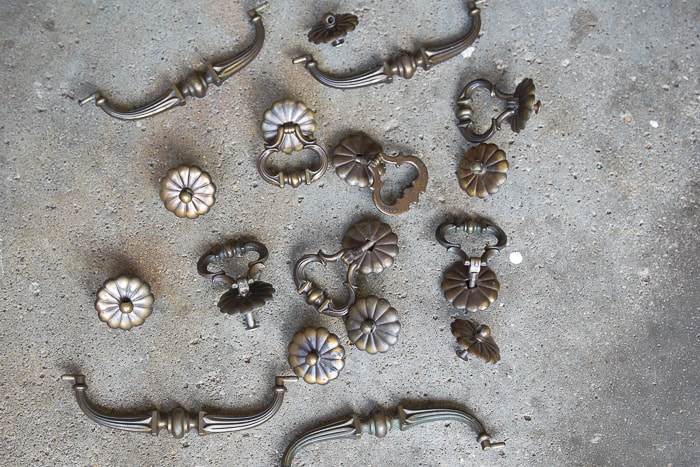 This helps to keep any potential spores and other dust particles in check. The task of wiping everything down with a cloth dipped in cleaning solution is straight forward and tedious, but extremely important. To stay on track it helps to either work from side to side or top to bottom.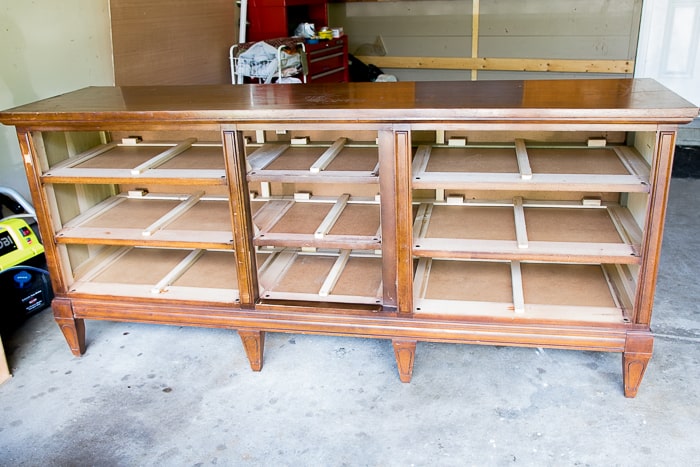 Make sure your cloth is damp enough to moisten the surface, but not too wet. Try to work in a way that won't kick up dust. Clean the entire dresser inside, wipe down all of the outside surfaces and repeat yet again with all of the drawers.
Once everything is thoroughly dry, vacuum any loose particles with a shop vac. I know this seems counter-intuitive, but it is important to wet wipe any potential invisible mildew before it could be disturbed by a vacuum.
To get into hard to reach grooves and crevices I prefer a bamboo skewer and an old tooth brush.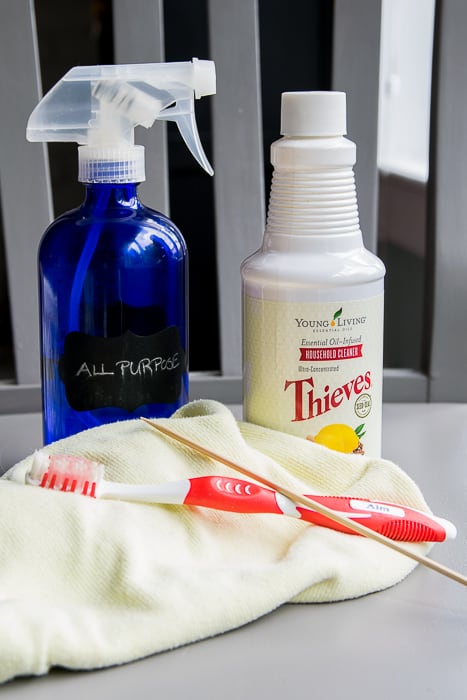 And then repeat the entire wipe down process. This insures that any remaining particles that escaped wiping and vacuuming get picked up.
Next up comes the actual prep part. I am not going to sugar coat this. It's a pain. It takes time and lots of elbow grease. It'll never be done exactly the way you want. But it is the most important step of all, because it lays the foundation for a succesful and professional looking paint job. Being thorough and meticulous will pay off – I promise.
With all of the cleaning done, you may think it's time to fill in any nicks, gouges and scratches. Well, that's what I went with, anyway. Why sand more than once? For Dixie this also meant taking care of some frizzy edges and rough back corners. Since I already had it on hand, I decided to give this wood filler a try.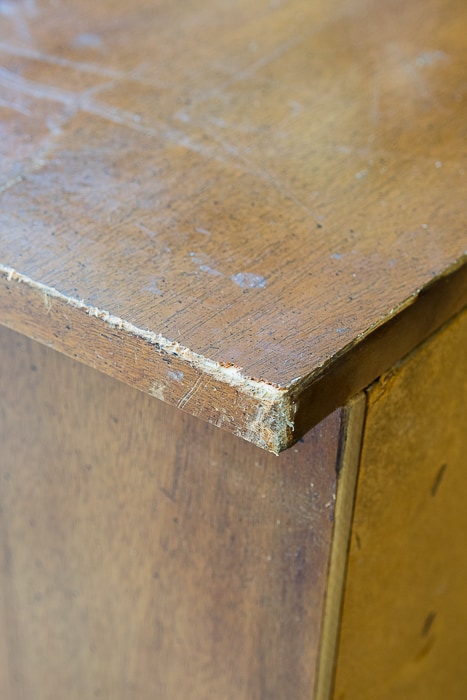 I carefully applied it to all of the areas, not too thick and waited for it to dry. And waited and waited and waited…
Join me for part two to find out about my major mistake and what it took to make it right!
Have you ever tried your hand at re-doing a craigslist or garage sale find? Any successes or war stories you care to share?
Keep it simple!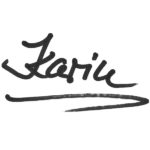 If you pin it now, you won't have to remember later!