If you have been following along, you will know I am on a big house purge mission with the goal to adopt a more minimalist lifestyle. Part of the process is, of course, imagining what our spaces will look like afterward. Ever since I changed out our dining room chairs, I have fallen for Mid Century Modern design. Today, I would like to share why I love Mid Century Modern and hopefully inspire you to include some MCM elements in your own home
What exactly is Mid Century Modern?
Mid Century Modern is a term that was first coined in a book by Cara Greenberg: Mid-Century Modern: The furniture of the fifties. While her book mostly focused on the period ranging from post-WWII to about the mid-sixties, some include a much earlier time frame dating back into the twenties with the beginnings of the Bauhaus movement in Germany. Bauhaus was an actual physical school that taught a revolutionary concept combining architecture, sculpture, and painting with crafts and engineering. How German is that?
A well-known example of Bauhaus is the cantilever chair, which is as fresh and relevant today as it was nearly 100 years ago! I have always been a huge fan of combining skill, craft, and art. It just works on so many levels.
Here is one of my lucky finds: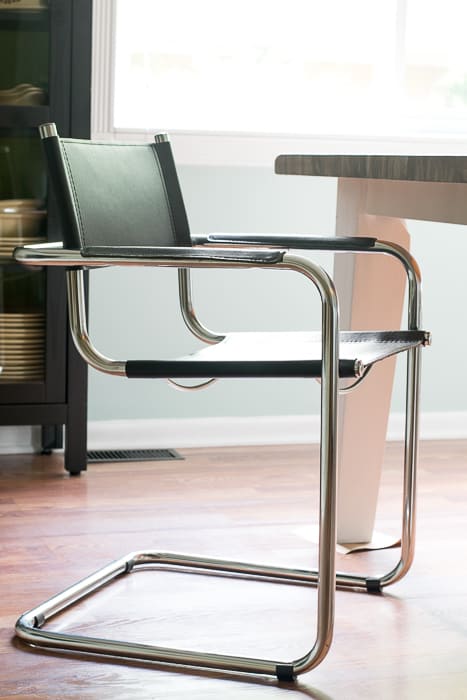 Mid Century design traces its roots in the Bauhaus movement as well as Scandinavian, most prominently, Danish design. While many of the original Danish designs were initially handcrafted, the clean simple lines were perfect for production on a much larger scale and soon found their place in a significant number of homes.
The golden era of Mid Century Modern was without a doubt the post-war fifties into the mid-sixties. Many Bauhaus founders had emigrated to the United States by then and continued their groundbreaking design work. It was a perfect stylistic representation of the dawn of the space age, most notably the iconic sputnik lamp. And while it disappeared into the background for a little while, this perennial design trend has recently seen a huge resurgence that shows no signs of waning.
No other period in design history is home to so many iconic designers! Eames, Miller, Saarinen, Jacobson, the list goes on.
Here are some fun sources I found on the subject if you are interested in learning more.
The History of Mid-Century Modern
The principles of re-imagining Mid Century Modern design
Mid Century Modern furniture designers to know
What are the basic elements of Mid Century Modern design?
If I had to sum Mid-Century Modern up in one word, it would be LIVABLE. What exactly makes it so livable? MCM design relies on open spaces, clean lines, use of organic materials like wood and plants, minimalist decor, and the juxtaposition of different materials like plastic, concrete, wood, velvet. It feels visually light and just makes sense.
Mid Century Modern elements also play well with other styles. So there is no need to chuck what you already have and turn your home into something straight out of Mad Men or an episode of "The Jetson's". I, for one, with all my new found affection for MCM still won't be adding a sunken living room or a conversation pit anytime soon!
MCM can be classic, understated, and sophisticated or bold, colorful, and bohemian, the choice is yours!
Now let's get on with the good stuff. I looked high and low to find some stunning rooms for you to drool over admire.
First up is this drop-dead gorgeous dining room that is a wonderful example of adding fresh new elements that sum up the sophisticated side of Mid Century Modern.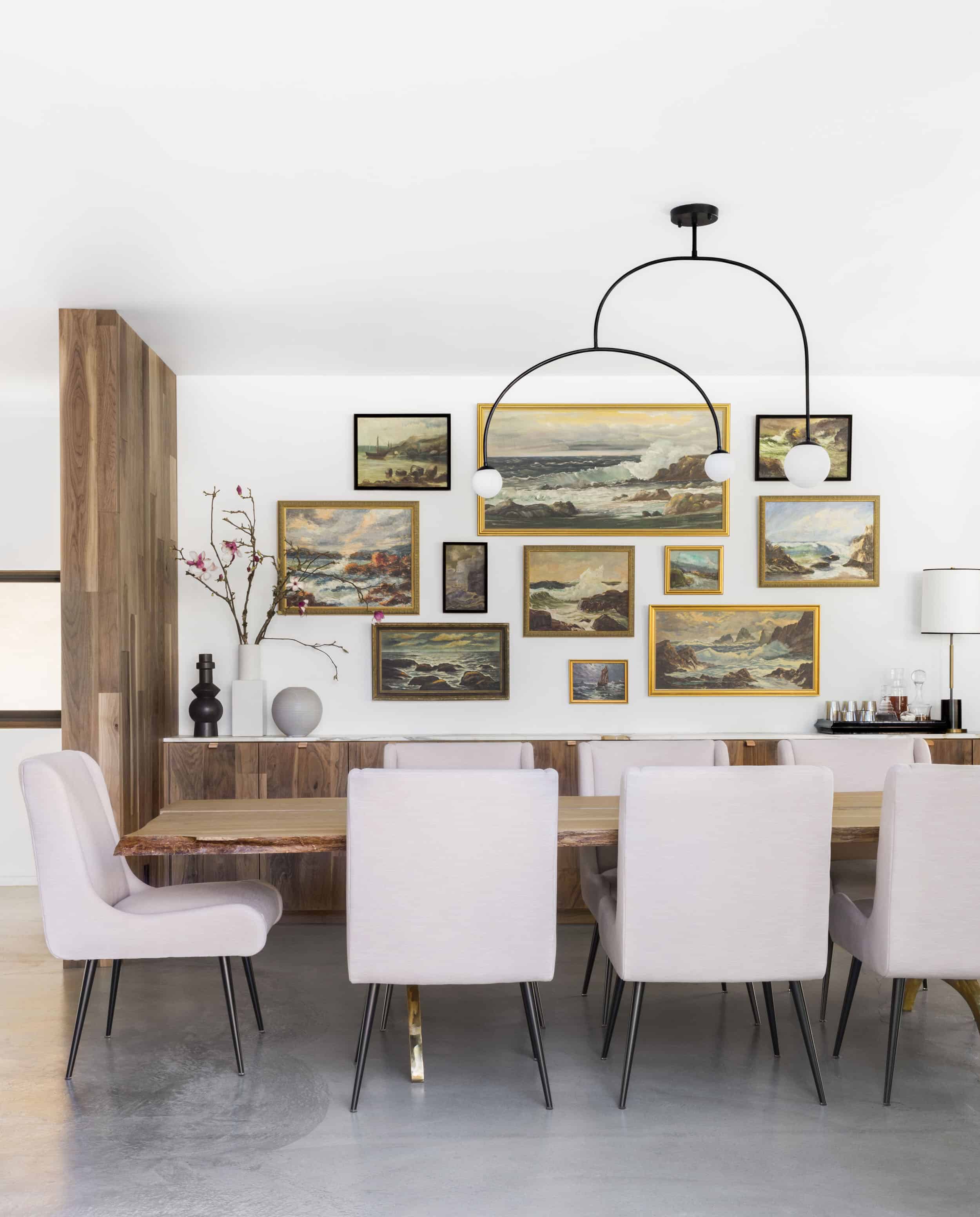 The collection of seascapes, the raw edge table, architectural style ceramics, blush pink velvet chairs – all good. If you like this room, you definitely need to check out the rest of the house!
On a more colorful note, this room just makes me smile. I dare you to be in a bad mood in a happy space like this!
The addition of just a few carefully placed poss of colors really brings this space to life, doesn't it? That's what I mean by livable!
You could start small by adding a comfy chair in a corner…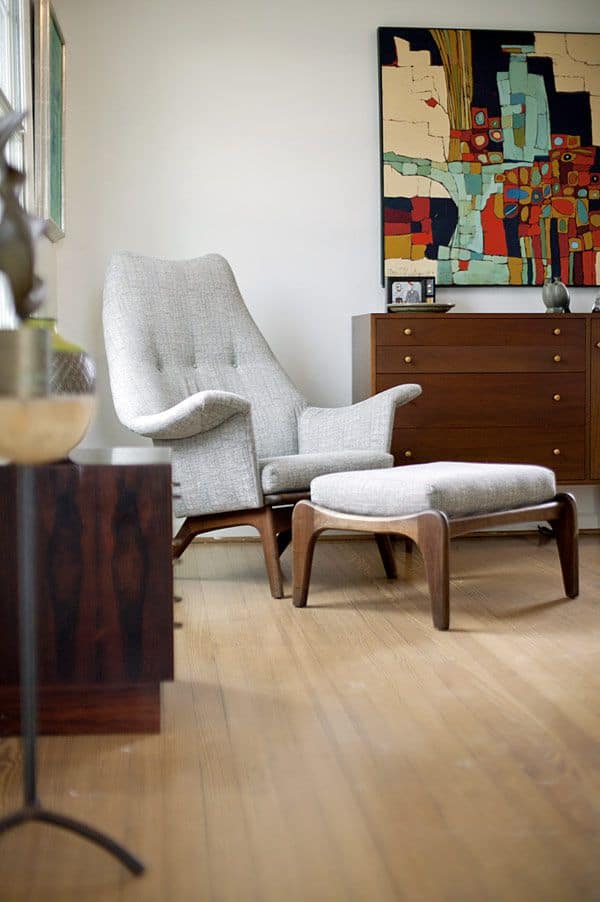 Or add a few new planters…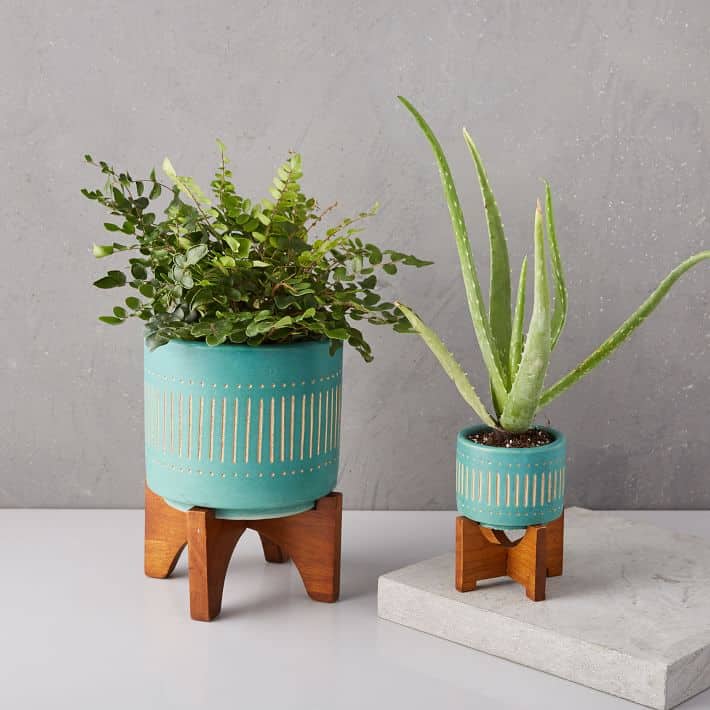 So cute. If you don't want to shell out big bucks for these and are a little handy, there are tons of instructions on Pinterest to make them yourself!
Lamps are another way to add MCM to your decor!
I recently snagged a couple of these beauties in a light wood tone and a natural frame color for our living room. They are super comfy, very sturdy and easy to clean. How do I know?I love to sit in them, my hubby didn't just stub his toe on one, but actually broke his foot. They are sturdy alright, and there may have been a glass of milk spilled on one of them by the same spouse 3 hours after I brought them home from HomeGoods. From my practical point of view, I love that I can actually vacuum under them, which was never possible with the love seat and then the chairs that we had before!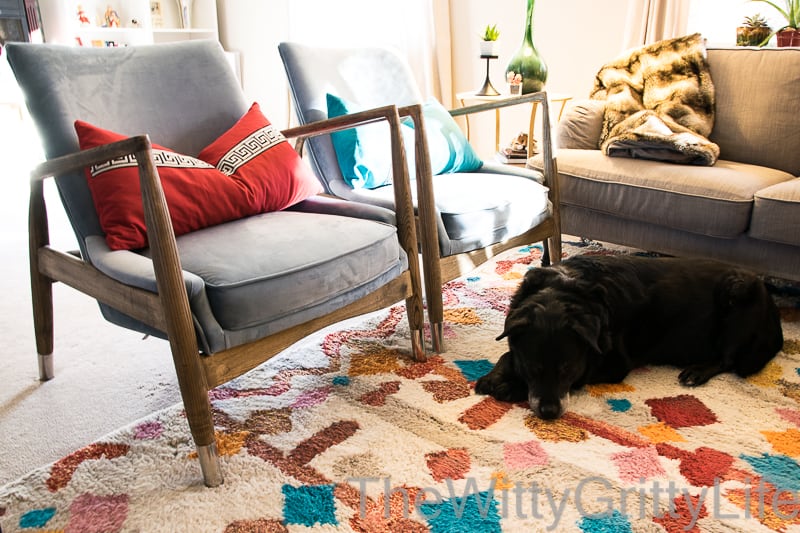 After looking for new living room chairs to right this decorating wrong, these were love at first sight for me. I love this rug, too, but that is a story for another day. Don't even get me started on that black adorable ball of fluff!
That actually brings me to yet another positive point about Mid Century Modern and its revival. You can find some pretty darn nice pieces for a bargain price if you know where to look and have patience. Favorite sources include Craigslist for vintage pieces, often grandma's bedroom is sold off for a song, as well as some antique malls. I love to stalk HomeGoods for finds like the chairs above and other accessories. Target recently came out with its own line, called Project62 to celebrate the store's anniversary.
Part of the fun is never knowing what you might find!
Now you know what I think of when I am busy getting rid of stuff. One thing is for sure, whatever comes into our house next will have a Mid Century Modern vibe!
Where can you buy mid-century modern pieces?
Vintage – Facebook Marketplace, furniture consignment shops, antique malls, online: eBay, Etsy, Chairish New: Homegoods, some furniture stores are finally jumping on the bandwagon, mostly online: All Modern, Joy Bird, France, and Son, Target (also in-store) Wayfair.
For more upscale vintage pieces you might give Chairish a try. There is a good chance you might get sticker shock, but it's certainly worth a look!
Slowly some of the larger furniture stores are catching on, but last time I checked the one near our house was still peddling stuff that would not have looked out of place in a medieval castle. Yawn.
What are your thoughts? Have you considered adding some Mid Century Mod to your life? What is your favorite design style and why?
Wishing you all a warm and awesome weekend!