Trying to eat healthy and making everything from scratch can be a real challenge.  But it should not mean having to give up all the tasty foods – like pizza. Good news! You don't have to and it's super easy to make! Our son adores the sauce and cheese laden pie, but he also happens to be on a gluten free, dairy free and egg free diet. Heading to the local pizza joint and buying one is out of the question for us for that reason alone. Not to mention it's not necessarily the healthiest thing you can eat. Luckily, this is a dish with options  that are easy to assemble, provided you have all the right ingredients. And pizza sauce plays a starring role. Just imagine you ordered a takeout pizza and it didn't have any sauce. It just wouldn't be the same, would it?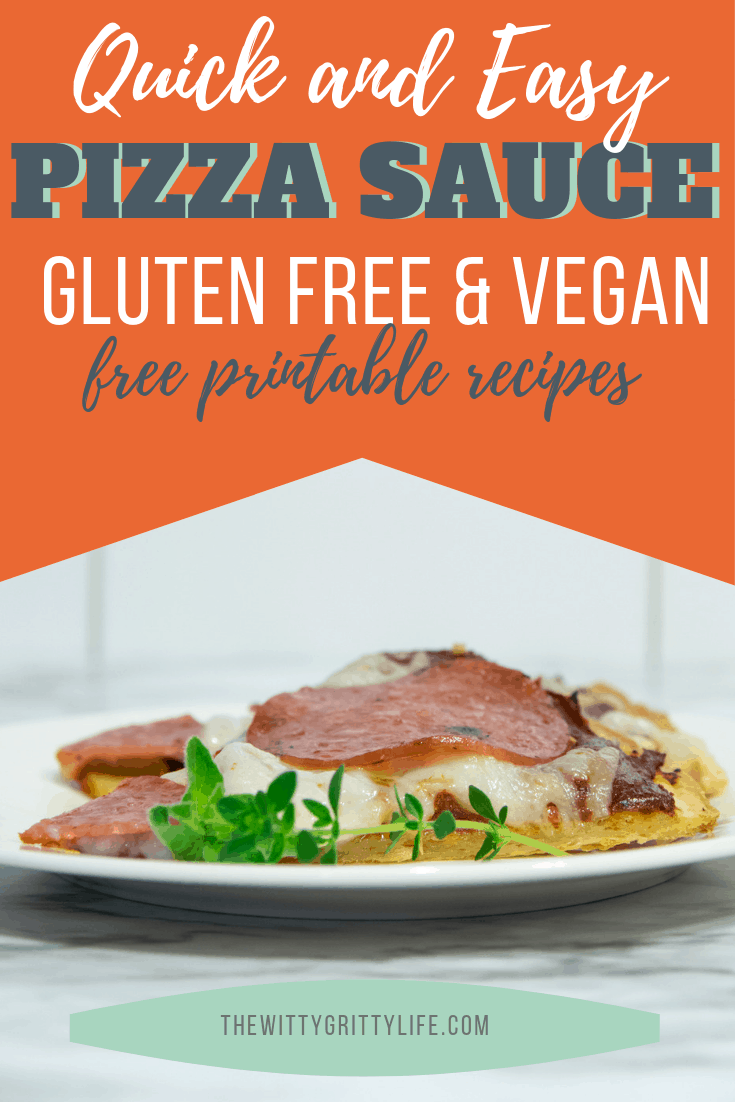 There are healthier frozen versions, generally vegan ($$$!) or gluten free with dairy cheese on top, so those are out, at least for us. Not to worry, there are ways to create a genuinely yummy pizza for a lot less dough;) And it can be done without having to slave over a hot stove. Because frankly, that takes all the fun out of eating pizza.
Pizza sauce should be more than just the red stuff that serves as a bed for the other toppings. It's the flavor base that can make or break a recipe. Sure, there is store bought sauce, but it just lacks the flavor complexity and consistency I'm after. Besides, I much prefer being able to rely on basic pantry staples rather than ready made products.
It's generally cheaper and being in control of what actually goes into a recipe means a lot to me.
For some time, my go to sauce was created from canned diced tomatoes. And that was fine, except for the fact that it required a couple of steps, not to mention equipment (sieve, bowl, blender) that I wanted to cut out. Not to mention that the drained juice from the tomatoes frequently went wasted.
The sauce was good, but despite all of my efforts it still lacked that little extra. I was aiming for a thicker consistency and rich tomato flavor. The breakthrough came one day when I had planned on making pizza, but didn't have the required diced tomatoes. Out of sheer desperation I opted for what is now the star ingredient of my new and much improved pizza sauce recipe. Can you guess what it is?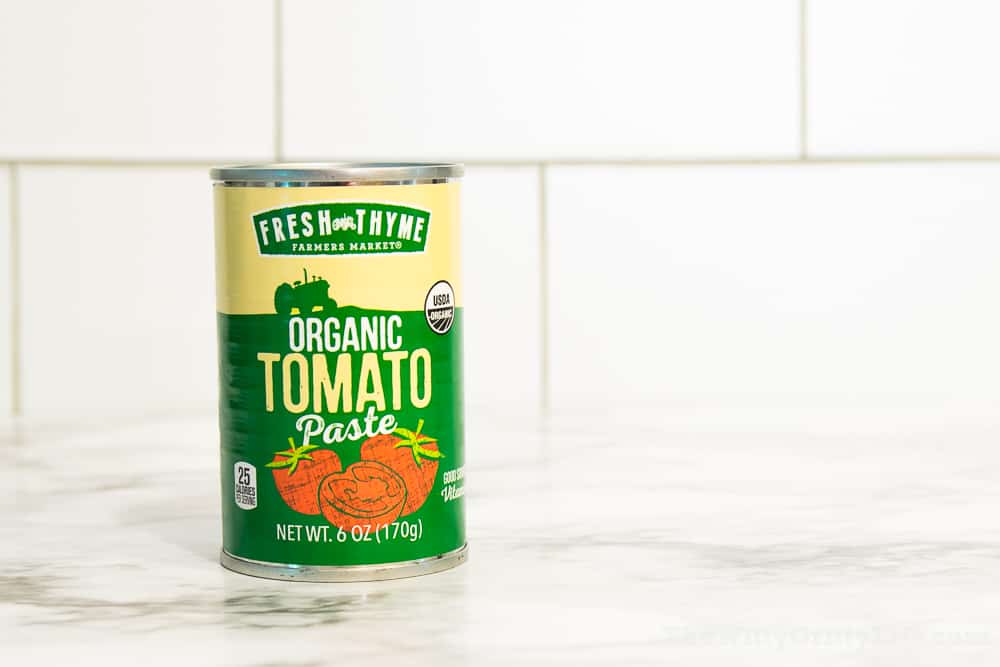 Yep, you got it. Tomato paste. Tomato paste has rich, sweet concentrated flavor that adds just the right amount of robustness to this heartier version of pizza sauce. One of few vegetables (I know, I know, tomatoes are technically a fruit!) that are even healthier when the canned version is consumed, it needs a healthy fat like olive oil to unlock its benefits.
Check this out to learn more about the health benefits of tomatoes.
What makes it such a power house ingredient are components like lycopene – a powerful antioxidant, potassium, vitamin C, B vitamins etc. In other words, a really healthy base for your homemade pizza sauce.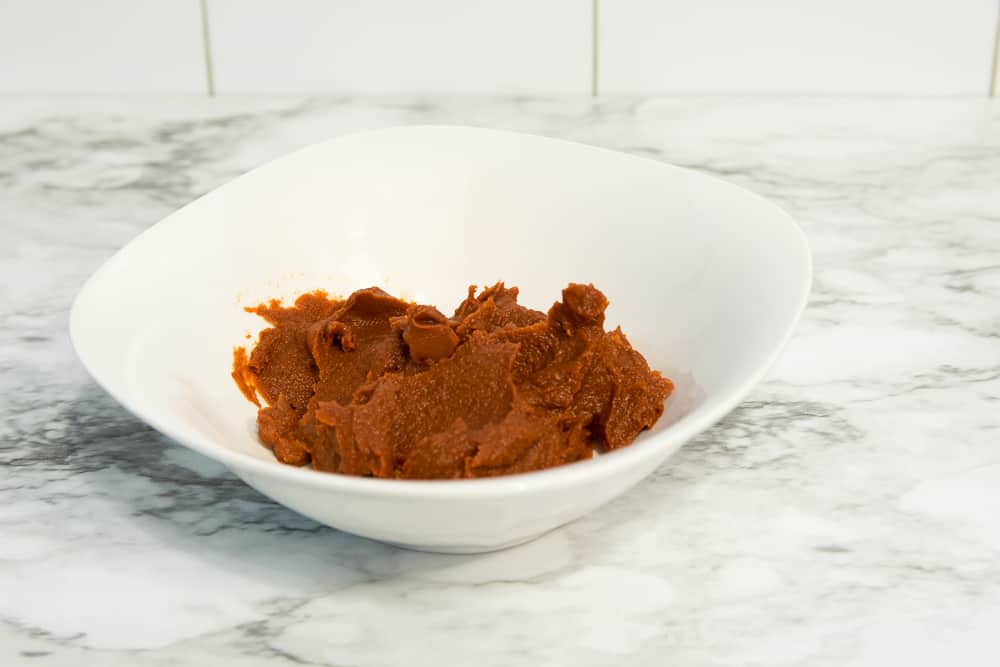 It is thick and rich with robust and sweet flavor. There is no need for draining and blending. The consistency is perfect pretty much straight from the can, although you can always add a little water if you find the sauce a little thick. Best of all, it has proven an absolute hit with our son and his crew:) Some pizza crusts, such as the cauliflower crust we tend to use require a  a "dryer" sauce to keep the crust from getting soggy.
And in the spirit of simplicity the other ingredients are basic pantry staples as well.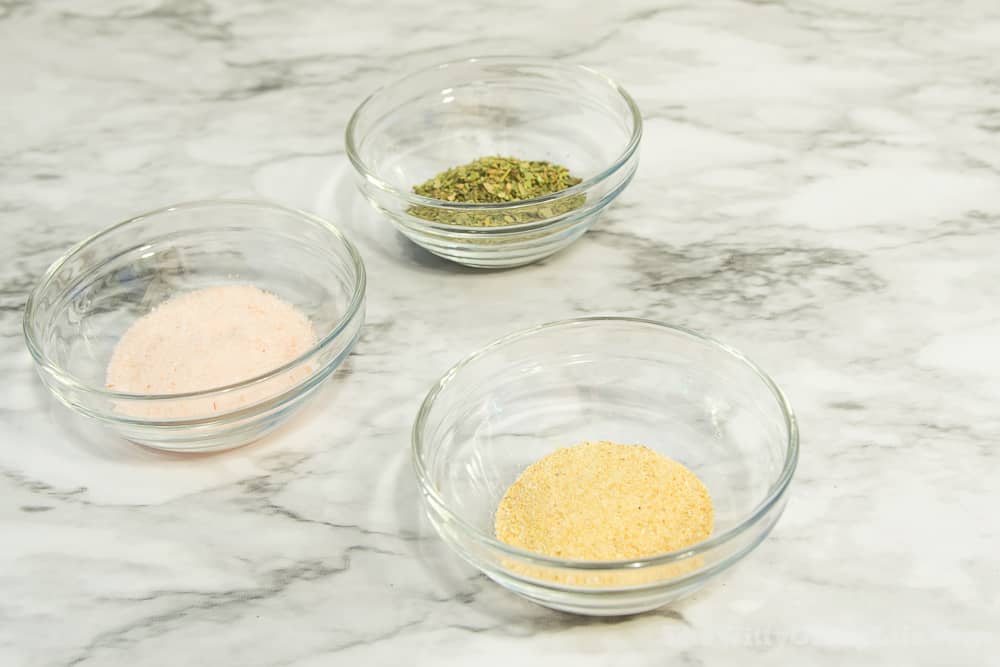 Himalayan or Celtic sea salt, garlic powder and Italian herbs provide all the yummy taste you'll ever need. Just add each ingredient to your tomato paste like so.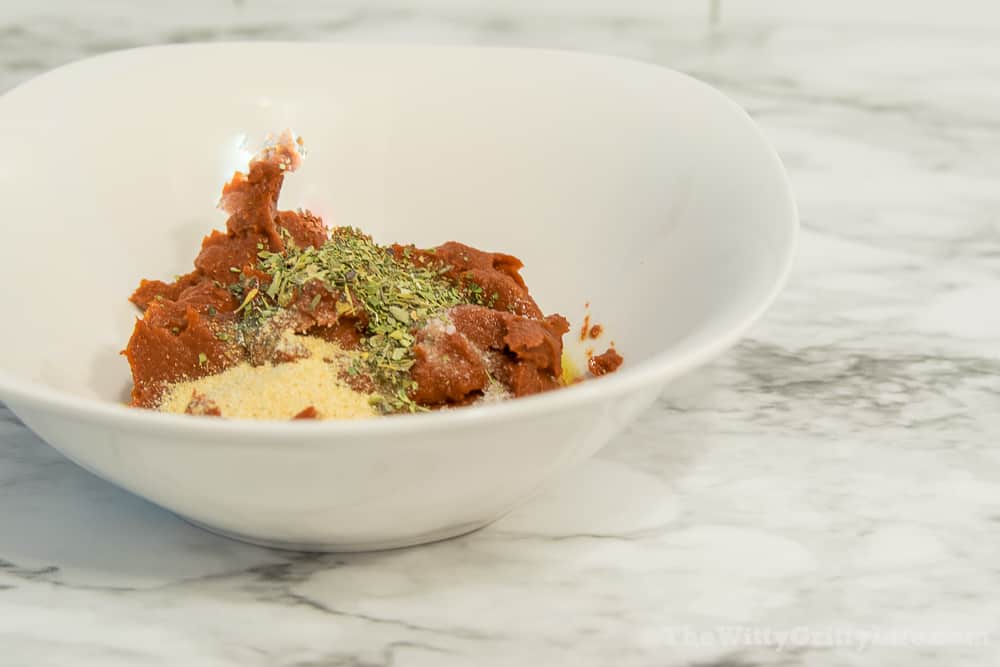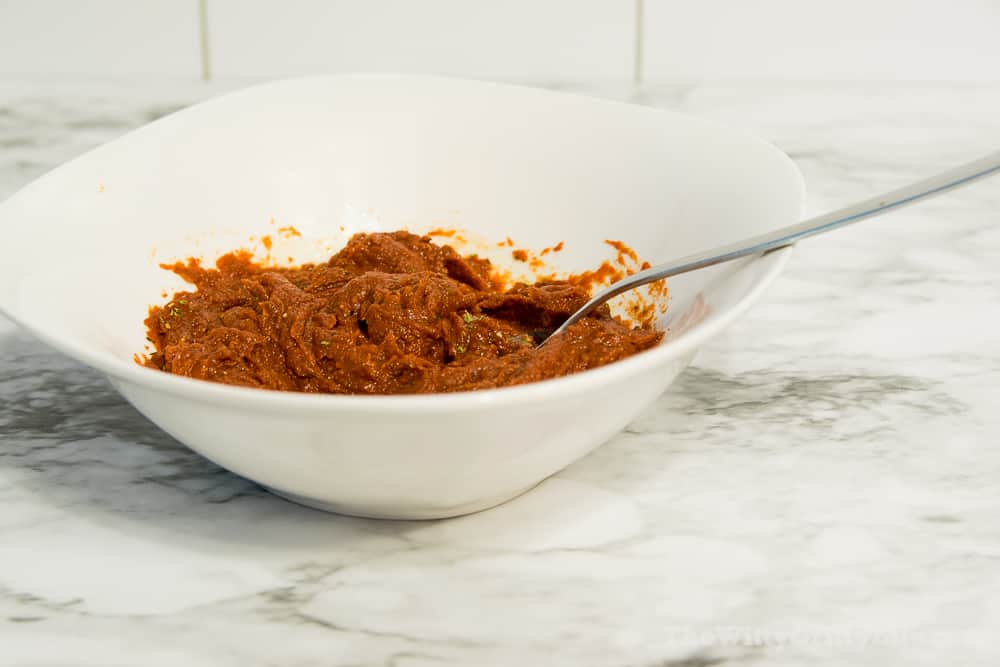 And what is pizza sauce without some lovely extra virgin organic olive oil?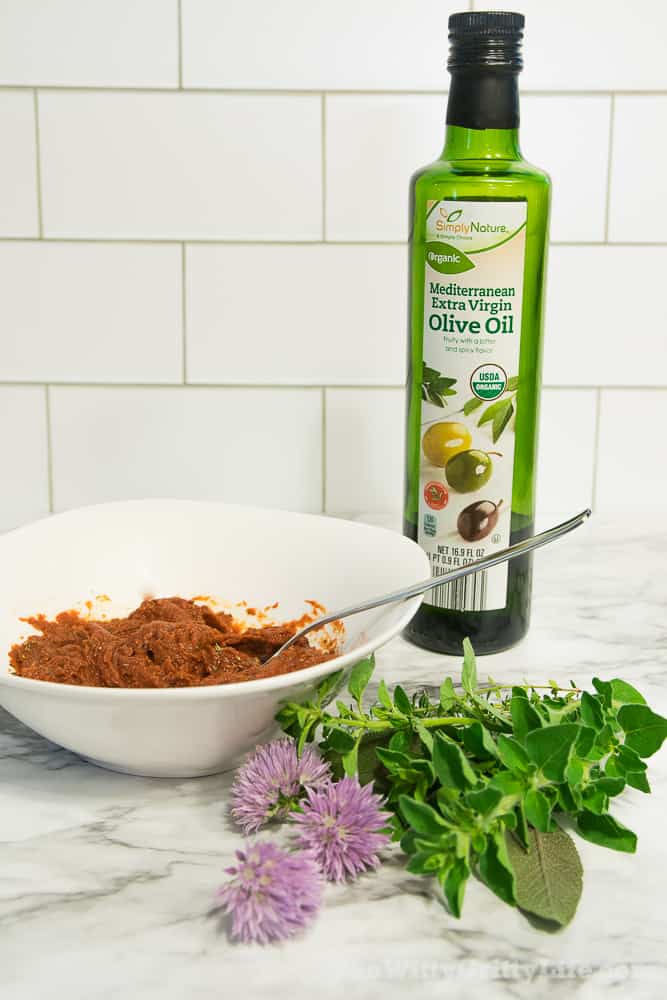 Gosh, I love being able to just go out into my garden and pick some lovely herbs!
All you need now is a pizza crust: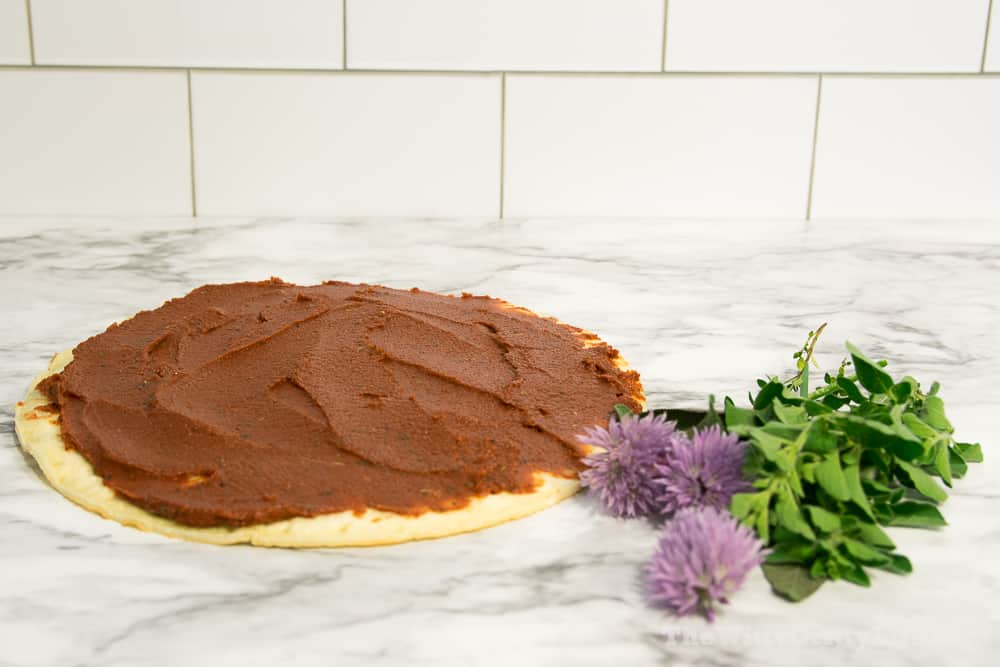 The crust I am using here is a frozen cauliflower based one from our local health food store, but you can use any crust you like. It's more than plenty to cover a medium size pizza crust. Just double the recipe for a sheet pan pizza! This sauce would be lovely on sliced eggplant mini pizzas as well. It's all up to you.
We've been using this Daiya brand mozzarella style shredded vegan "cheese" for years. Thankfully it has become much easier to find. It is soy free as well, melts like the real deal and actually tastes pretty good!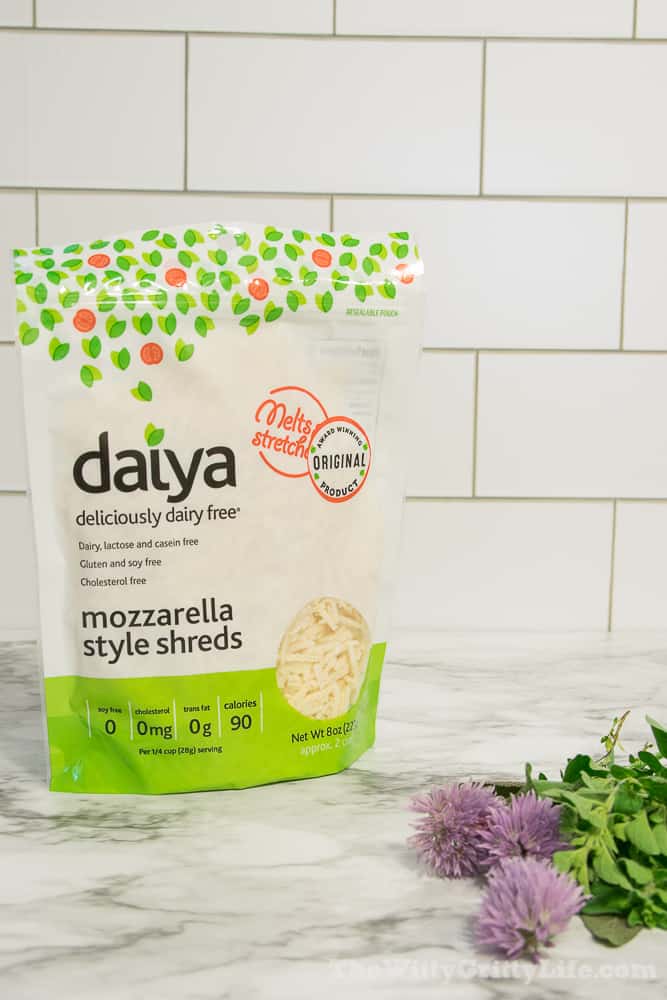 Again, the cheese choice is totally yours to make, I just want to mention it in case you are looking for a tasty dairy free version. Our son loves his pizza with salami, so that is what you see here.
And the delicious finished product!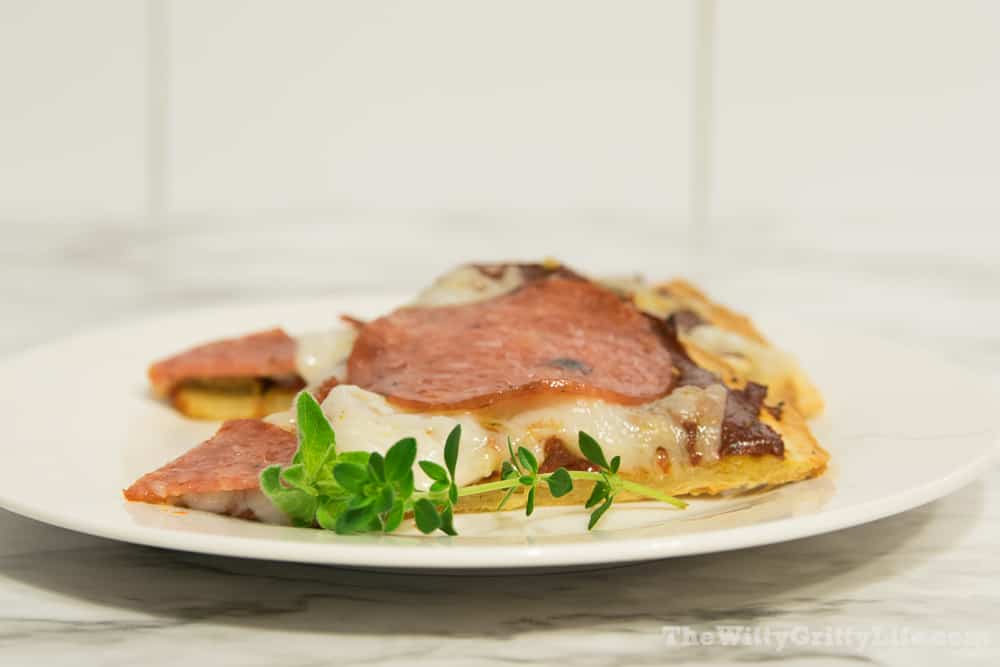 Here is the recipe:
1 – 6 oz can tomato paste
1 teaspoon Italian herbs
1 tsp – 1 tbs extra virgin organic olive oil
1/2 teaspoon garlic powder
1/4 teaspoon sea salt – adjust to taste
Put all ingredients in a bowl and mix to combine well. Enjoy on your favorite pizza crust. This sauce has a more robust, dry consistency to cling to cauliflower crust without making the crust soggy. If you find this recipe a bit too dry for your taste, add a little water to thin it.
Not only does it not look like gluten free, dairy free pizza – it doesn't taste like one, either. And I can tell you in all honesty that the pizza sauce plays a big part.
The best part? Ingredients like cauliflower crust, homemade pizza sauce, vegan cheese are a much healthier twist on this favorite food.
Are you ready to ditch store bought or labor intensive pizza sauce for this much more simplified and easy peasy version? Gosh, I sure hope so. I know you won't regret it! What are your favorite toppings? I love them all, even anchovies.
Check out these posts for simple recipe ideas:
Be sure to sign up for the FREE Resource Library which gives you unlimited access to all of the Witty Gritty Life recipes, tutorials and printable art.

Keep it simple!