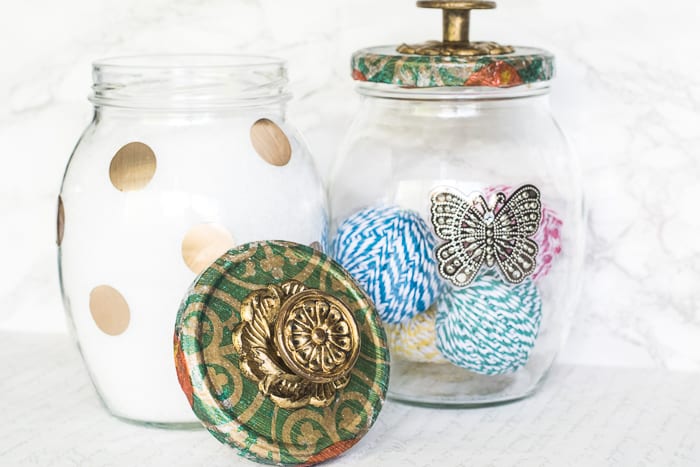 Old jars are so hard for me to throw out! Doesn't it hurt your heart to toss out a perfectly good glass jar just because you're not sure what to do with it? I have always had a difficult time giving up an old jars, especially large, nicely shaped ones. Recycling is good, upcycling is better:) When I found my new favorite peppers in beautiful jars at Costco recently, I knew right away they would not wind up in the recycling bin. Actually, I may have bought the peppers for the jars they were in!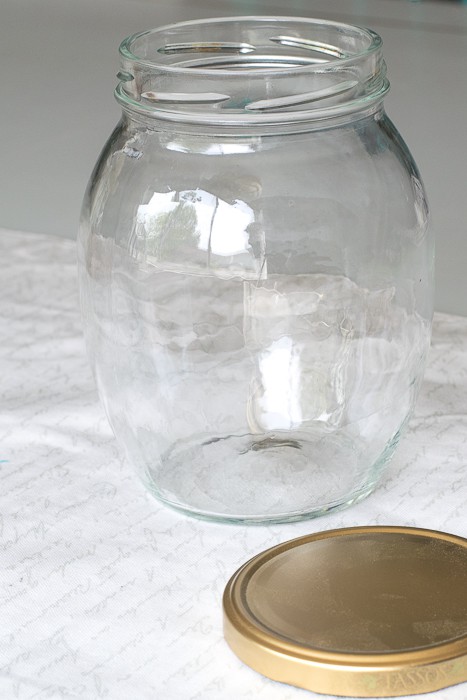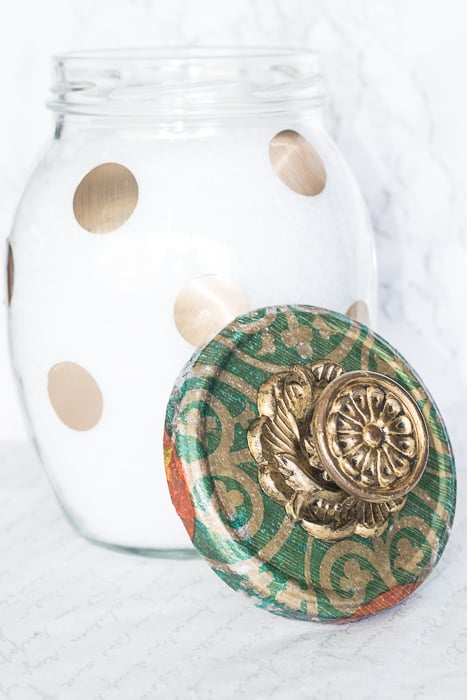 The knob is a definite focal point here. To make this a true recycling project, sourcing them from my house was a must. This happened to be on the guest bedroom closet door and had seen better days. I love the shape, though, and knew just what I wanted to try to bring out the details.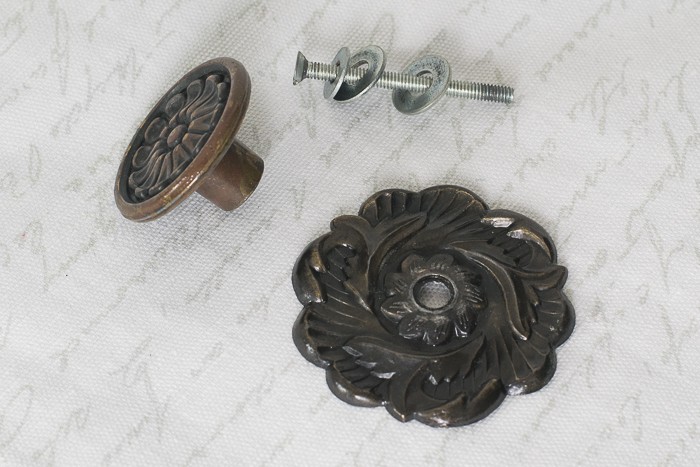 Don't worry, I'll tell you how to overcome the waaaay too long screw problem at the bottom of the post!
Affiliate links are included for your convenience. Be sure to read my disclosure policy.
Rather than spray paint them my favorite color of gold, I decided to go with Rub'n Buff. I had read about this miracle stuff in a tube for some time and was itching to try it out. It did not disappoint! Just rub it on the clean and dry knobs with either a soft cloth or a paper towel and you have a brand new look! Love. This. Stuff. It comes in several colors:) If you are looking for a quick and easy way to spruce up old metal knobs – this is it.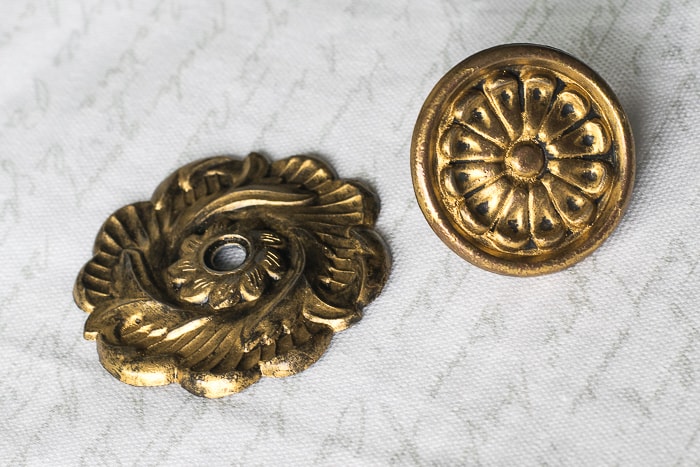 Since the jar lids were black with some print on them, I spray painted them gold first. You may not need to do this if the lid you are working with is a single color without print. Going with the look of the knobs, I wanted a fun pattern for the lids and selected some napkins with a lattice pattern to decoupage. I love working with Mod Podge, because it is simple to use and very forgiving. It is one of the craft materials I always keep on hand. A little bit goes a long way!
After the spray paint is dry, center the lid on the napkin or paper you are using. Once you get the design where you want it you can cut a circle around the lid, leaving about 1″ all the way around.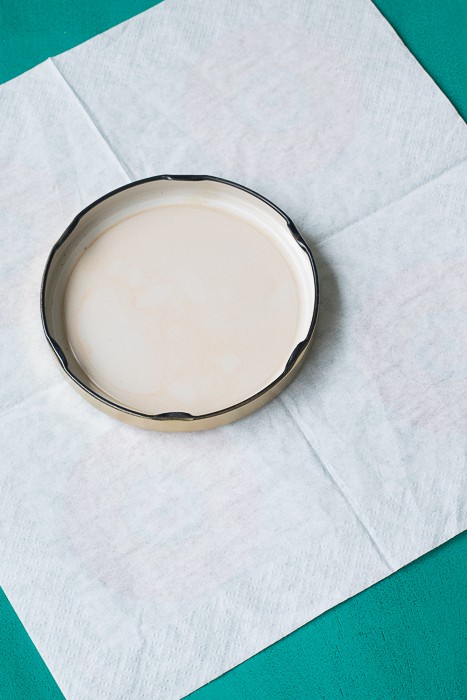 Brush the Mod Podge on the lid and dab some on the part of the paper that is going to be in contact with the lid, like so…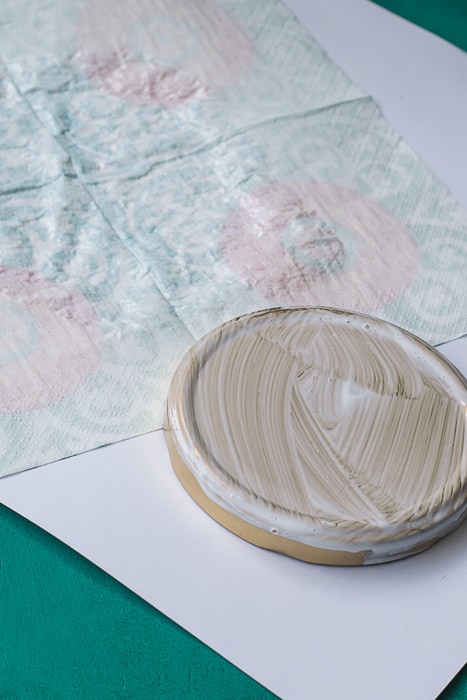 I wasn't smart and left all of the excess in place. Why make it easy when you can do it hard, right?
Make sure the paper is nice and smooth. Do this very gently, because paper is prone to tearing at this stage in the game! You should be left with something like this: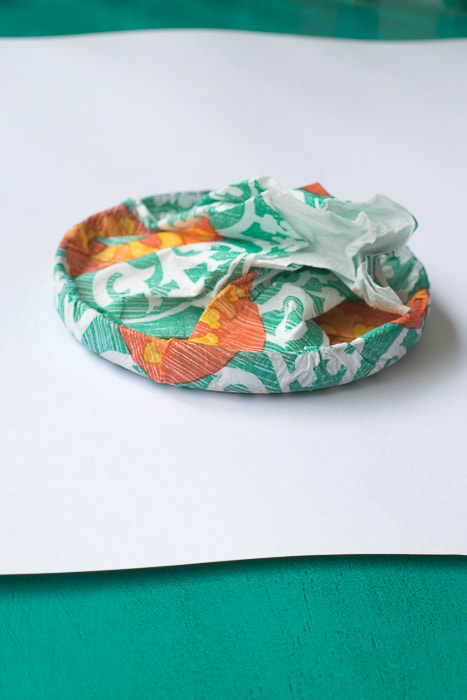 Let it dry well before you carefully cut away the excess. I was pleasantly surprised how the gold spray paint really shines through the lattice design of the napkin. All of the white areas wound up looking gold in the finished product.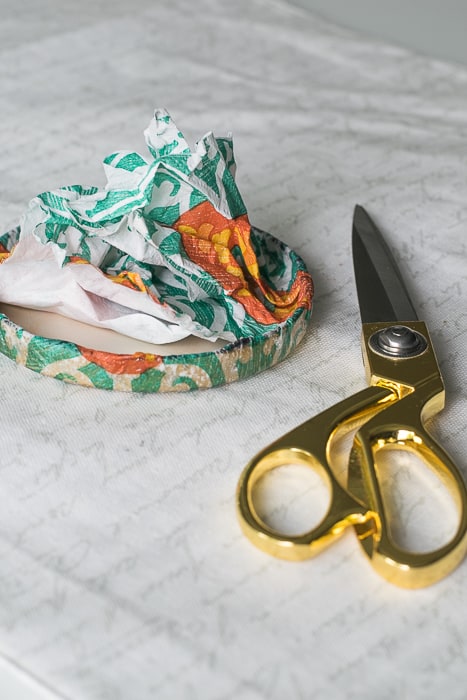 Apply a second and if you'd like, third coat of the Mod Podge to really seal it.
I didn't like the way the inside of the lid looked, so I decided to cut circles to cover the ugly and applied them the same way. My jars won't be used for any food items.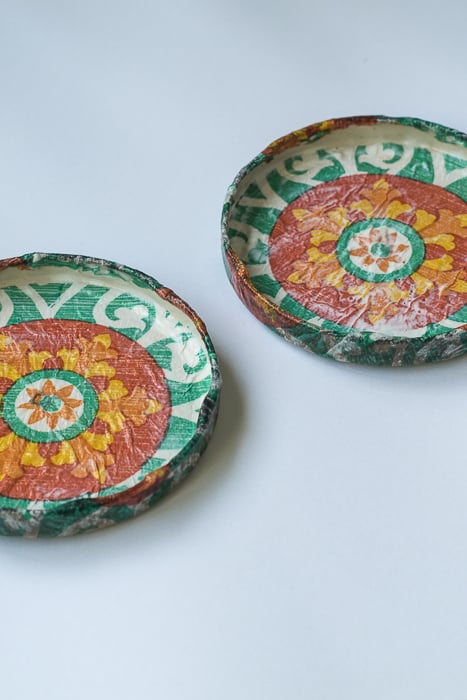 Sure, they may not be all that visible, but I like the added detail. You can skip this step, though or you could spray paint the inside at the very beginning. Once everything is nice and dry, find the center of the lid – I eyeballed it – and either use a nail punch to poke a hole or use a drill bit that is slightly smaller than the knob screw to drill a hole.
Make sure you have a piece of wood underneath to protect your surface! You may do this at the very beginning of the project, if you are worried about disturbing the Mod Podge finish.
Attach your knob and you are done!
From the very beginning I pictured my jars with gold polka dots. But they were a little more difficult to find than I had anticipated. So I decided to create my own from this cool sticky vinyl paper and circle punch I found at the craft store.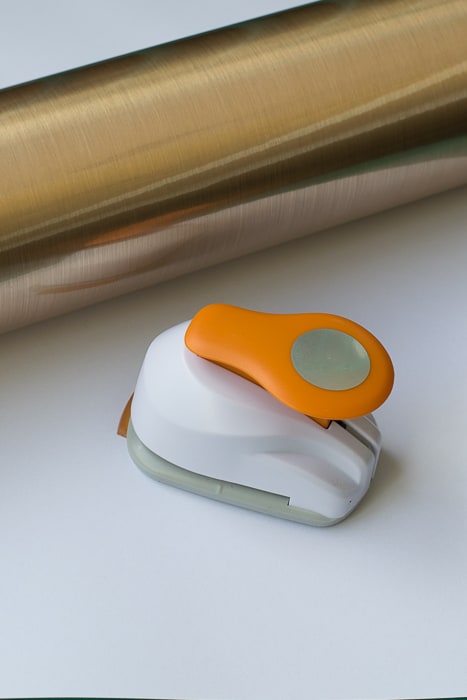 I love the brushed metal look of this vinyl! Very convincing!
Here are several more cute options for stickers and labels that I cannot wait to use on some other projects.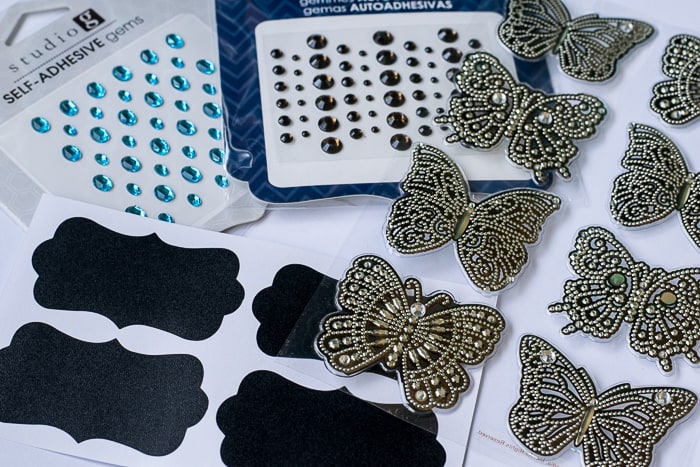 So many possibilities! Here are the two different designs: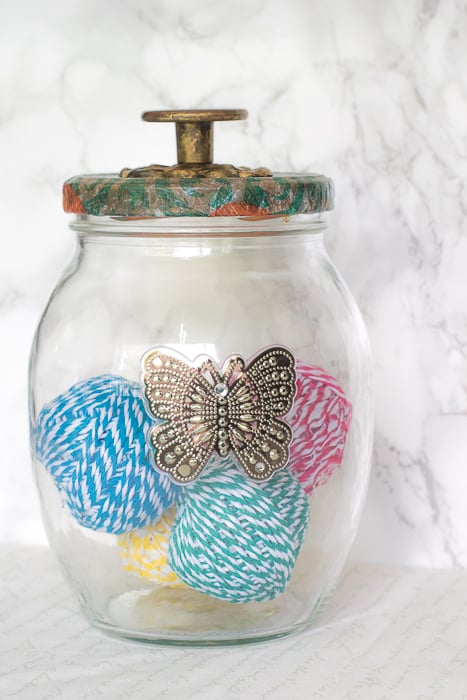 The white looking residue on the lids is from an older bottle of off brand Mod Podge I used. I will definitely use the brand name kind from now on!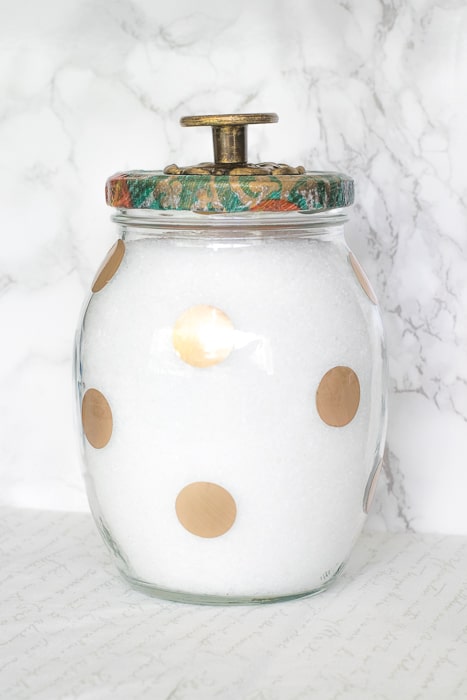 I love how they turned out!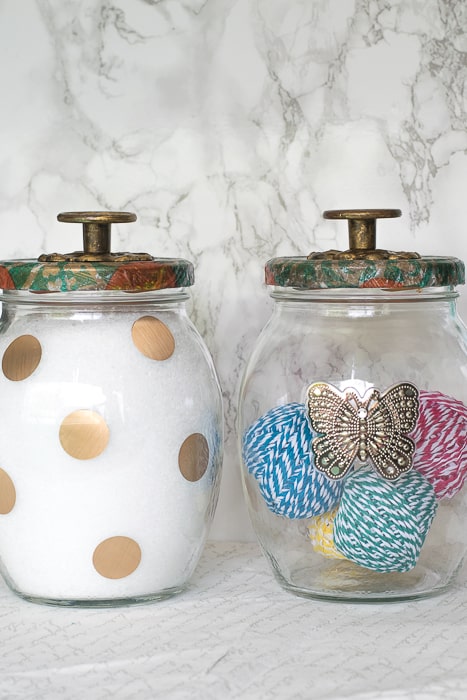 Here is all you need for this fun little project:
Clean jar
knob
napkin or paper to decoupage
scissors
thick nail or drill bit about the same size as the knob screw
stickers or decals
Many knobs have screws that are too long. I was able to find screws that were a littler shorter, but still needed to cut them to insure they were snug up against the lid. While I accomplished that with my jewelers saw, you don't have to have jewelry making tools on hand to shorten the screws. This handy tutorial explains how to shorten knob screws with a simple wire cutter!
Inspired? Are you ready to try your hand at upcycling some old jars? Be sure to share your own jar creations!