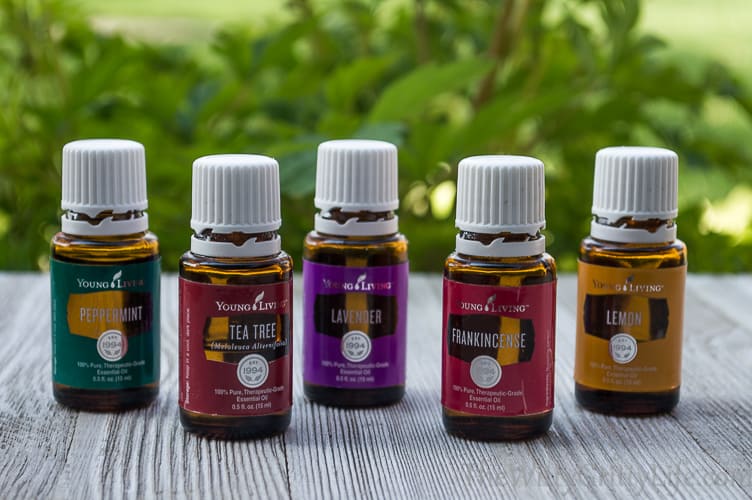 This is my personal experience with essential oils. This story is meant to be or take the place of medical advice! Please read the medical disclaimer first by clicking here.
My friend kept singing the praises of her essential oils, but I didn't want to hear much about it.
It's not that I didn't believe that something that harnesses the power of nature in little concentrated drops was a good thing.
The real reason why I was resistant to the use of oils was that I had lost my normal sense of smell and taste just a few months earlier.
At that time, to get me in a Christmas mood and to make the house smell nice, I had had my favorite holiday scented candle in a warmer. Oddly, within a few days, I began to notice that the previously pleasant fragrance had slowly morphed into a persistent stench of cigarettes. It was as though I was constantly in a room full of chain smokers. At this time I had not been anywhere near cigarette smoke and neither had anyone in my family. Sleep was my only refuge from the stink of cigarettes. Weeks passed without any change. I knew something had to be done. I thought I was losing my mind. Visits with several doctors and an MRI of the brain failed to reveal the cause and left me feeling rather hopeless that I would ever be able to rid myself of the cigarette smoke now ever present in my life, let alone recover my sense of smell. The one thing that finally stopped the incessant stench was taking a combination of St John's Wort and garlic capsules. My normal sense of smell has not returned to this day.
The period right after I lost my ability to smell normally was a depressing one. I had never given much thought to how many memories and how much enjoyment, the smell of freshly baked cookies – spring rain – lilacs… is tied directly to being able to smell.
While adjusting to this new normal I learned that the benefits of essential oils are by no means limited to smelling them. As a matter of fact, they will work just the same!
My AHA moment came a few months later when I felt a whopping headache coming on. The headaches had previously been diagnosed as a type of migraine. I made sure to always have a common, powerful migraine prescription medication on hand. So when this headache hit with a vengeance, I headed straight to the medicine cabinet to pop the prescription pill in my mouth. But I never liked taking these pills, because for all their pain killing power they also left me groggy and feeling out of sorts. I was willing to do anything to get rid of the pain.
This time, however, I realized that the prescription pills had expired 6 months earlier. Unwilling to gamble with expired medication, I turned to some essential oil trial packets that my niece had left for me to try. A quick internet search suggested using lavender and peppermint, both inhaled and topically applied to the forehead, to combat the pain. After doing just that, I lay down on my bed, just hoping the pain would not get worse.
Instead, within 15 minutes I suddenly realized that the pain was completely gone! That was faster than the $20 a piece pill I had relied on previously! And I felt fine to continue on with my day without the debilitating side effects! Could it really be this easy?
The very next day I called my friend to let her know that I wanted to sign up to get my oils.
The headache experience was my watershed moment that propelled me to where I am today. I began researching essential oil uses, benefits, remedies to learn how I could incorporate them into our daily lives.
Why? Through my study of oils I found a disturbing amount of evidence that many of the chemicals we rely on on a daily basis to keep us and our homes and clothes clean and fresh smelling are in fact quite toxic. This was not an entirely new revelation to me, as I had been switching out all of the fragrance laden detergents, soaps, lotions and other skin care product after my son's AUTISM diagnosis and later my husband's CANCER battle.
What did surprise me was that even the so called "natural" versions of many common products we use on a daily basis are still full of questionable ingredients.
I have been using my Young Living oils for some time now and find myself turning to them more and more for all kinds of different uses around the house. When my son came down with a nagging cough that lingered long after a brief illness, I turned to oils to help ease his symptoms. His autism makes taking cough syrup or any kind of pill an ordeal that generally ends with his spitting the medication on the floor. I turned to diffusing a combination of oils that is often used to support the respiratory system at night in his room to moisten the air and applied another on his back diluted with a carrier oil. The cough resolved without any further intervention. Now he will not let me leave his room without turning on the trusty dew drop essential oil diffuser every night.
My husband has begun to see the value of the oils as well. His bout with throat cancer has left him with an extremely dry mouth (radiation treatment killed off most of his salivary glands), which lead to a host of new problems.  Mouth sores are not unusual, but frankincense oil has helped ease his discomfort a great deal. He just proudly showed me a spot on his face that his doctor had been watching to see if it might be skin cancer. It's gone. He confided that he had been putting frankincense oil on that as well:)
Our family's journey with Young Living Oils began nearly a year ago. In that year we have made a number of simple changes that have improved the quality of our lives without question. I feel calmer and less stressed than I ever have. Aside from my son's brief illness and cough earlier this year neither my husband nor I have had even as much as a common cold. And looking back through the years that is the only flu and cold season that has ever happened. No flu shots, either.
We have used oils on our travels overseas, while camping, even on our poor dog, when he was besieged by grass mites during last year's visit to Germany. I incorporate the oils from Young Living's vitality line in my recipes for added flavor and diffuse them in our bedroom every night. I now suffer only occasionally from bouts of insomnia, something that was quite normal for me before. Find out here which essential oils we use and why.